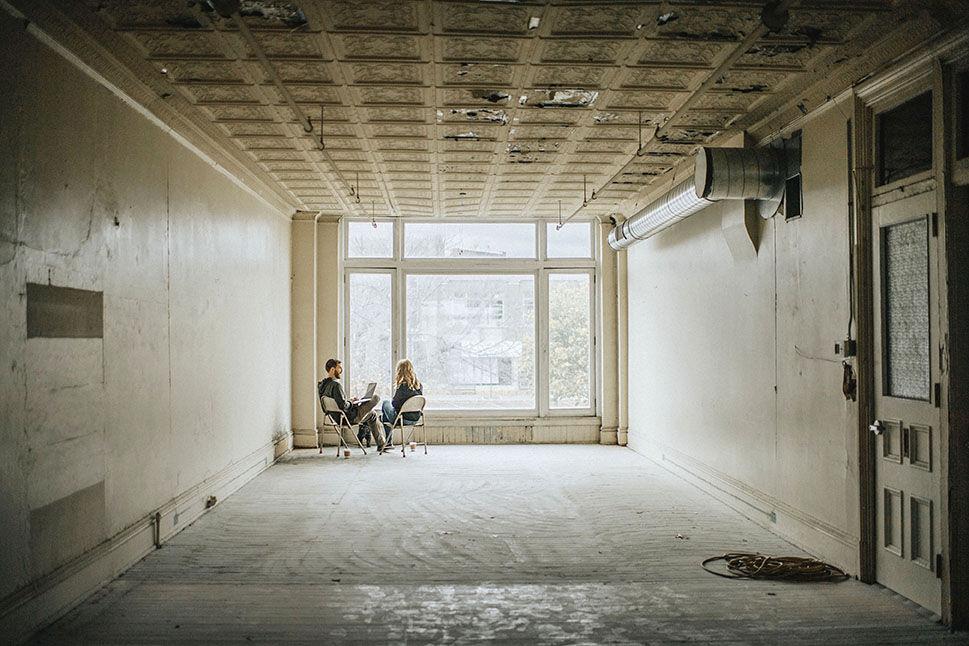 Since their wedding in 2015, Brianna and Chris Pisani's love for each other and collecting unique and beautiful pieces has blossomed into a vintage rental company specializing in events of all kinds. 
    Not just an average rental company, Pretty Little Vintage Co. has a carefully curated, one-of-a-kind inventory in its warehouse, which is full of vintage furniture, tabletop décor, china, handmade farm tables and more- so full, in fact, that the Pisani's decided they needed to expand. 
    Due to Brianna's social media skills, various platforms are used a lot for marketing and getting the word out about Pretty Little Vintage and upcoming events. The company currently has over 7,000 followers on Instagram alone. 
    "We think people are excited, so we're excited," Brianna said. 
    Pretty Little Vintage has been run out of the Pisanis' home/warehouse in Adams Center for the past few years, so they decided it was time to find an office and studio space to work out of, which they found in the historic Lincoln Building in Watertown's Public Square. 
    "We were looking for a couple of things, more storage for Pretty Little Vintage because what we do there is mainly furniture and we're kind of running out of space, and also we were looking for a studio for our own photoshoots and other events that we might want to do," Chris said. "So, we were kind of looking for both of those things and we stumbled upon the space." 
    A bright, natural light studio on the second floor of the building, the 4,300 square foot space, named The Lincoln Loft by Brianna and Chris, will allow for the hosting of events, the renting of photo studios and co-working with fellow entrepreneurs. 
    Chris will take the lead on The Lincoln Loft while Brianna remains the point of contact for Pretty Little Vintage. The two, originally from Ogdensburg and Bolivar, N.Y., respectively, will continue to work together on events in order to create the best experience possible for clients. 
    "I would say that, overwhelmingly, people like to work with Bri, she's very good customer service wise; I need to work on that a little bit, it's just a different world," Chris said. "She's usually there for most events; in the future we're trying to wean ourselves off of being at every single event and having our employees go out, but I would say overall everybody's pretty happy and we stay pretty flexible as well." 
    Now that Chris is working with the company full-time after leaving the Army, he said he is enjoying working for himself and is looking forward to having a place to go to work rather than working from home and dealing with various distractions. 
    "Working for yourself is great and being able to hopefully provide something new to the community and being a part of the downtown comeback, I think the downtown area has a lot of potential, I think it just needs the people that have the drive to come in and start some businesses," he said. "I think being a part of that is exciting." 
    White and bright, with large windows that bring in tons of light, hardwood floors and molded ceilings the likes of which are hard to come by these days, the loft has a capacity of 246 people. From corporate events to birthday celebrations, Brianna said The Lincoln Loft would love to host them all. 
    Currently, the space is under construction, but in a few months the bits of plaster and wood strewn about, along with the sounds of sawing and the smell of paint in the air, will give way to a uniquely decorated space, complete with chandeliers, that is sure to be a photographer's dream. 
    "The light in here is beautiful and we want to have three different sections of photo studios that photographers can rent or use, but the whole place we're trying to make it photo friendly so you could take a picture anywhere and it's beautiful," Brianna said. "We want to have that as an option for them because it's so hard to take photos outside during the winter and finding a naturally lit inside space is difficult." 
    These photo studio options will be available for photographers to rent by the hour. 
    Along with spaces for photographers, during the work week The Lincoln Loft will be a co-working destination available to creatives, entrepreneurs, freelancers and any other professionals to use as a workspace, meeting spot, or place to collaborate with like-minded individuals. 
    "We also want to do creative workshops like calligraphy, flower arranging classes and cookie decorating classes, things like that," Brianna said. "We'd like to do some small business classes and conferences, too, like how to build your Instagram and things like that. All sorts of stuff that we can all come together as a community and help each other grow." 
    The majority of the construction and everything happening in the loft is slated to wrap up in January, but the Pisanis won't officially move into the space and open it up to the public until the beginning of February because the elevator won't be finished until this time and they want to be accessible to all clients. 
    "The hope is to bring something new to the downtown area, something that will attract people to want to come here and co-work and collaborate with people like us who are entrepreneurs, or work from home to kind of come together to do workshops and learn from each other," Chris said. "That and provide an event space for downtown Watertown, something aside from a restaurant or hotel, a little bit more specific and detailed." 
    Those interested in following the business and progress on The Lincoln Loft can follow @prettylittlevintageco and @thelincolnloftandstudio on Instagram and Facebook.