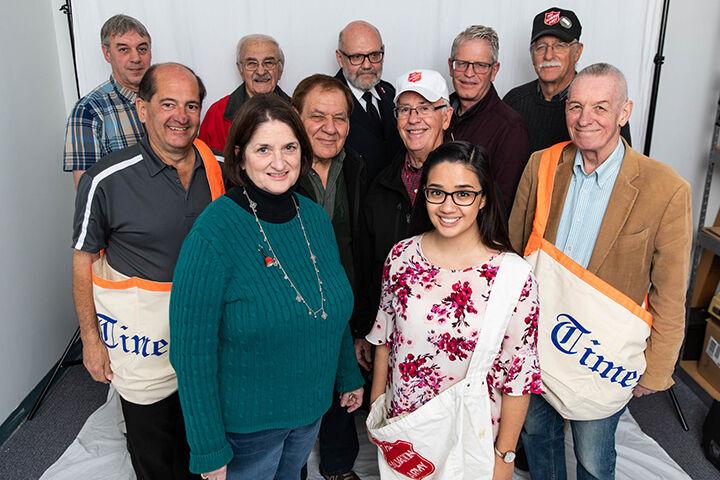 During the holidays, there are many who need a little extra help to make them feel special for their families, from food for the table to gifts under the tree. For this year unlike any other, the COVID-19 pandemic has put a further strain on them, causing worry over how they will provide for their families. 
    Luckily, though the Corona Virus has changed the way many programs will operate, it has not changed the giving spirit of the north country. Among the many local events and programs geared toward helping families in need for the holidays, both locally and internationally, are Old Newsboys Day and the Holiday Angels Program. 
    In early December, the downstairs breakroom of the Watertown Daily Times turns into the headquarters of the Old Newsboys Day effort to raise funds for the Salvation Army. 
    The money raised goes toward helping to provide needy families with food, toys and clothing for Christmas, along with supporting some of the organization's programs and services throughout the year. 
    Maj. Karen D. Smullen has been with the Salvation Army for more than 40 years. Along with her husband, Maj. Dennis J. Smullen, she has noticed a rise in local generosity during the pandemic. 
    "We've gotten more unsolicited donations, which has been a very big blessing to us," Maj. Karen said. "Having said that, though, our numbers of people coming for lunch and food on Thursdays, which is our food box giveaway, it's gone up consistently." 
    According to Maj. Karen, the local Salvation Army has lost close to $20,000 in fundraising due to the cancellation of events. She said besides the Christmas bell ringers with the big red kettles, Old Newsboys is one of the organization's biggest fundraisers in terms of money raised in one day. 
    For the Old Newsboys fundraiser, usually volunteers will hit the streets at about 7 or 7:30 a.m. and continue selling newspapers to community members until about 4 p.m. Participants will sell donated copies of the Watertown Daily Times for prices ranging from the current cover price to hundreds of dollars. 
    The Old Newsboys effort is made up of street sellers — people going out to different locations to sell the papers — and employees from locations like New York Air Brake, Samaritan Medical Center, the schools around Watertown, and the Car Freshener Corp. 
    Despite snowy conditions, the 73rd annual Old Newsboys fundraiser surpassed the goal of $15,000 for last year. 
    "Our need has gone up, but people's generosity has gone up across the board," Maj. Dennis said. "They want to invest in helping others, across the board I've seen people will take care of others." 
    This year, things will look a little different for Old Newsboys as volunteers will be expected to mask up while selling their papers and adhere to social distancing guidelines whenever possible. Also new this year, in cooperation with the Community Action Planning Council, people will be able to sign up online to receive toys for their children rather than having to sign up in person at the Salvation Army. 
    "The paper has been here a long time, the Army's been here 100 years, we're mainstays of the community, and it is a community effort," Maj. Karen said. "It's not a national effort, it's not a statewide effort. It's our local community caring for the brothers and sisters around them." 
    The Community Action Planning Council's Holiday Angels Program is a collaborative effort of human service agencies, businesses, civic groups and individuals in Jefferson County, working together to ensure children of low-income families have gifts for Christmas. 
    Angels are announced on Tunes 92.5 FM during the Christmas Crusade 4 Kids campaign from Nov. 23 to Dec. 21. Community members are invited to sponsor a child, up to age 16, by selecting a name and Christmas wish from those read over the air. The first names of the children, along with genders, ages, and Christmas wishes, are given with no other identifying information included. 
    According to Mary Jane Mathewson, family center director at CAPC, last year, a little under 2,900 children were helped throughout the Holiday Angels program. 
    "We have some very generous people in our community that just want to give, and it's a wonderful thing," she said. "The generosity over these past eight months during this crisis has been phenomenal. I do not see that slowing down going into the holiday season, I actually think that that's probably going to even increase." 
    The CAPC coordinates the Holiday Angels program in partnership with a number of community organizations and businesses, including the Bernier Carr Group, Catholic Charities, local food pantries, the Salvation Army, Toys for Tots and the Watertown Urban Mission. 
    Tunes 92.5 FM has been helping spread the word about the program and broadcast the holiday wishes for over 10 years. For the first couple weeks, the station promotes the program and lets people know about it, and then starts reading the names of those who have shared their wishes. 
    Normally, families would go to various sites to fill out applications, but this year the CAPC has a link that will be live online until Dec. 11. People will also be able to call the CAPC and give their information to be entered into the system. 
    "One would think that the number of families in need will increase due to a lot of people still unemployed," Ms. Mathewson said. "I think there will be an increase percentage wise. The site is live now, we already had a few hundred families signed up shortly after going live." 
    The CAPC asks that those donating gifts leave them unwrapped. Though they know there are those who would like to spend more on the gifts for the children they've chosen to sponsor, the CAPC asks that people spend $25 or under to make donating more accessible for more people. Towards the end of the program, the CAPC works as a sort of distribution center for all of the gifts. 
    "We want Christmas to be a happy time for families and their children; to get that one special wish that they want, you just wish you can be there when they open the gift," said Claudia F. Whitmire, deputy director at the CAPC. "It's a very worthy cause and people can feel good about putting a smile on a child's face. Even though they don't get to see that they know that they made a difference." 
    For more information about Holiday Angels, call (315) 782-4900, ext. 271.