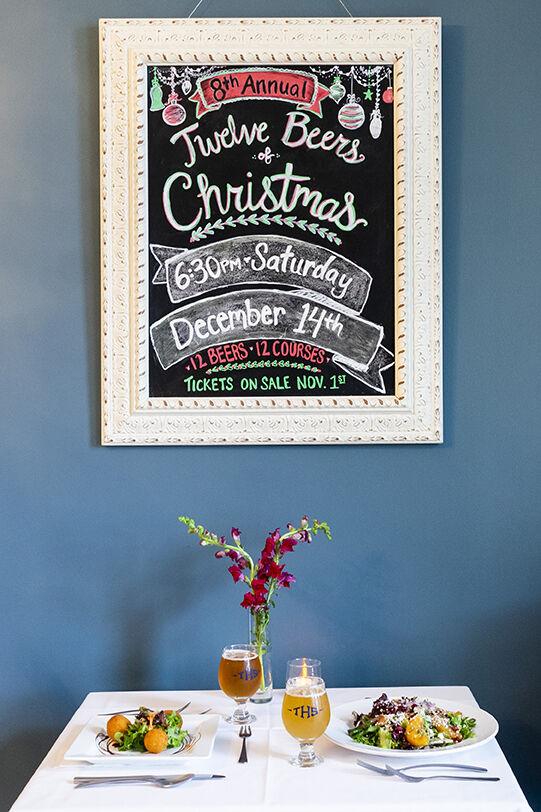 When most people think about the holiday season, they think about snow, Christmas carols, ugly sweaters and presents under the tree. 
    Cheryl Chaif thinks about food prep and about beer. 
    Boy, does she have to think about it. 
    Mrs. Chaif and her husband, Ryan, are the owners of The Hops Spot in Clayton, and the burger bar and poutinery is already deep into preparations for the 8th annual 12 Beers of Christmas dinner and celebration this December, and have been for months. 
    "It's our biggest event of the year," Mrs. Chaif said. "We put together a really spectacular menu and put at least a week in sort of prepping for it. We're making stocks and sauces, baking and everything for days before the event. Roasting meats and all of the different things that go into prep on complex menu items." 
    And they are complex, not to mention rich and decadent … and time consuming. 
    "This year, for example, we're doing a popcorn course with dehydrated cranberry powder and rosemary sugar," Mrs. Chaif said. "That popcorn will be cooked in duck fat. That rosemary sugar is started now (two months before the dinner) so that those flavors really impart into the sugar." 
    The 12 Beers of Christmas tradition began at the Hops Spot's former location in Sackets Harbor and continued last year into the restaurant's new flagship location in Syracuse. It will be held twice in the same weekend this year, with an event Friday Dec. 13 in Syracuse and Saturday Dec. 14 at the new location at the old Johnston House in Clayton, 507 Riverside Drive. 
    The Chaifs had moved the Hops Spot to Syracuse seeking a less-seasonal location than Sackets Harbor. But the pull of a strong north country base, and the pull of the 130-year-old Italianate manor within a stone's throw of the St. Lawrence River, proved too strong and the couple opened a second location in Clayton this year, and they expect a strong turnout at both events. 
    "Last year we did the dinner in Syracuse. Probably 50 percent of the attendees were regulars from the event in Sackets who drove an hour to Syracuse and stayed there for the night for the event," Chaif said. "There was a really strong customer base in the north country." 
    "So this year, I think a lot of those people who went to Syracuse last year are going to be happy to stay a little closer, have a little bit of a closer drive. I can't think of a better setting, quite frankly, than this beautiful Johnston House for an event like this. It's so victorian. I just think it lends itself to the Christmas season very well." 
    The dinner, inspired by a wildly-expensive event the couple attended years ago at a beer garden in rural Maine, is a celebration of the rich flavors that, for Mrs. Chaif, define the holiday season, mixing rich, decadent menu items paired with distinctive suds. 
    And while the menu itself is awash in the rich flavors of the Christmas season, roasted chestnuts and figs … the Chaifs try to find a balance in the beer menu between rich, wintery flavors and less-traditional fare. 
    Last year's beer roster included such malty delights as Samuel Smith's Winter Welcome Ale and the cherry and cocoa-infused notes of Troegs' Mad Elf Ale, a rich 11-percent dark ale from Hershey, Pa. that embodies the sort of hearty flavors you'd expect from a winter beer. 
    "We always pull in some beers with those rich, figgy, pruney flavors. They always pair nicely with a roast or blue cheese. But we kind of try to balance it. We don't want to overemphasize the seasonal, holiday beers." 
    Some of last year's less-traditional fare included everything from the comparatively-light Petrus Oud Bruin from De Brabandere in Belgium, to the fruity, sour flavors of BFM's Abbaye De Saint Bon-Chien, a strong, sour ale that packs a punch at 11 percent with oaky, pungent notes of raspberry. The Chaifs, who also own Skewed Brewing in Watertown, even added a touch of hometown flavor last year with Skewed's Afternoon Delight, a pale lager that serves as decidedly lighter fare than some of the richer, boozier choices. 
    "We like to bring in beers that we have a special connection to or a special story. We like to bring in Bon-Chien every year because Ryan's been out to that brewery a couple of times, and Petrus Oud Bruin is another one because we've been to that brewery a couple of times. Then we look for some new stuff. I mean, the American beer scene is crazy with new and innovative flavors." 
    The Hops Spot won't be releasing a menu well in advance of the event, largely because the availability of some of the European beers the Chaifs have their eye on — as well as their delivery — can be a bit spotty. There's also the matter of maintaining a bit of editorial control until the last possible minute. 
    "We try the pairings against the food and sometimes we wind up tweaking the reciples or we change which beer we pair with what course just to make sure everything really works together in the best possible way. There are always last minute changes." 
    But apart from old favorites Bon-Chien and Oud Bruin, one item that's locked in on the menu is one the Chaifs brewed close to home at Skewed, a coconut coffee stout called Get Woke, which they'll be serving toward the end of the meal as part of a dessert course. 
    And the beer isn't everything at 12 Beers of Christmas. For Mrs. Chaif, the event is as much about the people as it is about the cuisine and about the European sours. 
    "It is such a sense of camaraderie in these events. Every course is served at the same time. We kind of talk to people about each course, about how it's prepared, the history behind the beer. How the two pair together …. It just really turns into, I think, all of the beauty of the season. 
    "It's a beautiful dinner. There's a lot more to it than just food and drink and I feel like it just captures the spirit of the season, celebrating it. Meeting new people and enjoying food and drink. All of the things that make people happy."