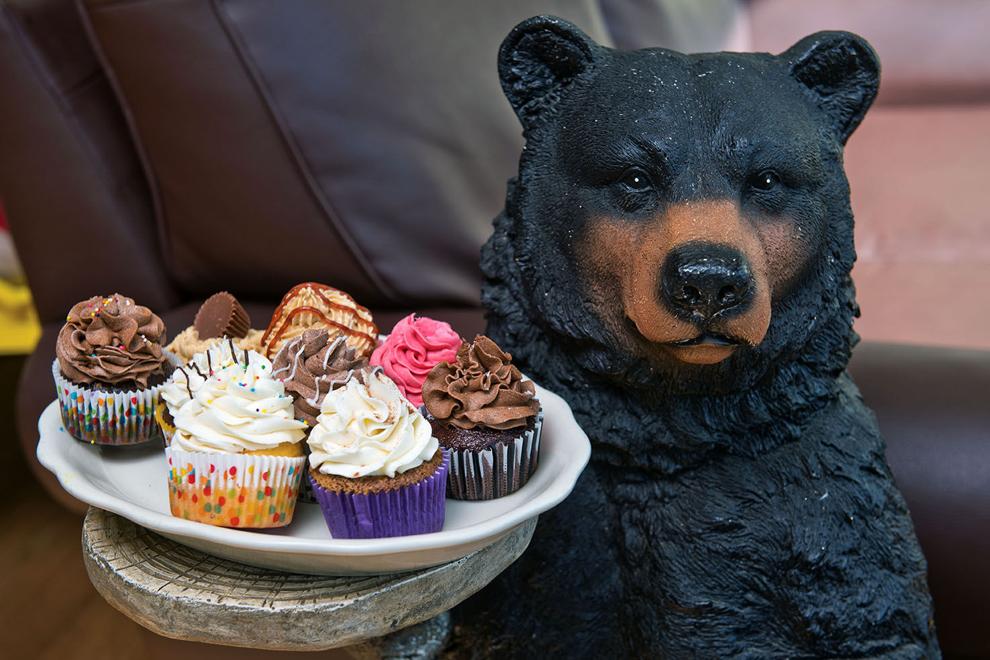 It wasn't long after Christopher Durand and Faye Ori, a husband and wife team, opened the 3 Bears Gluten-Free Bakery that an 11-year-old girl entered the downtown Potsdam business with her mother. 
    She immediately ran over to the colorful display of baked goods, her eyes opening wide as she surveyed the large variety of cupcakes, cookies, pies, and brownies for sale. But her excitement was short-lived. 
    She lifted her head from the display with a concerned look on her face and turned to the staff behind the counter, and then glanced at her mother. 
    "But what can I have that won't make me sick?" she asked. 
    "We told her she could eat anything – it was all gluten-free!" said Mr. Durand, recalling that experience as a constant reminder of the 3 Bears Gluten Free Bakery's mission. 
    "One of the reasons we wanted to open this business is that we were tired of seeing kids who weren't able to eat the same foods as their friends, because they needed something that was gluten-free," he said. 
    The couple opened the business after Mr. Durand himself was diagnosed with celiac disease and had to adopt to a gluten-free way of living. His sensitivity to gluten is so high, that even exposure to a small amount could send him to the hospital, he said. 
    It was his own experience as an adult trying to find gluten-free food options that lead to an even deeper concern for children dealing with the same type of issue, no matter their medical condition. 
    "An adult, I can figure it out," Mr. Durand said. "But children who need to eat gluten-free should be able to still just be children, and have fun eating cupcakes with their friends." 
    It was more than four years ago the couple opened their business, and today, they offer a variety of gluten-free baked goods, along with special order cakes and other items for birthdays and different celebrations. 
    The café also serves a variety of gluten-free breakfast, lunch and dinner options, including pizza and wings, along with made-to-order sandwiches and wraps. 
    A gluten-free diet is based on eating foods that don't contain the protein gluten, which is found in grains such as wheat, barley, rye, and a cross between wheat and rye called triticale, according to the Mayo Clinic. 
    It's essential for not only managing the symptoms of celiac disease, but also a range of other medical conditions associated with gluten sensitivity. In fact, there are more than 25 medical conditions associated with gluten-related issues, and celiac is just one of them, said Mr. Durand. 
    It's also become a popular way of eating among people who don't necessarily have a gluten-related medical condition, but have claimed it has improved their overall health and increased their energy levels. 
    Many parents will special order a large batch of gluten-free cupcakes for their children to bring to birthdays parties or other special events, so they are able to eat the same baked goods as their friends. Some of the more popular cupcake flavors are chocolate, lemon and raspberry. 
    "It's a good day when you can make kids smile," Mr. Durand said. 
    They also have adults who stop by the bakery to pick up boxes of baked goods, such as scones, to bring into their offices and share with their co-workers. For the adults, they don't have to worry if their colleagues are able to have them, because they're all gluten-free, he noted. 
"We treat everyone who walks in the door with the upmost respect, no matter what their dietary circumstances," he said. 
    The couple took more than a year to develop their own mixes for their gluten-free products, including their breads. For example, their scones are "based on a European recipe, so they are more like a biscuit," he said. 
    "We came up with all our own recipes and it took some time," Mr. Durand said. "We keep those under lock and key." 
    However, they do offer a mail order service and will ship out the pre-made scone, brownies and donut mixes that include directions of the other ingredients needed to make the product. 
    Customers have traveled from as far away as Plattsburgh and Ottawa for their gluten-free options, he said. They are also sold at several nearby locations, including Clarkson University, SUNY Potsdam, St. Lawrence University and the Canton-Potsdam Hospital. 
The couple was recently chosen to receive a Small Business Excellence Award through the Syracuse district office of the Small Business Administration. The business was among several businesses recognized for their innovative practices, increased employment, and sales growth contributions to the community. For more information: www.3bearsglutenfree.com.