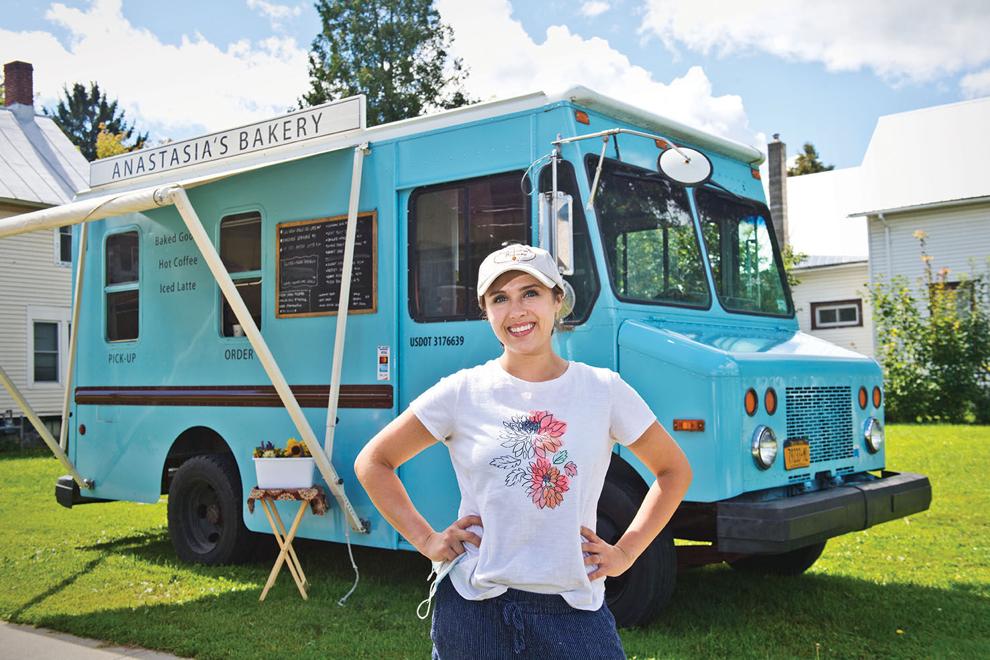 Anastasia Cote has owned Anastasia's Bakery for six years, but decided that this year, she would throw all her energy behind her bakery truck. 
    Three years ago, Mrs. Cote was running a storefront bakery on County Route 14 in Madrid. She had a new baby on the way, and was considering buying a house with her spouse. She said that between her personal life, the bakery and the truck, she was just too busy. 
    "The truck does about the same amount of business as the cafe did, so it was almost like owning two separate businesses at once," she said as she served patrons through the truck's side windows. 
    She began training one of her employees, Maddie, to take over the storefront in 2017, and sold it to her in June. At that point, she started working full-time on the truck. 
    Her big blue former FedEx truck, with Anastasia's Bakery painted on the sides, has become a staple at the Canton Farmer's Markets on Tuesdays. She said that the line frequently stretches from one side of the market to the other. 
    On Fridays, she travels to Ogdensburg, and on occasional Sundays, she opens her truck at her house in Norwood. 
    She said that it takes about two days on average to prepare for a day on the truck. She'll begin planning and baking a few days before, and then finish up the day before she's set to travel. 
    "Yesterday I probably put in six hours, and then I got up at 4 a.m to get ready for a day at the farmer's market," Mrs. Cote said. 
    Her decision to focus only on the truck came as the COVID-19 pandemic came to the United States. When the pandemic hit, she decided to offer online ordering, which has dramatically increased the amount of orders she can take in a day.   
She said that she was so impressed by how well online ordering has gone, she's considering opening up one day a week in the off-season and offering online orders. 
    "The online orders have been awesome," Mrs. Cote said. "People just order boxes, and it makes it so much easier. People can pay ahead of time, which means I have faster turnover." 
    She said that this year, she's had a surprisingly good summer, and even predicted that she would be doing better this summer than she did last. 
    "It's been a great turnout this summer, I actually think that these farmers market vendors have done better than they have in years past," she said. 
    Mrs. Cote said that the truck has provided her the opportunity to sell in places she wouldn't have been able to with the storefront shop. She said that she likely wouldn't have ever opened a store in Ogdensburg, but now is able to visit once a week. She said that being open only one day a week in each city has helped her to get repeat customers and helps her encourage them to try her items out. 
    "They see the truck, and they pull over and they could buy a whole box of stuff because they either don't know when I'll be there again, or they know I'm only there on Friday," she said. 
    She said she's not sure where her drive to open a bakery came from, but she remembers seeing a cupcake truck when she was 16 on a family trip to Washington D.C. She said she started saving up for her first bakery that year. 
    "I didn't do a cupcake truck, because I wanted to sell everything on it, but it was definitely a start," Mrs. Cote said. 
    She said that she's been very lucky, and is very thankful for all of the help she has had in getting her business running. To get the truck set up, she and her father, who is a skilled carpenter, rebuilt the entire inside of the truck, putting in a generator, refrigerators, hot water heater, sink and microwave. 
    "With everything included, painting and my dad's help, I think it was about $22,000 of investment," Mrs. Cote said. 
    She said that she was able to turn a profit the first year she ran the truck, because it was such a popular attraction from the first time she opened. Mrs. Cote said that as she looks into the future, she wants to consider hiring a driver to help her move from one city to the other. 
    "This summer, I could only handle three trips a week, and that's even hard for me," she said. "I might be hiring a driver next summer. I'll bake and they'll take the truck out."