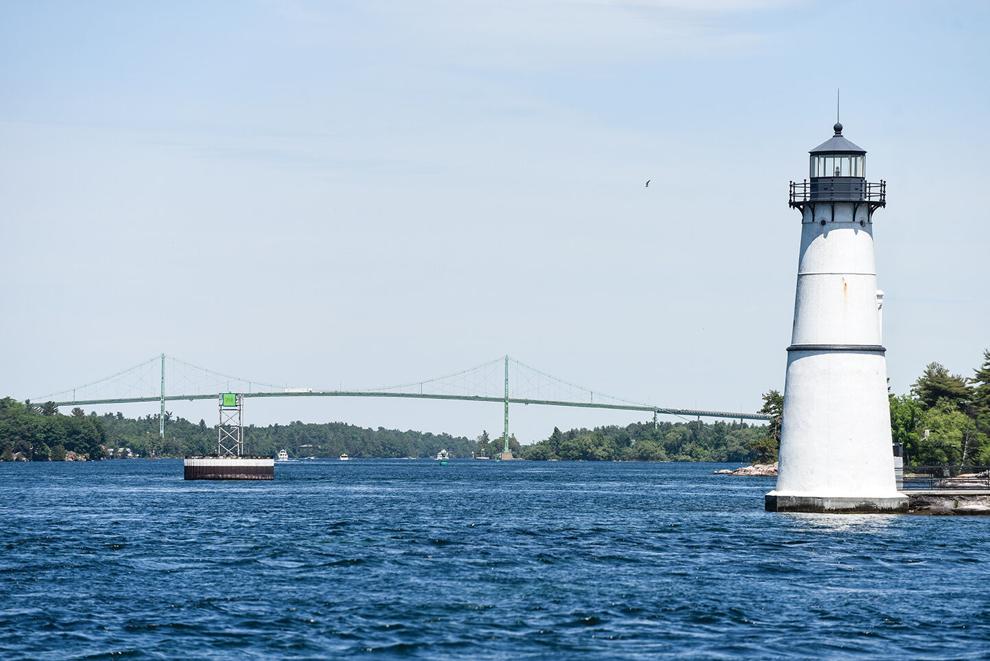 Every summer, thousands of tourists from across the country and around the world flock to the Thousand Islands. And the vast majority come here for one reason: to view the magnificent castles and mansions built on the many islands of the St. Lawrence River. Let's face it – no trip to the Thousand Islands is complete without a tour of Boldt Castle on Heart Island or Dark Island's Singer Castle, both of which were built during the heyday of the region around the turn of the last century.
     But to get to these or countless other destinations on the river, you need a boat – and most tourists don't come to the area with their own boat in tow. That's where boat tour companies come in. Whether it's Uncle Sam Boat Tours out of Alexandria Bay or Clayton Island Tours based in Clayton, a bit further south along the river, anyone wishing to get a great look at the area – along with a healthy dose of history and anecdotes – would do well to take advantage of one of the many tours offered by either of these companies.
    Uncle Sam Boat Tours, the bigger of the two regional boat tour operators, was started by the grandfather of current owner Ron Thomson back in 1900, making it as old as many of the famous properties it brings people to see.
    The company boasts seven vessels, ranging in capacity from 85 guests to the 500-capacity Island Duchess. Uncle Sam's flagship vessel is the Alexandria Belle, a 385-capacity triple deck paddle wheeler. And boats are constantly shoving off and tying on at the company's dock at the end of James Street in downtown Alexandria Bay, walking distance from entertainment, shopping and dining establishments.
    While the company hosts multiple boat tours every day, there is one that has been a mainstay since Uncle Sam's beginnings.
    "Our most popular tour, and it has been for the last one hundred years," said Thomson, "is the Two Nations Tour."
    Like all of Uncle Sam's tours, the Two Nations Tour travels on both sides of the international border – an imaginary line that runs down the middle of the St. Lawrence River. But don't worry about bringing a passport. Thomson explained that as long as the boats don't tie off in Canada or drop anchor in Canadian waters, travel papers aren't necessary.
    The tour itself lasts more than two hours and covers 22 miles through the "heart" of the Thousand Islands. It offers the best overall view of the region shared by the United States and Canada. And as with all of Uncle Sam's tours, a guide provides a lively narrative throughout the tour as guests get an up close look at magnificent summer homes – leading up to the most famous of them all: Boldt Castle, the terminus of all Uncle Sam's tours.
    "We're the only boat line on the river that offers an unlimited stop at Boldt Castle," said Thomson.
Guests can disembark and look around Heart Island, taking a later boat or shuttle back to shore, or they can stay on the boat and return to the docks in Alexandria Bay right away. Shuttles run every half-hour throughout the day.
    "We're one of the few boat lines with live commentators on our tours. Many of the Canadian lines use digital recordings," Thomson explained. "It's a little harder, because it requires us to train staff, but it is far superior."
    Guides can talk about ships going by in real time and they will even point out the exact location of the international boundary between the U.S. and Canada.
    Uncle Sam Boat Tours also offers a variety of shorter cruises, including craft beer and wine cruises and dinner cruises, as well as private charters.
    "We like to say that if you can do it on the land, you can do it on the water," said Thomson.
    In addition to Uncle Sam, however, there is another boat tour outfit operating on the river. Clayton Island Tours runs tours out of Clayton, another beautiful spot about 15 minutes southwest of Alexandria Bay.
    Clayton Island Tours also offers a variety of choices, using boats that are a bit smaller than Uncle Sam's. Providing a comfortable, family-style atmosphere, Clayton Island's boats can accommodate up to 65 guests at a time. Choices include sunset tours, a two nations tour, private charters, and even a tour around the Rock Island lighthouse in a glass-bottomed boat.
Clayton Island Tours offers live narrators on its trip and is open to providing charter packages for special events, such as weddings, or for family gatherings and parties. For more information, including tour times and pricing, go to claytonislandtours.com.
    No matter which boat tour you choose, the experience of seeing the wonderful architecture and learning the rich history of the Thousand Islands from a maritime perspective is unforgettable – and not to be missed.