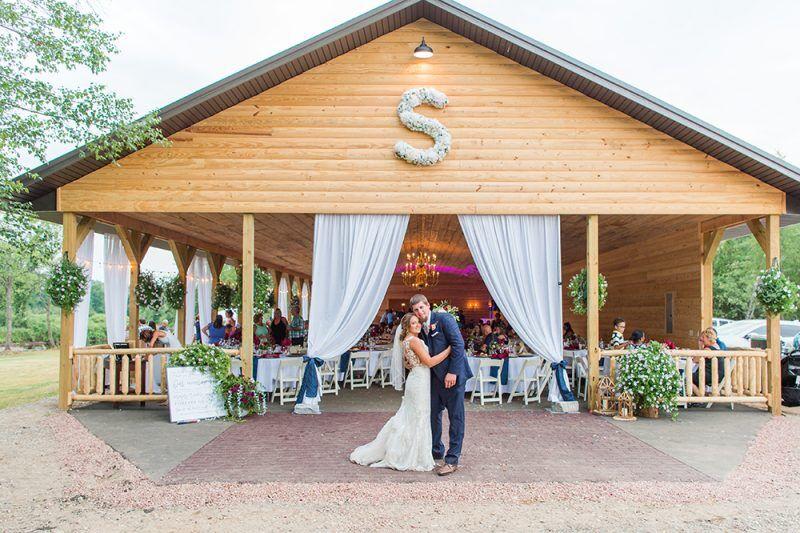 When Mercedes S. (Mackin) Stott was planning her intimate backyard wedding with fiancé Trevor J. Stott for August 2019, an outdoor structure was needed. 
Tent rental and set-up with tables and chairs was costly, roughly what it would cost to build a new pole barn. So the Mackin family did just that — they built a new pole barn, and Shindigz on the River was born. 
Ground was broken in February 2019, Mercedes' parents Tammy M. and Steven J. Mackin building what would become a complete venue by their daughter's Aug. 3 reception. The morning of, Mrs. Mackin recalled with a smile, water hookups were finally completed. 
More than a year later, Shindigz has evolved into a dream business for Mrs. Mackin, who has also served as executive director of the Canton Chamber of Commerce since 2019. 
"I can't think of a better way to make money than helping couples on their day and being around such happy people," she said in December, standing inside the empty pavilion awaiting 2021 guests. Above her, a solid brass chandelier that once illuminated Fort Drum's banquet hall glistened over the dance floor. 
After Mercedes' wedding, Mrs. Mackin began booking receptions for 2020 and planning a May through October season. Then the global COVID-19 pandemic landed in the north country in March. 
"COVID has been rough," Mrs. Mackin said. "But because we're a uniquely outdoor venue, we've been lucky." 
The open-air venue, 3748 County Route 24, is situated on the shore of the Grasse River in Russell, behind the Mackins' home. With supplies of hand sanitizer, masks and a forehead thermometer, Shindigz could still accommodate rentals under state guidelines as an exclusively outdoor venue. Each renting group has been responsible for enforcing COVID-19 guidelines, Mrs. Mackin said. 
Several groups canceled completely, she said, and several others postponed their events and rebooked for 2021. About half of this year's cancellations, she added, were filled by parties shifting from indoor venues. 
Spanning 40 by 120 feet, the expansive outdoor pavilion is fully wheelchair accesible, with two restrooms, a bar, dance floor, patio heaters and provided chairs and tables. With the dance floor open, the pavilion can seat roughly 220 people. The capacity increases to 250 without a dance floor. 
In its first full year, Shindigz offered an all-inclusive venue package — the pavilion itself, chairs, tables, linens and decor. Starting in 2021, Mrs. Mackin said she hopes to offer package levels, with the most basic including the pavilion space and a cabin for the bridal party. Completed in May, the cabin houses makeup stations, a mini fridge and a small seating area. The site also features a propane grill, freezer and fire pit. 
Housed in an upstairs room of the pavilion, table linens, curtains, lights, vases, artificial greens and flowers, centerpieces and other decor, as well as fresh flower arrangements, will be incorporated into silver and gold levels. Alcohol and food will remain the responsibility of the renting group. 
A full season in, feedback has been positive and constructive, Mrs. Mackin said. Plans for the coming year include an additional structure for a live band and small kitchen area where groups can prepare food or more easily set up for caterers. 
In every maintenance project and regular preparation for weekly weddings, family is key, Mrs. Mackin said. 
She and her husband take care of the grounds with the help of their son, Steven J. II, and son-in-law Trevor. If groups need additional bartenders, Mercedes and the Mackins' daughter-in-law Samantha E. Mackin pitch in. 
The vanity in one of the restrooms, now refreshed with paint, belonged to Mrs. Mackins' late brother William Anson, who had carved his initials into the wooden piece. 
The bar was crafted by Mrs. Mackin's brother, John Anson, and features an epoxy pour in the shape of the Grasse River, with river pebbles settled into it. 
"I wanted them to be part of the venue, too," Mrs. Mackin said of her brothers, adding that John is set to start assisting with floral arrangements this year. 
When Steve and Samantha married, Mrs. Mackin said, the venue was a stressful environment for the wedding party, opposite the relaxing environment she wants Shindigz to represent. 
An essential component to keeping stress low, she said, is the booking timeline. A reservation is made from 5 p.m. Wednesday to noon Sunday during a given week, allowing families to drop off supplies and those interested in staying overnight to set up tents or campers on a large grassy area adjacent to the pavilion. 
The riverfront area — groups can also bring kayaks or fishing gear to use during their stay — has parking for 100 vehicles, and the open space can also accommodate special requests. 
One 2020 groom arrived on a helicopter that landed on the property, and Mercedes and Trevor entered their reception on a hay wagon pulled by a tractor. 
The versatility, spaciousness and affordability for couples, Mrs. Mackin said, sets Shindigz apart. 
"I just love doing it," she said.  
Shindigz on the River is fully booked for the 2021 season, and as of December, a few reservations had been made for 2022. For more information, contact Shindigz at 315-261-8633 or shindigzontheriver@gmail.com.