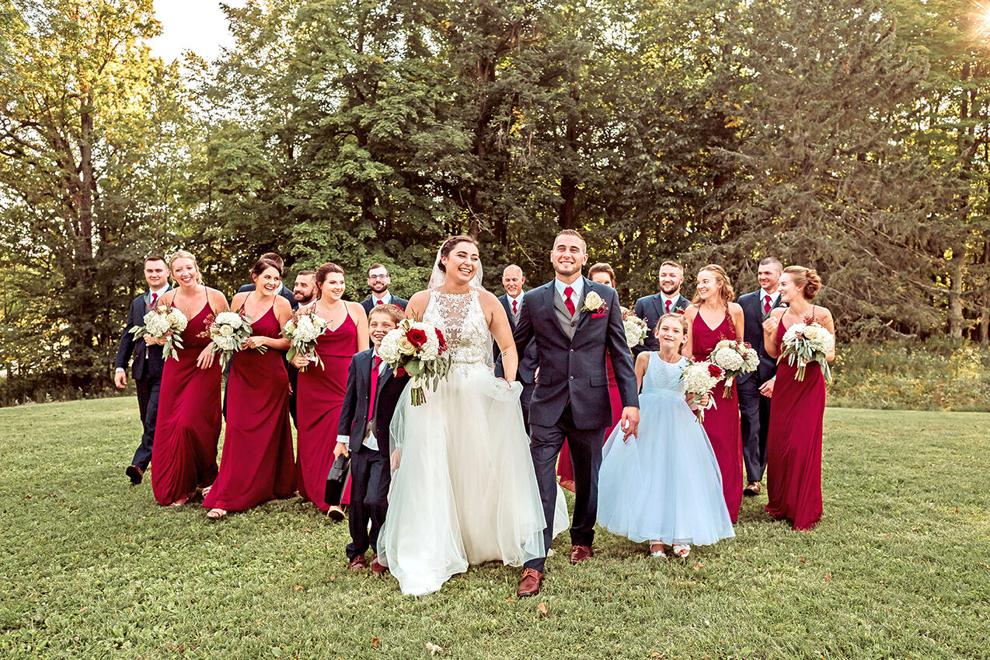 "I'm just feeling like I'm in love with my best friend" -Alesha Garrabrant 
The night they met, Alesha and Steven Garrabrant II, who are coming up on one year of being happily married, didn't speak to each other. 
    At the time, a little over four years ago, Steven, a corrections officer in Ogdensburg, and a friend were having a few people over for cards and drinks. Having gotten out of a fairly long-term relationship a few months before, he wasn't looking to find someone he'd spend his life with at the get-together. 
"My friend's sister was coming and invited Alesha and we kept making awkward eye contact all night I guess, but we never really talked," he said. "It's just kind of funny. I think we could both kind of feel an attraction to each other and we just never capitalized on it." 
    Later on, Steven reached out to Alesha on Facebook and recalls how easy it was to talk to her and maintain a conversation due to her bubbly and outgoing personality. The two became friends and spoke every day for two and a half weeks before being able to finally meet up after Steven returned home from visiting his sister in North Carolina. 
    "When we finally hung out, it was just so easy," Alesha said. "I feel like we both kind of knew when we met, even though we didn't really talk to each other. We started dating, and then I moved in right away, like two months in. I think it was just something that we decided together and we just kind of knew." 
    Alesha, 25, and Steven, 29, are exactly four years apart in age due to the fact that they share the same birthday: January 28. After a few years of dating, Steven proposed in February of 2018, a few months before their two-year anniversary. Surrounded by family, he proposed to Alesha in her parents' kitchen, taking her completely by surprise. 
    From there, wedding planning started. 
    Planning underway, the search for the perfect dress was on. Joining Alesha at New York Bride & Co. in the search were her mother and sister as well as Steven's sister and mother, Vicky Garrabrant. 
    "I tried on probably about 20 to 25 dresses; I tried on a lot," Alesha said. "But when I tried on the dress that I ended up wearing, it's the dress that I kept going back to in my head when I would try on other dresses. I went over and put on a veil and some other jewelry and it just felt 100 percent right." 
    Following her into the dressing room, Alesha's sister told her they'd take photos of the tags of the dress to see if they could find it for a better price online. With luck on their side, they found the same dress for $1,000 cheaper online. Alesha was able to get the dress, which was about $2,000 dollars in the store, for about half off. 
    "It was a little small so I did have to lose some weight, but I did it, and it was awesome," she said. "When I put it on it was perfect, it fit me perfectly." 
    Once everything had been picked out and set, three months before the wedding a venue change from Zenda Farms in Clayton to Lucky Star Ranch in Chaumont had to take place due to problems with zoning laws. 
    "I think it was just meant to be. It really ended up working out and we didn't have to change our wedding date," Alesha said. "It was just weather pending, for if we were going to have it outside or what was going to go on, but it ended up being the perfect day." 
    Thought it was cold, dreary and had been raining the weeks leading up to the wedding, it was 80 degrees and sunny on September 21, 2019- the day the Garrabrants said "I do" in front of a crowd of about 186 guests. 
    The wedding colors, burgundy and navy with grey and gold accents, had been pinned to Alesha's wedding Pinterest board long before she met Steven, but lucky for her, he was willing to go along with them. 
    For catering, RJ's Catering out of Adams was used, and they even made kibbeh, Lebanese meatballs, as a nod to Alesha's heritage per the couple's request. Another incorporation of her heritage, the wedding favors for guests were a Lebanese cookie known as Ma'amoul, middle eastern shortbread pastries filled with dates or nuts, made by Alesha's mother Pam Waterman from her mother's cookbook. 
    Other sweet treats for the wedding came in the form of a small red velvet and vanilla cake made by Steven's aunt Becky for the newlyweds and cupcakes featuring the same flavor profile for the guests, as well as baklawa- buttery, crisp layers of phyllo dough filled with nuts and drenched in flower water syrup. 
    "As far as wedding planning, my mom and my sister were amazing and Steven's mom, Vicky, they were the planners I feel," Alesha said. "I made decisions and we made decisions together, but they did so much, and I'm just forever grateful for them." 
    With her sister Shawna as her Maid of Honor, Alesha's bridesmaids consisted of Steven's sister Brooke and Alesha's childhood and college friends as bridesmaids. Steven's best man was his father, with close friends, his cousin, and Alesha's brother Jake rounding out the groomsmen. 
    The wedding party and other special moments of the day were captured by Mary Madison studios of Cape Vincent. 
    At the head table, red plates and cups from Alesha's grandmother completed the settings and her grandfather's saxophone case was used to collect cards, incorporating the memories of those who could not be there with her to share in her special day. 
    "We tried to incorporate some little things because all my grandparents have passed, but Steven's are still around so they were there, which was nice," Alesha said. 
    DIY elements were also incorporated into the wedding in the form of the seating chart, handwritten signs and the centerpieces with mason jars and flowers. A remembrance table was also included in honor of family members that had passed. Instead of a regular guest book to sign in, guests were asked to sign a custom made cornhole board. 
    "It was just the perfect night for us, the weather worked out perfectly," Alesha said of the wedding. "It was a perfect night for the perfect couple; a lot of people said that to us." 
    As for the honeymoon, Alesha was still in nursing school at the time of the wedding and just recently graduated her nursing program and passed her boards to become a licensed practical nurse, so the Garrabrants have not been on their honeymoon yet. She plans to work at Claxton-Hepburn hospital for now and eventually go back and become a registered nurse. 
    Expecting their first child in a matter of weeks, a son they plan to name Silas Robert, the couple's honeymoon will have to wait for a while, but Alesha is confident they'll go on one at some point and hopes for somewhere warm with a beach, possibly Cozumel, Mexico- a favorite vacation spot of Steven's parents. 
    "I feel like we were in a honeymoon phase but it never kind of faded," Steven said. "It's been a good year. The baby coming keeps us occupied and we plan on building a house next summer." 
    Not all of the details have been ironed out yet, but the couple know they'd like their house to be one-story with a three-stall garage. Alesha loves open concepts, and really wants a nice kitchen and master bedroom/ bathroom. Ideally it will be open for entertaining, so guests can sit anywhere and Alesha can be cooking in the kitchen and still talk and entertain. The couple is thinking of a three-bedroom house right now. 
    With their one-year wedding anniversary and a baby quickly approaching, the Garrabrants fondly remember their wedding and dancing the night away with friends and family to the mixes of their DJ. Now, they are looking to the future and many more years of marriage. 
    "Together, it's just easy," Alesha said of the relationship she has with her husband. "I think communication is key, if we ever have an issue or anything to talk about, we don't get upset with one another, we just have a conversation about it and then we move forward. And I feel like that's one of the main keys to a happy relationship and a happy marriage. I know we've only been at this for 10 months of marriage, but it's been pretty good so far."