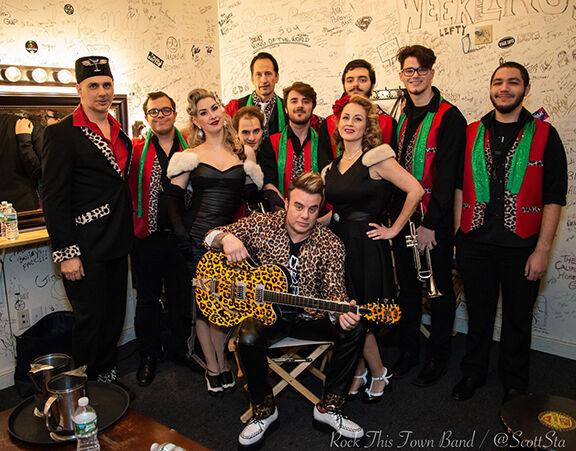 This Christmas season, a new tradition will be starting in the auditorium of the Dulles State Office Building in Watertown. 
    Guests are invited to "Come celebrate Christmas and the holiday season with the Rock This Town Orchestra in a swinging, rocking style" on December 12 beginning around 6:30 p.m., presented by StarryNite Promotions. 
    Rock This Town, the only Brian Setzer Orchestra tribute band in the US, will entertain the crowd by playing some of the biggest hits of the season in a full stage show celebrating the 'most wonderful time of the year.' There may even a surprise from the man himself: Santa Claus. 
    Brian Setzer is a guitarist, songwriter, vocalist and 3-time Grammy Award-winner credited with continually taking chances with innovative musical styles, while resurrecting two forgotten genres of music: rockabilly in the '80s and swing in the '90s. Founder and leader of the Stray Cats, his 19-piece Brian Setzer Orchestra, he is consistently cited as one of the world's greatest living guitarists. 
    According to the band's website, Rock This Town is more than a simple tribute band, it takes inspiration from Brian Setzer's approach to the music and some of the most influential creators of this uniquely American art form. The band's guitar and horn infused music and high energy shows introduce the genre to younger generations, as well as bringing back precious memories to more mature audiences. 
    For their Christmas Spectacular show, the band will play Christmas classics including Jingle Bells, Rockin' Around the Christmas Tree, Winter Wonderland, and Jingle Bell Rock, among other favorites. 
    "We're really trying to get that commodity back of the Christmas spirit," said StarryNite co-founder Gregory Whealton Sr. "The season is approaching so fast, the whole year went by really fast, but this is something I think could help a lot in Watertown." 
    Rock This Town will have the audience dancing from the very first song with their contagious energy and colorful stage props, bringing a theatrical visual effect the likes of which have yet to be seen in Watertown. 
    The band, made up of professional world-class musicians Anthony Bambino with guitar and lead vocals, Claudio Galinski on the drums, and Paul Ranieri on bass, will be fired up by a powerful horns section and ready to rock the city. Mr. Bambino, a seasoned musician like his bandmates, has been in rock bands his whole life, so he wanted to do something a little different with Rock This Town. 
    "I definitely wanted Rock This Town to come because we don't have anything like that here, it's upscale music," Mr. Whealton said. "With everything going on we're trying to be a force in the area to bring back Christmas and show that it's alive and well and kicking, that Christmas is still a good time of year." 
    Mr. Whealton has already booked the band to return next year on a weekend to perform their Christmas show again in anticipation of the crowd's positive reaction this year, and hopes to also bring them back to perform their regular show sometime. The hope is to bring more Christmas acts in to make this anticipated annual show into a full festive lineup. 
    Tickets for the event cost $20 for military personnel with valid identification, $30 for general admission, and $35 at the door the night of the performance. 
    Marella Byrne, an 11-year-old local talent, will open the show ahead of the main event. Doors will open around 6 or 6:30 p.m., according to Mr. Whealton, with Rock This Town taking the stage at 7 p.m. 
    A retired veteran of the United States Army and co-founder of StarryNite Promotions, Mr. Whealton said the company's goal is to work diligently to bring unforgettable events to last not only the duration of each show, but for a lifetime. 
    "We're here to add to the community and make it stronger, we try to provide for everybody from the youngest child to the oldest person," he said. "Music is the key today, it's one of the things holding everybody together, and it just soothes the soul." 
    Mr. Whealton hopes that this show, which he thinks will help guests get into the holiday spirit, will become a tradition for families to attend each year. 
    "The Christmas show is really special because we're kind of the only ones who do shows like this," said the band's lead singer Anthony Bambino. "We try to sound great and give a visual aspect to differentiate ourselves because they say you hear with your eyes." 
    This is the first time the band will visit Watertown, which Mr. Bambino said he is looking forward to because he always like playing new venues for new audiences. 
    With their Christmas Spectacular show being their number one seller, the band will be leaving the day after Thanksgiving and will be on tour until a couple of days before Christmas. 
    They're set to travel across the country, from Arizona to New Jersey, doing a good 15 to 20 dates, which Watertown will be a part of. 
    "Growing up my whole life hearing Christmas music I would have never thought I'd be playing it," he said. "Normally this kind of music can be a little hokey, but not the way we do it. The swing feel brings it to a new level, and it's not every day you can go out and see a nine or 11 piece band." 
    While the band is always accompanied by a six-piece horn section, depending on the show it is also accompanied by two female backup singers who could possibly end up making an appearance at the Watertown show. 
    According to Mr. Bambino, 'Here Comes Santa Claus,' 'Rockin' Around the Christmas Tree,' and 'Jingle Bell Rock' are personal favorites of his to perform. Though he has done many shows in his lifetime, an estimated 8,000 gigs, he says the excitement keeps him going and he still gets butterflies before going on stage. 
    "It's something that very few people get to experience, it never gets boring," he said. "I personally never want the show to end, you get tired, but don't want to stop, and meeting fans after shows makes it all worth the while." 
    Mr. Bambino was in top a 40 band before Rock This Town and was playing 150 shows a year, which he said was fun, but got boring after a while because they weren't doing anything different, just playing the same songs all bands were playing. 
    With Rock This Town, they still play music that everyone knows, but in a cool new way that keeps the magic of performing alive for him. 
    "For musicians and artists there's no security, but it's also a lot of fun," he said. "You put the work in and you do it because you love to do it."