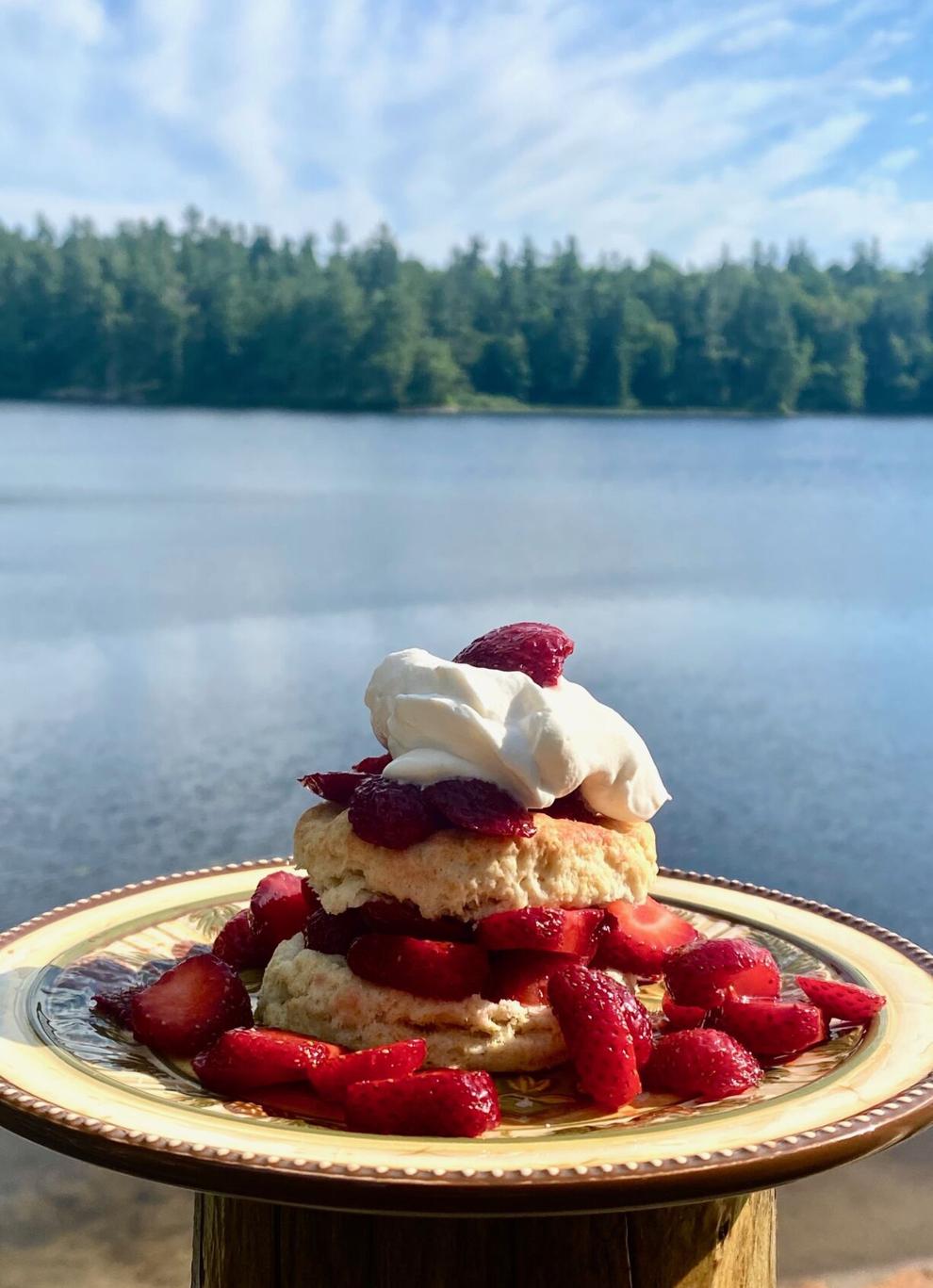 From ramps to rhubarb to raspberries… Who needs a calendar when North Country seasons are so well marked by one flavor after another?
At TAUNY, our interest in regional folklife includes a passion for foodways. While this interest has long taken forms from cookbooks to community meals, we've zoomed in lately on recipes highlighting the abundant seasonal flavors we can harvest at home and forage around us, as well as the tastes of seasonally-specific community traditions. As our need for the literal and figurative nourishment of sharing food only grows in challenging times, we've been glad to adapt lately by presenting special recipes through social media and socially distant Tasting Tent events on our TAUNY Center sidewalk. To share a virtual bite together now–and to get a sense of the flavor folklife adds to any dish–join me on a little tour through three of the sweet and savory samples we've explored in recent months.
In early summer 2020, TAUNY Kitchen Specialist Teresa Stone whipped up a special strawberry shortcake to share online. Teresa was inspired by the Wadhams Strawberry Festival, a 2013 TAUNY North Country Heritage Award recipient going on its 154th year, and she also drew on a recipe from the Adirondack Cookbook, in which historian Hallie Bond and chef Stephen Topper offer traditionally rooted recipes for the modern palate. By the time it hit the plate, her version of this classic dish was bursting not only with the perfection of local, fresh-picked strawberries, but also with the perfect blend of long-standing tradition and fresh-flavored innovation.
As the days grew a bit shorter, we cozied up with another summer favorite: the "Camp Stew" that's been enjoyed for decades at 4-H Camp Overlook, a 2016 Heritage Award recipient going on 75 years of operation. On the cook's night off, kitchen staff prepare a crate with the fixins for campers and counselors to cook up over the fire on their own at various locations around the camp. A devoted former counselor and camper herself, Teresa was delighted to revisit this tasty tradition on our social media, which set to simmering not only the requisite beef, bacon, onions, and canned soups, but also the full-hearted memories of many past campers.
But of course you don't have to look to any particular festival or camp tradition to taste the essence of a North Country season. At a TAUNY Tasting Tent event this summer, we also shared a range of simple syrups distilling the fresh herbs and fruits you can easily grow in your own garden or find at the Farmer's Market–both favorite North Country summer food sources. For this tasting, Teresa concentrated the flavors of mint, sage, basil and more into sweet, bright, and tangy syrups that make a favorite drink sparkle with the essence of summer sun gold and leaf green. Lucky passersby got to sip these refreshing samples on a bright hot summer day, but keep an eye out for your chance as well, as TAUNY is working on these and other recipes as possible products to share in our North Country Folkstore in coming seasons.
Do you have a favorite recipe rooted in community gathering, gardening, farming, or foraging traditions, whether deep-rooted in the North Country or brought here more recently? Drop us a line any time at programs@tauny.org to share your own food and flavor traditions, and join our mailing list (tauny.org) and follow us (@thetaunycenter) on Facebook and Instagram to find more about TAUNY, our foodways programs, and selected recipes you can try out at home!