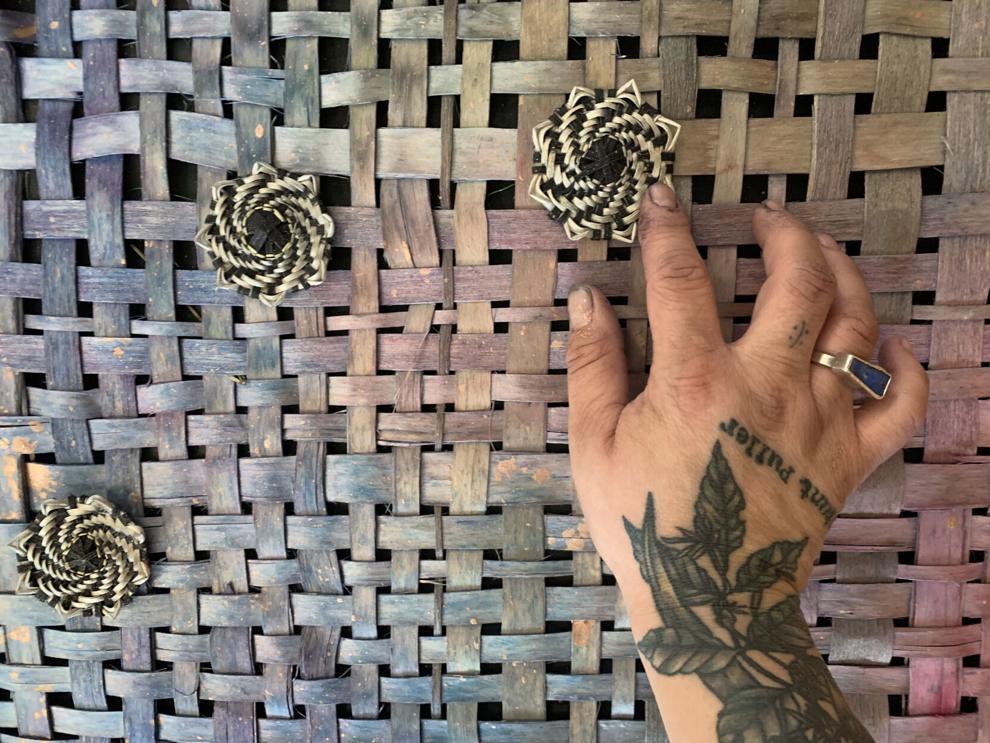 As you drive around the region, do you ever feel for a dreamlike moment that you're driving through a quilt? If so, it might be because of the recent burst of barn quilt activity all around us, the growing movement to decorate barns, homes, garages, and even boat docks with painted squares inspired by traditional quilt block patterns. If not, take a drive–and a closer look–next time you get a chance! 
Over the past several years, barn quilt painters around the North Country have been getting involved in a national movement to brighten their homes and communities with these painted creations, ranging from one to eight foot squares, and often displaying patterns and imagery that help share something about the interests, identity, or heritage of the person or family who put them up. Many people make their own, and many others purchase them from local artists. 
In winter 2020, TAUNY opened the "St. Lawrence County Barn Quilts" exhibit, giving an overview of this particularly vibrant and growing grassroots arts and economic development movement in and around TAUNY's home county. It features dozens of striking works and the related stories and projects of varied barn quilt makers, owners, and enthusiasts. The exhibit also includes several special features such as an original story book, the "Towns of St. Lawrence County" Barn Quilt Mural and Sampler Quilt, and the "4'x4' Barn Quilt-Inspired New Works," a collection of pieces by contemporary, folk, and traditional artists who were invited to create a piece in their own medium reflecting on the concept and form of the barn quilt. 
As co-curator of this exhibit, along with county barn quilt movement leader Ruth McWilliams, I was thrilled to invite artists to take part in the New Works project, and to see the incredible things they created. They rendered their concepts in materials including wood, stone, scrap metal, felted wool, black ash splint, cut paper, clay tile, and even poetry. Each participating artist commented on the exciting challenge it was to work with these guidelines, creating a single 4'x4' piece using their medium to explore ideas of artistic tradition and transformation, just as barn quilts both draw on and depart from the traditional art of quilting. As blacksmith James Gonzalez (Potsdam, NY) said of working on the project, "What happens in the artist's process requires space for change." And indeed, not only the New Works artists but many makers featured in the exhibit have shared barn quilts and related works that show how traditional patterns and forms give them a space to which they bring something new and potentially transformative–their own stories and inspiration. 
Along with others in our community, TAUNY temporarily closed its doors in March, due to coronavirus-related concerns. We look forward to welcoming visitors back into the gallery itself as soon as possible. Meanwhile, we gladly continue sharing elements of the "St. Lawrence County Barn Quilts" exhibit online. Look for TAUNY on Facebook and Instagram (@thetaunycenter), and at www.tauny.org, for digital views and visits, and updates on re-opening. We also invite all to explore what were the inspiration for this exhibit in the first place–the hundreds of barn quilts that have popped up all around and beyond St. Lawrence County in recent years! To learn more about the barn quilt trails around Hammond and Colton, NY, and to find online maps of those trails and many other barn quilts around St. Lawrence County–or to list your own–visit the Exhibits section of TAUNY's website. You can also find many barn quilts and related products for sale in TAUNY's North Country Folkstore as we reopen in Canton, and in TAUNY's online shop any time at www.tauny.org/shop.