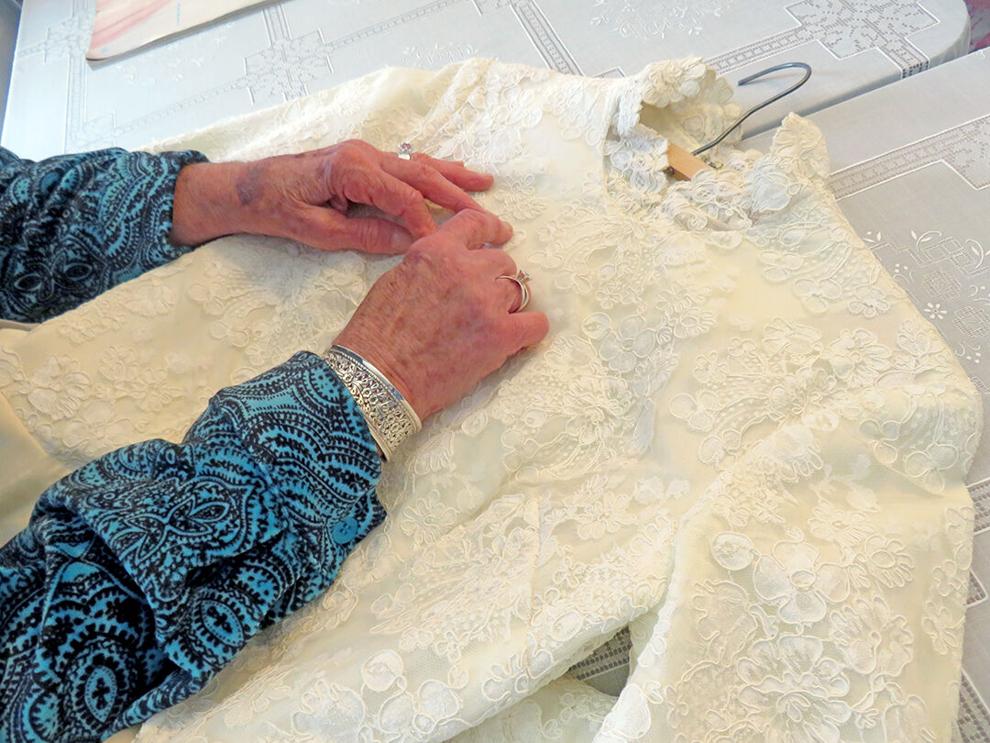 By: Camilla Ammirati, TAUNY
With all that's going on in the world, it's an unusual wedding season. But if there's anything clear in the study and celebration of folklife we do at TAUNY, it's that even the strangest and most challenging of times can serve to highlight our commitment to maintaining in some form the traditions, rituals, and daily details that are most important to us—including, of course, tying the knot and all that comes with it! 
    Throughout the north country, people plan nuptials in all kinds of ways, whether drawing on deep-rooted traditions, inventing all new approaches, or crafting something in between that expresses their own values, backgrounds, and inspirations. At TAUNY, we connect with many individuals and communities in our mission to document and showcase regional folklife. One of the organizations we've been privileged to work with is the Adirondack Mennonite Heritage Farm and Association (Lowville, NY). In September 2018, we had the opportunity to learn about and join in celebrating their community's wedding traditions at their program "50+ Years of Amish Mennonite/Mennonite Weddings." 
    This event included a traditional wedding meal of Croghan bologna, scalloped potatoes, ham, baked beans, corn, pickles, cabbage salad, an array of cakes and more. An octet sang hymns likely to be heard at the afternoon or evening of singing that has traditionally followed a wedding meal. The singing and remarks on wedding traditions then turned over to a display and presentation highlighting wedding dresses worn by community members from 1891 through to the late 1960s. Many of these were displayed in the Naumburg Mennonite Church foyer along with accessories, photos and related materials. The highlight of the evening, though, was the set of dresses that women of all ages from the community modeled, including garments from the 1930s through the 1960s, and in many cases wearing the dresses of their own family members, as the related wedding stories were shared. In addition to showing the skill and style of the brides and seamstresses who made them, these dresses showed an evolution of conventions, with the traditional black and then dark blue, green, and brown dresses of the late 1800s and early 1900s, including matching aprons into the 30s and caped dresses into the 50s, giving way to white dresses and eventually white shoes as well in the early 1950s. As the women wore these dresses down the "Menno Walk" church aisle, both presenters and guests filled with joy in revisiting wedding memories, celebrating current anniversaries, and reflecting together on the change and continuity in their community's traditions over the years. 
    After the program, I joined AMHF Director Rosanna Moser in following up with Ruthann Roggie (Lowville, NY), a community member who shared stories with us about, among other things, the gorgeous garment she'd made herself for her 1962 wedding. She even brought out the very 1961-2 Modern Bride magazine that had inspired her, with the gown and the orchid, rose, and lily of the valley bouquet on the cover that she'd so carefully replicated (with adjustments nodding to church conventions). Ruthann described how she'd procured re-embroidered 
    Alencon lace from Paris at $50/yard, carefully cut out many lace medallions and appliqued them down the front of her dress, painstakingly attached 32 beautiful little buttons down the back, plus six on each sleeve, and more. "That's why this took me forever to make this gown!" she said, pointing out the endless hand-stitching, the layers of different materials that shaped the skirt, and the sleeves that had each taken "hours and hours," not to mention the hand-embroidered house coat she'd made for her honeymoon. As she noted, "It's amazing what you do when you're young!" 
    Amazing it was, as were all the dresses, the photos, the stories, and the spirit of community and connection celebrated on the night of the wedding program, as the community reflected on how the years have seen changes in fabric, color, and style, while the underlying currents of love, acceptance, commitment, daring, and delight have carried straight on through. 
    Thinking back on that evening and following conversation, I'm struck by the question of how those same currents carry on into the current moment—how even the most well-established traditions may adapt in interesting and creative ways, and how that's happening not only in the region's Mennonite communities, but for all who are now figuring out ways to adjust their wedding plans to the particular challenges of this time. 
    And I hope you'll join me in thinking about it as well! With our focus at TAUNY on the living traditions of our region, we invite you to contribute to our "Get the Folk Through It" Pandemic Documentation Project by sharing your own pandemic wedding stories with us. Has the pandemic affected your or a loved one's wedding plans? Was your wedding canceled, postponed, or totally re-imagined for a smaller, socially distant group—or to include no guests at all? Have you gone ahead with plans that were already in place? Have you been inspired to reimagine the traditions within the tradition? From bedazzled bridesmaid masks, to Zoom receptions, to socially distanced dance floors, to toasts on what it means to say "in sickness and in health" at such a moment in time, we want to hear it all.