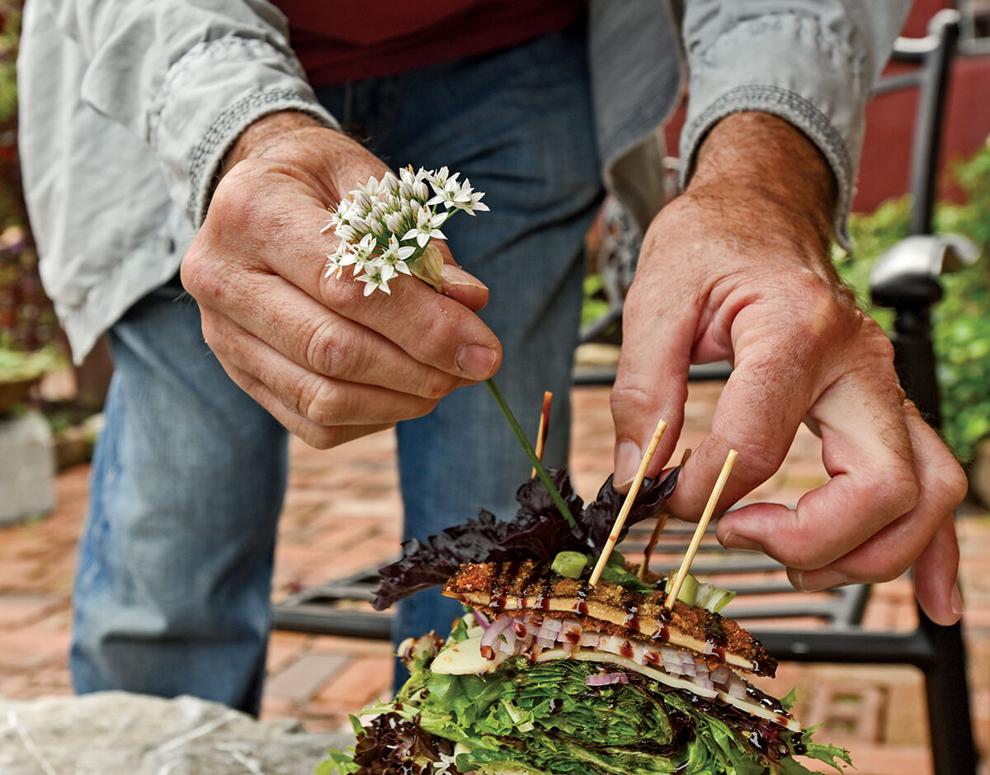 A north country chef recently noted that "people eat with their eyes," and the better the presentation of the food, the better it tastes.
     It's an old adage, but one that many have agreed upon over the years – how food appears on a plate is connected to a person's desire to consume it, along with a sense of how well it tastes. 
     Many north country chefs practice the art of food presentation, also referred to as "plating," to enhance the appeal of their appetizers, main dishes and desserts.
    The "plating" technique involves creating the right combination of tastes, colors and textures to present a visual feast that heightens both the look, and the aroma, of the food being served.
     Successful food plating is both an art and a science, and the skilled chefs who practice it say a combination of creativity and strategy is key to achieving a successful food aesthetic.     
   Some chefs claim it starts with selecting the right plate, and it's often a white one to provide a neutral background for a combination of colorful food creations – such as brightly-colored fruit or deep green vegetables.
     A mix of textures is also part of the approach, and one way is to combine foods with crunchy and smooth textures. There is also the aspect of "creating height" on the plate – for example, stacking asparagus against a mound of mashed potatoes, or adding a chocolate slice atop a piece of cheesecake.
    Several north country chefs recently shared their thoughts on the importance of "plating" to create the best possible visual feast for their customers.
Tin Pan Galley, 110 West Main St., Sackets Harbor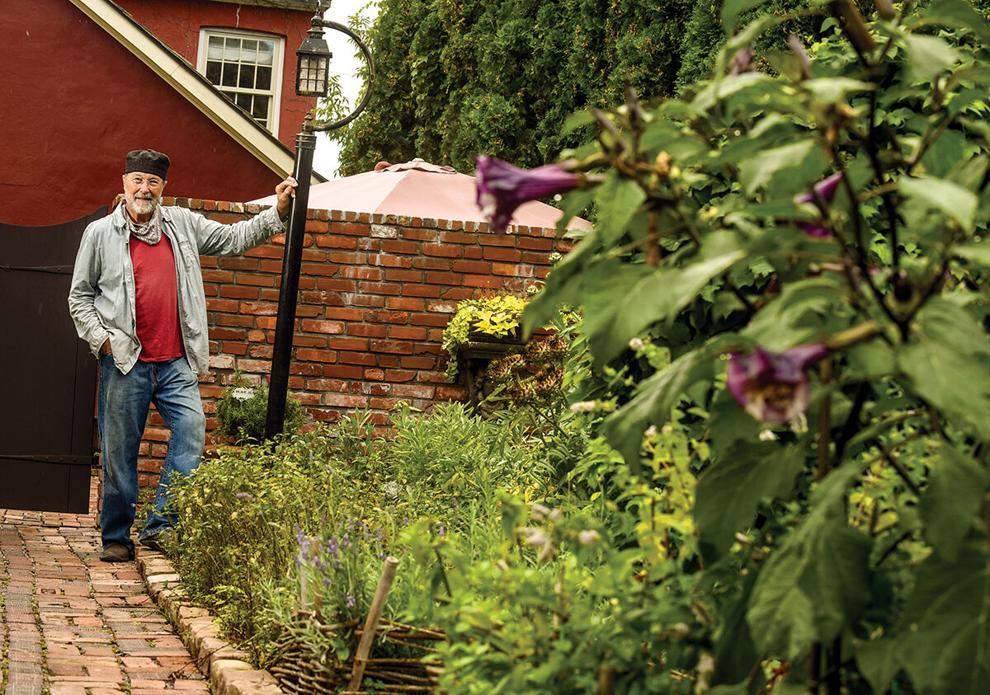 For Andy Taylor Hanzlian, owner of the Tin Pan Galley, the food plating process starts in the backyard of his West Main Street restaurant.
    Nearly 28 years ago, he started planting several garden plots filled with large assortments of herbs and edible flowers, and these have continued to be a staple to many of his dishes over the decades. 
    Mr. Hanzlian grows what he calls the "common stock" of herbs used to flavor or garnish a plate, including garlic, sage, rosemary, basil, thyme and parsley.
   But one can also find other items in his gardens, such as cardoon (a celery substitute), and several varieties of mint, including the classic chocolate mint used as a garnish for the restaurant's popular cheesecake recipes.
    Only fresh whipped cream is used on desserts at the Tin Pan Galley. While a chocolate mint garnish may be paired with a slice of cheesecake, a chocolate "spike" (homemade with dark, milk or white chocolate) is also added on top of the dessert.
    "This is done to add height, because a taller dish has more presentation to it," Mr. Hanzlian said.
    Other examples of food plating desserts at the Tin Pan Galley include the traditional crème brulee, served with a biscotti, and a mocha macadamia mousse torte that is served in a pool of raspberry sauce.
   A popular main dish at the restaurant that illustrates the plating process of blending colors, textures and tastes is the Asian Marinated Chilean Sea bass.
     The bass is served over a sticky rice timbale with fresh seaweed salad in a pool of lobster sauce. The seaweed salad is placed on the corners of the plate, and the lobster essence sauce is spread around the fish, he said. 
  "The presentation of the food is very important," Mr. Hanzlian said. "It must be visually appealing. And it must taste as good as it looks."
The St. Lawrence Spirits Chateau, Clayton
      While the goal of food plating is to balance the taste, texture and color, "in the end, taste is paramount," said Christian Ives, chef at St. Lawrence Spirits Chateau, Clayton.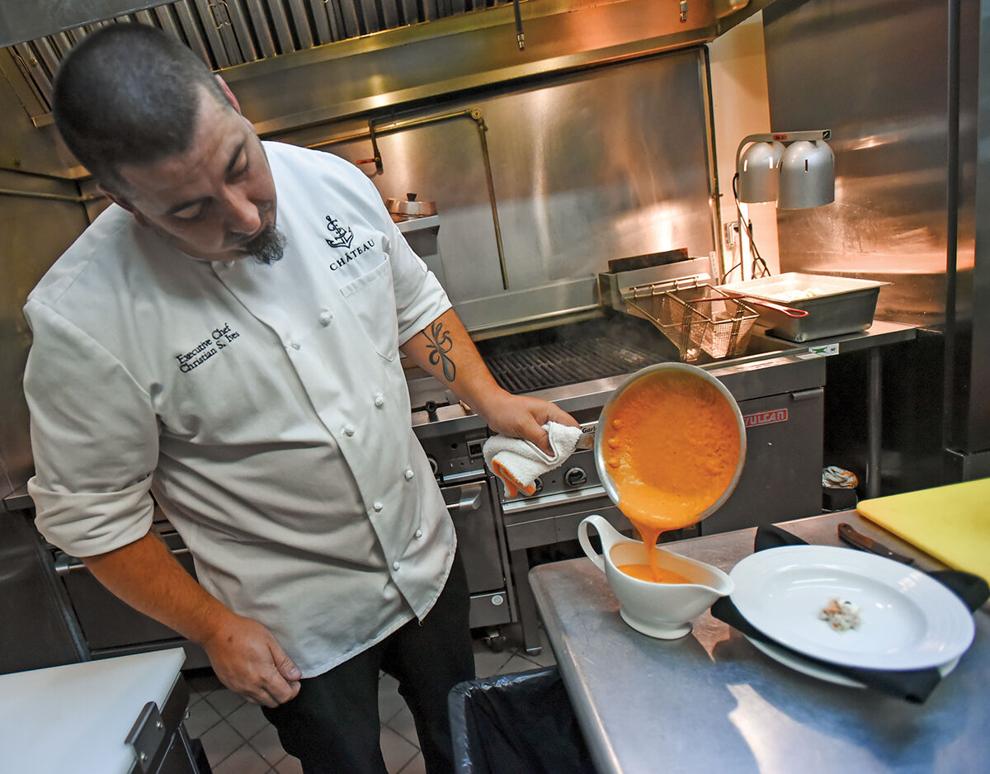 "If it doesn't taste good, no amount of garnish will save it," he said.
   The process of plating food has a direct effect on the taste of the food itself, he said.
     For example, one specialty dish at the Chateau is Kumamoto Oysters, which include a balance of flavors, "all of which must stand on their own to be recognized," Mr. Ives said.
  "Each oyster is topped with an orange miso mignonette, wasabi pea dust and crystallized ginger," Mr. Ives said. "For one bite, that's a lot to take in, especially with such bold flavors. Balancing them is critical."
    When a customer first tastes one of these oysters, "the sweet/salty brine from the oyster opens the palate, followed by bright orange miso and a touch of acid from the mignonette," he said.
     Then "the oyster itself takes center stage with its delicate texture and folds, which are lightly contrasted with a subtle crunch from the wasabi pea dust," Mr. Ives said. 
    "The oyster is down and as you exhale, the crystallized ginger comes forward with a refreshing breath to cleanse the palate," he said. "Each ingredient is layered, and all have their moment to shine."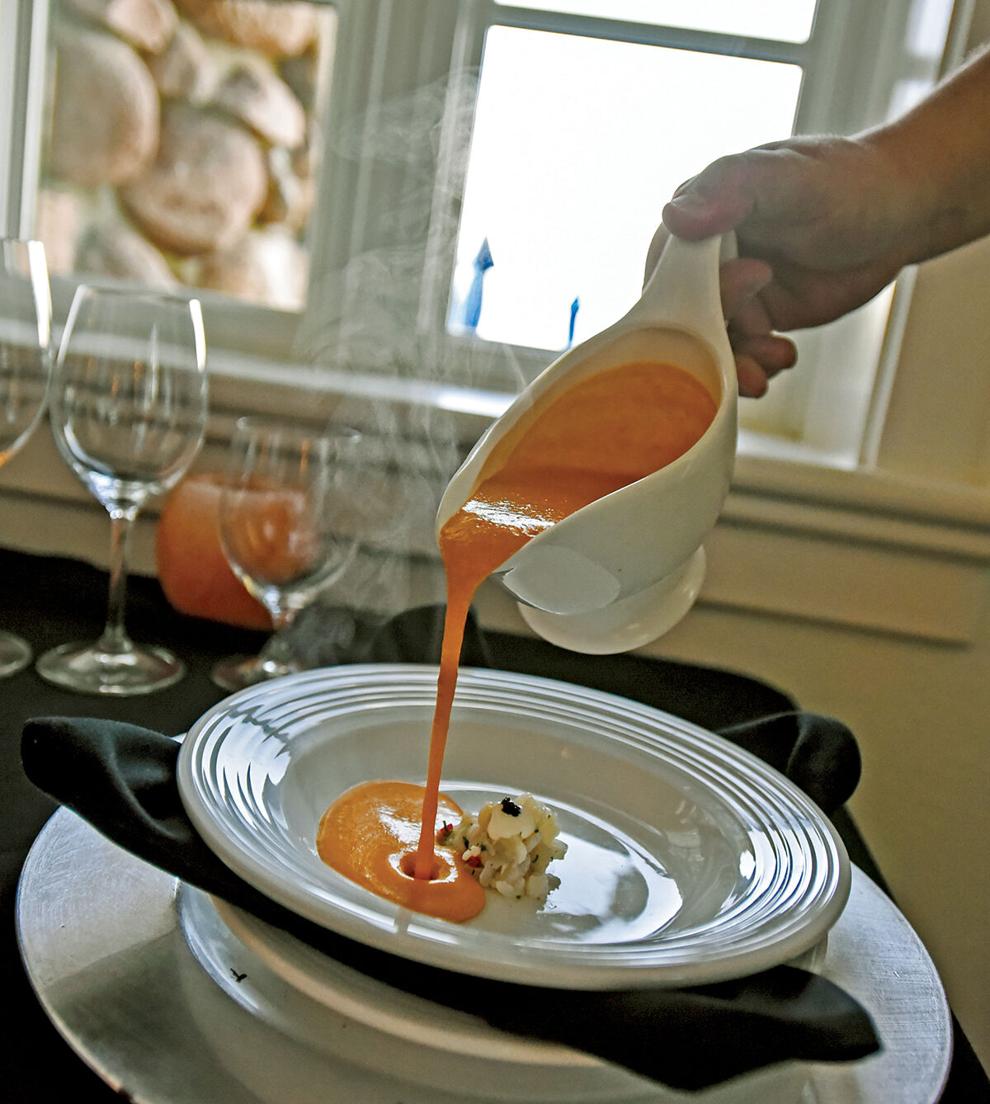 The chateau grows its own fresh produce, herbs, and flowers, and also buys direct from local farmers who supply pork, eggs, chicken, and organic produce, goat and beef.
   Another key component to successful plating is the stemware and the plates themselves, which Mr. Ives called the "canvas." 
   "For example, you wouldn't want to plate a dish that has a black garlic demi glacé on a black plate," he said. "The rich color would be lost and not stand out as it would on a white plate, accentuating its color and sheen."
    Another plating technique is using odd numbers of food items to help center the plate, because "just like a bullseye, the guest's interest will be drawn towards the center of the dish," Mr. Ives said.
     "If the dish doesn't look appetizing, your brain will trick you into believing so," he said. "If you're looking for a high end dinner in a nice restaurant, and the dish is haphazardly put together and looks awful, you're probably not going to enjoy it."
     Although "it could be a stunning work of art, if it doesn't taste good, the beauty will not contradict the palate," Mr. Ives added.
   "I love plating food," he said. "I'm an artist at heart, and whether it's a plate, cedar plank or a block of slate, it is my canvas."
The Tailwater Lodge, 52 Pulaski St., Altmar
     The Tailwater Lodge caters to a variety of customers, including many visitors who travel to the Tug Hill region to fish on the well-known Salmon River in the fall and spring, and ride the snowmobile trails during the winter months.
   The facility also hosts many conferences and weddings, along with offering meals on a daily basis to local customers.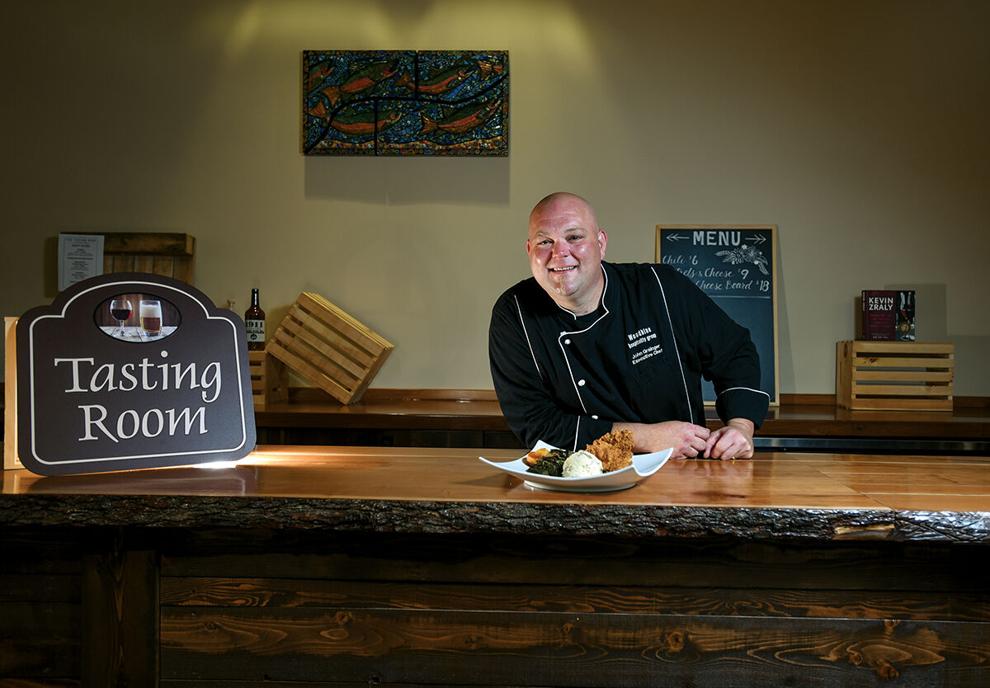 Head chef John Grainger said the Tailwater Lodge menu offers a variety of food to meet the needs of its varied customers – everything from "comfort food" to "new age items," along with special vegan and gluten-free dishes.
     Part of the technique with food plating is to "let the food speak for itself,' said Mr. Grainger.
      "If it looks great, it will taste great," he said.
     While creativity plays a role, it's also important not to get too carried away, because "the food presentation has to be identifiable," he said.
   "You don't need to go too crazy," he said. "You want a variety of texture, color and height on the plate, but sometimes less is more."
    "The plate needs to look clean, not cluttered," Mr. Grainger added. "Our overall focus is on the quality of the food, cooking it the right way, and making it look good."
    "We really focus on the ingredients first," many which are locally sourced, he said.
    The right presentation of the food is important to enable the customer to appreciate the taste and flavor of the dish, Mr. Grainger said.
    For example, a high-quality steak may just need to be grilled with salt and pepper for seasoning, but its flavor will be enhanced with melted butter, and that is part of the presentation.
   This is sometimes accomplished with a tool in the kitchen – a small blow torch to partially melt a butter patty on top of a steak (although the entire patty is not melted, because you still want the customer to know it's butter, he said).
   "We can use this same technique for our crème brulee," Mr. Grainger said. "It can make something look very shiny or pretty."
    On a plate with a steak, Mr. Grainger will stack asparagus on a mound of garlic mashed potato so the dish is not "flat." The green vegetable will also add color by contrasting with the white potatoes, he said.
     "Color is one of the biggest things, and we always use white plates" to avoid a clash of colors, he said.
    A popular dish at the restaurant is the "North Country Southern Fried Chicken," (a boneless chicken breast with the drumette attached – also known as a frenched breast of chicken). This specialty is brined with a combination of garlic and sage, butter and salt.
   The chicken is paired with fresh collard greens and onion, a homemade orange and honey cornbread muffin, a side of roasted garlic mashed potatoes and a side of locally produced maple syrup.
   "This is an example of comfort food," said Mr. Grainger. "It's one of our best sellers." 
   The restaurant also offers a mix of colors and textures in a new vegan dish, a pasta made from zucchini, topped with smoked tomato broth, pesto, roasted mushrooms and bell peppers.
  The method of food plating can even be applied to one item, Mr. Grainger said. 
  For example, the Tailwater Lodge offers an appetizer of homemade buttermilk-battered onion rings, served with a dipping sauce. Parsley is sprinkled around the edge of the plate for a garnish.
  "There is contrast on the plate with the green parsley," he said. "Otherwise it would look rather blah on the plate."