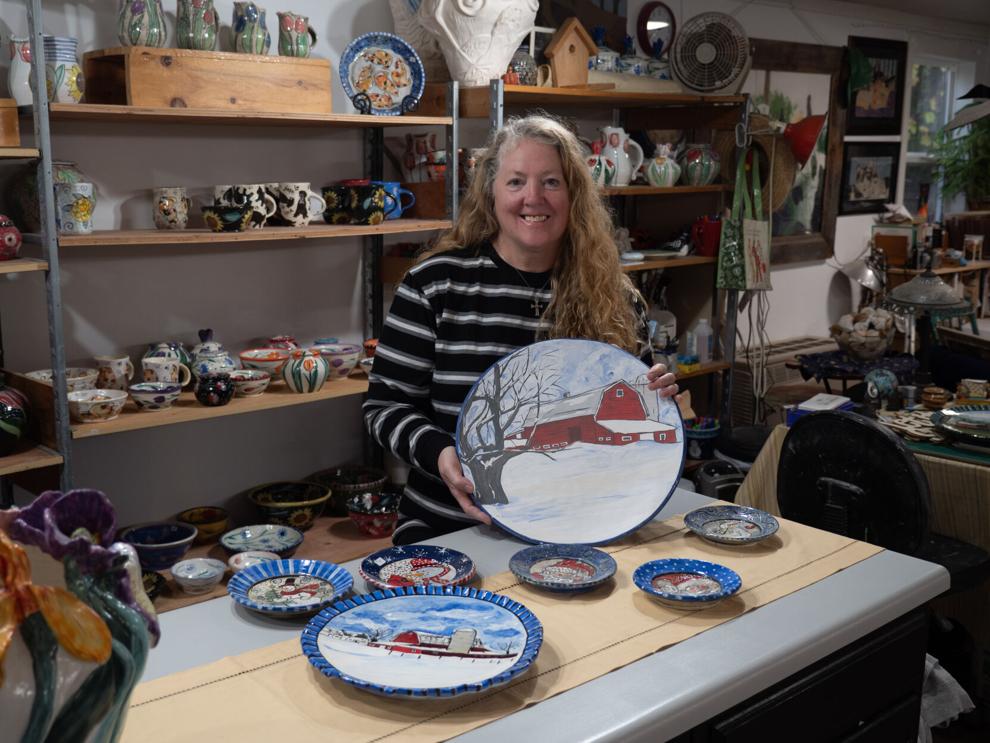 Roxanne Locy knows how to create a scene. Amidst the distinctive whirls, swirls, and swoops characterizing both the shapes and patterns of her ceramic pieces, she'll paint a waterside Adirondack chair you wish you could sit right down in, or a pair of loons whose calls you can just about hear echoing through the twilight. From plates to jars to teapots, her works are cozy and colorful, sweet and striking. And not only do they catch the eye, but they capture the spirit of the North Country seasons and some of the holiday traditions that mark them, as in her pieces that feature Santas and snowmen smiling brightly through the flurries. 
Roxanne is one of the more than 200 artists from around northern New York whose work is featured in TAUNY's North Country Folkstore. While their work is vibrantly varied, these artists all have it in common that they somehow take inspiration from or reflect on the life, land, or living traditions of the region, including the ways in which many of them incorporate elements of holiday life, imagery, and traditions.  
At TAUNY, it is part of our mission both to support regional artists by featuring their work, and to contribute to the cultural life of the area by connecting community members with traditional and folk artists' creations and perspectives. That includes connection to material arts rooted in regional life–from ceramics, to quilting, to woodworking, to rug hooking and plenty more. And it includes connection to traditional performing arts, food arts, and many kinds of knowledge and skill that people in our communities carry on. While these varied traditional arts and living traditions may shine through every day of the year in one way or another, holidays are important focal points, giving people the chance not only to carve a tasty turkey (or in my Italian-American case, full disclosure, a traditional Thanksgiving lasagna alongside it), but the chance to carve out time to mark the personal, family, community, and cultural traditions that persist in feeling necessary and meaningful over time.  
As we approach the late fall and winter holidays once more, we look back fondly on the festivities of recent years and the opportunities we've cherished to recognize, highlight, and help celebrate these traditions–from observing how the community effort to put on the annual Congregation Beth El (Potsdam, NY) Jewish Food Festival (a TAUNY North Country Heritage Award recipient) warms the spirit–and belly!–each early December, to the fun of gathering families to decorate Christmas cookies at one of our holiday drop-in events, to the edible wonders participants concocted for the latest Sugar & Spice Gingerbread Contest in our gallery, to the honor it was to get to host expert baker and chef Margaret Chang of Sweet Margaret Cafe as she crafted an array of exquisite dumplings in celebration of Chinese New Year at our annual Holiday Open House. And we look forward to celebrating the range of traditions and arts that go along with the coming holiday season as well–from the day to day things like buttoning up gardens and closing up camp and going on last hikes before the snow flies, to the observances of faith and family life that people throughout our communities carry on in our varied but equally vital ways. 
This year, traditions might look a bit different, but if there's anything the past months have shown, it's that the challenges of the times only highlight what we value, and that people will continue to find new and creative ways to mark the seasons, the holidays, and the connections that matter most over the months to come.  
One thing we'll definitely plan on at TAUNY is continuing to spotlight and celebrate the arts, artists, and traditions that help make North Country life so rich. Heading into the upcoming holiday season, we encourage all to enrich your holiday celebrations by supporting local artists as you consider gifts, decorations, and treats for the holiday table. At The TAUNY Center in the coming weeks, we will be sharing an even richer array of works by regional artists in our annual Folkstore Holiday Showcase. Stop by The North Country Folkstore at The TAUNY Center in downtown Canton throughout November and December (check out tauny.org for more details on products and extended hours) to see what wonderful works are available. Or if you're further afield or want to take a look ahead of time, you can check out a wide array of selected items for sale, as well as learn more about the artists we feature, in TAUNY's online shop at tauny.org. 
And as always, we also look forward to learning more about and celebrating you! Drop us a line any time at programs@tauny.org to let us know about your own holiday traditions, to contribute to the "Get the Folk Through It" Pandemic Documentation Project by sharing how you're adapting those traditions in this unusual year, or to tell us about your own creative work expressing holiday or seasonal themes. You can also join our mailing list (tauny.org) and follow us (@thetaunycenter) on Facebook and Instagram any time to find more about TAUNY and our ongoing programs and projects. Meanwhile, best wishes to all in the coming season!