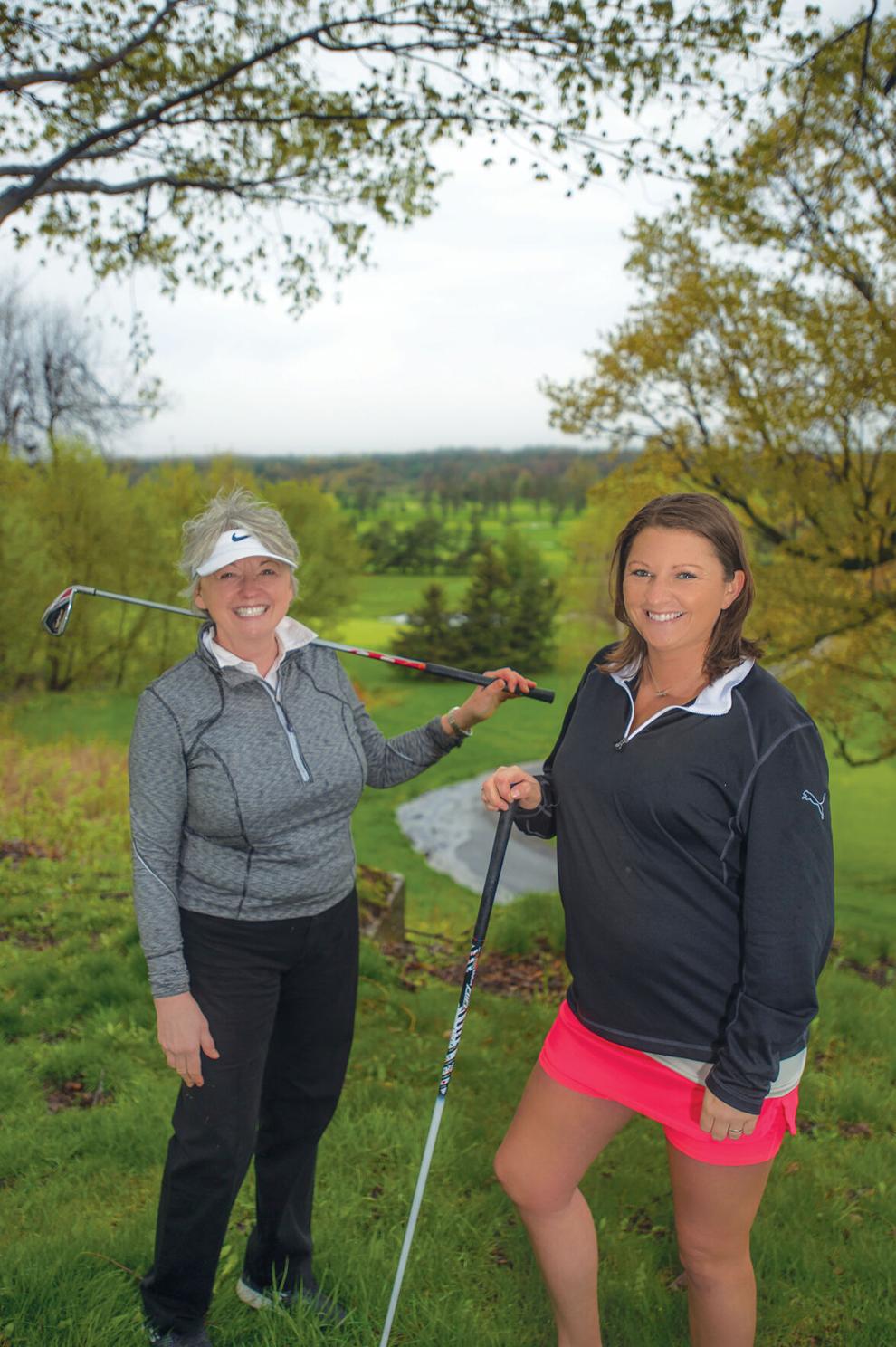 Mary Lawrence, about to celebrate her 20th year as St. Lawrence University's head men's and women's golf coach, knew she wanted to be a golfer the first time she heard the click of golf spikes on pavement.
    "I must have been 7 or 8," she says, "and I had this neighbor two doors down who golfed. When she would come home and get out of her car, she still had her spikes on. I just loved the noise of the spikes. I said, 'I have to get shoes like that.'"
    Lawrence's friend Nancy Lopez, a retired pro golfer who won 48 LPGA Tour events including three major championships, was the same way. "She caddied for her dad, like me," Lawrence says. "And it was the sound of the shoes that did it for her, too."
A pioneer of women's golf in St. Lawrence County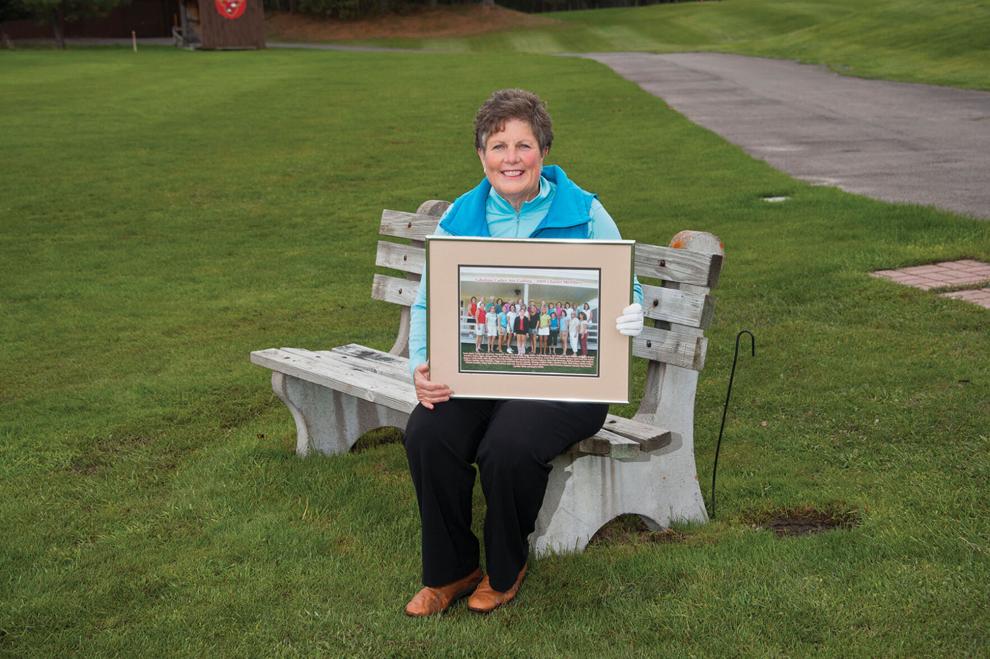 Lawrence, born and raised in Canton, is a north country golfing veteran with an intimidating resume. She's a member of the LPGA Teaching and Club Professional Division, which was founded in 1959 and has the largest membership of female golf professionals in the world. She competed on the LPGA tour from 1978 to 1983, in nine USGA Women's U.S. Opens, and the 1994 British Women's Open. Lawrence also won the first-ever Women's Senior Golf Tour qualifying school tournament, placed first in five professional events, and in 2006 earned the title of LPGA Teaching and Club Professional Northeast Coach of the Year.
    Lawrence has also helped two golfers on to NCAA Tournament appearances, one of whom is female golfer Amy Caligiore; and she has enjoyed a front-row seat to the development and enrichment of women's golf in the north country. In addition to coaching, Lawrence runs the St. Lawrence Indoor Golf Center and serves as director of instruction at the St. Lawrence University Golf Club. It is in these latter capacities that she has had the opportunity to see women's recreational leagues balloon throughout the tri-county area.
    And she couldn't be happier.
    "Women have finally formed leagues to socialize like the men after work," Lawrence said. "Our course was the first to do it, then Partridge Run in Canton, and Potsdam. The business women finally said, 'I need time to be out with my girlfriends having a good time.'
Jefferson County strikes while those nine-irons are hot
    Over at the Clayton Country Club, a woman's league meets every Tuesday between May 1 and Sept. 1 for individual matches as well as "specialty nights," which offer matches with different formats.
    It's the 52nd year for the women's league there, and the clubhouse's statistician, Sue Hoffman, says the half-century mark was celebrated in style with two longtime members at the helm.
    "Anna Forbes and Mary Bastian, who was statistician for over 35 years, actually put together a special 50th anniversary program," Hoffman says. "They made sure to also invite golfers who used to play but couldn't golf anymore for whatever reason."
    Hoffman, a retired teacher from Saratoga Springs who had pro golfer and TV broadcaster Dottie Pepper as a student, has been a member of the Clayton Country Club Women's League since 2011. She retired in 2012 and calls herself one of the "babies" in the league. "Many of these women have been playing 20, 30 years," she says. "We have at least two school principals and a couple of teachers, as well as administrative assistants. There's definitely a great age disparity—we have a lot of members over 55, then it drops off. People in their 30s and 40s are raising families, and have responsibilities for things besides their own leisure time. Then we have some younger folks, including a couple gals in their 20s."
    Hoffman says most people hear about the league through word of mouth, as well as by seeing match results that are published weekly in the Thousand Islands Sun. Many members of the Clayton Country Club league also play in women's leagues at the Alexandria Bay Municipal Golf Course (which features an 8:30 a.m. shotgun start on Wednesdays between June and September), the LA Golf Course in LaFargeville and the Willowbrook Golf Club in Watertown.
    The Clayton ladies' league is open to anyone who'd like to commit, Hoffman says, with teams of four divided into 1-2-3-4 positions that tee off sometime between 4 and 6 p.m. on league nights.
    "Golf took a big hit when we went through that recession," Hoffman says. "People weren't traveling as much, and weren't golfing as much." To combat the slump, Hoffman says her club focused on the community—and saw great results. Following a fundraiser at the club for the local food co-op, and a golf tournament that donated a portion of the proceeds to the food pantry, golf course usage at the club climbed by 14 percent."     
    Hoffman sees getting in the game as a boon to the body and the mind.
     "It's good to get out with other women and do something physical," she says. "It's just good for the soul."
A steady Lewis County tradition
    "I'm very happy with how things are going with the ladies' league," says Jared Chamberlain, owner of Cedars Golf Course in Lowville. "I think they're having more fun."
    Cedars' ladies league this year is made up of 20 two-person teams playing on Monday nights for points.
    "Each week they play somebody different and keep track of points," Chamberlain says. "At the end of the year they hand out prizes. Everything is held right here on site, and we go from the front nine to the back nine."
    Chamberlain says the league's numbers have been pretty steady in recent years, after doubling almost a decade ago. "I've moved the markers up a bit, which I think makes playing a bit more enjoyable for the members."