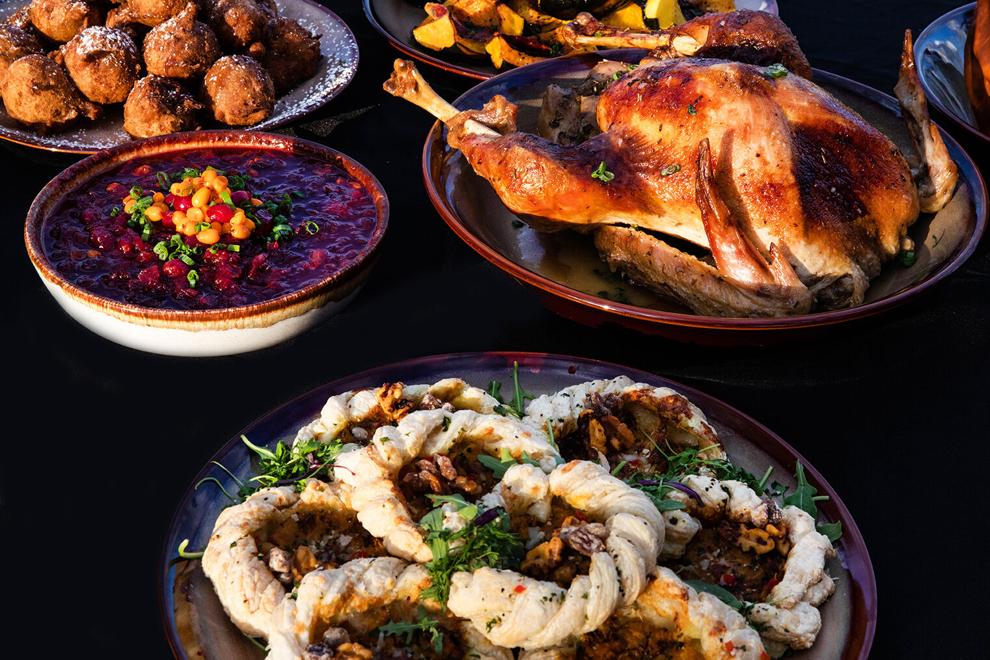 If you're looking for a healthy alternative to the typical gluttonous Thanksgiving Day feast, you might want to consider a "farm-to-table" holiday meal. 
    It's possible to create this type of vibrant and flavorful meal, even if you don't have a garden or farm operation of your own, thanks to an abundance of locally-sourced food options throughout Northern New York, said Christian Ives, executive chef at the Saint Lawrence Spirits Chateau & Distillery.  
    The region's rich agricultural community offers a perfect opportunity to plan out a "Farm-to-table" holiday meal, said Ives. "For many holiday dishes, you should be able to find the ingredients locally," he said. 
The Clayton business operates a farm-based distillery, restaurant and boutique hotel. Many of the food and drink items offered on its menu include locally-sourced agricultural products, such as a large variety of produce and meat. 
    Each week, Mr. Ives sorts through numerous e-mails and text messages from north country farmers. "They keep me updated with everything they are harvesting for the week," Mr. Ives said. "There are so many locally grown food products available in this area." 
    That includes a range of fresh vegetables and fruits, often picked from the fields and delivered to the restaurant the same day. Other locally-sourced agricultural items include cheeses, eggs and a variety of meats. 
    The Saint Lawrence Spirits Chateau & Distillery has earned a reputation for its "farm-to-table" dining experience. "We buy direct from local farmers, and we've even visited their farms," said Mr. Ives. In fact, the business is partnering with north country farmers to grow and raise specific agricultural products for the restaurant and distillery. 
    Along with supporting the north country agricultural community, there are other advantages to the "farm-to-table" practices, said Mr. Ives, who is an adjunct professor in the Culinary Arts Department at Jefferson Community College where he has taught a "farm-to-table" course. 
    "We know that we're getting fresh ingredients, and they're certified organically grown," Mr. Ives said. "Most of the time, the produce is picked fresh that morning." 
    In addition, to produce, the restaurant relies on several local farmers to provide beef, pork and venison for a variety of dishes. "There is a distinctive taste in the meat provided from each farm," Mr. Ives said. "They all have a different flavor profile, and we gain the experience of trying different tastes in meat to see which works best in our recipes." 
    While most of the food served on the restaurant's "farm-to-table" menu comes from north country agricultural sources, if a particular food item is not available, it's sought out at other nearby locations within New York State, he said. 
    The same "farm-to-table" concept can easily be put into practice for a Thanksgiving Day meal, including the main dish, turkey, either smoked or glazed, Mr. Ives said. For those who want to try something different for the main dish, he suggested contacting local farmers who raise venison. 
    Other "farm-to-table" options for a Thanksgiving meal include roasted corn, a variety of squash, white turnips, beets, radishes, triple colored carrots, heirloom zucchini and potatoes, Mr. Ives said. 
    For dessert, there is the traditional pumpkin pie, or an assortment of berry pies as an alternative, although Mr. Ives noted "everyone is usually looking for pumpkin pie at Thanksgiving." 
    To find locally-sourced agricultural products, Mr. Ives suggested the website www.comefarmwithus.com. The website is operated through the Jefferson County Economic Development Agency and helps to connect north country farmers with consumers. 
    Nearly 40 percent of the land in Jefferson County is being used for agricultural purposes, according to the agency. This website offers a "Find Local Food" option that allows users to select a specific food product, enter a home address, and find the closest supplier in their area. 
---
Chef Christian Ives Presents: Farm-to-table Thanksgiving
•Curried Butternut Squash & Double Cream Brie Pastries with Lucky Star Greenhouses Arugula, Aleppo Pepper Spiced Walnuts & Candied Medjool Dates
•Agbotics Radish Greens & Lucky Star Greenhouses Arugula Salad With Candied Pecans, Shaved Onion, Old Chatham Sheepherding Company Ewe's Bleu, Pickled Apples & Burrville Cider Vinaigrette
•Candied Ginger Spiced Sea Buckthorn & Cranberry Chutney
•Acorn Squash Roasted With Saint Lawrence Spirits Rye Knot Washed Brown Butter & Brown Sugar. Glazed with Thai Chili Infused Lake Effect Maple Syrup.
•Fire Roasted Local Sweet Corn & Ives Tribe Pablano-Pimiento Pepper Relish
•Cocoa Smoked Crescent Farms Duck & Lucky Star Red Stag Pumpkin Stew
•Grilled Lucky Star Still To Grill Black Angus Tomahawks with Herb De Provence Butter & Wintonbury Farms Shiitake Mushrooms
•Holly's Apple Stuffed Roast Turkey With
Garlic Purée & Onion Butter Glaze
•Cortland Apple-Cardamom Fritters
With Saint Lawrence Spirits Captain's Flask Bourbon Caramel.
•Saint Lawrence Spirits Rye Knot Washed Brown Butter & Salted Chocolate Pecan Pie
With Acorn Squash Creme Anglaise