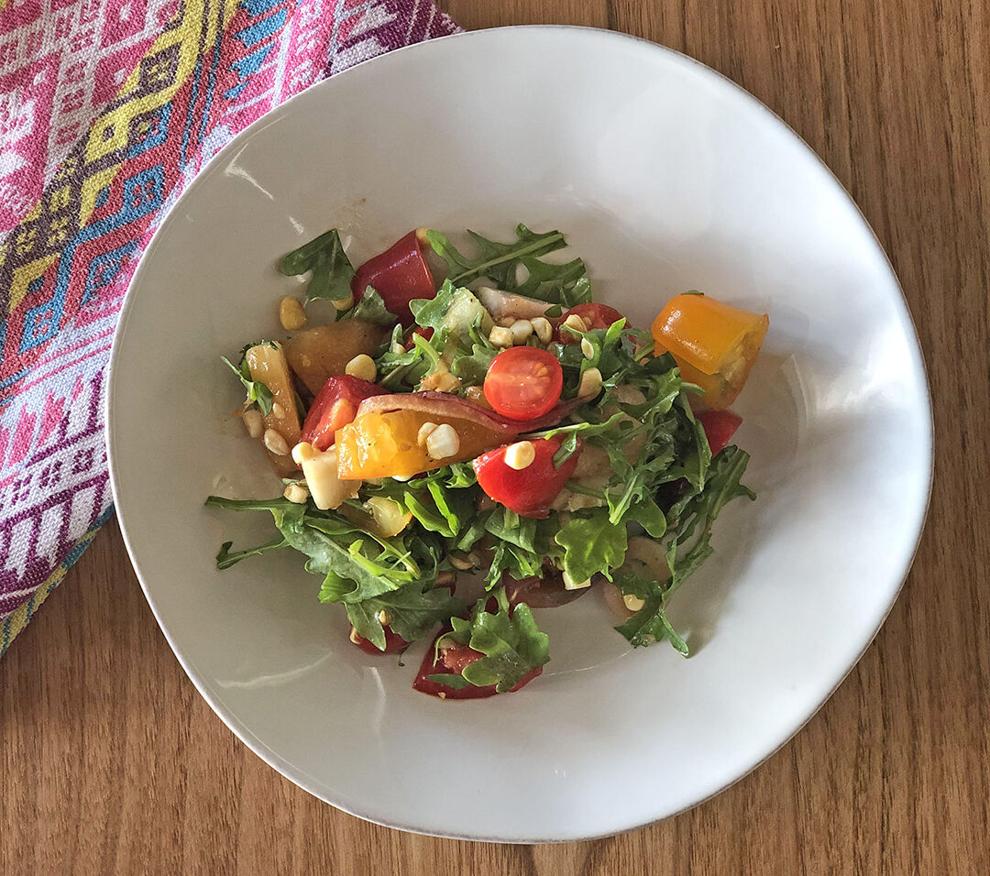 "Look deep into nature and you will understand everything better." – Albert Einstein 
The autumn season offers beautiful foliage, crisp air, and spectacular harvests. It is also a time of change and transformation. We are invited to practice self-reflection and letting go. Just as a tree gently sheds its leaves, we are met with an opportunity to surrender and lesson our loads. During this time of change and transformation, it is critical that we stay grounded so we may move through this season with ease. 
Discover practices below to ground body, mind, and spirit. As you move through this season connect with people who calm you, eat warm meals, spend time in nature and remember, that above all else, time is the great healer. 
Love and Namaste, Kristen & Liz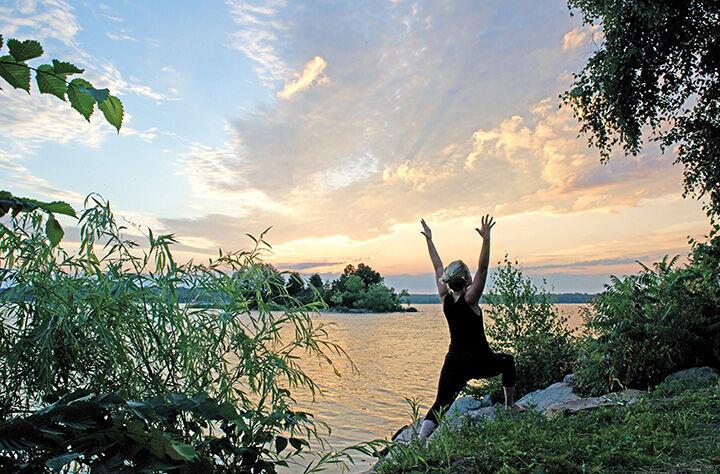 Fall Surrender: A Guided Meditation 
Find a comfortable seat, have pen and paper nearby, close your eyes, and begin your Ujjayi Pranayama orNadiShodhana Pranayama. (Find more on these breathing practices at Yoga Journal or Yoga International online or visit us at River Yoga in Clayton.)

 

Observe any thoughts, feelings, sensations, or images without judgment and with a sense of curiosity

In this space of stillness and infinite possibility, set an intention that you are ready to let go of  

Observe how every experience around you has a life cycle—beginning, middle, and end. Realize these experiences are required for your continued growth. 

Draw into your awareness something specifically that you are ready to release or that you believe has finished its life cycle, remembering to treat yourself and others with loving-kindness.

Ask yourself what you would need to know in order to feel safe in letting go of this thing that no longer serves you. Listen for the answers in the form of thought, feeling, sensation, image, or emotion. Trust whatever comes up without judgment or expectation. 

Visualize what would be possible for you when you let this thing go. Invite your vision to be as 8. With your vision of what awaits you in your mind's eye, ask your internal wisdom or Higher Self to tell you what action you need to take in order to shed the leaves that no longer serve you so that you can fully step into this new vision for yourself. 

As you hear the messages from your Higher Self guiding you, open your eyes and write down these messages on a piece of paper.

Close your eyes again, take a few deep breaths, and shower yourself with gratitude for taking this time to go within. Smile as you say goodbye to the old and hello to the new!
Yin Yoga: An Art of Undoing 
In this modern culture of "doing" people are craving ways to slow down. Yoga's popularity has grown and flourished as people find ways to find inner peace in the midst of their everyday challenges through yoga's ancient teachings. Yoga practice offers opportunities to escape the busy monkey mind and move inward to a place of stillness and calm. 
    Most of yoga practiced in the West is yang or muscular in nature. Students move in a rhythmic way that focuses on the muscles of the body, strengthening and lengthening the muscles and keeping the bones healthy and strong. 
    Modern research is now suggesting Yin yoga is a way to balance out, and compliment our more rigorous yang practices. Yin yoga practices focus on the connective tissues of the body by gently stretching and rehabilitating the tissues that form our joints, ligaments, and fascia. 
    In Yin yoga, postures are held for longer periods of time (3 to 5 minutes) with the support of props to create a mild level of discomfort. (Props are also offered to create safety in the pose.) The denser connective tissues respond to the moderate stress of the hold, lengthening the tissues, which then create greater ease in the body and the mind. 
    Yin yoga offerings are becoming a popular choice for persons who want to restore range of motion, revitalize the connective tissues and to slow down! Yin yoga allows us to cultivate patience and acceptance and helps us to become more resilient to stress. 
    Yin yoga classes and workshops are available in Northern New York at Satyana (Watertown), Vigilante (Watertown), Resurgence Yoga (Watertown) and River Yoga (Clayton). 
"Peace comes not from doing, but from undoing; not from getting, but from letting go." — Swami Satchidananda 
---
Sensational, Seasonal Harvest Salad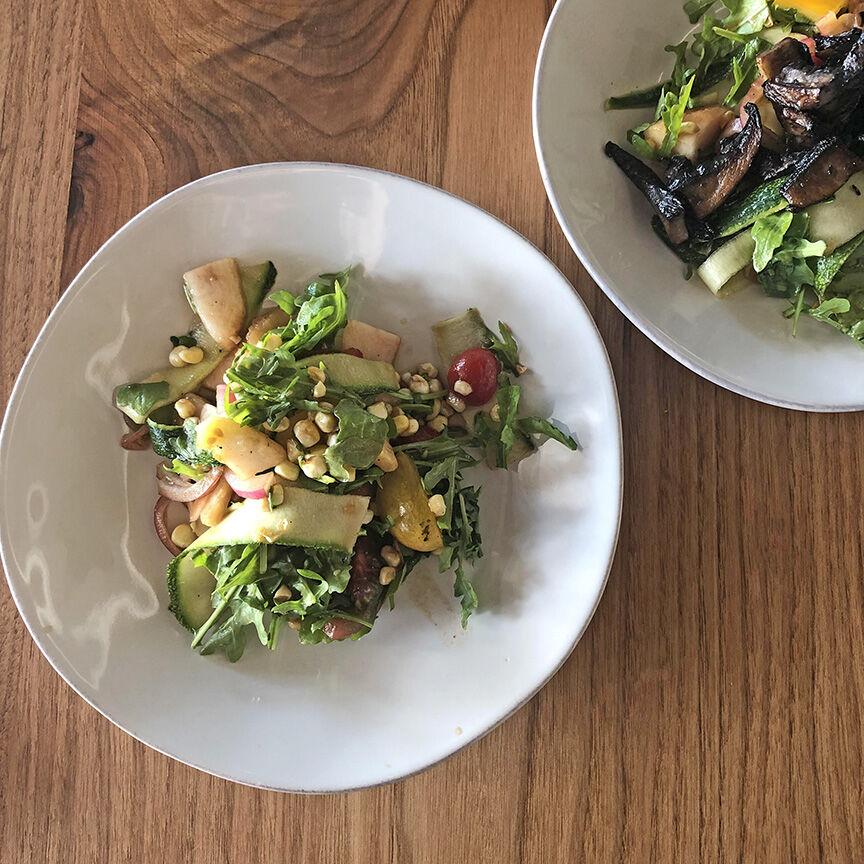 2 cups Shitake mushrooms (thick stems removed, thinly sliced) 
3 cups arugula (lightly chopped) 
2 summer squash (green and/or yellow peeled into ribbons with a vegetable peeler, discarding the seeded sections) ¼ medium red onion (thinly sliced) 
2 ears corn (kernels cut from ears, cores discarded) 
1 cup cherry or grape style tomatoes (different varieties, halved or quartered) 
Sensational, Seasonal Harvest Salad Dressing 
1T balsamic, rice wine, or red wine vinegar (or to taste) 
Ground Himalayan sea salt, pepper, and cayenne pepper (to taste) 
Heat 1T olive oil in a cast iron skillet or saucepan over medium heat.

Add Shitake mushrooms and cook until they become golden brown on the outside. Once golden, add tamari and rice vinegar to skillet. Stir to combine for 30 seconds and remove from heat. Set aside.

Combine arugula, squash ribbons, onion, raw corn, and tomatoes in a large mixing bowl.

Prepare Sensational, Seasonal Harvest Salad Dressing by combining all ingredients. Drizzle over salad and combine.

Plate salads and top with cooked mushrooms. Serve immediately.
Grounding Carrot Ginger Soup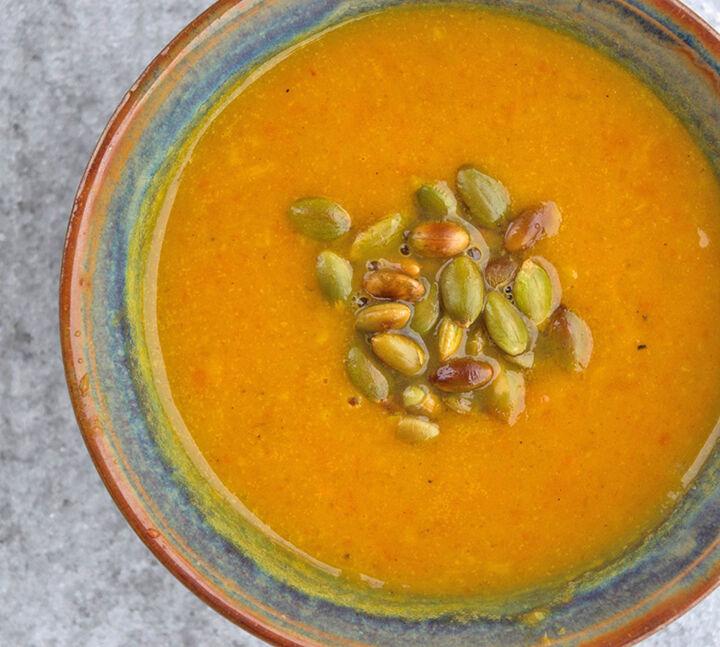 2 medium garlic cloves (chopped) 
1 large yellow onion (diced) 
1 tsp. fresh ginger (chopped) 
1 lb. carrots or about 4 cups (cut into ¼ inch slices) 
1 red pepper (seeded and diced) 
Dash of ground cayenne pepper (to taste) 
Ground Himalayan salt and pepper (to taste) 
5 cups good vegetable stock 
Toast pepitas in cast iron skillet over low-medium heat until golden brown and fragrant. Remove from heat and set aside.

In a large saucepan or Dutch oven over medium heat sauté garlic, onion, and ginger in olive oil until softened or for about 2-3 minutes.

Add carrots and red pepper and continue to sauté for another 5 minutes.

Add curry, nutmeg, cayenne, salt, and pepper and sauté for an additional 2-3 minutes.

Add vegetable stock to saucepan.

Bring mixture to a boil and then allow to simmer for 20-30 minutes.

Remove soup from heat. Use an immersion blender to fully blend soup.

Return soup to heat if needed.

Serve soup in bowls and top each serving with toasted pepitas.