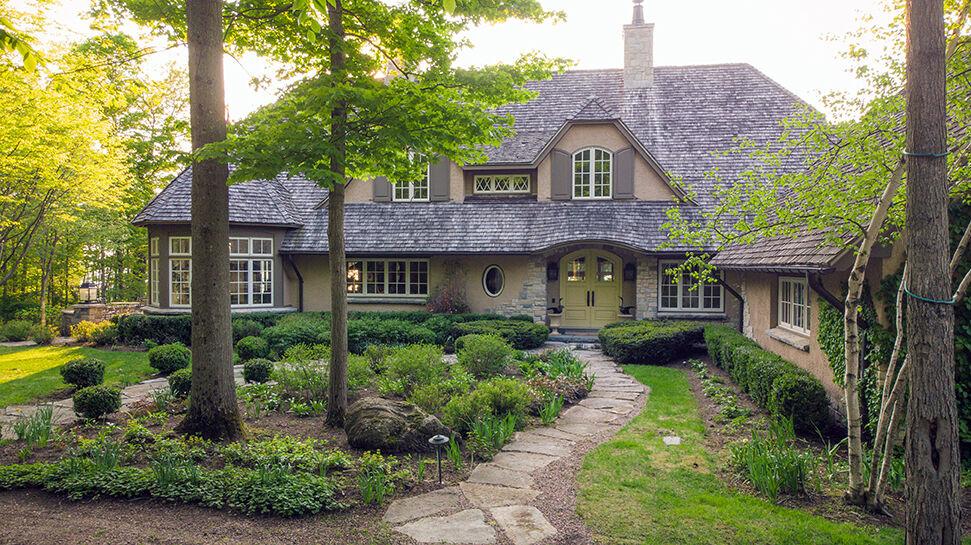 Smoother Waters Sunset-3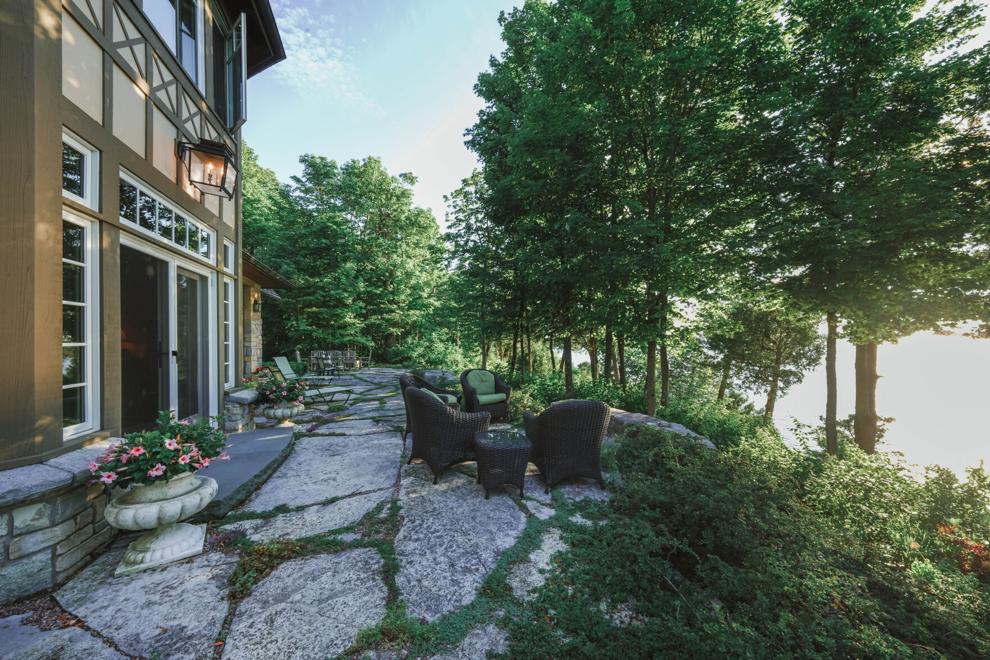 Picture 1 of 24 BY: Olivia Belanger
Atop a bluff overlooking stretches of the St. Lawrence River sits a European-in-spired marvel, combining the amenities of a five-star resort with the elegance of a country estate.     
    The 4,651-square-foot home, located at 37171 State Route 12E and listed for $1.749 million, sits on 35 secluded acres and 1,300 feet of waterfront. The main home features three bedrooms, three full bathrooms and one half-bath. There is also a 1,550-square-foot guest house with two bedrooms and two full bathrooms. 
    Other amenities include a large dock with an 18,000 pound lift, a 700-bottle climate-controlled wine cellar, a two-bay storage barn, hydraulic elevator, a two-car heated garage attached to the main home and a three-car heated garage attached to the guest home. 
    The home was designed by William Grater and Diana Pardee Grater of Grater Architects, with offices in Clayton and Rochester. The company specializes in custom residential, commercial and institutional projects requiring design-intensive solutions and attention to detail. 
    The detail provided by the Graters is hard to go unnoticed. As you drive up the secluded, tree-covered driveway, the home's rustic style is inviting. Modeled after a French country estate, the exterior is a slightly modern twist on classic residential architecture. 
    As you enter the home through two wooden-arched doors, the detail follows. However, inside is where the house truly shows its quirky side; with wallpaper in each room, hints of French and English design elements, and stunning utilization of multiple generations' furniture, "Smoother Waters" is definitely unique. 
    One of the owners, Martha H. O'Donnell, said she and her husband, James L., ended up with both of their mothers' furniture after they passed. Rather than get rid of it, Mrs. O'Donnell found a way to make it tasteful. 
    "This is really just a big mishmash of all the stuff…there's nothing in here that's new," Mrs. O'Donnell said. "Although most of the things aren't necessarily what we've chosen, we've made it work." 
    Much of the interior furniture has been repurposed, such as a vintage-style chandelier that now acts as a light fixture above the mirror in one of the first floor's half-bath. The bathroom, with red and gold pinstriped wallpaper, along with the fringe light, mimics a smoker's lounge. 
    "You should be smoking a cigar and drinking a Manhattan in that bathroom," said Realtor Maxine Quigg. 
    Also on the first floor is the extensive kitchen, equipped with a Sub Zero built-in over under refrigerator, wine fridge and two drop-in refrigerated drawers. There is also a Wolf warming drawer, wine fridge and wet bar. 
    Other appliances include a six-burner Wolf cooktop and grill, a commercial-grade stainless steel hood and a Miele dishwasher. 
    The countertops and 12-foot island, with a breakfast bar, are covered in neutral-toned granite, as well as the backsplash. The oversized double stainless steel sink, set into one of the counters, has a stainless steel hot water spigot installed. 
    For the cabinetry, it alternates between white and sage, as well as full face and glass face, for endless storage opportunities. There are also lights installed into the glass front-face fixtures for easy viewing. 
    There is also a butler's pantry, equipped with granite countertops, a porcelain farmhouse sink and cherry cabinets. 
    Just outside the kitchen is a solarium-inspired breakfast nook, with a unique hexagonal ceiling, teal walls and a perfect outlook of the river through the surrounding large windows. 
    The kitchen also provides a clear view of the dining room, which has bold, differing red patterns on the walls, chairs and carpet. Hanging over the grand, wood dining room table are two gold en-closed chandeliers at each of the table's heads. 
    The room also has one of the home's three gas fireplaces made with custom stonework and floor-to-ceiling windows on the back wall, with access to the home's wrap-around patio. 
    The dining room flows directly into the living room, with a continued theme of bold red patterns. An entire wall of the living room has the floor-to-ceiling windows and two large doors in the center, again leading to the patio. A custom gas fireplace can also be found in this room, covered by a handmade fire screen by John Scarlett. 
    The main floor also hosts his and hers office spaces, with very different design elements. Mrs. O'Donnell's office has teal wallpaper with birds, yellow tiled carpet, light-colored chairs and desk and plenty of natural light. Mr. O'Donnell's office, on the contrary, has cherry wood paneling on the walls, green carpet, dark red furniture and a club-like feel. 
    Right past the offices is the main floor's only bedroom, of the four total in the home. The spacious bedroom currently holds two twin-sized beds, side tables and a sitting area comfortably. 
    The half bathroom directly next to it, with blue and white striped wallpaper, dark blue cabinetry, light granite countertops and a porcelain-like blue patterned sink. 
    Lastly on the main floor is the laundry room, with ample cabinet and counter space with the washer and dryer. 
    Moving upstairs, the top of the stairs has a small nook to the left underneath an arched window, as well as a wooden storage cabinet, with caramel and white diamond wallpaper. 
    As you continue on, the first room is the master suite, with a sitting area, study, dressing room and a professional-organized walk-in closet. Teal floral wallpaper covers each separate suite room and white carpeting. The sitting area's couches and chairs are right underneath a line of windows looking out to the trees, while also providing tremendous natural light. 
    The master bath has two vanities adjacent to each other, with white cabinetry and deep teal granite countertops. Through an archway of the bathroom is a white, drop-in soaking tub and a frameless, glass door steam shower. 
    Outside the master suite are the two other bedroom suites, each with its own private bath and simple, red and nude-toned color schemes. 
    Equally as impressive is the guest home, just across the parking court. The home has two bedrooms, each with its own full bathroom. 
    The home also has an open floor plan with a full kitchen with storage, a breakfast bar and dining room, all with neutral colors. Guests additionally have access to a laundry room, as well as a lovely vegetable garden in the rear of the home.