"And you really live by the river? What a jolly life!" –an excerpt from The Wind in the Willows by Kenneth Grahame
Arriving by way of the St. Lawrence River, on a boat built in the '60s named the "Sea Mate," Dean H. Agen and Eddy J. Kelly stood under an archway covered with luscious green leaves, overlooking the water on Agen family land to say their "I Dos."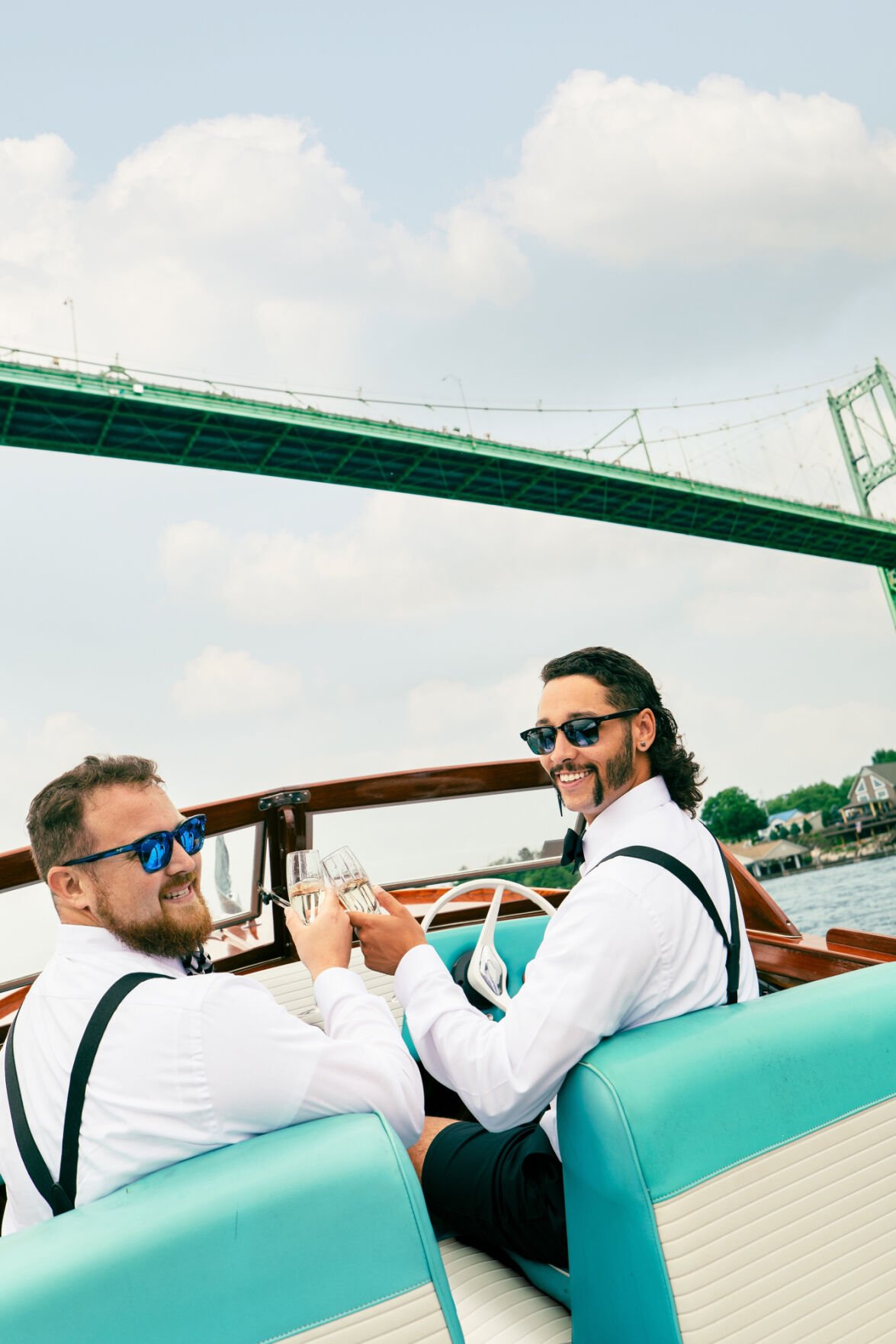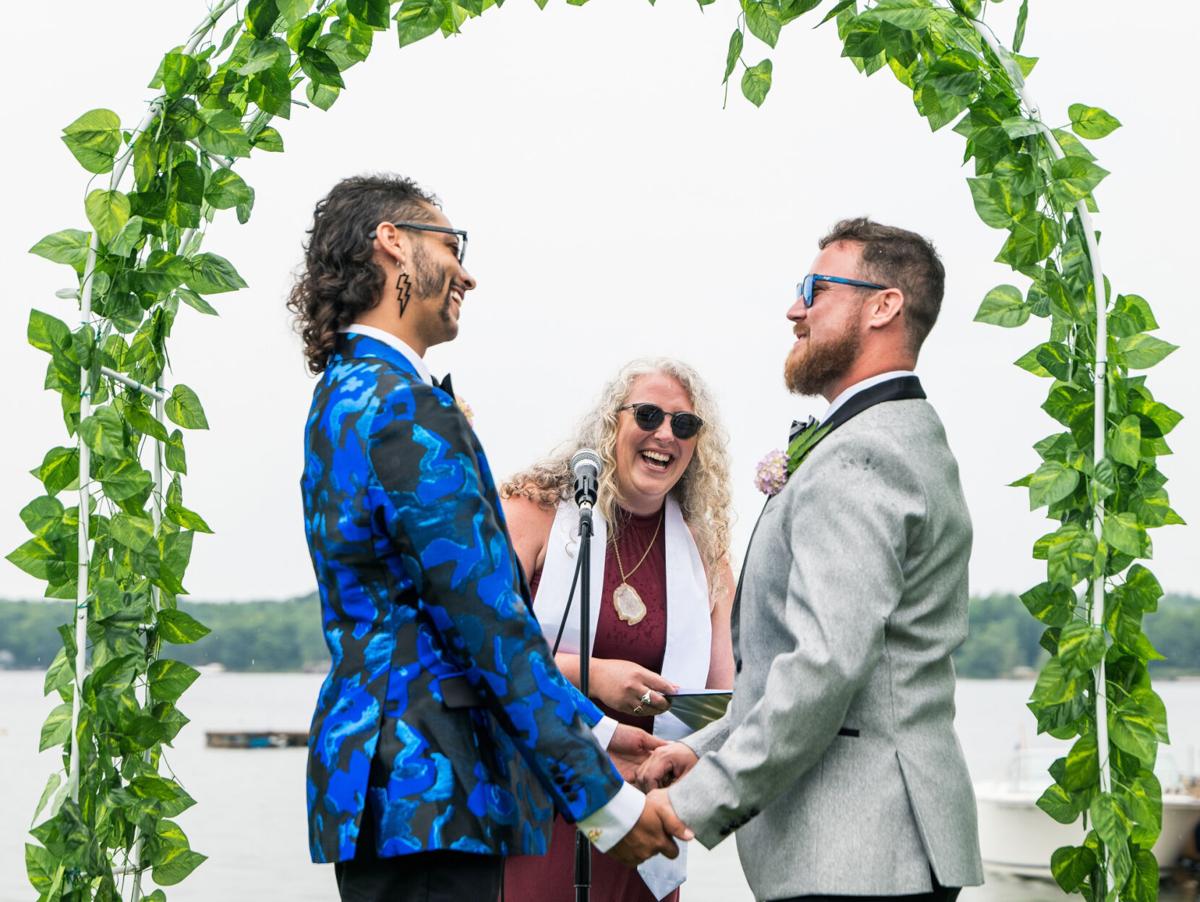 With matching four-finger rings saying "Cash" and "Money," respectively, and rocking black Vans, Dean and Eddy were married on Saturday, July 17, surrounded by friends and family. Not ones to wear what could be considered boring tuxedos, the two instead opted for black shorts, suspenders over their white dress shirts, bow ties and sparkling jackets to tie it all together.
The two have been together for the past six and a half years, having met in Boston when they lived in the same neighborhood after college. Dean is originally from Central New York near Utica, and Eddy is from Foxborough, Mass.
Dean and Eddy work in sales, remotely, and now live in Florida. Right before the two came up to New York for their July trip and wedding, they bought a house down in Neptune Beach.
"Once the pandemic came, we decided that we were in a position to make a move, and if we could make a move, where would we want to go?" Dean said. "We started exploring the East Coast and picked up Jacksonville Beach off a map, never having been there, and rented an apartment-- we didn't see any photos until we turned the key, just did a full send down to Florida and it worked out perfectly."
The two only lived in their new house for five days before travelling to New York, so their "honeymoon" will be going back to the house they bought, but Dean said they will probably plan a formal honeymoon at some point down the line to say they did it.
Dean's family have been up on the river for 200 or so years, so due to the beauty of the area and historical family ties, he and Eddy decided to marry on the family's property at Collins Landing. When the two rolled into the dock, they met with their families in the boathouse, had their siblings walk out ahead, and then walked out with their parents to the archway in the yard.
The happy couple got engaged on June 12 of last year, which Dean came to learn was the anniversary of interracial marriage, known as Loving Day - quite a coincidence for the two.
The wedding took place exactly 52 days after planning began in earnest, according to their Zola website. In total, the two had about a 90-person wedding full of close friends, family and even some neighbors that stopped by. The Clipper Inn in Clayton did the catering, and Nav's Popcorn from Alexandria Bay was served for hors d'oeuvres.
A food contest also took place, with guests invited to vote on the best tomato pie, a Utica specialty. As Dean describes it, tomato pie is similar to a pizza, but it's cooked differently and it doesn't have melted cheese on top.
"There's a big debate in Central New York for who has the best tomato pie," Dean said. "I got two different types of tomato pie from Roma Sausage & Deli and Napoli's Italian Bakery & Deli and we had a contest and see who voted the best tomato pie. There are all these little pockets of New York that happen to have all of their own dishes. Utica has greens, sausage rolls and tomato pie - Napoli's won."
The wedding also featured sausage roll, which Dean describes as what would come about if someone were about to put a loaf of bread in the oven but instead rolled it out first and sprinkled ground sausage in it, rolled it back up and then baked it.
Though the two enjoy a good Manhattan, they didn't have a signature drink at the wedding. Instead, a friend who makes home-brewed beer brewed a few for the special day: a watermelon-kiwi sour, a New England double IPA, and a grape fruit session IPA.
A fun surprise for guests: some were given special awards at the wedding, little gold medals for things like best dressed and biggest crier. Dean's dad, Patrick V. Agen, was given the medal for best grass because he was meticulously watering the front lawn the weeks prior to the wedding, making sure it was luscious for the big day.
"It's funny because on Sunday, you wake up and you start meeting up with people again and everyone had their medals on," Dean said.
Dean, 28, and Eddy, 38, describe themselves as an adventurous couple, easygoing and working in unison on pretty much everything. That is, until one is hungry, Eddy joked, and then all that is needed is a Snickers and all is well again.
Not only were they already planning to be in the area for July, they also wanted Dean's grandfather, Vernon J. Harris, affectionately known as Papa, who just recently turned 95, to be there. He's seen it all, Dean said of his grandfather, from racism and segregation to now, where one of his grandsons was able to marry a man of another race.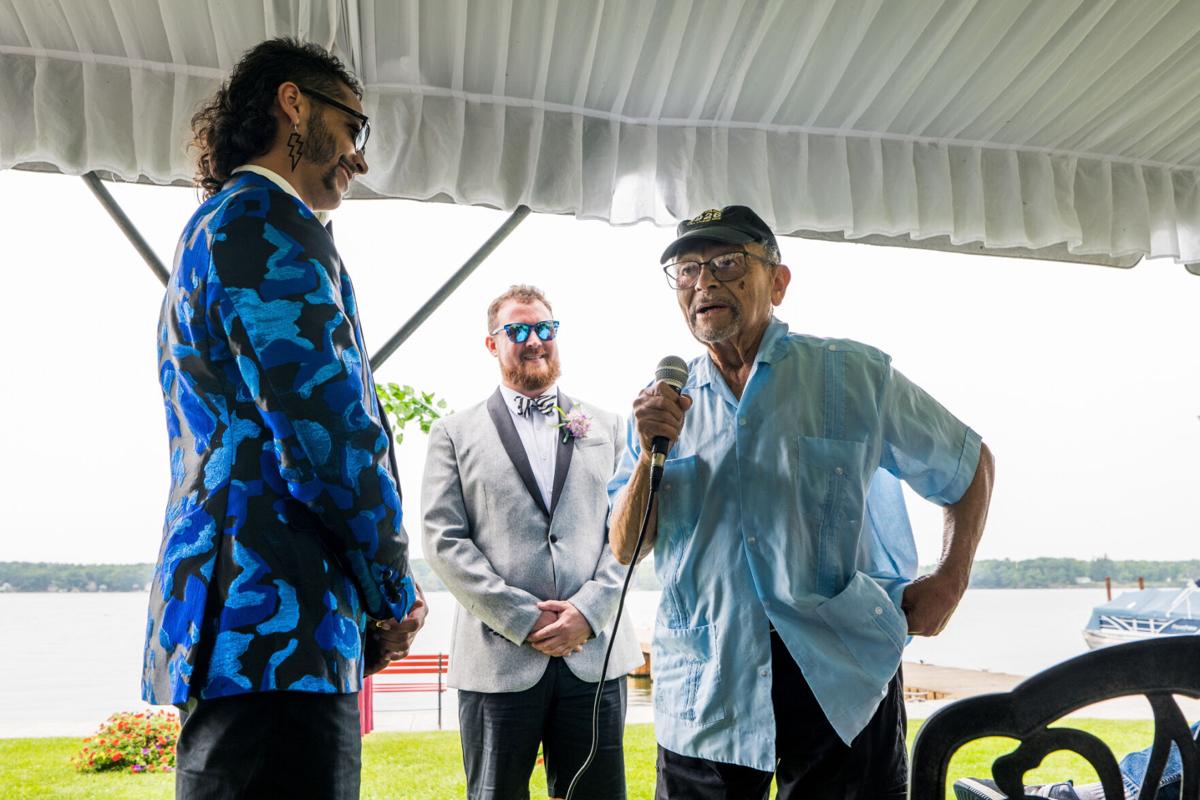 Lovers of the area, even though they lived in Boston, it wasn't uncommon for the two to get off work at five o'clock and drive six and a half hours up to the river to spend Saturday and leave Sunday morning. Any chance to come up to be with friends and family, they would do it.
Eddy said they're excited about being able to be in Florida to miss the harsh north country winters and then coming up for New York summers. As Dean put it, they're "young snowbirds."
Because the couple didn't use a traditional wedding planner, they had aunts and uncles helping with centerpieces and decorations, and all flowers came from the backyard.
"It was just a big team effort with both families, like how are we going to pull together a wedding in 52 days?" Dean said. "And we did, we crushed it."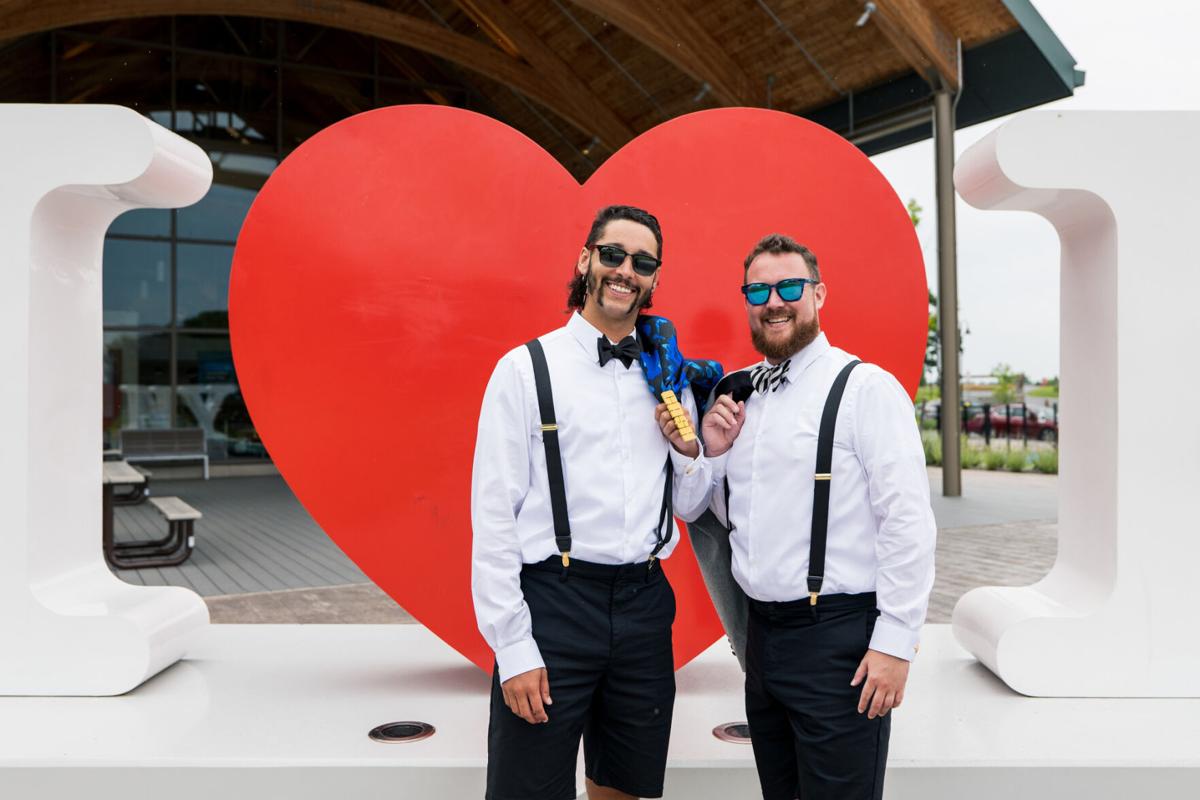 Just the two grooms and their photographer the morning of the wedding, they visited different locations for photos, like the "I Love NY" sign at the Welcome Center and in front of the Thousand Islands Bridge. They also stopped at the Thousand Islands Winery and got wine slushies in the middle of their photoshoot.
In terms of weather, the two were lucky enough to only have a few light sprinkles occur rather than the "torrential sideways rain" that usually happens in the area, something they were both grateful for. They had guests stay in Clayton and went out in Clayton after the wedding, spending a lot of time at O'Brien's and the Harbor Hotel and checking out little shops and attractions around town.
"I know it's kind of like a cliche comment, but literally it's marrying your best friend," Eddy said of his wedding with Dean.
A semi joke, the couple really enjoys a good bench, because according to Dean, when you find a bench somewhere out in the wild, someone put that there for a reason, so one should sit on it and soak up the view. There was even a bench behind them as they were married.
When the big group pictures were taken, Dean and Eddy sat on a bench in the front, and everyone else was behind them, hence half of their wedding hashtag #barseatsandbenches.
"It was just such great energy," Dean said of the wedding. "It was a perfect combination of power couple plus power friends and family supporting us for it all."