Saying "I Do" just got easier, at least from this foodie's perspective.
Having written about hundreds of restaurants, I reviewed each one before I decided on the most appropriate venue for this wedding issue. While brides tend to look at every intricate and minute detail, my belief is the groom just wants a great meal at a reasonable price.
Veteran-owned Zero Dock Street is located in a historic building, in a former cheese factory, that overlooks the Black River in Carthage. The banquet room can accommodate approximately 175 guests, with additional outdoor seating on a spacious deck. This picturesque location affords a unique rustic feel with an atmosphere that is a combination of historic and industrial, with some high-tech features. The technology they offer with a state-of-the-art sound system is perfect for a wedding. They are also adjacent to Turning Point Park, a New York State Park ideal for pictures. This venue is snowmobile–and boat–accessible.
A perfect choice for an appetizer would be the deep-fried Croghan bologna and cheese curd platter. The dipping sauce is made with maple syrup from the family-owned Beech Hill Sugar Bush and is the perfect complement to your guest's main course. The candied bacon strips would also add enjoyment to your appetizers. This diverse choice is startingly impressive with a significantly strong rating at our table.
The owners also own the Brick Oven Inn in Beaver Falls; it further broadens your appetizer choices. Their pizza may be an excellent choice and more practical as an appetizer. They make their dough fresh on the premises with every "pizza" hand-tossed. The pie is cooked in a brick oven that employs intense heat to cook the pizza. The intensity of the heat allows the pizza to cook differently than in a conventional oven and the naked gas flame creates a char or crisp crust while the brick oven imparts a unique flavor that can not be reproduced in a normal kitchen. Serve it in small slices and you have an amazing and affordable appetizer.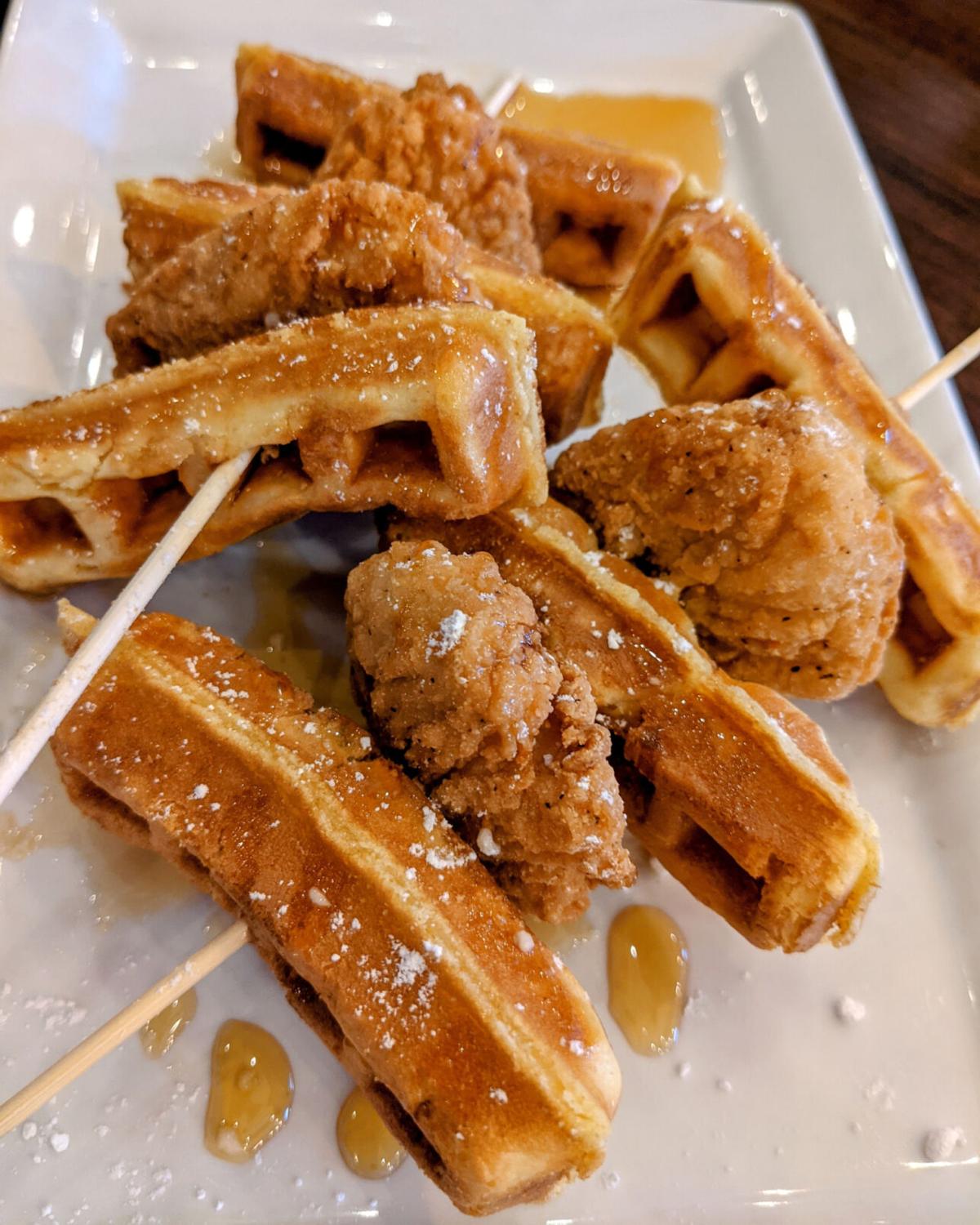 The chicken and waffle bites are an absolute must. It's a little bit of breakfast with a smattering of dinner-- served on a skewer stick, this is as unique as it gets. The fresh chicken breasts were cut into bite-size portions, then dipped and lightly battered. They were then deep-fried to a golden brown. Fresh syrup from the family-owned sugar shack was gently drizzled on top. It was then dusted with powder sugar which only further took this appetizer to the next level.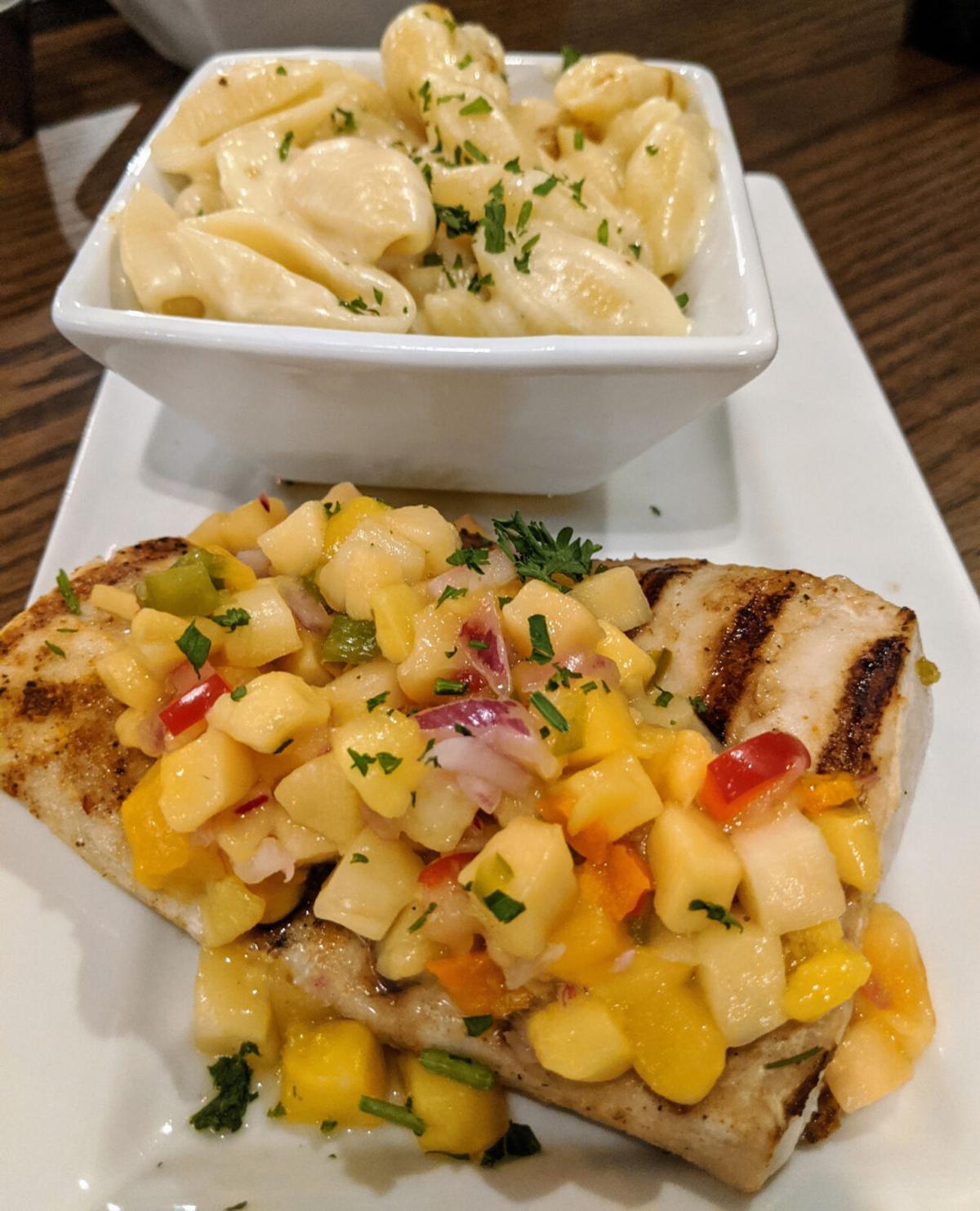 The scrumptious caramelized pork chops are simply incredible. They are marinated in a brine of brown sugar, black pepper and spices. They are then charbroiled and have just the right amount of fat to add to the taste (you have to have some fat with any meat). The light and flaky broiled haddock and shrimp duo is another option. You may wish to consider the filet of haddock and shrimp in a citrus vinaigrette served over a bed of lightly sautéed spinach. The filet was light and flaky with almost a meaty texture. The beer batter they use is a maple brown ale brewed exclusively for them by Boots Brewery in Watertown. They are also known for their garlic butter mashed potatoes, a must-add-on for every meal.
I had a unique opportunity to meet a couple who were planning their wedding. as I was working on this review. He said the rustic industrial feel and the overall ambiance are what drew him in. She shared that the beauty of the interior would reduce her decorating cost since table decorations will be minimal. They plan to also use the large outside deck for games. They also agreed that the food and the diversity of the menu drew them in as well. When I spoke with them the plan was to go with the roasted chicken with garlic parmesan cream sauce. This is Zero Dock Street's number one choice for weddings but, unfortunately, I did not have a chance to try it before this publication. Although those that have tried it, say it is startlingly impressive.
"Dare to dream, be inspired" is what the owners Scott (Air Force veteran) and Shannon live by.
Located at 130 Canal St. in Carthage. They can be reached at 315-554-9376.
With over 15,516 regular followers on my Facebook food blog "Eating in Upstate New York and Beyond" has tens of thousands of views every time I write. One of my most recent postings had over 110,966 views. Please take a moment to share and like my blog.