Assembly Republicans sought to reverse state criminal justice policies Friday after a recent spike in urban shootings, homicides and burglaries statewide, saying the legislation jeopardizes New Yorkers' safety.
Assembly Majority Leader Will Barclay, R-120, led a press event with several Republican Assembly members on Friday reinforcing their call to reverse controversial policies, including bail reform and Raise the Age legislation, which increased New York's age for adult criminal responsibility.
"Sadly, we have approached the moment in time we warned against when calls for disastrous bail reforms first started. Pro-criminal directives and an erosion of law and order have made our communities more dangerous," Barclay said. "In one week, there were 101 shooting victims in New York City. In Syracuse, a man was charged with attempted murder for shooting at another man and an 11-month-old child outside a store. In a matter of 72 hours, 13 people were shot and another was stabbed in Rochester. The list is long; the list is horrifying. The pendulum has swung too far to the side of the criminals, and innocent victims are paying the price. We cannot continue along this path."
Violent crimes, including homicides, shootings and burglaries, recently spiked in cities statewide. Albany police reported 51 shooting incidents from Jan. 1 to July 5 — already up 264 percent from 14 in 2019. The city had 67 victims of gunshot wounds from Jan. 1 to July 5, or up 379 percent from 14 victims in 2019.
"Folks with the guns are becoming more brazen," Albany County Sheriff Craig Apple said Friday, adding 48 deputies are sent to assist Albany City Police each day because of the surge of violence. "I'm hearing people fearing coming out on their porch out of fear of being hit with a stray bullet or being robbed. Our residents deserve better. I'll be hell-bent that they're going to get better."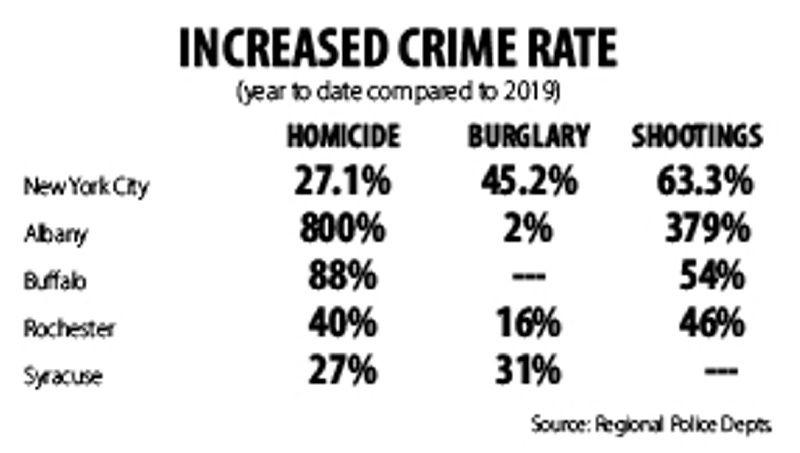 The sheriff supports the state's bail reform and Raise the Age laws, but said they must be amended with input from police and district attorneys. Effects of the legislation compounded with the COVID-19 pandemic created "a perfect storm" for increased criminal activity, Apple said.
"I would love to erase 2020 completely from the history books," he continued. "We need to get back in targeting the nuisance crimes, the low-level, the quality-of-life crimes. When you start to let this stuff grow, it just bushels."
Shooting-related homicides in Rochester have increased by 40 percent, and shooting incidents are up 46 percent, according to the Rochester Police Department. Homicides have increased by 27 percent in Syracuse, which has seen 469 burglaries in the first half of 2020 compared to 357 in 2019 — up 31 percent, according to city data.
Bail reform and Raise the Age legislation compromise public safety and undermine the ability of law enforcement agencies to do their jobs as violent incidents increase, said Patrick Phelan, the state Association of Chiefs of Police president and police chief in the town of Greece, in Monroe County.
"New York state is taking away my ability to keep people safe," he said, adding Greece has roughly 96,000 residents.
Homicides are up 88% in Buffalo with more city killings in the first half of 2020 than any year since 2007, along with a 54-percent spike in shootings. The Erie County city reported 120 shooting victims as of July 5, compared to 78 in 2019.
New York City shootings are up 63.3 percent with 717 incidents this year and 439 in 2019. Police reported 197 murders in the five boroughs compared to 155, an increase of 27 percent, according to the New York Police Department.
"Something our conference has stood for from the beginning: Victims, victims, victims ... There are victims on the other end of this statistic," said Assemblymember Joe Giglio, R-148. "When people in law enforcement start hesitating to do their duty, people will get hurt."
Fulton County Sheriff Richard Giardino urged lawmakers to pause additional police reform or related legislation without law enforcement input, calling for serious race relations dialogue between whites, blacks and police. Racial tension and distrust between communities and police heightened following the death of 46-year-old George Floyd — an unarmed black man who died while in Minneapolis police custody on Memorial Day — which led to worldwide Black Lives Matter protests. A few thousand New York demonstrators were arrested for violent behavior, including looting, burning or destroying businesses during multiple events through late May and June.
"We have to take the race card off the table," Giardino said. "There has to be some education without calling someone a racist so people can speak freely. "When police officers tell you stay where you are, put your hands up ... I don't care what color you are, drop what you have in your hands and comply with the police and that will prevent it from escalating these situations that are, in my opinion, very rare."
Rape, grand and petty larceny, robbery, felony and misdemeanor assaults significantly declined compared to last year. Apple attributed the rise in violent crimes and the drop in others to the COVID-19 pandemic, saying theft wouldn't be down if businesses had not been closed for months.
"It's not because of great reforms," the Albany sheriff said. "We've only had a couple stores open, otherwise, petty larceny would be through the roof."
Several police or former members of law enforcement railed against the state's bail reform Friday, saying defendants often commit multiple crimes after their immediate arrest-and-release before arraignment by a judge under the policy. The law was rolled back in April to add more than a dozen misdemeanor and felony crimes to the list of those subject to a cash bail order, which allows a judge to keep a defendant in jail while awaiting trial unless they pay a certain amount in cash or bond.
Washington County Sheriff and state Sheriff's Association President Jeffrey Murphy feels the coronavirus pandemic has contributed to a violent crime surge, but mainly attributes the rise to the state Legislature's criminal justice and police reform legislation, which he said fuels anti-police rhetoric.
"The negative sentiments and tone in a lot of this legislation and proposed legislation is anti-law enforcement and empowers those people who have committed crimes anyway," Murphy said. "The loss of respect in what used to be afforded police officers is gone. ... We're not getting any type of support from the state or the governor — from the people who proposed legislation."
Police from across the state who participated in Friday's event said they are open to improving protocols and want to be part of the state's discussion, but criticized Gov. Andrew Cuomo's overuse of power, they said, in forcing agencies to make changes.
Cuomo declared an executive order, named the New York State Police Reform and Reinvention Collaborative, last month requiring each of the state's 500-plus police agencies to publicly meet with people in their communities and redesign their policing strategies by April 1, 2021, or forego future state funding. The governor declared the June 12 order after signing 10 police reform bills into law, including publicizing law enforcement personnel records.
"Although we don't like the way it was issued — it didn't follow the normal legislative process — we're not standing against that," Murphy said. "We're not saying we don't want to work with the state to make ourself better. We want to be part of the solution. We want to sit down with our political leaders and also our citizens within our respective counties and see how we can do our jobs better."