MASSENA — Mayor Timmy J. Currier and former village police chief was arrested at gunpoint on cocaine possession and evidence tampering charges following an undercover investigation and vehicle pursuit Tuesday afternoon in St. Lawrence County.
The 55-year-old was charged by sheriff's deputies at about 12:25 p.m. with seventh-degree criminal possession of a controlled substance, a misdemeanor; tampering with physical evidence, a felony; and failure to comply with a police officer.
Here is a video of his arrest:
As part of the operation — organized by the sheriff's office, St. Lawrence County District Attorney's Office, the county Drug Task Force and U.S. Department of Homeland Security — officers attempted to conduct a vehicle traffic stop related to drug possession and sales allegedly involving Mr. Currier.
The sheriff's office reports Mr. Currier, the only occupant of the vehicle, failed to pull over and continued driving for roughly one-third of a mile through the village. Officers said they observed Mr. Currier throwing about one gram of crack cocaine out of his passenger window before stopping his vehicle near the intersection of Center and Willow streets.
Mr. Currier was arraigned virtually by Morristown Town Justice James T. Phillips Jr. and released on appearance tickets.
A video circulated on social media Tuesday of Mr. Currier being handcuffed against a vehicle in a residential area near the intersection. St. Lawrence County Undersheriff Sean P. O'Brien confirmed Mr. Currier was held at gunpoint during the arrest.
St. Lawrence County Board of Legislators Chair Joseph R. Lightfoot, R-Ogdensburg, described Mr. Currier as "a very good friend."
"Surprised is an understatement," Mr. Lightfoot said Tuesday night. "I'm shocked."
Mr. Lightfoot, a 27-year, now retired state police officer, said a public disservice is imposed any time a public official is believed to be involved with "something nefarious."
"If they are true," Mr. Lightfoot said of the allegations levied against Mr. Currier, "it's a shameful thing that an elected public official, especially one whose background is in law enforcement, is suspected in unlawful activity."
Elected mayor in 2014, Mr. Currier ran as a Democrat and defeated incumbent Republican James F. Hidy with 74% of the vote. Mr. Currier had been serving as Massena's chief of police prior to beginning his mayoral term and had been on the village force for 26 years.
During his tenure as police chief, Mr. Currier headed the board of the Boys & Girls Club of Massena as president. Under Mr. Currier's leadership, the club found a home at the former St. Joseph's School, eventually evolving into the Police Activities League of Massena last year.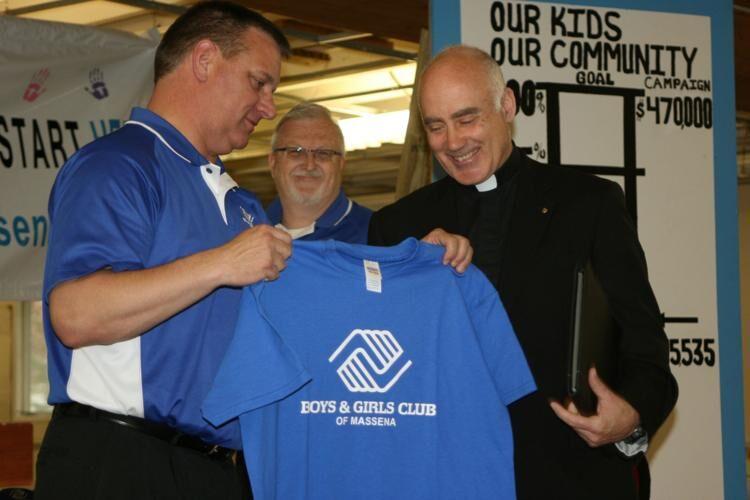 When the purchase of St. Joseph's was finalized in December 2013, Mr. Currier celebrated the work of the community to grow the club and support its longevity.
"One of our goals with this club is to make Massena a better place, perhaps to bring back more of what's great about Massena," Mr. Currier said in 2013.
The investigation is ongoing, and information about Mr. Currier and his alleged activity should be directed to the St. Lawrence County Drug Task Force Confidential Tip Line, 1-800-287-DRUG, or submitted on the sheriff's office mobile app.