ANTWERP — After two years of waiting, Jared C. Cook's family is now feeling vindicated after the suspect they believe killed him was arrested on Thursday — but even so, his mother is crying again as she relives her son dying all over.
The Jefferson County Sheriff's office released an accusatory report against Nicole M. Lacey on Thursday, which states her boyfriend at the time, Mr. Cook, suffered fatal head injuries after she allegedly struck and ran over him with her car in May 2018.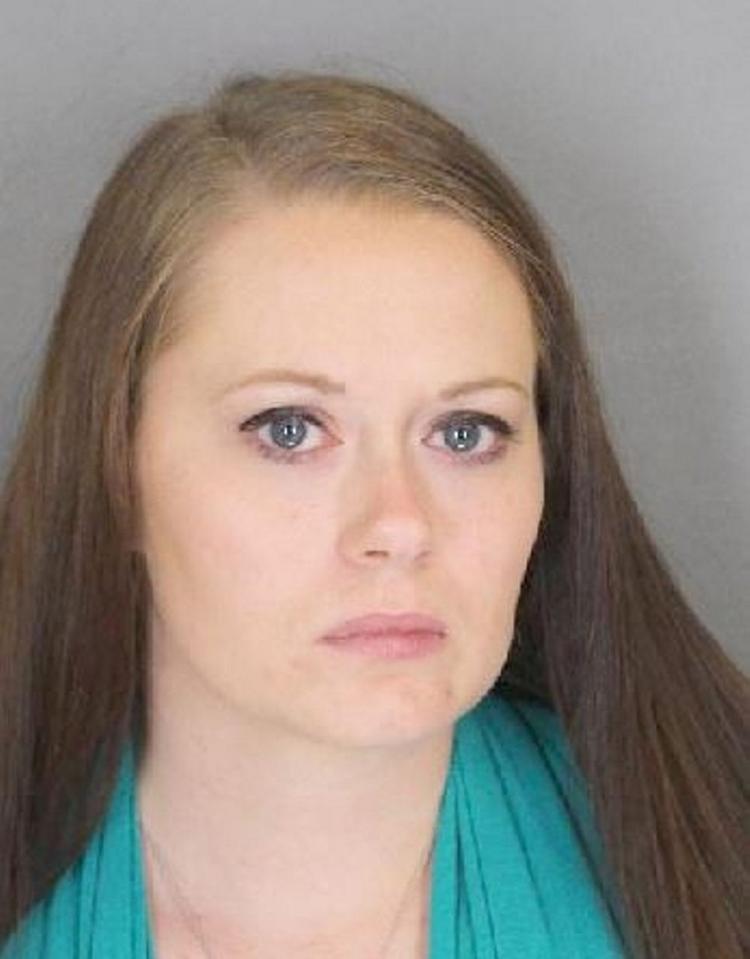 Ms. Lacey, 29, Black River, was arrested on Thursday after a two-year investigation by the sheriff's office.
According to the police report, on May 30, 2018, Ms. Lacey dialed 911 and told dispatchers she found Mr. Cook injured on the ground outside their house at 38875 County Route 25 in the town of Antwerp. Mr. Cook was diagnosed with a serious head injury and flown to Upstate Medical University, Syracuse. He was later taken off life support on June 3. He died at the age of 28 and left behind three children.
The report states it was later determined that Mr. Cook's fatal injury was consistent with blunt force trauma of the head due to a car-pedestrian collision. Ms. Lacey's car, a 2004 Chevrolet Impala sedan, was scuffed, scraped and smudged on the undercarriage and passenger side. Police said it displayed evidence of a collision.
Ms. Lacey was charged with first-degree manslaughter and was arraigned virtually Thursday morning before being released on her own recognizance with a ticket to appear before county court on Tuesday, June 30.
Mr. Cook's family, many of them living near each other on County Route 24, is saying it's about time that Ms. Lacey was arrested. His mother, Robin Simpson, said she was told a day before Ms. Lacey was arrested that charges were pending.
"I am glad they finally got around to getting her," Ms. Simpson said. "I don't forgive her. She did wrong by him and he loved her."
Yet, the announcement of charges coming down on Ms. Lacey broke Ms. Simpson's heart all over again.
"I let him go," she said, "and now I have to let him go all over again."
Mr. Cook and Ms. Lacey were together for more than four years. They broke up and got back together at least once during that span — and at times it was a tumultuous relationship — but Ms. Simpson said she wasn't aware how rocky it was. She said she didn't have much to complain about Ms. Lacey, that she would come take care of her when she was sick.
"She was pretty good to me," Ms. Simpson said. "I wish I had known what it was like."
Ms. Simpson was and still is in assisted living, and her son would frequently visit her, to help or just be with her, she said. They would watch Disney's "The Princess and the Frog" together — Mr. Cook's favorite movie.
"When he passed I was lost," she said. "I cried every day — just trying to put one foot in front of the other, and I feel like I've lost him all over again."
Harley Cook, who was Mr. Cook's cousin and lives just up the road from his old house, said the family was excited that Ms. Lacey had been charged.
"We figured they were trying to come up with all the evidence they possibly could," Harley said. "We're glad they finally did it. We just wish it would have been a year ago, but it takes time."
Harley said she and Mr. Cook grew up together. She considered him a brother, and the last two years have been hard on all of them. Harley said she dialed authorities every week for months.
"I was honestly starting to lose hope," she said. "We all were in ways."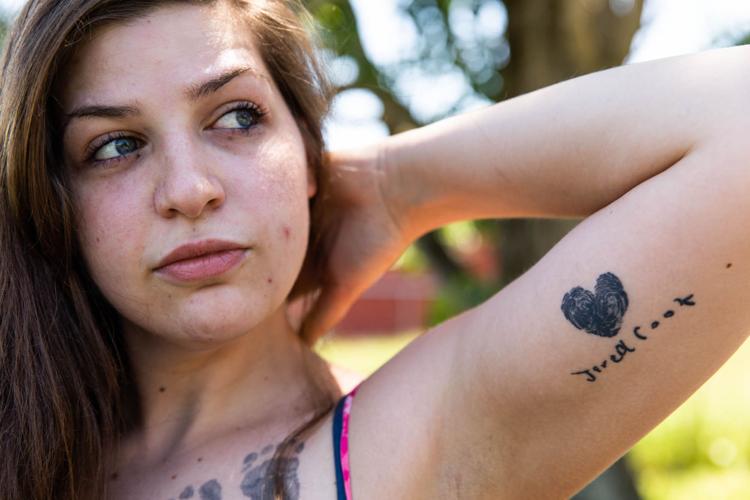 Jackie Simpson, Mr. Cook's sister, said she grew up playing video games with him but had since grown distant due in part with his relationship with Ms. Lacey.
"It was hectic," she said. "I avoided it. They were both crazy."
"I loved him enough to put him on my arm," said Jackie, looking at the tattoo of a heart and her brother's name on her bicep.
Jackie said she remembers the night her brother was flown to Syracuse after he was allegedly ran over. She said family members were accusing Ms. Lacey of being involved with his death in the emergency room, and that his death likely started with an argument between the two.
"But I don't know how an argument can escalate to where you want to murder somebody," Jackie said.
Jena Cook, Mr. Cook's other sister, temporarily moved into her brother's old house on County Route 24 after he died. She said her brother and Ms. Lacey had just had a child together, who was about two months old when Mr. Cook died.
"We thought things had changed," Ms. Cook said, "because they had the baby and everything seemed to be going well."
Ms. Cook said she remembers the days after Mr. Cook was hospitalized, when he was declared brain dead and when her mother decided to take him off life support. And she remembers the day he was allegedly ran over, and what she said Ms. Lacey did afterward.
"The vehicle she used to run him over, she took to Syracuse to see him in the hospital," Ms. Cook said. "And she picked up my mother prior to going to the hospital."
Ms. Lacey could not be reached for a comment, and it was unclear if she had legal representation on Thursday.
Ms. Cook said she understands that these types of cases take time to investigate, and over the two years she tried to hold on hope.
"It just took the time it needed," Ms. Cook said. "But there were times I was thinking 'is she going to get away with this?'"
She said the incident between her brother and Ms. Lacey happened sometime after 3 p.m. that May afternoon, and it appears Mr. Cook had been drinking after work. An argument then escalated.
"Even if it escalated," Ms. Cook said, "a normal person would have been like 'oh my god I just hit someone.'"
After he died, Mr. Cook was cremated. His ashes have yet to be spread or buried, Ms. Cook said.
"We haven't put him to rest because we didn't want her mourning his grave," she said, "so once everything is all said and done then he can rest in peace."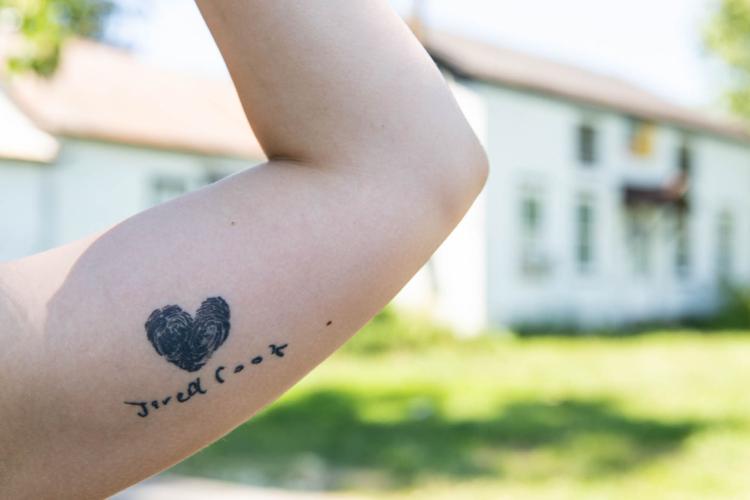 Mr. Cook's family is happy an arrest is made because it always has been about justice for a man who loved to fish, to watch the Yankees, to care for his children and to go to work.
"How can you live with yourself knowing that you killed somebody?" Ms. Cook said. "And she didn't, in any shape or form, do the right thing. She went about her life and moved on like he wasn't part of her life — even though she took his life."
For those in need, a domestic violence hotline can be reached 24 hours daily at 315-782-1855.