"You give me the strength to go on, thank you," Cedric Summerville told the group in the park after returning from a nearly 2-mile silent march around the village. "And I've got more family coming. We're coming."
Mr. Summerville, the biological father of 18-year-old Treyanna Summerville, who was found dead inside her Rowley Street home Monday, traveled from the Seattle area to be in Gouverneur this weekend. Mr. Summerville said his daughter, who has not lived with him since she was a younger child, had a good heart.
"This doesn't make any sense," he said.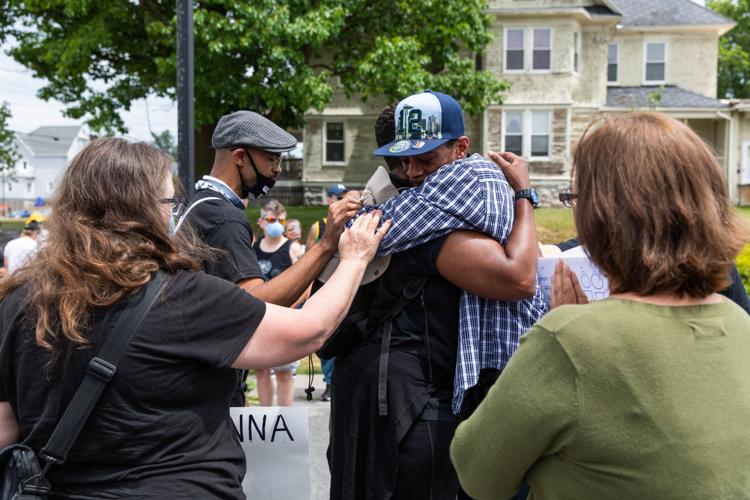 Describing the controlling nature of Lashanna Charlton, Ms. Summerville's biological mother who lived at 135 Rowley St. with Ms. Summerville and her 13-year-old sister, Mr. Summerville said Mrs. Charlton knew how to "coach" her daughters and believes she had control over the girls' social media accounts.
"I'm not leaving here until she is locked up. I can't," Mr. Summerville said of Mrs. Charlton. "I can't even mourn my daughter. ... We all know why Trey didn't leave. She didn't want to leave her sister. I can't let that lie."
Earlier this week, Ms. Summerville's older stepbrother Isiah Samuels said he left 135 Rowley St. in 2015 after being physically and psychologically abused by Mrs. Charlton, his stepmother. He shared his experiences living in the house with Mrs. Charlton, Ms. Summerville and his now 13-year-old half sister charged with second-degree murder in connection to Ms. Summerville's death. The homicide investigation is ongoing, and St. Lawrence County District Attorney Gary M. Pasqua on Friday afternoon said no additional information about the investigation is available at this time.
Mr. Samuels said he has been in contact with investigators this week about the case.
"She was just mad abusive for no reason," Mr. Samuels said of his stepmother. "If we ate snacks without permission, she was mad. We couldn't brush our teeth or shower without permission, we couldn't have friends over, we couldn't do anything."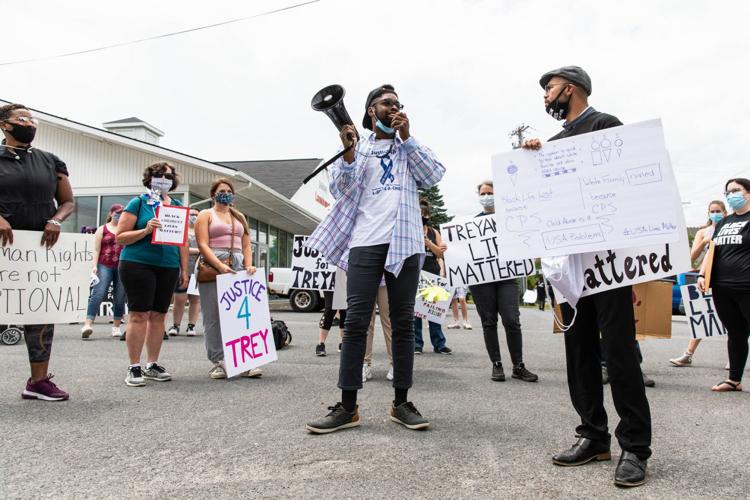 All week, Mr. Samuels has steadfastly maintained his 13-year-old half sister's innocence, saying she did not kill Ms. Summerville.
"There's just no way," he said, adding that his sisters "always got along" and would often dance together in Ms. Summerville's room.
Born in Alaska, according to Mr. Samuels, Ms. Summerville loved the cool weather and Alaskan landscape. Next moving to Georgia, the family — Mrs. Charlton, her husband Rhodney A. Charlton, Ms. Summerville, Mr. Samuels and their younger half sister — moved to the north country in 2011. They lived together at 135 Rowley St., though Mr. Samuels said his father, Mr. Charlton, is a member of the U.S. Military and often traveled for training and was deployed out of the area several times.
After receiving a phone call from Mr. Charlton, who indicated something was going on at the Rowley Street house Sunday, Mr. Samuels called his family in Gouverneur. When Mr. Samuels spoke to his 13-year-old sister, he said she sounded like she was "reading from a script."
While Mr. Samuels was still living at the house, he engaged in typical sibling banter with Ms. Summerville, who he said had a fervent love for her hair and various hairstyles, listening to music and a love of cheese. She would tip-toe to the fridge to eat chilled slices, Mr. Samuels said.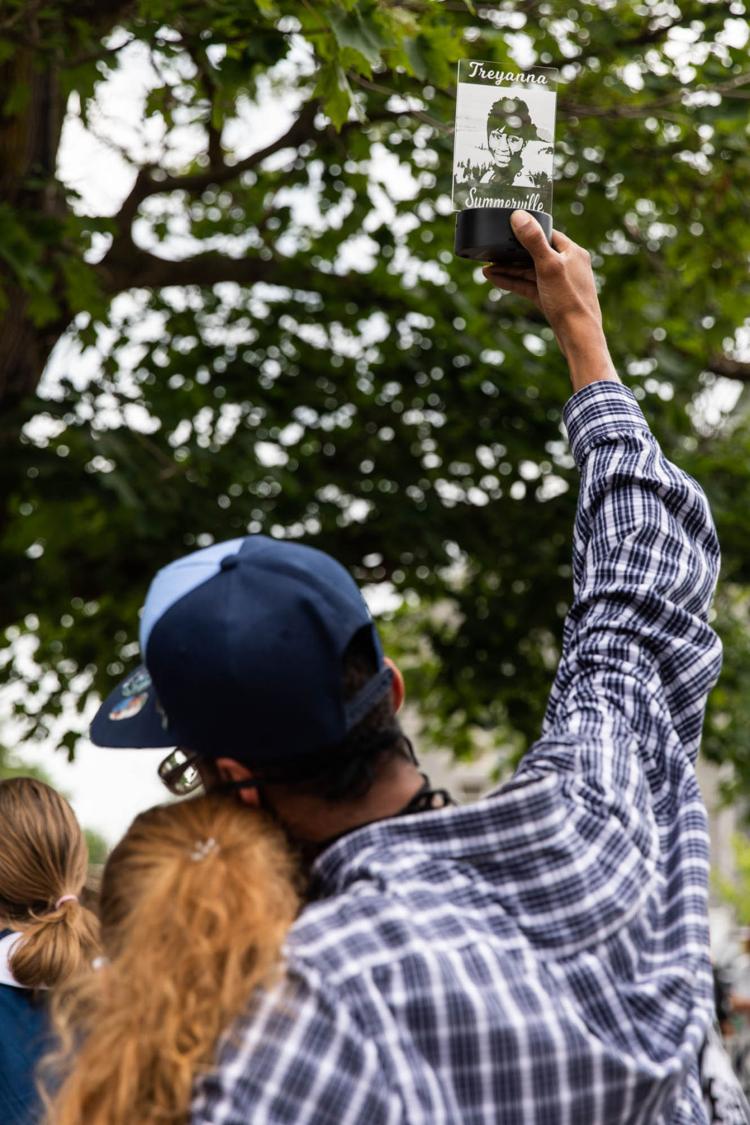 "Her superpower was turning anything into a toy," Mr. Samuels said of Ms. Summerville's innovation as a young child, playing with random objects around the house. "She just had a lot of potential."
Jennifer Baxtron, of the Potsdam-based Black Lives Matter North Country Organizing Collective, organized a table of cheesecakes and a cooler of water set up in the park following the march.
Gouverneur's Sunflour Cafe and Bakery generated about $600 on Friday, after selling mini cheesecakes decorated with blue icing for child abuse awareness. The proceeds, according to the bakery, will be donated to a school scholarship fund created by Ms. Summerville's friends in her memory.
Gouverneur community organizers designed -JusticeForTrey T-shirts this week, with proceeds from T-shirt sales in the park going to Ms. Summerville's funeral and scholarship fund. As of Saturday, organizers report $1,757 has been raised from T-shirt sales, with an additional $260 raised by Gouverneur students after the school's Friday graduation. A Facebook fundraiser, established Wednesday, has generated $2,245 of a $5,000 goal to date. All proceeds are being transferred to Mr. Summerville and Mr. Samuels, according to the organizers on Facebook.
Beginning outside the Colonial Laundromats and Dashnaw's Pizza, 174 E. Main St., the silent marchers walked west on Main Street toward Clinton Street and north to the Gouverneur Police Department, pausing there for five minutes. The marchers continued east on Trinity Street then southward to the village park. Along the route, cars honked in support of the demonstrators, a pair of men doing repair work outside a Clinton Street business offered water to the demonstrators and a woman waved from her yard, telling the group: "God bless you, and thank you."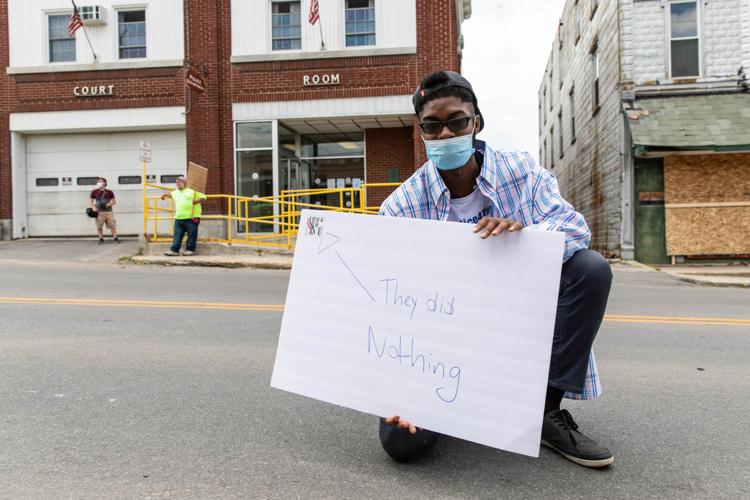 A lone counterdemonstrator stood outside the Gouverneur Police Department holding a sign that read: "Sick of your ignorance." He also wore a T-shirt, which read: "Hello? Don't all lives matter WTF?"
Prior to departing from the laundromat, organizer John Youngblood, an associate professor at SUNY Potsdam, encouraged participants not to acknowledge any counterdemonstrators or people shouting at the group.
"We are not responding," Mr. Youngblood said. "This might be the most difficult thing you've ever done. If you talk as much as I do, it's definitely the most difficult thing you've ever done. It will be challenging, but we are going to honor Treyanna's life and her death in silence."
Ms. Baxtron said she knew some in the Gouverneur community on social media had expressed concern over the rally's affiliation with the Black Lives Matter movement.
"People in the town thought because Black Lives Matter organized it that we were coming in to burn their town down and cause a ruckus," she said, adding that the silent demonstration was a conscious decision. "Having a quiet one is more powerful. Let the words on the signs speak. ... No matter where it's at, kids are getting lost to the system, killed by the system, and not getting what they need. I've been there."
The demonstration was largely organized by BLM North Country Organizing Collective in collaboration with Mr. Samuels and community members. The group plans to continue rallying this week, with a demonstration scheduled for 11:30 a.m. Wednesday outside the St. Lawrence County Department of Social Services in Canton.
Mr. Samuels said his stepsister's death represents a broader systemic problem with law enforcement and county Child Protective Services, a DSS department.
"It doesn't start or end with Treyanna," he said.
Ms. Baxtron, a Potsdam resident who has been a longtime community organizer in the area, said she reached out to the Gouverneur Police Department this week to let officers know the silent march and rally would be happening, as she always does prior to organized gatherings. She invited officers to participate and said she invited Gouverneur Police Chief Laurina Greenhill to the event.
No officers, at least identifiable by uniform, participated in the march, though patrol cars assisted with traffic direction and ushered the marchers safely along the route. Based on observation, Chief Greenhill was not present.
Calls and emails to the Gouverneur Police Department this week have not been returned. Gouverneur Central School District has also not returned phone or email messages or a Facebook message left this week.
Gouverneur village Mayor Ron McDougall participated in the demonstration with his wife. Addressing the group in the park, he expressed his heartbreak over Ms. Summerville's death, describing his observations of the teen over the years. A nearby resident of 135 Rowley St., Mr. McDougall said he often saw Ms. Summerville walking in her community, feeling comfortable enough to greet him with a "hello" after some time.
Mr. McDougall called for "peace and justice for everyone."
"And let's not rest until we get it," he said.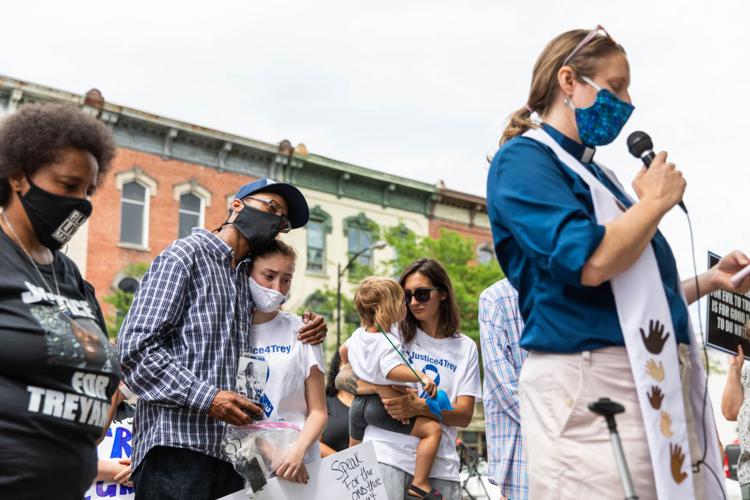 The Rev. Katrina Hebb, of Potsdam First Presbyterian Church, offered a prayer near the close of Saturday's park gathering, calling for protection, for healing and that "the truth would come to light."
"Not for the purpose of vengeance," she said. "But for the purpose of making a better way."