HARRISVILLE — Brittani L. Bickel has worked seven days a week for the last 11 months, treating patients Monday through Friday and delivering food from her restaurant over long distances on the weekends.
She's a medical clinician who's delivering pizza across the north country, and last week someone struck her delivery truck before driving away.
After a year of being redeployed to the front lines as a clinician during the COVID-19 pandemic, as well as regularly driving 60 miles to deliver food from her cafe, Ms. Bickel describes her exhaustion as a burning feeling, literally, yet she still gave the suspect who hit her truck a chance to come forward. Just like how she still feels an obligation to do the work.
She's been a physician assistant for the last 14 years, a position largely sought after, as she can perform roughly 80% of what a medical doctor can for a rural community that sometimes goes underserved. She had her own practice in Harrisville for a dozen years, then bounced around the last few to DeKalb Junction. She now has a family practice in Edwards.
She sees more than a dozen patients a day, often not coming home until she's logged 15 hours. She also owns The Mystic River Cafe in Harrisville, a family-owned business sitting along the Oswegatchie River she and her partner started in 2017. Her partner of 15 years, Norman E. Horner Jr., is the talent in the kitchen — making anything from well-known prime rib pizza to particular calzones — and her mother, Laurie L. Bickel, makes the desserts homemade.
It's a chief example of a small business destined for tumult in a pandemic — that is until Ms. Bickel acted and drastically expanded her customer base.
The dichotomy of Ms. Bickel represents two wars going on at the same time. She feels like there's a devil on her shoulder in the form of a small-business owner and an angel in the form of a health care provider.
One wants to take risks and branch out. The other wants to do things by the book. Either way, it results in significant and reasoned insight into masks, vaccines, patients and how it's adapt-or-die for north country business owners.
She's on the front lines fighting a pandemic and also part of a peaceful militia of business owners who, in many cases, need restrictions to be lifted in order to survive. Her two worlds often collide, wanting everyone to be safe yet understanding the distaste for restrictions that came along with COVID-19.
"And on top of that," she said, "someone hits my truck."
On Feb. 19 at about 8:40 a.m., Ms. Bickel's surveillance camera clearly shows her truck parked out front of her cafe. The video then appears to show a smaller car strike the back of her truck, reverse, then continue driving.
Ms. Bickel has piece-mealed information she has on the suspect to Facebook over the last week, hoping the person who's responsible would come forward. She has taken an oath to swear by health privacy rules every day. She knows how to keep a secret, and she was willing to keep the police out of it.
But the driver never came forward and now state police are looking for the driver. It's not an end-of-the-world crash, but the community around her took it as a shot to the chin considering it was happening to one of the last people who deserve it.
Ms. Bickel's work ethic dates back to when she was growing up in Watertown.
Her father, Gerald W. Bickel, who is the subject of many of her posts on social media, said she overcame many obstacles when she was younger. Her family wasn't sure she would walk again when she broke her back in high school, but she would go on to play Division I softball at Boston University. On top of being a physician's assistant and restaurant owner, she also owned a retreat up until last year, she was a kickboxing instructor, and she breeds two different kinds of dogs.
"For anybody to do any one of those things, it's a full-time job," Mr. Bickel said. "She has juggled all four of them. It's amazing. We are all so proud of her."
Crystal L. Clark has been a patient of Ms. Bickel's for over a decade, following the clinician from practice to practice as she moved around.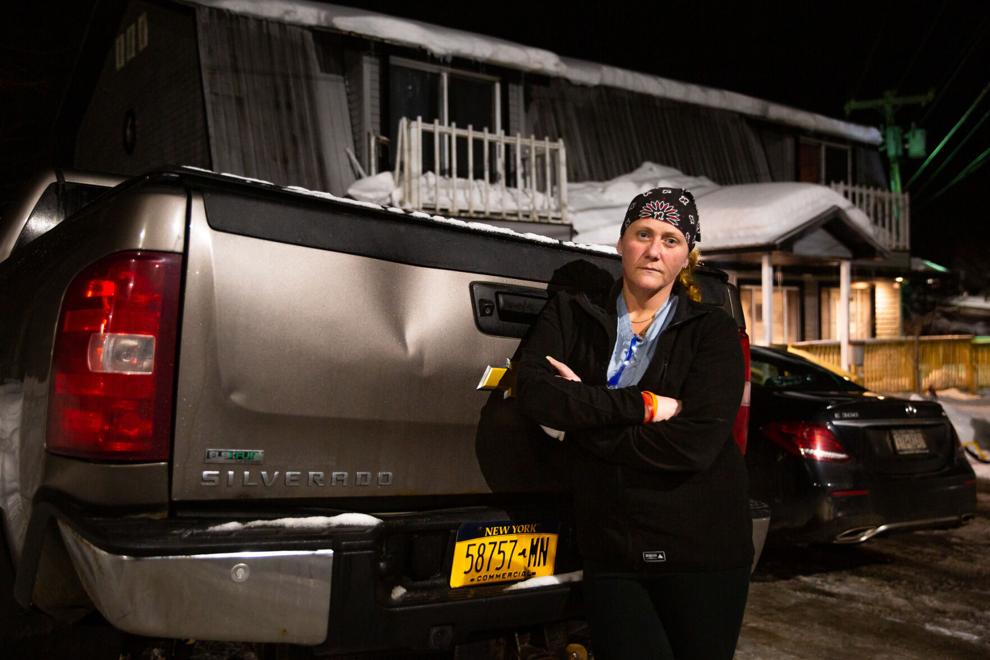 "I will travel as far as I have to," Ms. Clark said. "I won't go to anybody else. She is an amazing person."
Ms. Clark said she isn't alone in taking notice of what Ms. Bickel has done over the last year.
It started on a day in late March 2020 when Ms. Bickel was at her family practice office in DeKalb Junction. She said her employer came to her and said she basically had five minutes to pack up a laptop, printer and whatever she needs to work outside the office indefinitely.
She was tasked with treating her patients remotely through telehealth, or going into area hospitals whenever they needed her.
Meanwhile, she had the Mystic to worry about as well. She loves her local customers, but she knew they wouldn't be enough to keep her cafe open in a pandemic.
She became one of the first, if not the first, restaurants to begin long-distance delivery. She did it then and she's still doing it, delivering food to Watertown, Star Lake, Lowville, Gouverneur, Henderson and even Syracuse, to name a few. She would do bulk orders to the emergency room in Carthage, or a health clinic in Watertown.
On any given week, she might post on the cafe's Facebook page saying she would be delivering in certain areas on the coming Friday.
Customers are asked to call the Mystic on Friday morning and place their order before getting a meeting spot depending on where they live. Then Ms. Bickel would leave her cafe at about 4:30 p.m. with her truck packed strategically.
As she goes on her delivery, she would continue to post on Facebook, saying that she was just leaving Natural Bridge and was on her way to LeRay, then Watertown and so on.
She's done this alone since the pandemic has begun and she hasn't stopped, saying it has kept her bills paid at the Mystic.
"It can be a blinding snowstorm out," her patient Ms. Clark said, "and that girl will take deliveries all the way out to Star Lake or wherever she can go."
Ms. Bickel is working 70 hours a week at her family practice most weeks, she said. It's not like she's clamoring at the opportunity to then deliver food from Harrisville to Watertown on her weekends.
"I love it, don't get me wrong, but there are some days when I'd like to crash," she said. "But I can't."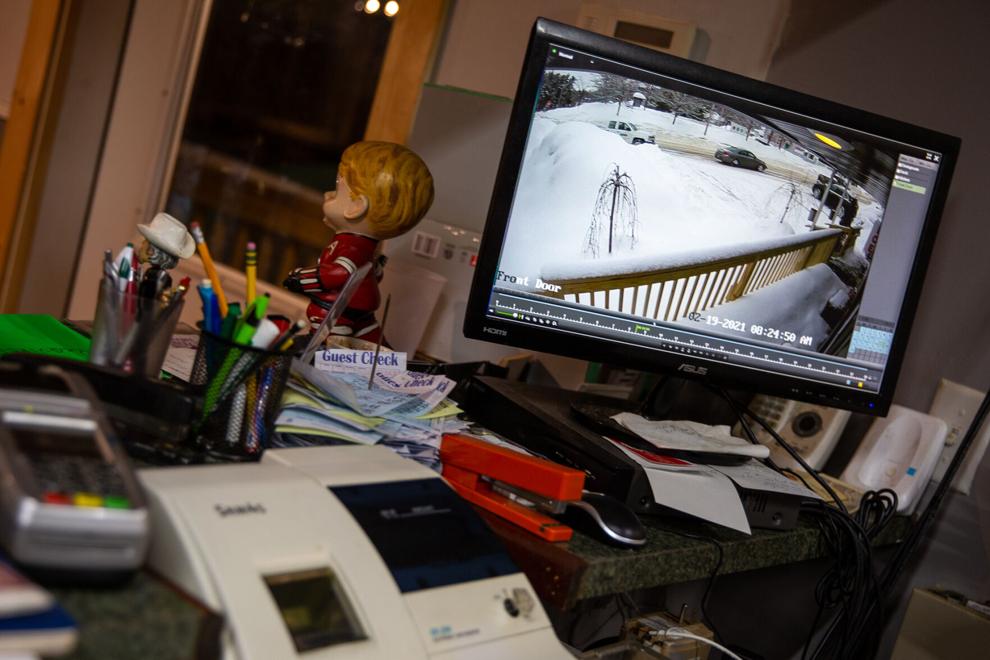 She feels she can't crash or take a day off because it might seem like a failure, no matter how much her customers and patients ask her to take that Key West vacation. She preaches to support those who support you. If she drives 65 miles to deliver a customer food, or is constantly providing care to patients, she would hope they would support her, and they have, repeatedly.
Ms. Bickel was skeptical of the COVID-19 vaccine like any other new treatment, but now she's glad she got it, she said. Her patients have been asking if they should get a vaccine, and her philosophy is: they want it, they should get it and not necessarily feel guilty if they might be younger than 65 years old. If they fall under the qualifications — like food-service workers — they should get it if they want it, she said.
She said she's considering a vacation. The pandemic began and she tried to be the voice of optimism, affirmation and hope. She posted videos on Facebook of her singing, hoping to make people laugh, even if it was at her. She still posts the positive videos, but it's been a year now and she's starting to bend. It makes her worry more when she has moments of exhaustion, knowing the amount of patients she sees who have been suffering from newly found mental illness during the pandemic.
"If I'm starting to have my moments, how do you think they are feeling?" she said. "Do you really think it's just about the virus? There are so many other facets that are killing people."
Ms. Bickel remains one of the only restaurants bringing their food across county lines for customers. The truck she uses to plow her way around was damaged, and really, she and her family would like to see the person held accountable for fleeing, but it hasn't stopped her from making a delivery Friday.
"I'm so appreciative of people supporting us," Ms. Bickel said. "I can't tell you how many times people have been like, 'I never would have thought I would see my doctor deliver pizza.'"