HEUVELTON — As the video began circulating on Facebook and police agencies' phones started ringing off the hook, Jolen R. Pike was already in her car, driving to where it was filmed — right where the dog was bound in duct tape and drop-kicked across the room as its tail wagged — to rescue the lovable lapdog pit bull she and her kids have always loved.
Two men were arrested on animal cruelty charges and later released after the video of Roscoe, a roughly 7-year-old pit bull, came to light. The video was taken some time in the last two weeks, but it remained unseen by the public until someone closely involved with the situation posted it to social media.
The video shows Roscoe standing in a room, facing the camera as his front two feet are tied together with duct tape. To the dog's right is Joshua R. Pike, 30, of Heuvelton. It appears Mr. Pike is positioning Roscoe in the center of the room for a few seconds before he suddenly jumps and kicks the dog across the room with both his feet. It's not exactly clear why he did this.
His sister-in-law, Ms. Pike, while she doesn't have a relationship with him anymore, has known him for a long time.
"Have you ever met anybody who doesn't have a lot of friends and needs to do stuff to try to make friends or make people laugh?" she said less than a day after she first saw the video. "That's Josh."
The video which circulated social media is below. Viewer discretion is advised:
Once the video was posted, Facebook users were naturally outraged. Many comments called for the dog to be taken away and for Mr. Pike to be charged. Dog control in Ogdensburg began getting calls. The Ogdensburg Police Department and state police began receiving calls too.
While all of this was going on, Ms. Pike was thinking about how this was the last straw. Her 4-year-old and 9-year-old kids are attached to Roscoe. She's tried in the past to get the dog out of Mr. Pike's custody. Roscoe is known for greeting everyone with that pit bull smile as it wags its tail. His tail rarely stops wagging — even in the video, until he is kicked.
"Isn't that heart breaking?" Ms. Pike said. "Roscoe is like, 'Dad, why are my legs taped?' And then boom, he flies across the room. It broke my heart. I immediately started seeing red."
Based on call logs, Ms. Pike first saw the video at about noon Wednesday.
She left her house in Ogdensburg and was pulling into Mr. Pike's driveway in Heuvelton in her Jeep by roughly 12:23 p.m., half expecting a fight from her brother-in-law.
"I was fully prepared for it," she said, "but I wasn't leaving without that dog."
But she got the opposite response. She said Mr. Pike came to the door and knew he was in trouble. Whether he heard about it or not, the police would be there in about 10 minutes.
She went inside and found Roscoe in what she said appeared to be a crate made out of pallets. She said Mr. Pike used a power drill to unscrew the side and let Roscoe out. She said Mr. Pike gave her a leash, collar and some food before she left the house with the dog.
State police arrived at the house shortly after she left, and they found the second dog that was in the house, Lewis, a mix-breed that's roughly a year old. Ms. Pike said she wanted to focus on getting Roscoe out of the house as soon as she could because she knew he took the brunt of the abuse.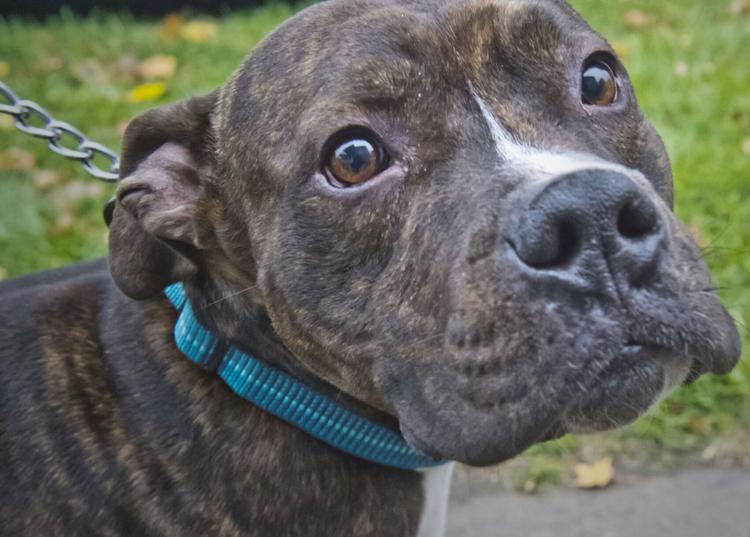 "Roscoe is the big, bad pit bull, and Josh thinks he's tough," she said. "Like, 'Look at me I can take on this pit bull,' where Lewis is just a little, weeny dog."
Lewis, uninjured, would end up with Ogdensburg dog control, where he will remain for the time being as the case continues.
Mr. Pike would go on to be charged with aggravated cruelty to animals under the state Agriculture and Markets Law. Another man, Brandon M. Hooper, 22, Depeyster, was also charged with the same count. Mr. Hooper was allegedly in the room when the video was shot. It's unclear if he was filming or not, or if there were more than just those two in the room. Later on Wednesday, they were both released with tickets to appear in Oswegatchie Town Court. Neither could be reached for comment.
As for Roscoe and Ms. Pike, the pair had their big moment when they left Mr. Pike's house together.
"Driving back from Heuvelton to Ogdensburg, he wanted to sit on my lap and just love me," she said. "He knew he wasn't going back."
She got home with Roscoe and said state police called her shortly afterward. She said they were thinking about taking the dog into their custody, but Ms. Pike wasn't having it. She said she told them not to come.
"I'm not going to pretend that I wasn't going a little crazy when they said they were going to take him into animal control," she said.
Shortly after they called, a city police officer pulled up to her house to check on Roscoe's condition. Roscoe was and still is emaciated, but overall was doing OK and seemed happy, Ms. Pike said the officer concluded. As a result, Ms. Pike now has the dog. She called a vet Thursday to schedule an appointment for shots, getting him registered and anything else Roscoe might need.
Ms. Pike said she's constantly in awe of the tenacity of Roscoe to not become an aggressive or mean dog. He hasn't, even after the history of alleged abuse he's gone through. Mr. Pike took Roscoe from someone who was allegedly abusing him previously, she said. Scars can be seen on Roscoe's side, which Ms. Pike said was from his previous owner.
"Now four or five years later, Josh is doing the same thing that he took him out of."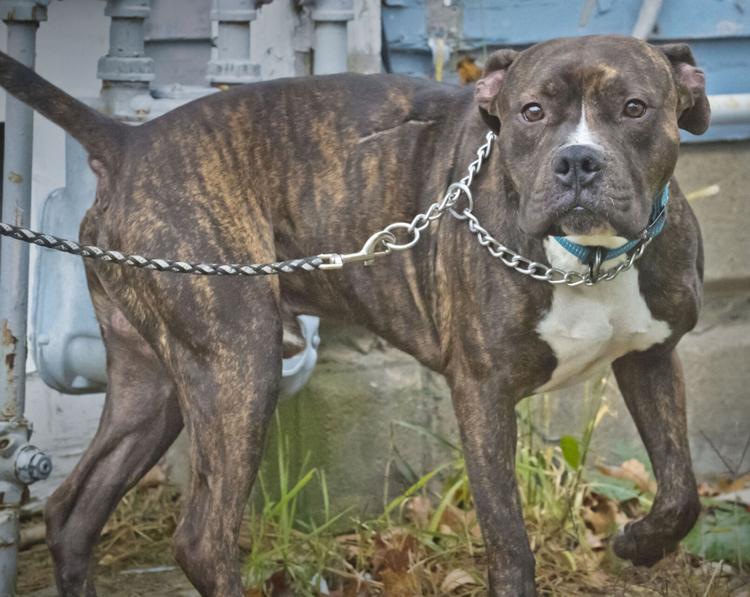 Since Ms. Pike's landlord won't allow dogs to live at her place, she said Roscoe will be living at her husband's house. They aren't together anymore, but they're best friends and she's there with their kids almost every day.
As much as she's tried to avoid it, she saw some comments online, criticizing her name.
"I'm not feeding into it on my own because I'm hearing backlash of like, 'Oh, she's a Pike. She can't do much better. She's just going to give the dog back,'" Ms. Pike said. "I will never give that dog back. Never. If I have to buy a new house just to have Roscoe with me, I will 100% do it. He's a great dog and he deserves a great home, and he's staying with me and my kids."