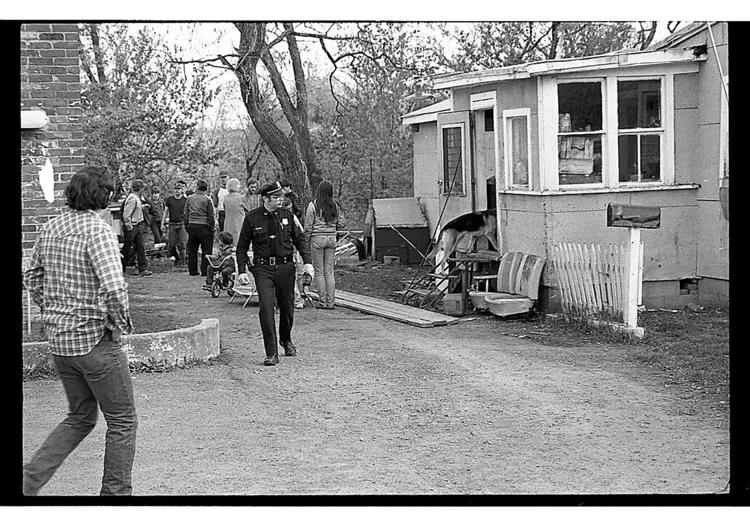 Meaghan E. Good lives for people like Connie F. Evans.
In 2017, Mrs. Evans carried a decades-long heartbreak of a missing son to her North Watertown Cemetery grave.
"I've always been a storyteller and I'm interested in history and the little people stories, the individual stories of people who move in and out of history," Ms. Good said. "I want everybody to know these names."
Ms. Good is founder and the curator of The Charley Project, a website database that profiles over 14,000 "cold case" missing people cases, mainly from the United States. She does not actively investigate cases. Her website is a publicity vehicle for missing people.
"I just want to catalog them so that people can see their faces and names and remember them," Ms. Good said in a phone interview from her home in Ohio. "I feel it's a duty. Usually, emotions don't enter into it."
But local emotions were refreshed earlier this spring when local social media carried a link to one of the 14,000 cold cases listed on The Charley Project. Sean Wayne Evans was age 2 when he disappeared from his home May 17, 1984 on Water Street in Watertown. He was outside playing when his mother went inside to answer a telephone call. Sean was in the driveway with a ball and his brother Steven, slightly younger, was in a playpen. When she returned about 5 minutes later, her blonde-haired, green-eyed Sean had disappeared. She notified city police at 5:49 p.m. and provided a description of what Sean was wearing: a yellow jacket, red pants and blue sneakers with white stripes.
Also, Sean had a birthmark, 1 inch in length, between his shoulder blades, and a scar and another birthmark on his forehead.
"The boy is believed to have fallen into the river behind his home next to the Pearson and Timmerman Inc. building, 914 Water St., after he had been left outside for a few minutes by his mother, Connie," the Watertown Daily Times reported on May 18, 1984.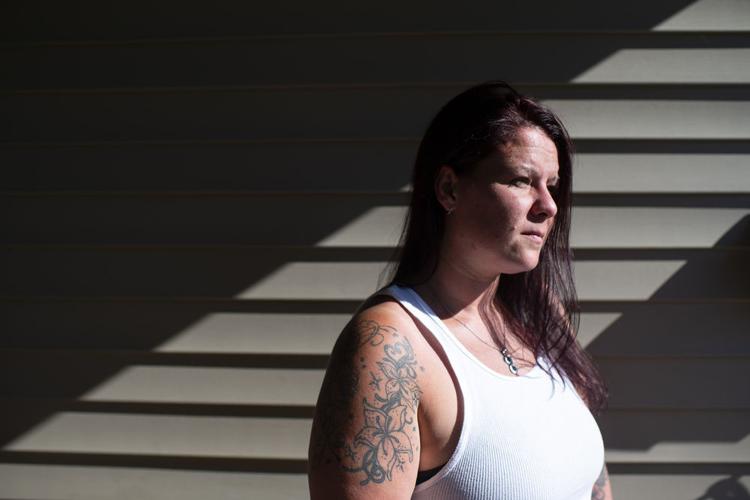 But Sean's sister, Tracey Evans, is not convinced, especially since a body has never been recovered. She carries on a skepticism shared by her mother, who believed that Sean was abducted and that he could still be alive, somewhere.
"For my mom, it was obviously a big deal for her," Ms. Evans, Lowville, said. "She never gave up hope. For the longest time, she was still involved with the police and stuff. And she would have fliers updated."
Ms. Evans was born in 1985 to Connie F. and Francis William Evans, a year after Sean disappeared. Her parents, she said, divorced in 1988 or '89.
Connie, Tracey's mom, was 54 when she died July 22, 2017 at her Dexter home.
What is especially difficult for the family, Ms. Evans said, is that there has been no closure surrounding Sean's death.
"It always bothered my mom," Ms. Evans said. "Even as I got older, mom never stopped talking about it."
The month of May, when Sean disappeared, and November, the month of his birthday, were especially difficult for her mom.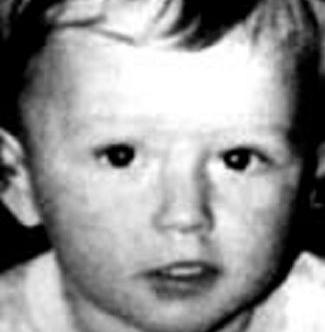 "She would break down non-stop," Ms. Evans said.
The Evans family continues to celebrate Sean's birthday — Nov. 25.
"The year that my mom passed away, and the (anniversary) day he went missing, we did a cookout to remember Sean," Ms. Evans said. "It was rather strange, but we all try to do something in remembrance of Sean, because we've never forgotten about him."
Francis Wallace Evans, Three Mile Bay, was born in 1988. His mom also regularly reminded him of his missing older brother.
"I just try to stay positive about it," Mr. Evans said. "Mom always thought he was out there, so we thought the same thing: he was kidnapped as a young boy and he didn't know any difference that he was kidnapped or not. He just grew up not knowing he was abducted or whatever. That's how I think about it anyway. Whether it's true or not is beside the point, I guess. But they never found a body in the Black River."
Mr. Evans became the main keeper of the flame involving Sean's case after his mom died.
"I took over everything and talked to detectives about it, and they say they're still searching or whatnot," he said. "I don't think they gave up on him."
One searcher on May 17, 1984, the day Sean disappeared, reported finding sneaker tracks leading to the river's edge. The report in the Times did not indicate what size the tracks appeared to be.
"To me, I'm thinking did somebody take him and go that way near the water to kind of lead the trace off?" Ms. Evans said.
She said that her mom always maintained that Sean was frightened of water.
"She said even giving him a bath, he would scream in the bathtub. He did not like water. It was always a big thing. She was like, 'No way. He knew not to go near the water.'"
In 2017, Ms. Evans created a Facebook page about her missing brother. "It is still a mystery of what happened to him. Many of us believe he is still out there," the page says.
Sean's father, Francis William Evans, town of Pamelia, said he was out job hunting when Sean came up missing.
"I've never given up," he said on finding answers.
Francis William Evans said he's attended local rallies over the years concerning missing children and believes more people need to be aware of those related dangers.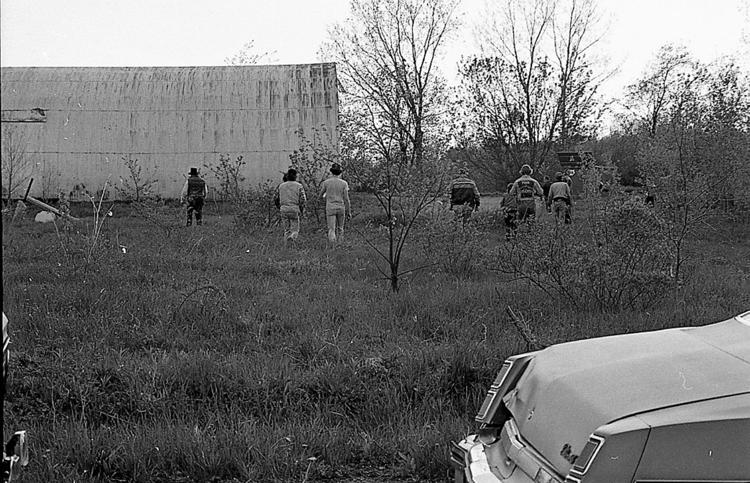 "People need to know," he said. "People don't talk about it enough."
He said "it's kind of freaky" to see kids wandering by themselves.
"There's nothing you can do about it," he said. "It's not like you can step out and say, 'Go back home' or whatever. Some parents just don't realize what's out there. When I do get the opportunity to talk to people, I tell them the way it is. You just don't know."
Tracey Evans is very cautious when it comes to her children.
"Because of the Sean thing, I'm a paranoid mom," she said. "My kids aren't allowed out of my sight. I freak out over little things."
Steven A. Evans, 37, Brownville, was in the playpen when his brother, Sean, disappeared that May day in 1984. Steven was about age 1 at the time.
Steven recalled that as he got older, he remembers his family getting phone calls from out of state reporting sightings of Sean, but nothing came of those reports. Color posters and advertising cards with Sean's picture were distributed nationwide.
"I'm thinking he's still out there," Steven said. "From what I was told, he was scared of water, so I know he didn't go into the Black River. If you're scared of something, you won't go near it."
Tracey alleges some "weird stuff" occurred over the years relating to Sean's disappearance.
"I recall the shoes that he was wearing that day were randomly mailed to us," she said.
Her two brothers and her father don't recall any mention of that occurrence.
"And she said a couple of days before it happened, there was a vehicle that kept parking up the street, but she never put two and two together," Ms. Evans said of her mom. "I don't know why you wouldn't, but maybe that's just me learning from my mom's lessons. But if somebody is parking next to my house, I'd be freaking out. My kids aren't going to be out there."
The City Police Department maintains a multitude of material related to the case of Sean W. Evans.
In late May, an "active follow-up" on his case began.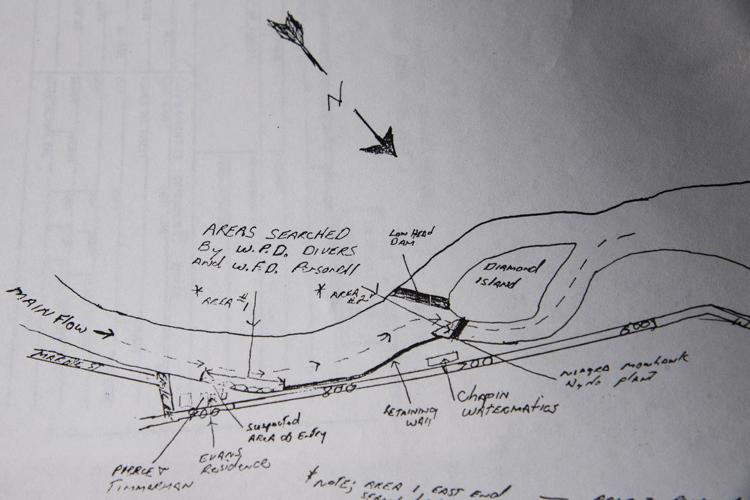 Detective Sgt. Joseph A. Giaquinto of the Watertown City Police Department was asked about Tracey's recollections on the shoes and the vehicle that she claimed her mom saw, and particularly if those statements were also in the material the police have on the case.
"We are talking about boxes of documents, so I can't comment on that," Detective Sgt. Giaquinto said.
He added that he has no opinion as to what happened to Sean.
"We're going to treat it as anything is possible," Detective Sgt. Giaquinto said. "Maybe he did go in the water, maybe he got picked up and was raised somewhere else. I'm really open to anything. We are coming at it with fresh eyes because it has been reassigned down through the years. I don't believe there was a time when it wasn't assigned to somebody.'
Fresh eyes and new technology assist in such cases, he said.
"Every time it's passed on to a new investigator here, it's a different perspective," Detective Sgt. Giaquinto said. "Every detective is different and sometimes, people come up with fresh ideas to approach things. It's not something we're going to give up on. One way or another, our goal is to find answers for the family."
Detective Sgt. Giaquinto was 2 when Sean disappeared, but he said time doesn't play into the case. Such cases aren't forgotten.
"If we don't have it figured out, then when my time is done, we'll go on to somebody else. It's not going anywhere. I'd like to see it solved very much myself."
The Charley Project was named in honor of Charles Brewster Ross, who was abducted from his home in Germantown, Pa., on July 1, 1874, when he was 4 years old. The search for him attracted international attention, and his case was one of the first highly publicized situations in the U.S. involving a missing child. Charley's fate was never discovered.
The website began as the Missing Persons Cold Case Network, founded in 2001 by Jennifer Marra. It was designed as a publicity vehicle for cold cases of missing people. In 2003, she turned over the site to Ms. Good. She ran it until March 2004, when it was attacked by hackers and was taken offline. Ms. Good founded The Charley Project in October 2004, which contains much of the content of the former MPCCN.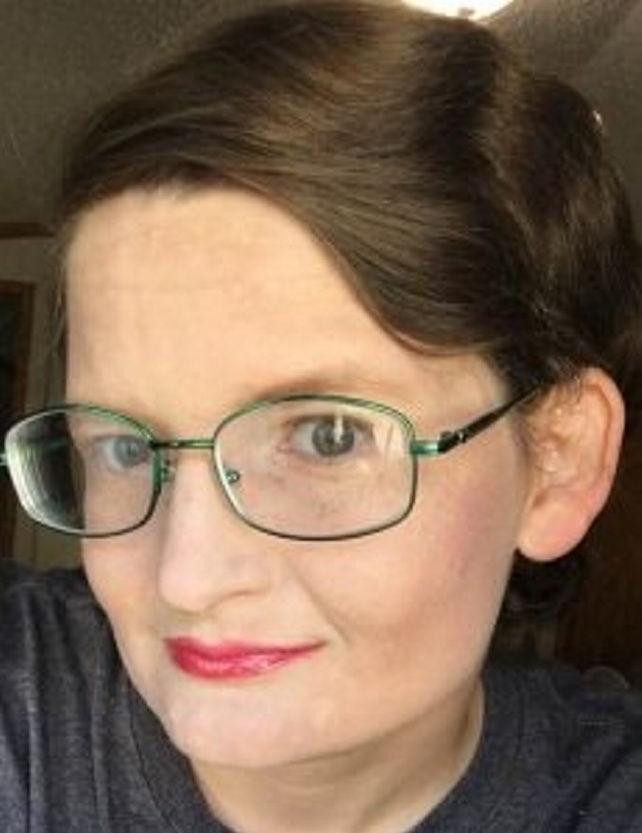 Ms. Good, 34, was diagnosed as being on the autism spectrum 11 years ago. She believes the intense focus that often comes with having autism has made The Charley Project a success. When asked how much time she devotes to it, she said "it kind of varies."
"There have been times when I've done like bursts of weeks, working 12- to 14-hour days on it," Ms. Good said. "And then I'll sputter to a stop for a while. I'm bi-polar, so that's part of it."
The work brings her rewards.
"Especially when I hear from people whose loved one is on there and it's like, 'I didn't know that anybody cared anymore.'"
One section of The Charley project is for resolved cases, such as when someone is found alive.
"A lot of times when they're found alive, I'll just remove that because I don't want to interfere with their privacy," Ms. Good said. "It depends on what the circumstances are. If there are news articles about the person being found, the horse has already left the barn. But sometimes, I hear from the person themselves. It's like, 'Ya, I was missing, and that was a different part of my life and now I'm trying to apply for jobs and stuff and it's kind of interfering with that.' Of course, I will want to remove them and will remove the case with no problems."
Missing children cases are especially tragic for Ms. Good.
"This is an open wound," she said of Sean's case. "People talk about having their child die as a parent's worse nightmare. That's actually not true. It's worse having your kid disappear and never knowing what happened to him." She has some personal experience in that regard.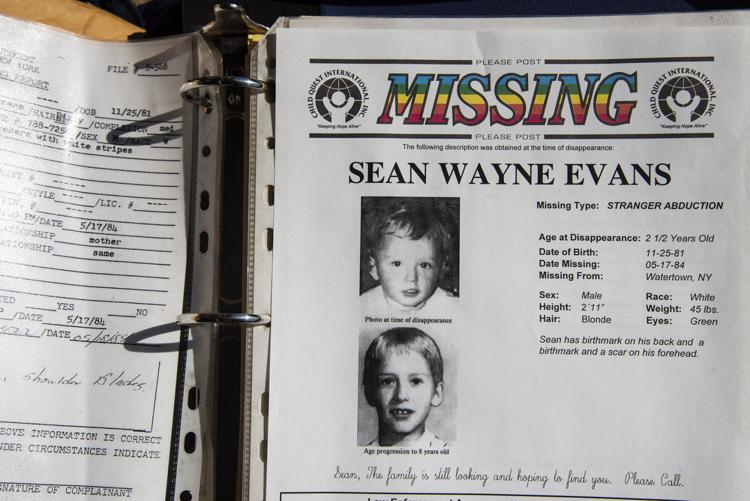 "Two of my brothers have died, so my parents have lost two children," Ms. Good said. "This is obviously a terrible thing, and they never really got over it. But as a family, we've been able to put our lives back together and still be happy. This has not destroyed us. From what I've seen, a lot of times having a kid disappear and never knowing, or getting the closure, can destroy people."
The Evans family still awaits that closure.
"It'd be nice to find him. I'd definitely tell him, 'Welcome back,' and show him around," Steven A. Evans said. "At least spend some time with him before I got to know him."
"I'd probably hug him and never let him go," Tracey said.