WATERTOWN — Just about when protesters were chanting "Love is Love" in front of City Hall on Wednesday afternoon, Donnie Lee Barrigar was handcuffed in the booking area of the police station, charged with criminal tampering.
At 3 p.m. Wednesday, city police arrested Donnie Lee Barrigar, 36, of Watertown, on a single count of third-degree criminal tampering for removing the Pride flag from City Hall's flag pole on Saturday.
He was brought to the Metro-Jefferson Public Safety Building, where he was booked, arraigned and then released at about 6 p.m., shortly after about 150 protestors finished up their demonstration.
What Mr. Barrigar did on Saturday — lowering the Pride flag and stuffing it into a City Hall mailbox — prompted LGBTQ+ supporters to come together in a show of solidarity.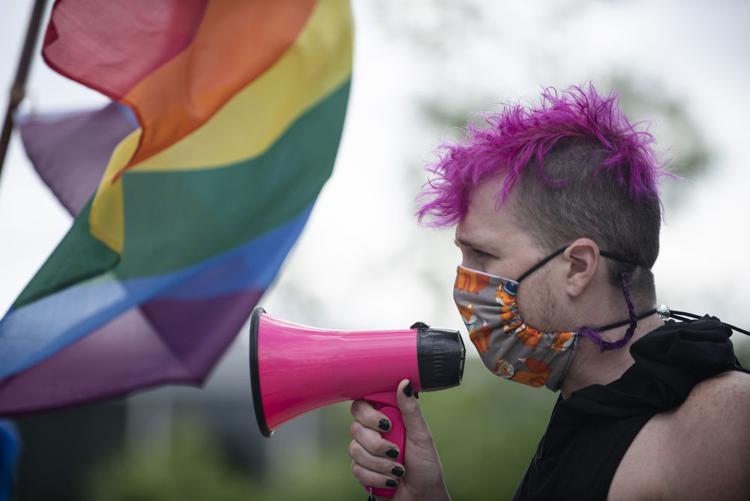 When organizer Seth Hill announced Mr. Barrigar was arrested, the crowd cheered.
"That's awesome," he told a reporter.
Mr. Hill said he was surprised by the arrest, but it needed to be done. Mr. Barrigar needed to be held accountable for his actions, Mr. Hill said. The city needed to show that the gay community is welcome in Watertown and it's a part of the community.
The demonstration became a more festive event as protesters coaxed motorists to honk their horns in support of the LGBTQ+ community. Many did.
Mr. Barrigar planned to attend the protest, although none of the protesters wanted him there.
Before it became known that Mr. Barrigar was arrested, Mr. Hill, owner of the Tarot Cafe in the city, told protesters to ignore him and not to engage in any conversation with him. They were there, Mr. Hill told the crowd, for a non-violent protest.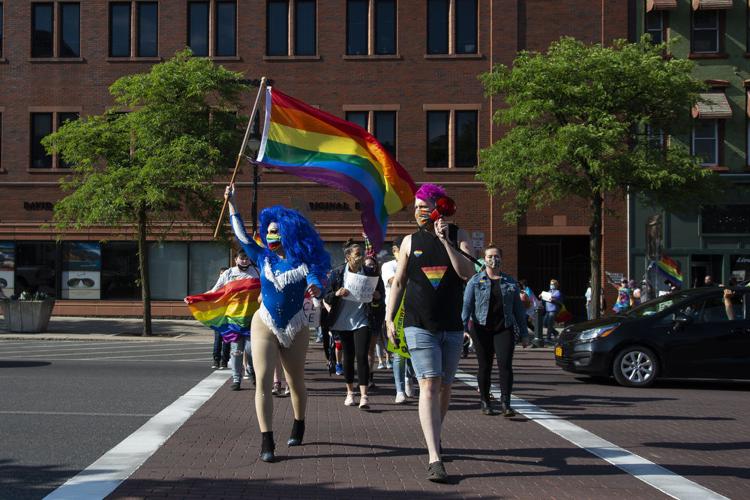 For the past two years, he and his partner, Sexton Gage Reece, have been harassed at their Franklin Building business by Mr. Barrigar and his anti-gay beliefs, Mr. Hill said.
Carrying a sign that read "Love is Love," Rayne Farrell attended the protest in support of her two friends.
"Everyone needs to be loved," she said.
Brianna N. Appleby, 24, was there "to establish ourselves in the community." She called disrespecting the Pride flag "childish."
"This is the 21st century. Discrimination should have ended a long time ago," she said.
Local photographer Brandon Bledsoe brought his two sons, Liam, 8, and Zander, 4, because it was time they learned about their constitutional rights, he said.
The boys blew bubbles and brought a small Pride flag that they waved while Mr. Hill addressed the protesters.
"We have to show that the city cares," Mr. Bledsoe said.
For most of two hours the protesters were there, they circled the Pride flag that had been allegedly infringed upon by Mr. Barrigar for his religious beliefs.
They carried signs that read "Erase the Hate," "Being Gay is like glitter. It never goes away," "Hearts Not Parts" and "LGBTQ+ is not a choice. Bigotry is."
Mr. Reece, dressed in drag as his alternative character, Berri Wild, waved the Pride flag while he urged motorists to honk in support.
"I almost cried three times," he said. "More people came than I ever thought."
About a mile away, Mr. Barrigar sat handcuffed to a wall after he was charged with a Class B misdemeanor for tampering with property of another person when he had no such right.
Mr. Barrigar, who believes in the Flat Earth movement, was previously banned from City Hall property for taking down an American flag and putting it back upside down.
After being released, Mr. Barrigar accused the City Council, Mayor Jeffrey M. Smith, the Jefferson County District Attorney's office and City Court Judge Anthony M. Neddo of conspiring to keep him away from the protest. He said that's why he was arrested at his home at 3 p.m. and detained until about 6 p.m.
"The LGBTQ+ celebration violated my rights," he said, adding that he's already started looking for a lawyer to possibly file a lawsuit against the city.
Mr. Barrigar said that the arresting police officer told him that someone from Gov. Andrew M. Cuomo's office kept texting the officer to find out his whereabouts for every minute of the protest.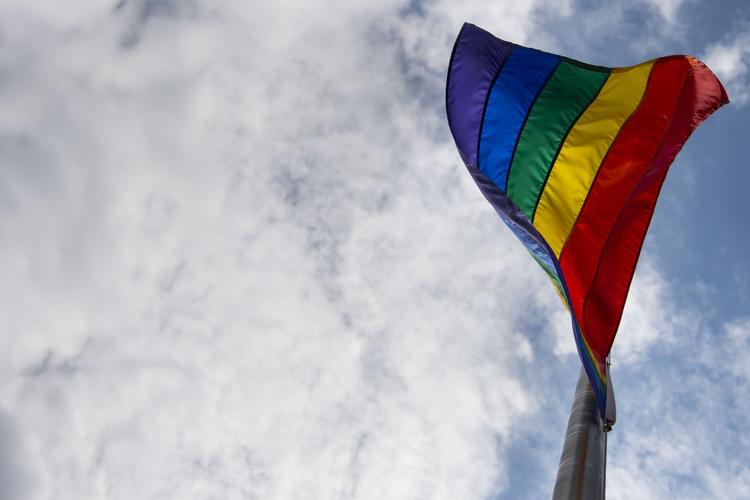 Earlier in the week, Gov. Cuomo offered to help the state police with the investigation into Mr. Barrigar's action. The governor called him a bigot.
The Pride flag left its perch above City Hall for just a short time Saturday before it was quickly restored. Since then, the city has decided to keep it flying, not just for Pride weekend as previously planned, but as a show of support for the remainder of the month.
And Mr. Hill is now confident that the city's support for the LGBTQ+ community has only grown stronger.