ALBANY — Questions remained surrounding New York's record-breaking $15 billion budget deficit Monday after Gov. Andrew M. Cuomo's annual State of the State address, which is typically centered around measures for the state's upcoming budget negotiations.
Cuomo delivered his 11th State of the State address virtually late Monday morning from the War Room inside the state Capitol. The annual speech is traditionally attended by thousands of people in Convention Center inside the Empire State Plaza, but was virtual this year because of the ongoing COVID-19 pandemic.
"The War Room is fitting because we are at war — a war that began early last year when we were ambushed by the COVID virus and a war that continues today," Cuomo said. "As our forbearers before us, we will win this war and we will be the stronger for it."
Monday's seven-point speech included a general outline to defeat COVID-19 this year, vaccinate all New Yorkers, address the state's economic crisis, invest in the future by jump-starting the economy with infrastructure projects, a focus on bolstering the state's green energy initiatives, understanding the long-term effects of COVID and addressing the state and nation's systemic racism and injustices.
Cuomo and his top aides have pushed for additional, direct federal coronavirus aid to U.S. states and local governments since late last spring to help offset the state's $15 billion revenue shortfall, expected to increase to more than $31 billion over two years.
Many questions remain surrounding the state's economic and other affairs as officials wait to find out how much federal assistance Congress will pass for states and localities under Democratic President-elect Joe Biden.
"This next year, we will see economies realign and reset around the world," Cuomo said. "We see the risk and the peril, but we also see the promise and the potential. The question to be answered is, what will we make of this moment? Is it positive or is it negative? Do we move forward or do we move backward? Is America, is New York stronger or weaker in the post-COVID world?"
The governor will deliver three additional State of the State speeches in the coming days, but did not provide details about when. The State of the State is usually one speech.
COVID-19 must be defeated through the quick and efficient vaccination of nearly 20 million New York residents, Cuomo said.
Cuomo announced Monday the creation New York State Public Health Corps with Cornell University and Northwell Hospital System to hire 1,000 Health Corps fellows to be trained for the statewide vaccination operation and serve for one year.
"The Public Health Corps will also help New York learn from this experience and establish a best-in-the-nation emergency response capacity that lasts beyond COVID, so we are better prepared for future crises," Cuomo said.
The state will develop a citizen public health training program designed by Cornell, offered online and for free to the public, to educate and certify thousands of New Yorkers to be better prepared for the next public health emergency.
Cuomo and the Reimagine New York Commission — a group of appointed members working to build the state back in different, more efficient ways after the pandemic — support a new telehealth bill to ensure New Yorkers have access to telemedicine, or digital medical visits.
Additional rapid COVID-19 test sites will also be opened around the state.
New Yorkers must remain diligent through 2021 to slow the state's spread of COVID-19 and keep infections, hospitalizations and deaths to a minimum.
"We must defeat the enemy," the governor said. "If we tire before the enemy tires, we lose the war. It's that simple."
Officials must plan for the state's economic resurgence, Cuomo said, who did not announce details or specifics of the state's financial crisis, but expects more details will be announced in the coming weeks.
The governor reviewed the state's build up to its current $15 billion deficit, criticizing federal negligence when COVID first emerged last spring and how New York subsidizes 42 other states with its federal tax contributions. Cuomo has blasted the federal State And Local Tax provision since its 2017 adoption, which allows taxpayers to deduct state and local property and real estate taxes. The provision cost the state $30 billion over three years and increased property taxes an average $2,600 per year, the governor said.
Cuomo voiced support for a federal tax increase for the nation's wealthiest residents, or millionaires and billionaires. He has repeatedly criticized a similar state measure, as New York boasts the nation's second-highest tax rate.
"That is basic economic justice and economic prudence," Cuomo said. "Look what has happened in America, the rich have gotten richer, the poor have gotten poorer and the middle class has gotten smaller. Washington should not force any state to bear the cost alone — especially New York state."
The state will begin an aggressive construction and transportation development program for new air, road and rail systems and efficient and affordable high-speed broadband internet service throughout upstate and downstate New York — mirroring President and former New York Gov. Franklin D. Roosevelt's efforts during the Great Depression.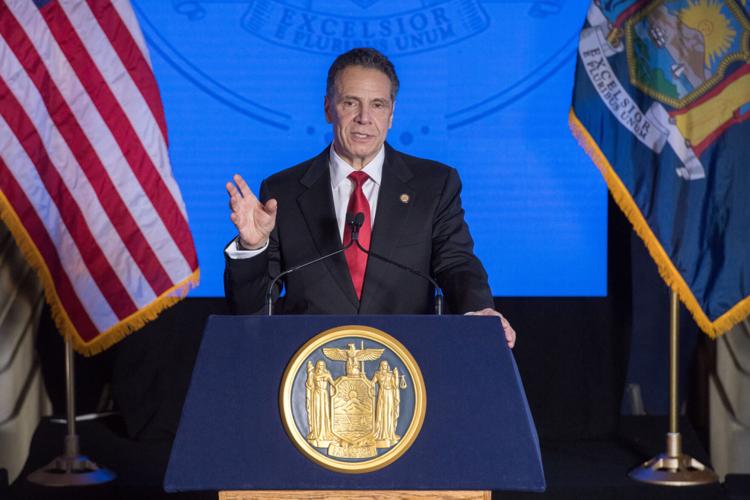 "We will commence the most aggressive construction and transportation development program in the United States of America ... more affordable housing, and more economic development to create jobs, jobs and more jobs," Cuomo said. "New York state knows how to get things done and we know how to build."
The cost is too high for all nonessential businesses and events with large gatherings to remain barred until 70% to 90% of the population receives a COVID-19 vaccine.
"We will have nothing left to open," Cuomo said. "We must reopen the economy, but we must do it smartly and safely."
The state must look ahead to creating a better, post-COVID society and broaden its dependency on green energy, which the governor said will create thousands of secure jobs.
"And my friends, if that wasn't ambitious enough, all of these plans must move forward simultaneously," he said. "It will be hard. It will be the greatest test for government since we mobilized to fight World War II. It will be the greatest opportunity for advancement since post-World World II."
Lt. Gov. Kathy C. Hochul and Cuomo's three daughters were in attendance for the speech. Attorney General Letitia A. James; state Comptroller Thomas DiNapoli; Assembly Speaker Carl Heastie, D-Bronx; Senate Majority Leader Andrea Stewart-Cousins, D-Yonkers; Assembly Minority Leader William Barclay, R-Pulaski; and Senate Minority Leader Rob Ortt, R-North Tonawanda; attended the speech virtually.
Stewart-Cousins expressed excitement for a robust day of session.
Senate Democrats are seriously considering taxing the state's millionaires and billionaires, as well as a widespread property tax increase to help close the budget deficit.
"I won't say we can't see not doing (that)," Stewart-Cousins said. "We need to rebuild our economy — we can't just wait for Washington. I don't know what they're going to do. We know we need their help. By the same token, we have an opportunity and a responsibility to look at what we do, what we can do to make sure that New York gets rebuilt, and I'm hoping everyone wants to do their part in that process."
Barclay was unimpressed the governor's speech Monday failed to include specific plans or details as the state expects additional federal aid from Washington representatives after Biden takes office Jan. 20.
"While we're told additional information will be forthcoming, we hope to receive more substance than a compilation of previous briefings and additional finger-pointing at Washington, D.C.," Barclay said in a statement. "Fortunately, Gov. Cuomo acknowledged the need for fiscal recovery and greater commitment to infrastructure, improving broadband access and reinforcing the state's health care preparedness. Certainly, I agree with him on these goals. But he presented far too little on help for small businesses, direct assistance to families, future logistics on the state's slow vaccination roll-out or how he plans to address New York's mounting debt and precarious budget deficit.
"The governor has chosen to provide three more presentations this week, and I look forward to future proposals containing more substance than we heard today," Barclay added. "After all they endured in 2020, New Yorkers don't need more words from their elected officials — they need immediate action."
Ortt gave statements on the governor's first installment of the State of the State outside the Senate Minority Conference offices inside the state Capitol immediately after the speech ended Monday afternoon.
Ortt was encouraged Cuomo echoed similar legislative priorities Senate Republicans outlined in their 2021 RESET NY agenda last week, including reopening the economy and the surge in violence in cities and communities of color.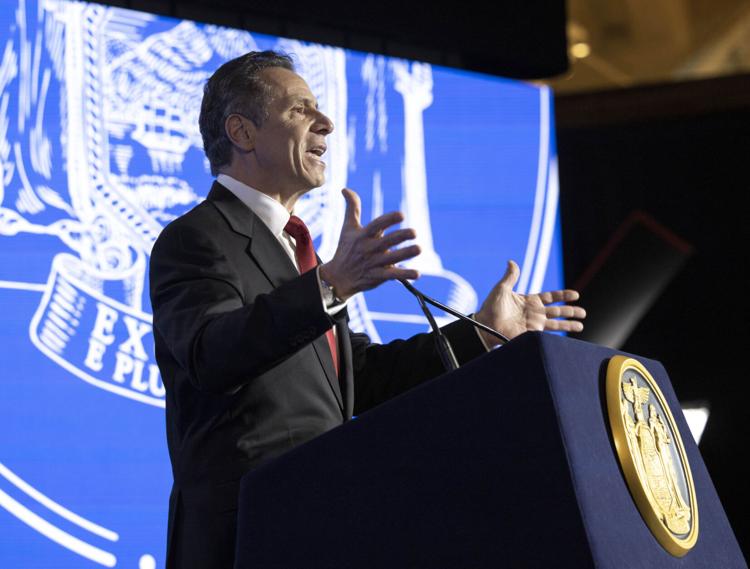 "It looks like the governor took some of our RESET NY agenda to heart," Ortt said. "It shows our conference continues to have an important role to play in the state Capitol and the narrative.
"He talked about getting the economy reopened and not being willing to wait for everyone to be vaccinated, which has been something we said last week and something, quite frankly, our conference has been saying for months now. ... We'll see what that looks like. There wasn't a lot of details in the proposals," he said.
Senate and Assembly Republicans largely campaigned on platforms to strengthen public safety and prevent further urban decay with an exponential surge of violent crime, including shootings, homicides and burglaries last year. GOP lawmakers have spoken out against the state's controversial bail reform law, the series of police reform bills passed last June and others they feel have contributed to the increase in crime.
"I don't think that can be forgotten or glossed over," Ortt said. "While I'm happy to hear him talk about the importance of safe communities and proper policing and public safety, I don't know that our members in law enforcement have seen that backed up by his own rhetoric or certainly that of the Majority conferences both in the Senate and the Assembly."
Senate Republicans will wait to review the details of legalizing revenue raisers such as adult-use recreational marijuana and mobile sports betting before making a statement in support or against either measure.