WATERTOWN — Saturday was the first day to vote early in New York state, and hundreds of north county voters flocked to the polls — even breaking a record in one county.
Jefferson County Democratic Election Commissioner Michelle LaFave said by 11:45 a.m., about 360 people had already cast their ballots at their early voting site inside the Jefferson County Office Building on Arsenal Street. At that point, at least 150 more people were waiting in a socially distanced line that snaked down the hall, down the stairs and outside the county office building onto the street.
Ms. LaFave said people were already lined up outside before the polls opened at 9 a.m.
"I went down to start having people come up and line up maybe five minutes before 9 (a.m.), and the line was all the way down the street on both sides," she said. "I've never seen anything like this and I didn't expect it."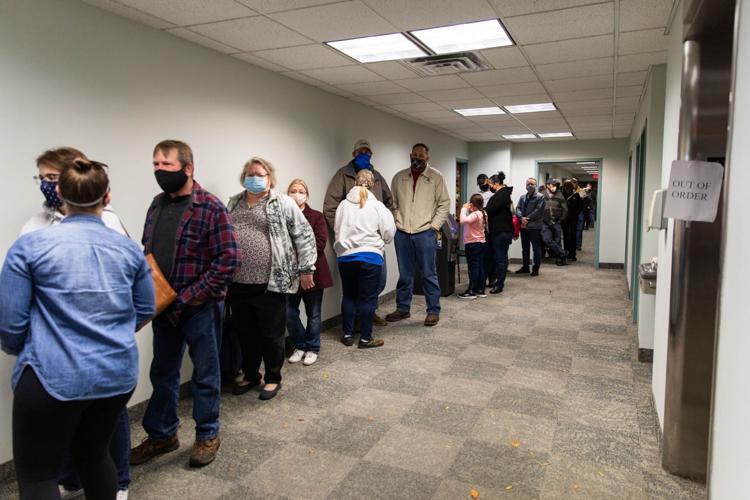 The Lewis County Board of Elections opened their early polling site in the Lowville Town and Village Offices on Bostwick Street. At 1 p.m., 296 people had voted, with a dozen more waiting in line. Republican Elections Commissioner Ann Nortz said there were a number of people waiting in the parking lot when she came to set up the polling site at 8:30 a.m.
"That's not something I've seen before, not in Lewis County," she said.
Thomas A. Nichols, Republican election commissioner for St. Lawrence County, said a record number of people cast their ballots early at the county Human Services Building in Canton. He said more than 400 people had voted by about 2:30 p.m., and there were many more people waiting in line.
Mr. Nichols said they were taking about 60 voters per hour, with a consistent wait time of about two hours. Despite the wait times, voters didn't seem all that bothered by the long lines.
Heather McKinnon-Heath said she was fine with the hour-long wait she was told to expect as of 11:45 a.m. in Jefferson County.
"I just want to get it done," she said.
Ms. McKinnon-Heath said she was voting early because there was a chance she wouldn't be in town on Election Day, and the recent concerns over the efficiency of the U.S. Postal Service had dissuaded her from casting an absentee ballot.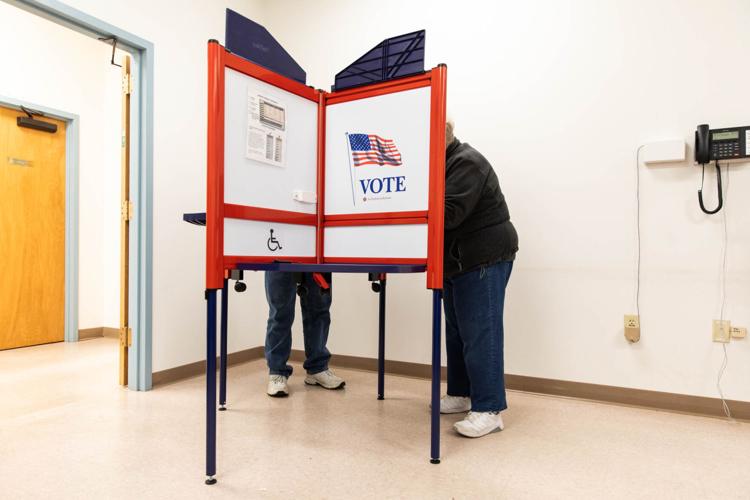 "I felt it was important that I actually hand my ballot in, to put that ballot in the machine," she said.
Despite being inside, with many people around her, Ms. McKinnon-Heath said she didn't feel like she was at risk of catching COVID-19. Everybody inside the building was wearing masks, and everyone stood at a good distance apart. It appeared many people had come with their partners, and the only groups of people were couples standing together.
Matt Delaney was even further back in line at the Jefferson County poll site. He was standing outside, at the rear of the line, at about 11:45 a.m. He said he had a few hours of patience in him and was willing to wait to cast his ballot.
Saturday was the first time he ever cast his vote.
"I guess I just have my (expletive) together this time," he replied, when asked why he chose to vote this year.
He also said, had early voting been available in 2016, he likely would have voted then, too.
He said he decided to vote early because he might be leaving town before Election Day and voting in person was the most convenient option for him.
In Lewis County, Ellen and Lance Anderson said they waited in line for about 10 minutes before were able to vote.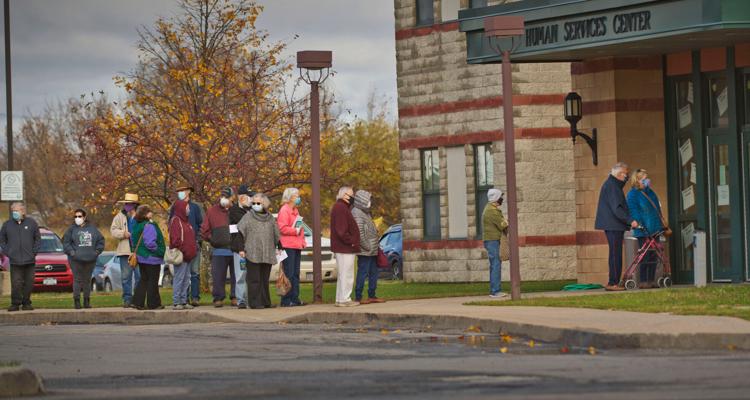 Mrs. Anderson said she and her husband both take voting very seriously, and wanted to get their ballots cast as soon as possible, and as safely as possible. She said the ongoing concerns over the postal system's ability to handle the absentee ballot load this year made them wary of voting by mail.
"We wanted to make sure there was no funny business, and to get our ballots right in the ballot box," she said.
Each poll site was fully staffed with poll workers checking people in and issuing ballots on their new electronic poll books. The electronic poll books are Apple iPads running elections software. Voters sign in on the device, instead of the paper books used in the past. A small printer nearby will print out an ID receipt, which the voter will then scan at a ballot printer.
Ms. LaFave said the electronic poll books have many benefits, one of which is the polling site is less likely to run out of ballots.
"Fortunately with the electronic poll books we have on-demand printing for ballots, so as long as we have plenty of blanks in stock, we won't run out of ballots," she said.
Mrs. Nortz and Ms. LaFave both said while they had lost some of their regular poll workers, who were mostly older, they weren't having issues with poll worker numbers this year because both local and the state Boards of Elections had invested in recruitment programs.
"We did have several people who decided not to work this year, which we totally understand," Mrs. Nortz said. "But we did have a lot of people step up that were willing to come in and be trained and work, so, as of today, we're doing pretty good."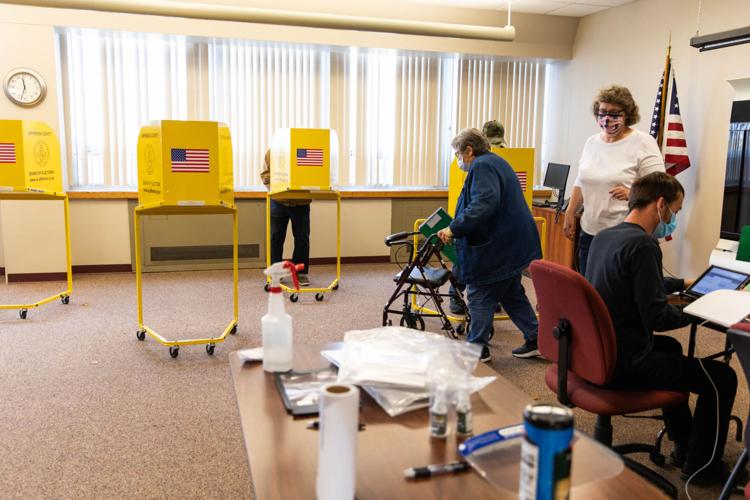 Both Ms. LaFave and Mrs. Nortz said they hope turnout will remain high throughout the nine-day early voting period. There have been significantly more absentee ballot requests made in all three counties — and ballots returned already — this year than in years past as well, and both officials said they hope that enthusiasm will continue.
"I'm just really excited for the turnout," Ms. LaFave said. "I'm hoping that it does continue and people keep coming out and exercising their right to vote."
For residents of Jefferson and Lewis counties, early voting will be open from 9 a.m. to 2 p.m. on Oct. 25, 31 and Nov. 1. It will be open from 9 a.m. to 5 p.m. on Oct. 26, 29 and 30. On Oct. 27 and 28, early voting will be open from noon to 8 p.m. St. Lawrence County's early voting schedule is almost exactly the same, except on Oct. 27 and 28, the early voting poll site will be open from 9 a.m. to 8 p.m.
St. Lawrence County Editor Tom Graser contributed to this report.