CLAYTON — Until a few weeks ago, the concept of a bookstore was a foreign notion to the children of village resident Lori W. Arnot.
But the recent opening of such an establishment in the village is being seen as a novel addition to downtown.
"They went in and they were just completely in love with it," Ms. Arnot said of her two children, ages 8 and 6. "They came home and started earning money so that they could buy books."
Ms. Arnot is also enamored by the recent opening of The Little Book Store, 413 Riverside Drive, next to the Clayton Opera House and located in the former space of the Clayton Popcorn Company, which moved across the street to 340 Riverside Drive.
"I was overjoyed," Ms. Arnot said. "I love to read books and to be able to talk to more readers and to support authors is really important. And I was excited to have my children experience a small book store and to foster their love of reading."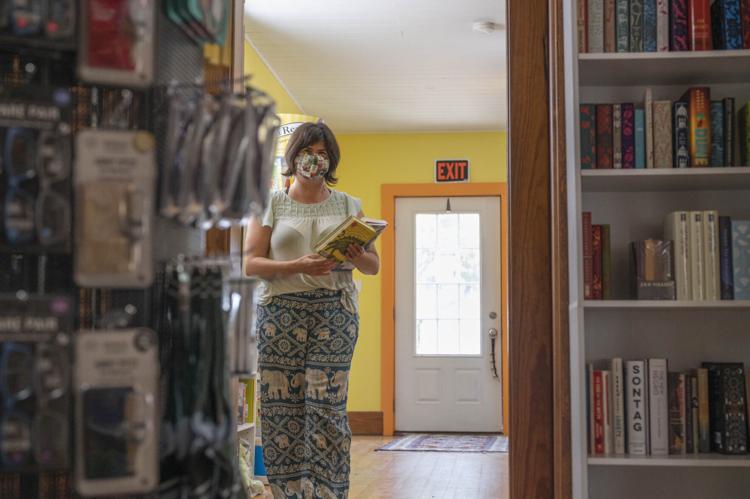 Independent bookstores, after years of being battered by likes of Amazon and other online retailers, are writing a new chapter of success for themselves. Dan Cullen, senior strategy officer for the American Booksellers Association, said that coming into 2020, there had been a growth of independent bookstores nationwide. In 2011, ABA recorded 1,823 member locations. Last year, that number had grown to 2,524.
"Amidst the COVID-19 outbreak, ABA isn't monitoring the number of members, since the numbers aren't the key metric to the business realities of the stores right now," Mr. Cullen said.
But if being welcomed by the community is a metric of success, The Little Book Store scores well.
"We have so much support from the community," said The Little Book Store owner Rebecca A. Kinnie. "People are always coming in saying Clayton has needed a bookstore."
But she knows the challenges she faces. In recent years, local independent bookstores such as The Reading Room at Salmon Run in Watertown Corbin's River Heritage in the village have closed.
"It's never a good thing to hear about bookstores, or any business that closes," Mrs. Kinnie said. "But I feel like we have enough community support and that our location is such that we're going to be able to do very well."
Locally-owned bookstores can develop the flexibility that national chains lack.
"They have a unique relationship with their local communities, one that can't be replicated by a corporate owner, located in a far-away city," Mr. Cullen said. "Independent bookstores curate their inventories based on the interest of their customers, not an algorithm. Their store's display tables and shelves reflect the interests and passions of the staff, which connect with and are informed by their local customers."
He added that independent, local businesses create local jobs and pay local taxes, which fund local essential services such as schools and first responders.
"Independent booksellers are passionate readers who love putting the right book in the hands of their customers," Mr. Cullen said. "It's all about relationships and connections."
Mrs. Kinnie, a native of Colorado, is the wife of Michael A. Kinnie, former owner of the defunct Lake Ontario Playhouse in Sackets Harbor. In 2014, the couple moved to Denver to be closer to her family. They returned to the north country about two years ago.
Mrs. Kinnie, an Army veteran, left the service in 2010 as a captain and served as the aide to Maj. Gen. Michael L. Oates, commander of the 10th Mountain Division. She saw deployments to Iraq and Afghanistan.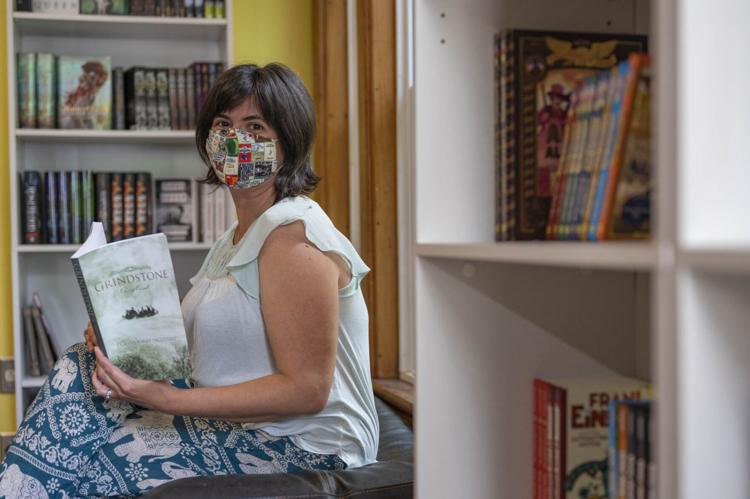 The store owner is a graduate of University of Northern Colorado where she received a master's degree in mathematics. Mrs. Kinnie has also served as a military and constituent affairs representative for the office of former Congressman William L. Owens.
Mrs. Kinnie, the daughter of a school teacher, said books have always been an important part of her life.
"I grew up reading everything I could get my hands on," she said. "Reading has always been an important pastime for me, both for pleasure and also to find out interesting things to gain more knowledge about everything. It's a very important aspect of my life."
The Little Book Store has about 700 square feet of space with a large backyard where Mrs. Kinnie plans to host book-and-author-related gatherings.
The store owner said she has read most of the 1,500 titles in her store; a fact that allows her to provide recommendations and suggestions to customers.
"I read a lot," she said. "I think it's a well-curated selection. I've pretty much have had no problems yet with finding something for somebody who has walked in the door."
Mrs. Kinnie's daughter, 8, has helped with the store's selection.
"She's introduced me to quite a few books," Mrs. Kinnie said. For example, there's the books about "Arnie the Doughnut" by Laurie Keller.
"That's her favorite book right now, so I feel like I have a good expert on books that kids like," Mrs. Kinnie said.
A couple of chairs and tables are at the front of the store and a couch is nestled in a corner.
"It's a great place to sit down with a book and to look out over the river," Mrs. Kinnie said. "We're across the street from the town docks."
A bookstore, Mrs. Kinnie said, should focus on its "community" relations — something she treasured at the Lake Ontario Playhouse.
"I miss the community aspect of having a place in the community to gather," she said. "I wanted to support local authors as well. There's so many in the region. I wanted to give them a place where their work could be showcased."
The community aspect of a bookstore business is one of the elements that has led to the success of River's End Bookstore in Oswego, which opened in 1998.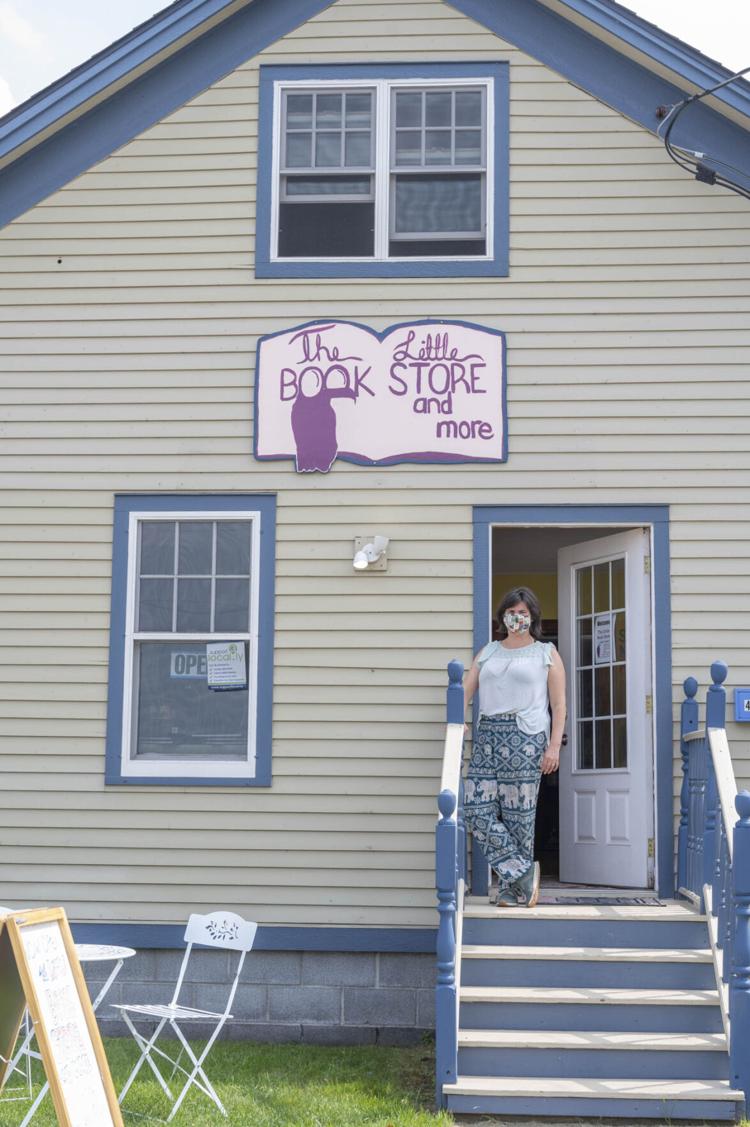 "We feel the community deserves a bookstore, just as it deserves a public library," said William Reilly, who owns River's End with his wife, Mindy. "There's a couple of things that can define a community, and a public library and an independent bookstore happen to be two of those things. Our store is a cultural hub for the community."
The Reillys began their bookstore in 1998, competing with Amazon online along with brick and mortar stores like Borders and Barnes & Noble.
Stores like Borders, Mr. Reilly said, served a purpose in the community.
"They had a ton of stores around the country," he said. "They weren't just there for decoration. They were there to fill a need. That went away when they closed their doors, so there was a need that needed to be filled and independent bookstore owners started new stores and opened second stores to help fill that need."
Mr. Reilly said their biggest challenge was when books began to be released on digital devices about a dozen years ago.
"It was like, 'Oh my God, what are we going to do?'" he said. "We embraced it."
But independent bookstores now offer customers the ability to purchase books in any form online, with some profits going to the local store.
Through various arrangements Mrs. Kinnie has made, customers can order books, Kobo e-books and audio books on certain web sites and have them delivered to their homes and reading devices. Her store receives a commission on such sales. Mrs. Kinnie has links on her store's website as to how to sign up for the programs. The River's End Bookstore has a similar arrangement.
"Nationwide, indie bookstores have responded nimbly and innovatively to stay connected with their customers and maintain a number of sales channels with them," Mr. Cullen said. "Online sales for the indie channel have grown exponentially, and stores have established curbside and home delivery options as well."
"Amazon did do a big blow to the bookselling industry when it came out and having every book available," Mrs. Kinnie said. "But it's been long enough that bookstores now have access to all of the same resources that Amazon had access to. We're able to give the same selection, but with better customer service."
"It's human nature to want a gathering place," Mr. Reilly said. "A bookstore, in any vital community, is one of those places."
Mr. Reilly was 46 when "retired" in 1996. He had a 25-year career at Newsweek magazine in New York City, working in advertising sales.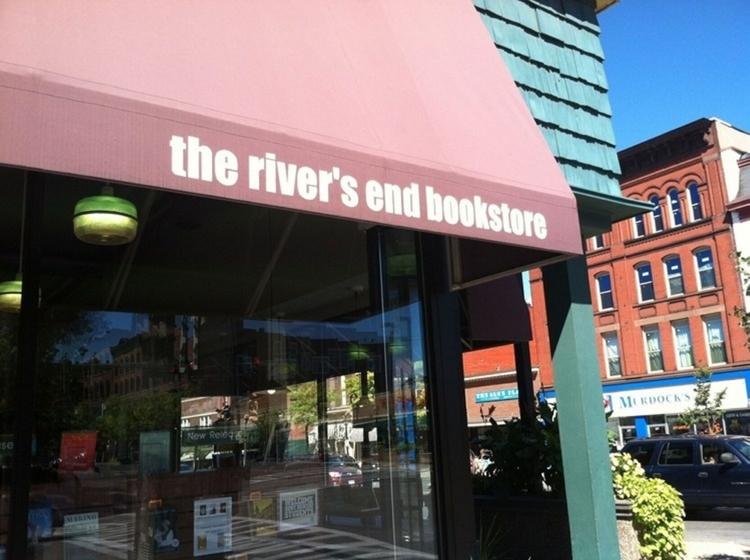 "I thought, 'What am I going to do withe the rest of my life?' and Oswego didn't have a bookstore," he said. "That's how we settled on that. I wanted to bring a business to the community that would benefit the community and something we didn't already have."
Mr. Reilly said that his son and daughter-in-law have shown interest in taking the store over when he retires from it.
"We see a good, long future ahead for this store," Mr. Reilly said.
Mrs. Kinnie hopes to establish a similar foundation with The Little Book Store.
"I've always thought a bookstore was an important part of a community, and I love being part of the community," she said.