WATERTOWN — More than 150 people met in Thompson Park on Sunday to remember family, friends and loved ones lost to suicide during the American Foundation for Suicide Prevention's annual "Out of Darkness" walk.
The "Out of Darkness" community walks happen across the country, with at least one annual event held in all 50 states. The events are the single largest source of donations and funding for the AFSP, netting millions of dollars per year for the organization to spend on research, awareness and outreach to those at risk of suicide.
Karen Heisig, associate area director for the AFSP, said the walks have also become community-building events, connecting people who impacted by suicide with one another.
"We've been doing these walks in Watertown for over a decade," she said. "They started off as a way to raise funds, raise awareness and connect people, because most people that would come for a walk have lost someone to suicide. That connection, that's really important.
Jamie King, a member of the Watertown event committee, said in a typical year, thousands of people will participate in the walk, and people will frequently form "teams," where multiple people walk with one person in mind.
"Typically what you would see in other years, you would see several teams," Ms. King said. "I remember, in previous years we've had school buses from LaFargeville come with kids with shirts all representing one team."
This year, one large team came out — Jammin' 4 Jordan. About 30 people in blue shirts with Jordan's photo on the sleeve gathered in the Thompson Park pavilion before setting out together to walk the park.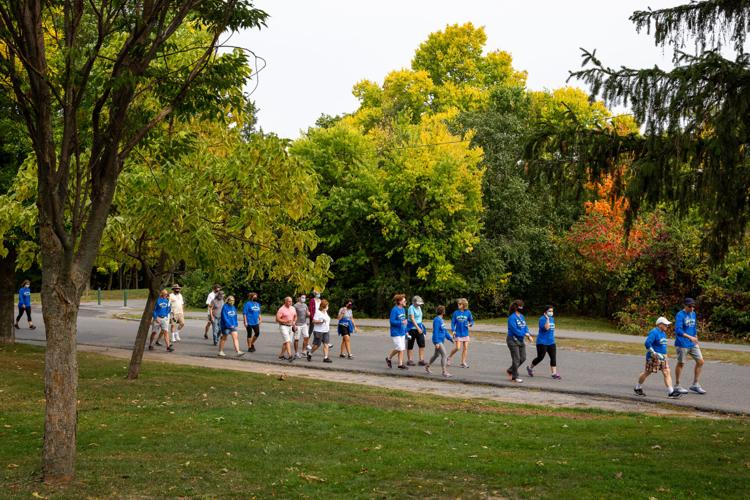 This year's event was organized in accordance with social distancing guidelines, to ensure all attendees were safe. Walkers were encouraged to visit the AFSP's home base in the park pavilion, where tables with information, resources and activities were set up, before heading out to walk around the park on their own.
The Jefferson County Mental Health Association had a table set up to provide information and awareness resources, and the Watertown Seventh-Day Adventist Church had a table to provide church literature and orthopedic shoe inserts to make walking more comfortable.
"We wanted to be out here supporting folks, and as they're walking we wanted to make sure that, if they wanted some comfort we had some insoles for them," said Sheryl E. Skinner, one of the church's members present Sunday.
Mrs. Heisig said more than 100 people pre-registered for the walk, and more walk-ins showed up as the event went on. She said it was vital the AFSP continue its work and keep holding these events, despite the pandemic.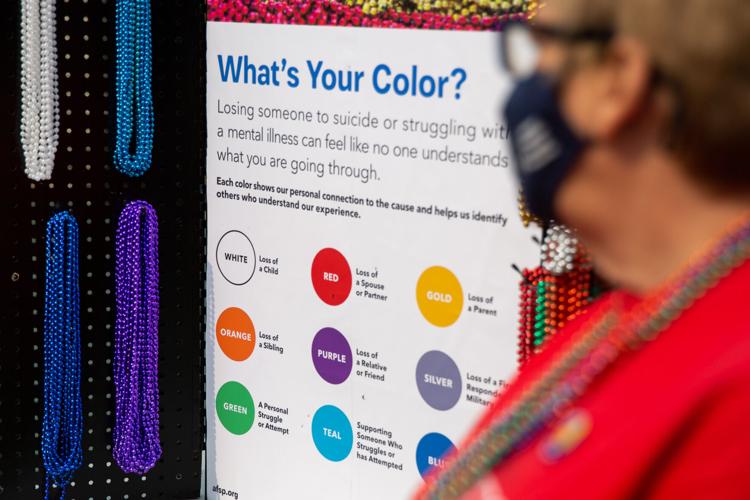 "We're all grateful that they gave us the opportunity to still have an interesting event, even though we had to follow CDC guidelines and have a drop in event, versus a big walk," Mrs. Heisig said.
Before the largest team left to walk together, Mrs. Heisig made an announcement that the Watertown event was the first in the entire Northeast region, which stretches from the Canadian border to Maryland, to meet its fundraising goal.
"I'm pretty proud that little Watertown, New York is the first one to actually reach their goal," she said. "They had a goal of raising $20,000 this year, we're going to surpass that, and thank you to Watertown, Jefferson County and Lewis County, you guys are amazing."