ANTWERP — Giving her kids one last goodbye, Bethany M. Allison's daughter kept asking why their two dogs wouldn't wake up, coming after they went missing over the weekend and were later found dead in a ditch from apparent gunshot wounds.
"We didn't expect to be cremating our 3- and 4-year-old dogs anytime soon," Mrs. Allison said.
State police could only confirm they were investigating the discovery of two dogs found dead alongside Delphi-Hall Road on Monday. Those who found the dogs, along with their owners, said they were shot and their collars were taken off before they were dumped in a ditch.
Mrs. Allison and her husband, James W. Allison, moved from Colorado to Antwerp about a year ago after he was stationed at Fort Drum as a military police officer. They came to the area with three dogs, though one was a little too aggressive to be around their three children, so they re-homed it. But their other two — Molly, a 3-year-old Saint Bernard that's scared of the wind and her shadow, and Doc, a 4-year-old pointer described as a ball of energy that couldn't hurt a fly — were staying with the family.
But on Monday at about 2:30 p.m., a farmer driving his tractor down Delphi-Hall Road spotted the two dogs laying in the ditch.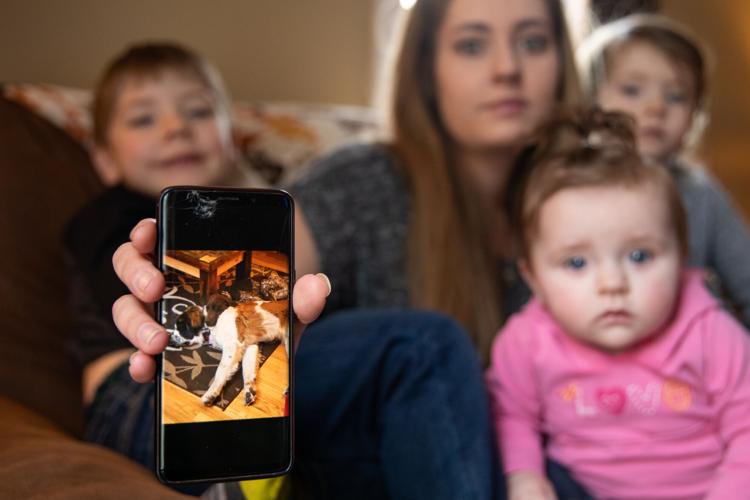 The farmer, 19-year-old Blaine Platt, found the dogs in a section of land that separates their family's property by about two miles, said his mother, Stacie Platt.
"Somebody shot them," Mrs. Platt said. "We figure somebody was just being heartless and just wanted to get rid of them for some reason."
Mrs. Platt posted photos of the dogs on Facebook to see if anyone recognized them, and after they circulated, it was realized that a woman in the area had posted about her dogs missing the day before.
That woman was Mrs. Allison. She had let the dogs out in the backyard to go to the bathroom Saturday at about 4:15 p.m., she said. They had gotten out before, when their chain-linked fence was at roughly four feet. But since they added a hot-wire to the top, giving it an extra few feet in height and a shock at the top, Mrs. Allison said the dogs hadn't gotten out since.
But at about 5 p.m., the dogs were gone and she wasn't sure how. She drove around the neighborhood looking for them until it was late, so she decided she would try again the next day. There wasn't cause for too much concern as her dogs always came back.
She drove around looking for them Sunday and there was no sign of Doc or Molly, so she posted about their disappearance on two Facebook pages dedicated to missing dogs in Jefferson County. A day went by, and the Platts found a Saint Bernard and a pointer in the ditch, then posted about it. It was clear they belonged to Mrs. Allison and her family.
Mrs. Allison was contacted and she quickly drove the roughly 10 minutes from her house to where the dogs were found.
"I was trying not to believe it was them," she said. "But as soon as I saw them, I just broke down."
She found their bodies in the ditch. She said her pointer was shot in the chest and the leg, and her Saint Bernard was shot in the neck. They both had collars on when they got out, Mrs. Allison said, though they were not wearing any when she got out to the ditch.
"My Saint Bernard's head was completely thrown back," she said. "She was just tossed. I don't know, it was pretty bad."
She and her husband ended up calling state police and filing a report. In thinking about possibilities, troopers told them it could've been an angry hunter, or someone who felt their herd of cattle was threatened, Mrs. Allison said.
"Usually farmers, if they were to do that, they would call the owners or the authorities, and none of that was done," Mrs. Allison said. "They were just dumped there."
She understands there are cases in which a farmer would have probable cause to kill a small animal if it's attacking his or her herd, but the circumstances here were different.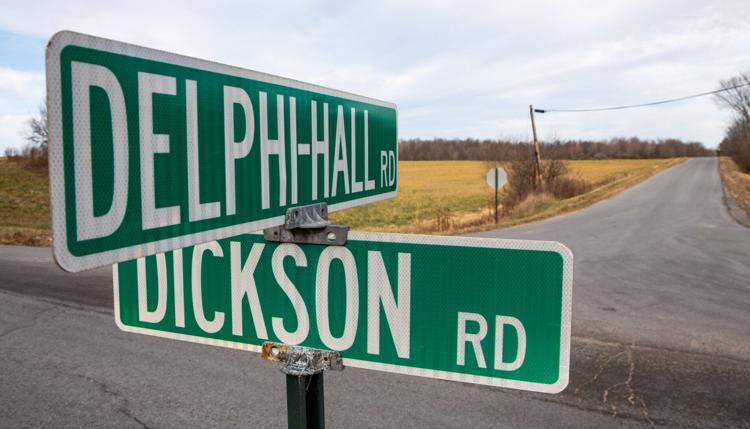 "I understand that you guys have to protect your own herd," she said. "But you guys didn't know my dogs like I knew them. My Saint Bernard was scared of the wind and her own shadow. Our pointer was just a little ball of energy, but he never went after anyone. I'm just mind blown that someone could do this."
Mrs. Allison said her understanding is that there isn't much state police can do, short of someone coming forward with information. Her confidence level when it comes to someone doing that isn't too high.
"I've been told Antwerp is a really small community and people like to keep their mouths shut," she said.
But that doesn't mean she doesn't want to know what happened to her dogs, especially after having to tell her three children and watch them cry as they said goodbye one last time.
"I just would like clarity and to understand what was done," Mrs. Allison said. "My husband's point of view, he would hope the person who did it was prosecuted to the fullest extent."
Anyone with information is asked to please call state police at 315-366-6000.