WATERTOWN — Under a gray Sunday afternoon sky, Tedra L. Cobb, the Democratic candidate for the NY-21 House seat, held her first in-person campaign event in the city since March during a seven-stop district tour over the weekend.
Holding a blue and gray umbrella, Ms. Cobb and her campaign team met with local voters and handed out yard signs from the Garland City Beer Works parking lot, 321 Howk St., at about 1 p.m. Cobb campaign spokesperson Mauranda Stahl said over the course of the afternoon, the team handed out more than 100 signs.
The rain held off until Ms. Cobb's arrival, but started up moments before she began to speak in front of a silver hatchback decked out in "Tedra Cobb for Congress" yard signs. Ron D. Monnat was one of the local voters who came out despite the dreary weather to meet Ms. Cobb and get his own yard sign. Mr. Monnat is a Vietnam veteran and served in the Navy. He said he supports Ms. Cobb because she's spent her whole life in the area.
"I've been around Tedra since she was on the St. Lawrence County Board of Legislators," he said. "I've seen what a good candidate she is and a very caring person, unlike her opponent, who is not one of us, has never been one of us and never will be one of us."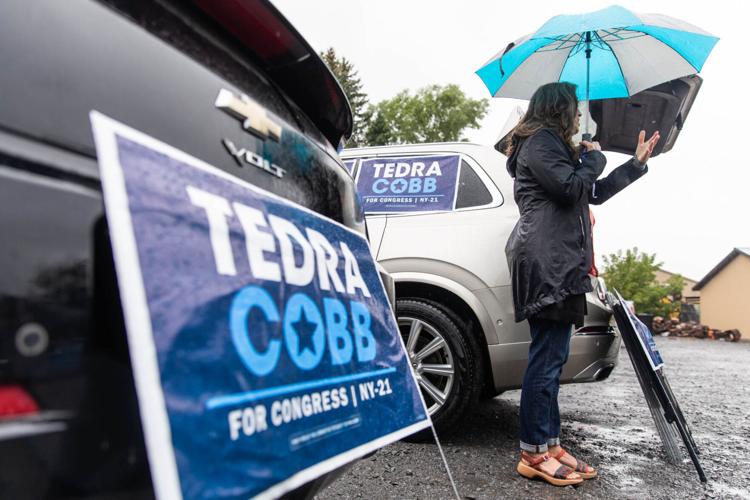 Ms. Cobb's opponent in the race for the NY-21 House seat is Representative Elise M. Stefanik, R-Schuylerville. Ms. Stefanik was born and raised in Albany.
The Albrecht-Fidler family also came out to collect yard signs. Kate R. Albrecht-Fidler said she and her two sons, Gabriel and Max, have been involved with the Cobb campaign from its early days, knocking on doors before the pandemic and phone banking through it. Like Mr. Monnat, Mrs. Albrecht-Fidler cited Ms. Cobb's local roots as a major factor in her decision to support the candidate.
"I'm really glad that we have a passionate candidate who is from our area. I find that it's a very unique culture to live in and represent," she said. "Our first responders, our healthcare workers and our teachers are such a crucial part of our community here, and I think they need a voice for the truth of what happens economically here."
Mrs. Albrecht-Fidler said Ms. Cobb understands the region because she's native to the area and has grown both a business and a family here. Ms. Cobb has lived in the north country for more than 30 years, according to her campaign website.
"When I talk to other voters, I tell them that she knows what it's like to commute here in January to work, to rely on the healthcare network here, and I think you can't really represent us in Congress if you don't understand those things," she said.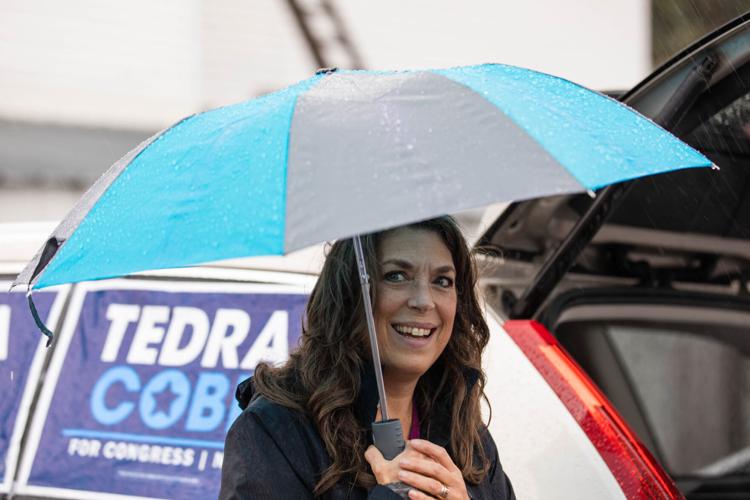 Over the weekend, Ms. Cobb and her team visited various parts of the district, starting in Malone on Saturday morning. The Cobb campaign team made three more stops Saturday, in Plattsburgh, Queensbury and Greenwich. On Sunday, before their Watertown stop, the team was in Johnstown, Fulton County, and made their way to Canton, St. Lawrence County, from Watertown to wrap up the weekend tour.
"...last night, we had a rally at the fairgrounds in Washington County," Ms. Cobb said. "Then, I thought there were 100 cars; I think there were more than 100 cars. There were people who were just so excited along the way, getting signs."
Overall, Ms. Cobb said she's seen an increase in voter engagement since after Labor Day. She also said this year people have seemingly been more dialed into the campaign than usual, due to the COVID-19 pandemic and the series of high-stakes political accusations and scandals making national news headlines.
The most recent of those scandals was last week's release of the so-called "Woodward Tape." The tape is a recording of a phone conversation between The Washington Post's Bob U. Woodward and President Donald J. Trump held in February. In the recording, the president can be heard saying he "always wanted to play it down," while referring to the severity of the novel coronavirus and the potential havoc it could wreak in the U.S.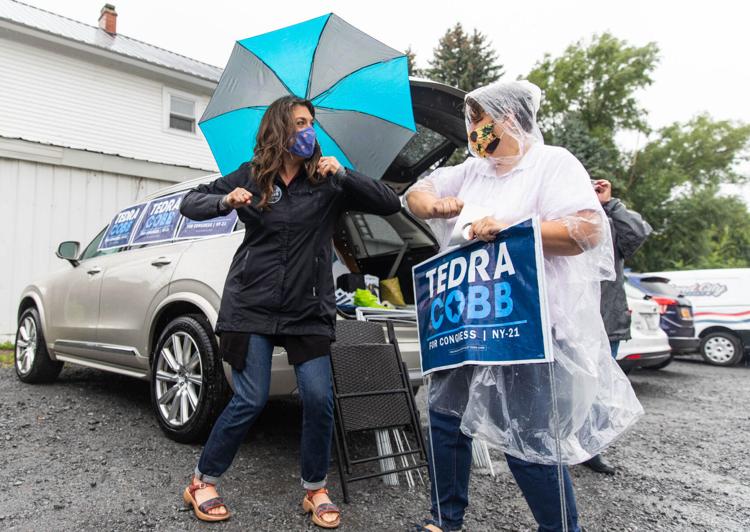 Ms. Cobb called on Rep. Stefanik to resign from her position as honorary co-chair of Mr. Trump's New York campaign team soon after the recording was made public, a call the congresswoman and her campaign team rejected.
On Sunday, Ms. Cobb again criticized Rep. Stefanik for defending the president in this, and past, instances.
"I'm running against Elise Stefanik, who has basically defended this president," Ms. Cobb said. "That's why I'm here, and that's why I'm gonna run hard for the next 50 days."