ALEXANDRIA BAY — David Garlock is usually afraid to die. But when he was knocked unconscious Saturday morning and woke up trapped underneath his airboat, he felt calm. He felt totally free, ready to die in that water. But then he thought of his three daughters and what his dad taught him before deciding to make an escape plan.
Mr. Garlock lives on an island in Goose Bay. He's 66 years old and likes the peace and seclusion of his northern home. He also likes his toys, which include an 18-foot Sportsman Thousand Island Airboat. It can reach speeds topping 100 mph, and he recently had it tuned up. So, on Saturday, he decided to take his revamped airboat to pick up a friend who had offered to help him cut wood for his stove.
On his way, knowing there was no one else in the boat, Mr. Garlock took a few minutes to let it rip. He accelerated the airboat, banking and sliding the back end around on the ice.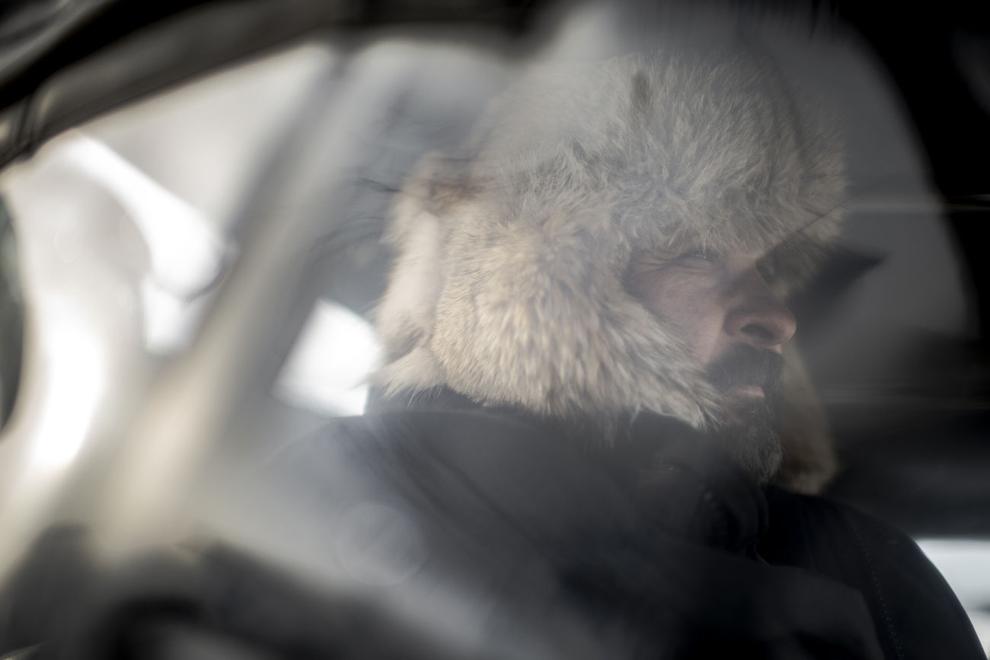 As Mr. Garlock banked in a circle another time, it appears the right side of his boat caught an edge, causing the left side to flip over and crash through the ice. He recalls traveling somewhere between 50 mph and 60 mph at the time.
"That's the last thing I remember," Mr. Garlock said.
He woke up under water, still inside his boat. Beneath him was the black, thick canvas that encloses the boat, and above him — toward the surface — was the bottom of the boat.
There was an air pocket just under the bottom of the boat, so he swam there and caught his breath. But he was still trapped. The only chance was swim back down, exit out the canvas and hope there wasn't any ice at the surface.
But the water pressure was too tight to reach the knife in his pocket. It's already close quarters without water filling the boat. He couldn't move. After a few minutes of treading water and breathing against the bottom of the boat, Mr. Garlock began understanding what was likely about to happen.
"I just thought to myself 'I'm going to die here,'" Mr. Garlock said. "'I'm not going to get out of this unless someone comes to rescue me. I'm going to drown and it's OK.' I had no fear."
But then he thought of Lauren, Erin and Kathryn, his three daughters. He didn't want to leave them so suddenly. Those girls alone made him change his mind.
He wanted to fight. And then he thought of his father, Richard. His dad, who died around three months ago, taught him not to panic when there's an emergency. Don't rush through things, consider every move you're going to make before you make them. So Mr. Garlock made a plan as he treaded water. He knew he had to swim back down to the canvas. He knew there was a zipper, but, remember, everything is dark and everything is backward. So a lot of it is guesswork.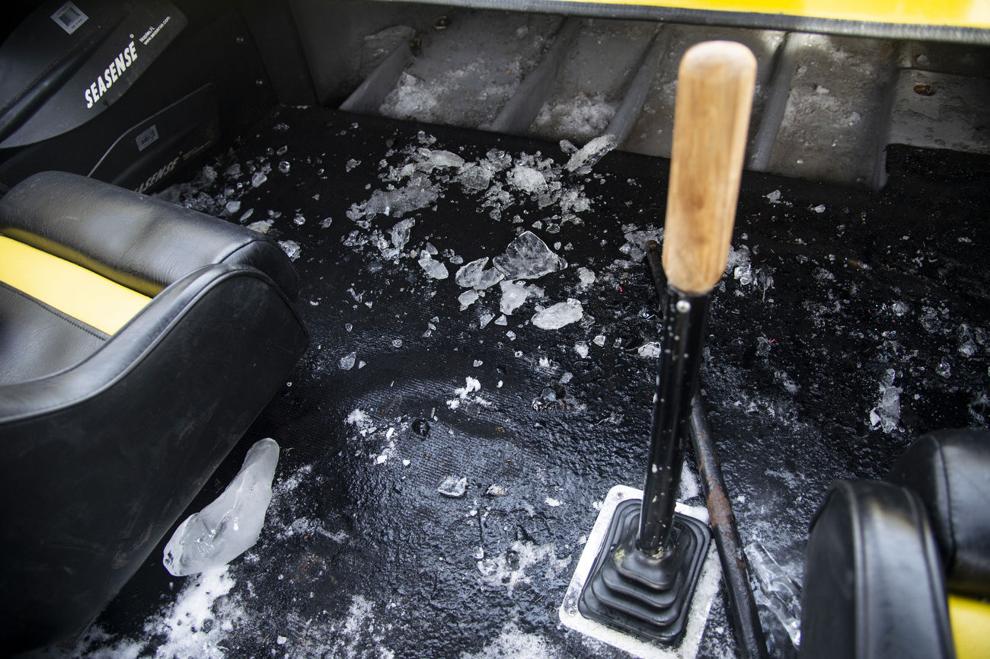 He knew there were two heavy back seats that were blocking the top of the zipper. He would have to hold those out of the way as he unzipped the canvas while in pitch black and under water on a day temperatures were below 10 degrees.
But he dove toward the canvas and did exactly that. He found the zipper, opened the canvas and pulled his way out. And ice hadn't accumulated on the water around the boat, so he was able to swim to the surface.
He was still in the water, and didn't know if the ice around him would support him. He tried to climb to the bottom of the boat sticking out of the water, but it was covered with ice. Instead, he used the side of the boat to guide himself to the back, where there's a brake which has bolts sticking in the air. So he lifted his leg up and jammed it into those bolts to gain leverage.
"It was the only thing I could do," he said. "I hurt my leg pretty good, but I had to drive it into the bolts."
That gave him the chance to pull his way up, but he still couldn't just climb. So he remembered another thing his dad taught him. When he was around 9 years old, Mr. Garlock was taught how to get out of the water if he fell through ice. One of the only ways of getting out was to rest your palms on the ice, let your gloves freeze, then pull yourself out a few inches. Rinse, repeat. Mr. Garlock didn't love when his dad had him practice that, but he knew it was a possibility living near the river. And, on Saturday, it helped save his life.
Mr. Garlock did the same thing to get on the icy boat.
"I took my gloves, just like my dad told me, and I put them up on the boat and I let them freeze, and I pulled myself up inch by inch when they froze," he said. "I could go up three or four inches at a time until I got to the top."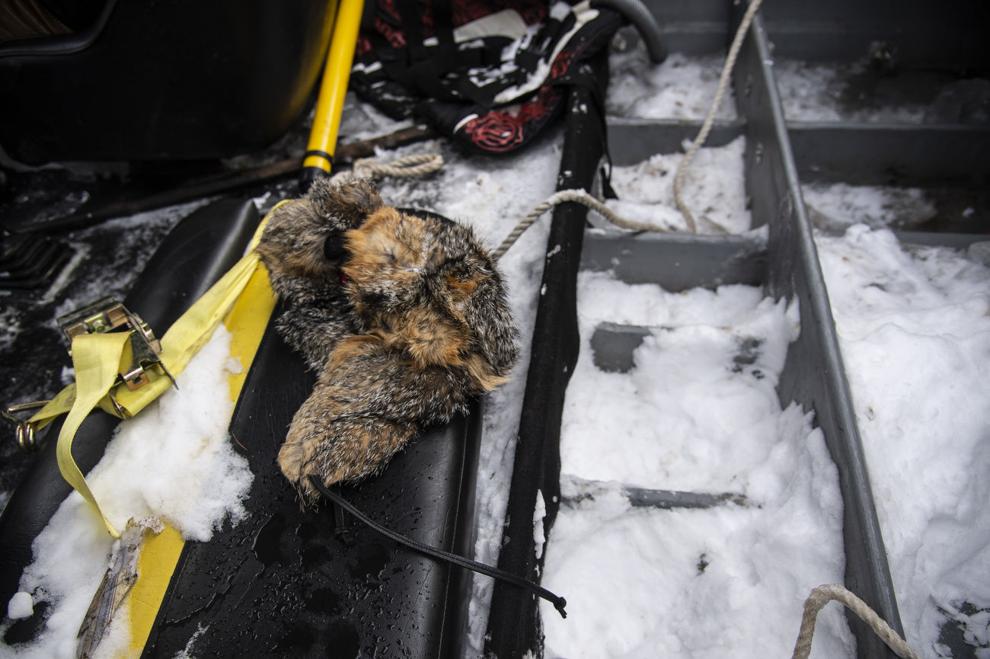 He was out of the water, but not free. He broke as much ice as he could off the boat, took his gloves off — they were frozen to the boat anyway — stuck his hands under his armpits and curled up to preserve heat.
There was an ice fishing derby that day, and two fisherman saw the boat. A friend of Mr. Garlock's also witnessed the crash and was about to take his own boat to the crash site.
However, the Clayton Fire Department had brought its airboat to the derby in case one of the fishermen fell through. They were dispatched at around 8:14 a.m.
They were out there in under 30 minutes. When they got there, Mr. Garlock said he was feeling good enough even to jump into the rescue boat on his own.
"It was a much better outcome than I ever would have predicted," Cheryl VanBrocklin, an EMT in Alexandria Bay, later said.
When they took him to shore, Mr. Garlock wasn't shaking, he didn't feel any serious injuries, and he said he would stay in the ambulance for a few minutes before heading back home.
However, when his body started to warm up, it began to shake uncontrollably — bordering on an epileptic fit.
"I think it was because all the blood was going back to my extremities," he said. "I was shaking so bad I bit my tongue."
His body temperature was measured at 95.5 degrees, and hypothermia sets in when the body temperature falls below 95 degrees. He decided it would be best to go to the hospital.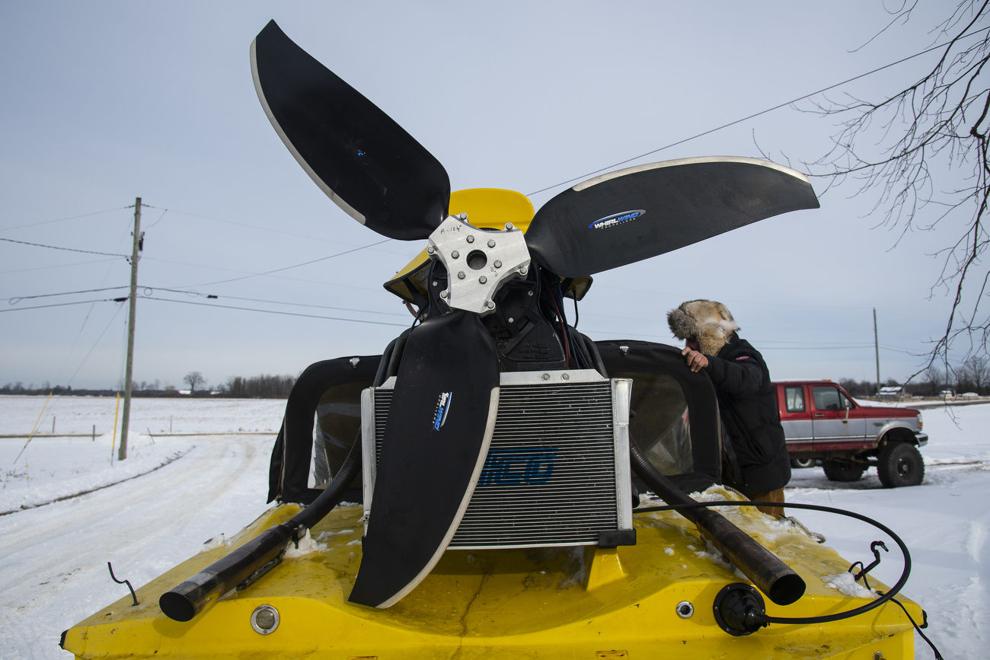 He went there, got evaluated and left shortly after.
Above all, the response by emergency personnel is what saved his life, Mr. Garlock said. It was no great feat to escape that boat, he said, rather it was pure survival. He chose fight over flight.
"I just don't want to sound like I'm this guy who did this great thing of getting out of the boat," Mr. Garlock said. "The people who came and got me, they took the risk. I also don't want to sound like a football player who doesn't take any credit. I'm just lucky I have people in my life who care about me and are willing to go the distance. And the responders were great. I could have died out there."