WATERTOWN — About 40 people demonstrated behind City Hall before Monday night's City Council meeting demanding that the city release the report that led to the abrupt resignation of former City Manager Rick Finn in January.
Carrying signs that read "Watertown is better than this" and "Unfree the report," the group said they were upset with the sudden unpaid suspension of Parks and Recreation Superintendent Erin E. Gardner.
Ms. Gardner accused Mr. Finn of creating a hostile work environment, saying that he treated female city employees differently than male employees.
"It seems like they're retaliating against Erin," said Dawn Marie Grant of Sackets Harbor, who wondered why the former city manager left if he didn't do something wrong.
Many in the group said they worked for the county and the city, so they didn't want to give their names, fearing retaliation for attending the demonstration.
"Erin stood up for herself and that's what you get," said Shannon New of Watertown.
Ms. Gardner said she was suspended for not following proper channels and talking to City Council members about her complaint against Mr. Finn.
During most of the demonstration, the group stood quietly until Mayor Jeffrey M. Smith parked his Tesla and got out of his car. He was peppered with questions about the suspension.
"What are you hiding? What's in the report?" they yelled to him.
Mayor Smith told them that the public could find out why Ms. Gardner was suspended if she asked for a public hearing.
"That's the first Erin is hearing that," one woman yelled.
The city has not made the report public, saying that it's following the city's non-discrimination and harassment policy to protect anyone interviewed during its internal investigation.
Recently, the state's Freedom of Information committee concluded that the city can withhold the report if an investigation has not been concluded or it found that allegations do not have merit.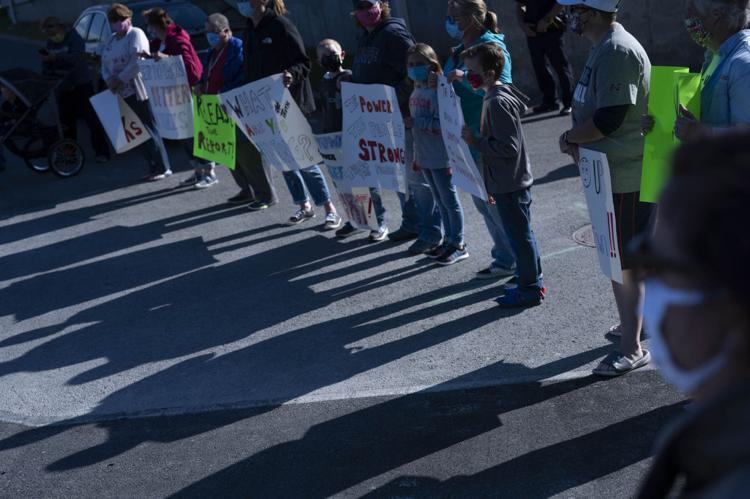 But Ms. Gardner said she submitted a Freedom of Information request to the city on Monday asking for the report, her personnel file and all emails that were sent to her or emails that were sent between any city officials involved in the situation with her.
She has said she was only allowed to read five pages of the 50-page report, but it clearly stated the former city manager caused a hostile work environment.
Ms. Gardner said she was surprised by the level of support she received by the group.
"This isn't about me," she said. "This is about truth, transparency and honesty."
In December, Ms. Gardner filed a complaint with the state human rights division about Mr. Finn. That case is still pending.