WATERTOWN — Fibonacci, the well-known Italian mathematician, plays an important role in the acrylic paintings and pen and pencil drawings that artist Tom Contino creates.
The spiral images that the artist uses are a tribute to the mathematical sequence that Fibonacci developed during the Middle Ages.
And now his artwork can be viewed in a new downtown art gallery that has the same name as the math wizard.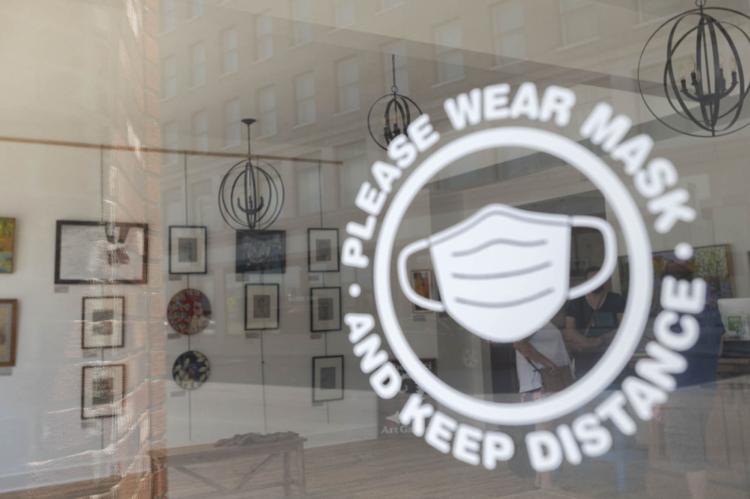 Opening on Wednesday, the Fibonacci Art Gallery, at 100 Court St., is a collaborative effort by nine local artists whose work is displayed in a storefront at the convergence of Arsenal Street, Public Square and Court Street.
"It's a great location," said Kate Newton, who works in photography, ceramics sculpture and pottery.
The artists work in different media but they come together to share ideas, encourage each other and sometimes give constructive criticism, said painter and ceramic sculptor Virginia Hovendon.
"You'll see a lot of unique art there," she said.
But it's the encouraging atmosphere of the group that makes the Fibonacci Art Gallery special for her and the friendships she's made with the other artists, she said.
And it's solely about creating.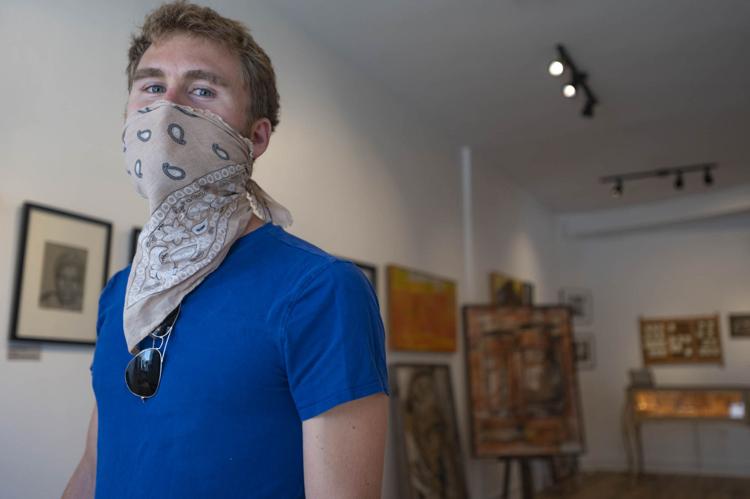 Normally, a gallery takes a 40 percent cut, while the artist gets 60 percent when a piece is sold. At Fibonacci, the artist gets all of the proceeds from a sale.
The artists looked at numerous locations, both in and out of the area, before choosing the former site of Northcountry Custom Embroidery. The artists decided to move from Clayton to be in a more visible location just as the village was going through a big road construction project. The gallery will be open year-round in Watertown, they said.
They credited building owner Jake Johnson, who promised that he'd turn the storefront into exactly what they wanted.
"He kept saying 'It'll look like a million dollars' and it does," Mrs. Newton said.
For about four years, the art gallery was located at 321 James St. in Clayton. That's where the Fibonacci name was derived, with 3-2-1 a sequence that the mathematician established during the Middle Ages, Mrs. Hovendon said.
The Fibonacci Sequence is a series of numbers that goes 1, 1, 2, 3, 5, 8, 13, 21, 34. The next number is found by adding up the two numbers before it (1+1 is 2, 2+3 is 5 and so on), she explained.
In art, it results in spirals and a unique use of space, said Mr. Contino, 27, who became interested in art when he attended the Lila Bull Art Academy in Henderson as a teen. He also plays drums with a number of local bands.
Mrs. Hovendon, who teaches full-time at Copenhagen Central School District and part time at Jefferson Community College, graduated from Wells College in Aurora. She was one of the last students taught by Richard MacKenzie-Childs, who, with his wife Victoria, began a company that manufactured whimsical ceramics, hand-painted imported furniture and home decor that's known throughout the world.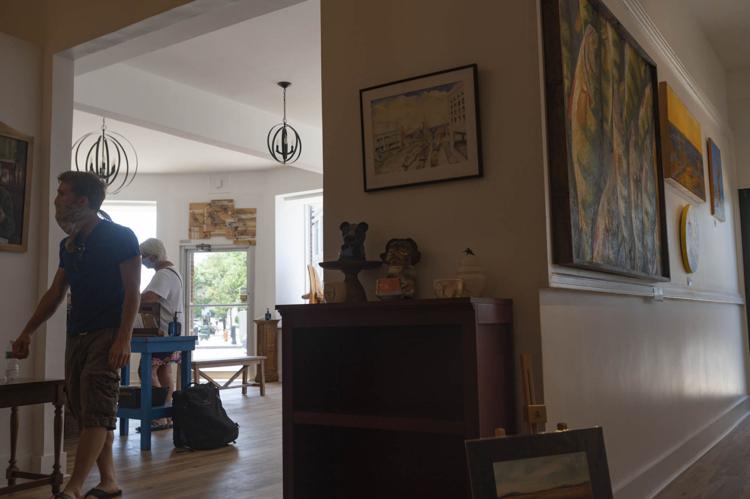 Her art professor was a big influence for her.
"You could find his pieces everywhere," she recalled. "Movie stars had them. Everyone did."
The other artists are: Greg Lago, engraver/printer, sculptor and painter; Sharon Hughto, painter; Claudia Loomis Chandler, jewelry; Kathleen Morris, ceramics and glass; Brooke Elizabeth Ann; painting; and James Gonzalez, metal work.