WATERTOWN — Officer Josh Davis began looking for the shooter in each room he cleared — down to the basement without a flashlight — not knowing he was about to enter a deep flashback to the night his brother was shot in the heart.
Mr. Davis knew something big was happening last week when the words "clear the air" came over his police radio, a phrase that means only one person can use it at a time. He then heard someone say: "Have her come out with her hands up."
Then it was: "Two people down."
He was one of many officers who responded to Clinton Street that afternoon, clearing room after room before entering the basement where he assumed the shooter was.
"There were probably seven men in that line when we went down," Mr. Davis said, "and you ask all seven of them and I can guarantee seven would say they were scared to go down in that basement."
While clearing rooms, Mr. Davis eventually walked by the offices where the victims were. He wishes it wasn't human nature to look because the vision of Terence M. O'Brien's body would later be replaced with his brother's.
"It was over for me at that point," Mr. Davis said. The shooting last week brought a city to its knees, but from anger, sadness, flashback or respecting those who laid dead after a simple work day, it showed the humanity of a police officer.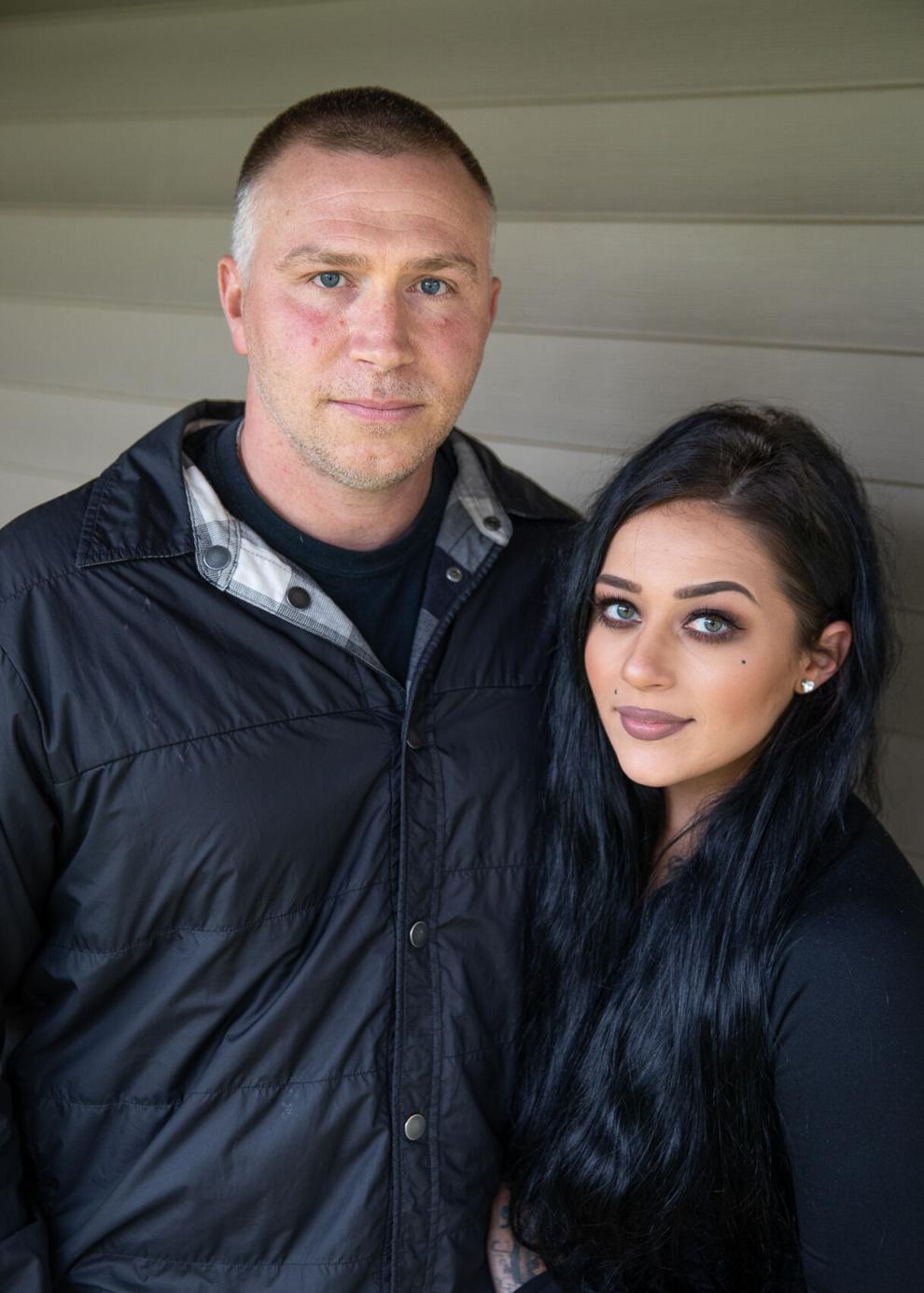 Mr. Davis and Sgt. Dennis O'Brien are with the city police department and now both have gone through their brothers being shot and killed, entering a category that has driven them into a surreal if not unwelcome bond.
Joel R. Davis was a father of three and rising quickly among the ranks as a state trooper before he was shot to death while responding to a domestic incident in July 2017. Terence O'Brien was also a father and leader of the community who looked to preserve and give back to it before a shooter entered his real estate office last week and killed him and Maxine M. Quigg, the other top broker at Bridgeview Real Estate Services.
It was showering rain on Wednesday, April 28. Mr. Davis was having a normal day at Watertown High School where he's a full-time resource officer. He took the position nearly two years ago and is known in the department as great and patient with kids, Detective Lt. Joseph R. Donoghue Sr. said. The tone in his voice hardly ever breaks a measured and low octave unless he's laughing.
He keeps his radio on at the school just in case, and at about 2 p.m. on April 28, reports of the shooting started coming over his radio. He was still only hearing bits and pieces, but it was enough for him to leave school and drive to the Clinton Street real estate office.
Mr. Davis got to the scene and thought it was probably an active shooter. He had heard at some point on his way that another officer needed help clearing rooms, so he began walking toward the middle of three offices in the small business complex. He was notably not carrying a gun in his arms, as most other officers on scene either had handguns or patrol rifles in tow, all of them assuming the shooter was still somewhere in the complex.
Responding officers who were set to enter the complex had to know which doors weren't supposed to be locked, that way they would know if someone was on the other side. They got that information and began clearing what would turn out to be roughly a dozen rooms.
Mr. Davis remembers one in particular, which was locked and about to be kicked down before an elderly man opened it to find two officers with guns drawn on him. Mr. Davis just remembers telling the man, who was frozen, many times that he needed to get out.
Clearing the rooms was a build-up to entering the basement, where noises were apparently heard.
They had an officer covering each entrance until enough personnel was on scene to go down the stairs, which were built in a way that someone in the basement would see them first.
To make matters worse, Mr. Davis didn't have a flashlight on him that day. He still cleared the wet and dark basement with his co-workers.
"That was not fun," he said.
The shooter, Barry K. Stewart, was not found in the complex. That's about when officers realized he had fled in his pickup truck, ditched his phone at an apartment complex across the city and drove about 95 miles to Franklin County before dying by a self-inflicted gunshot wound when a state trooper pulled him over.
Mr. Davis emerged from the basement in Watertown and was outside again. He had seen the victims in the midst of clearing the offices, but he didn't know it was the brother of an officer. It wasn't until he was done clearing rooms when he was outside and saw his captain almost walking quickly toward the crime scene. "The captain doesn't walk quickly anywhere," he said.
Mr. Davis then experienced another thing he would never forget from that day. Sgt. O'Brien was yelling on scene as he figured out his brother had died.
"At that point," Mr. Davis said, "it brought me back. My sergeant told me, 'Yeah, you need to go.'"
Mr. Davis didn't draw his weapon when he first got on scene that day. He saw other officers already had, which means he trusts them to have his back in case he might have to escort someone who was evacuating or go what officers refer to as "hands-on" with somebody.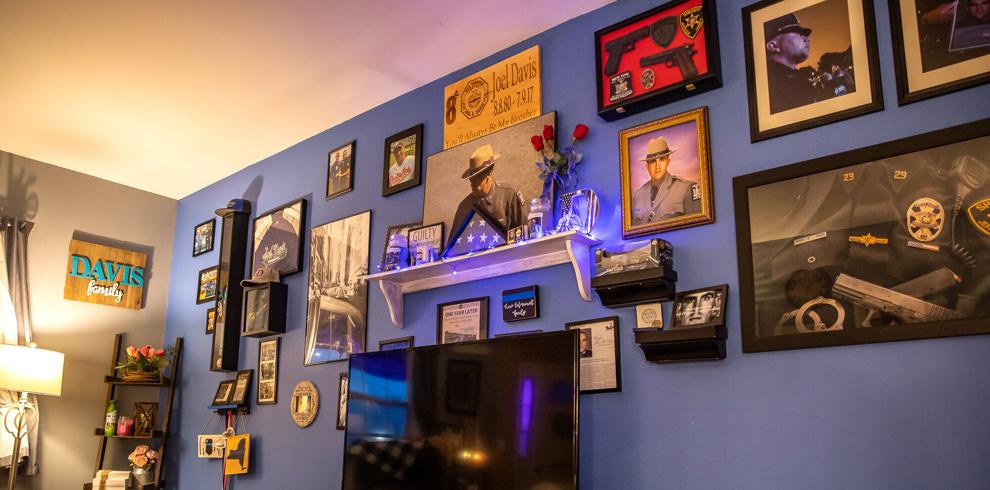 The patience and measured decision was in direct opposition to the personality of the man who killed his brother. That man reportedly joined the Army so he could kill people legally. He fantasized in a journal about shooting up his school or seeing brains splattered all over the place. The shooter hid it from his wife until the night of July 9, 2017, when he shot her more than a dozen times.
Joel Davis, who was asked to be a detective less than two years after coming on with state police, would have rather been on the road than behind a desk.
Joel Davis spoke with his brother roughly 15 minutes before responding to the domestic incident with shots fired. Josh Davis said his brother texted him about the bad shift he was having. He had to respond to a suicide and arrest a friend. Josh Davis said he could sense the exhaustion in his brother's voice.
Joel Davis was his only brother. They had been working out together in his basement every day for the six months before the shooting. Josh Davis said he called his brother and told him to go to their parents' place to ride out what was only a few more hours of his shift.
Roughly 10 minutes after their phone call, Joel Davis responded to County Route 46 in Theresa, exited his vehicle and was shot almost instantly before landing in a nearby ditch. The bullet that struck him ripped through much of his heart. A second trooper arrived on scene less than a minute later, and the shooter had already surrendered.
"I ask myself all the time," Josh Davis said, "why did he surrender? Why all of a sudden just stop?"
Josh Davis was at home when he heard a trooper was down, just like he heard two people were down last week. He called dispatch and they told him it was Joel Davis. He still didn't know much information as he drove to Samaritan Medical Center, yet people still decided to text him telling him they were sorry about his brother.
The week after his brother died, the daily routine was to wake up, cry, expect hundreds of people at his parents' home, then go inside and cry more before going to bed. Mr. Davis spent nine hours at the calling hours for his brother. The funeral drew thousands. He knows Sgt. O'Brien is going through a similar routine. He's spoken with Sgt. O'Brien to let him know that he's there for him.
"There is a bond there now," Mr. Davis said. "Even at Terry's calling hours, it was just natural to give him a big hug and tell him he's my brother. There's a connection there."
Mr. Davis learned the hard way after his brother died that burying his feelings was the problem.
"I locked it all inside," he said. "I didn't want to let it out and I think that was my problem."
Mr. Davis said he told Sgt. O'Brien: "I know you're a man's man."
"He's a guy you like on your team," Mr. Davis said of Sgt. O'Brien, "but there are so many resources out there that need to be used."
Now, even if Josh Davis was offered a room alone with the shooter who killed his brother, he wouldn't enter it. The shooter never mattered. He didn't even look at the man during the trial, during which the shooter received a life sentence.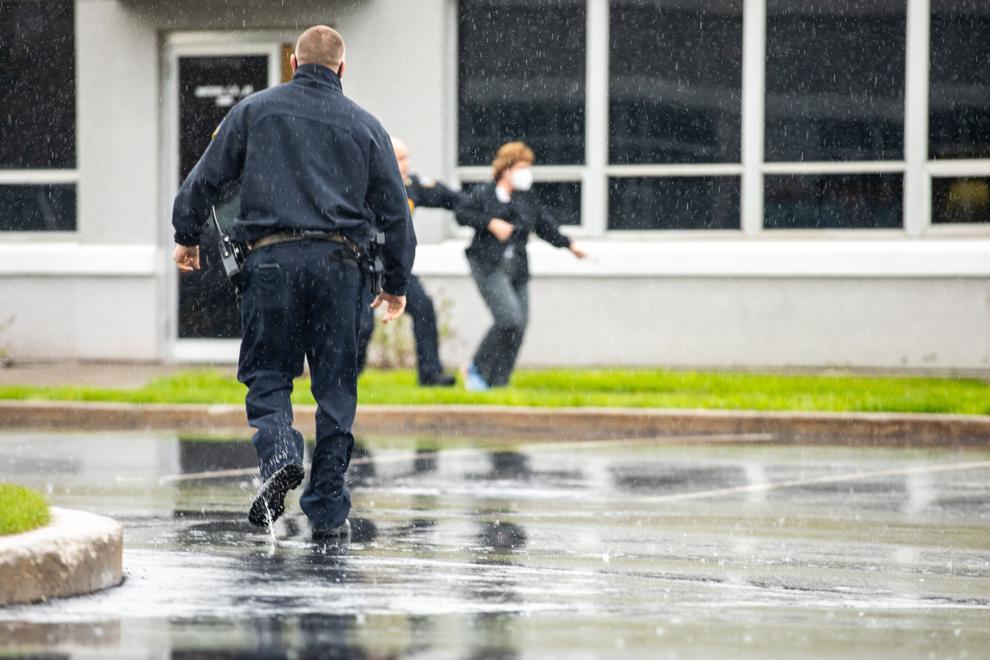 "I don't say his name," Mr. Davis said. "I sat 30 feet from the guy who killed my brother. A lot of people told me they couldn't do that. I was there for my brother, I'm there for my mom, and I just keep my mind on that."
After the shooting last week, Josh Davis' wife, Brittnee, shared a photo of her husband walking toward the building where it was presumed a shooter was inside. Mrs. Davis decided she would do something to support the law enforcement that came out in droves to support her husband and his family when Joel Davis died.
She started a fundraiser hoping to make maybe $150 so she could make cookies for officers in the area. She posted the fundraiser the night of the shooting last week, and it raised nearly $1,000 in the first hour.
The fundraiser ended up raising nearly $2,500 in a day, and she and her family were able to deliver food, water, Gatorade, car fresheners and more useful items to the Jefferson County Sheriff's Office, city police and state trooper barracks. They were even able to purchase flashlights for officers across the county, since Josh Davis went without one that day.
On Saturday, Mr. Davis and his wife drove a shipment of items to the state police barracks in Malone, which is where troopers who stopped the shooter are based.
"You feel the love people have for law enforcement," she said. "So many people knock them down, but that showed there are so many more who are pro-law enforcement."
Above all, Mr. Davis was Joel's older brother. They were best friends who ragged on each other, but Joel Davis didn't know his older brother looked up to him, and he knows that might be similar with Dennis and Terence O'Brien.
He said he hopes the scene last week can show that officers are paid for what they do, but it doesn't mean they aren't affected by it every day.
For Dennis O'Brien, it was anger, understandably.
For Detective Lt. Donoghue, it was making sure the victims were respected at the scene.
For Josh Davis, it took him back to the night he was at the emergency room at Samaritan Medical Center in July 2017, waiting to see his brother more at peace than he would ever see him again. It's humanizing to a profession that sometimes feels hated, and it's a reminder that emotions run free in police officers, too. "I want people to see me as a human being," Josh Davis said. "I want people to know that cops have emotions. If you sat down with me, you would probably want to hang out with me. You would probably be a friend of mine."