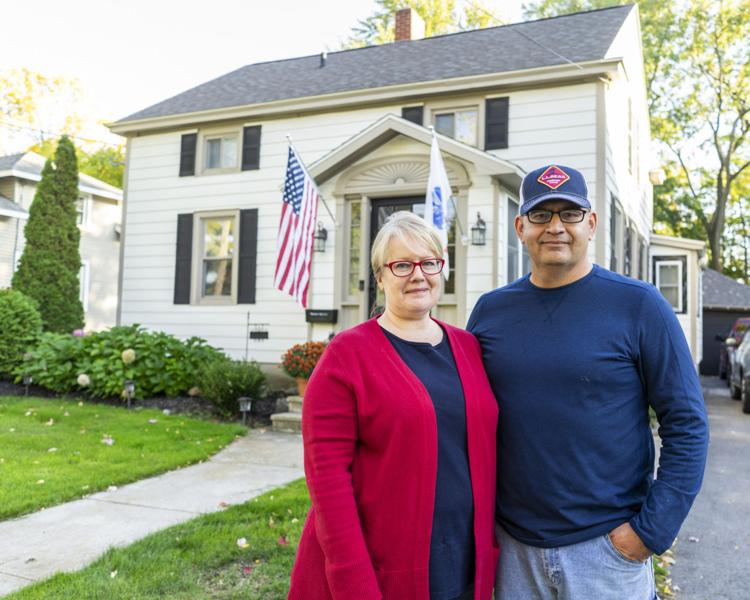 WATERTOWN — Roman R. and Mary F. Espinoza began to hear rumors about their 123 Chestnut St. home shortly after purchasing it in December of 2005.
Someone told Mrs. Espinoza's mother, Rehba Clarke of 143 Chestnut St., that her daughter and son-in-law had bought what was once known to kids in the neighborhood as "the shabby shack." That message was relayed to Mr. and Mrs. Espinoza, who had moved to Watertown from Colorado, where Roman was based for the Army.
Mr. Espinoza, a native of Kansas who originally came to this area as an Army private at Fort Drum in 1991 and met Mary here in 1992, figured the rumor likely involved a different home.
"We were kind of like, that may not be it," he said of their house. "It's not shabby."
But it once was proudly "shabby" and during the Great Depression, it stood front and center on Public Square, giving city residents a bit of needed hope as they witnessed over the course of a few months the Shabby House being transformed by local contractors into the "Revelation House."
The history of the Shabby House was uncovered and rediscovered by Watertown Daily Times archive librarian Kelly Burdick, who was doing research for the Times' "Looking Backward" feature. Mrs. Burdick and Christina Knott, features editor at the Watertown Daily Times, produce a podcast, "A Second Look," that explores local history. Their podcast on the house was released earlier this year.
A Times' employee told the Espinozas about the podcast, who upon listening, were delighted to discover the story behind their home.
"We were listening and pausing and writing notes down," Mr. Espinoza said.
A web link to the podcast contained photos, which were another revelation for the couple.
"We were showing everybody, people who didn't even care, and we were like, 'We gotta show you this!'" Mr. Espinoza said.
That was the same frame of mind when the people behind the Shabby House laboriously moved it to Public Square in December of 1934.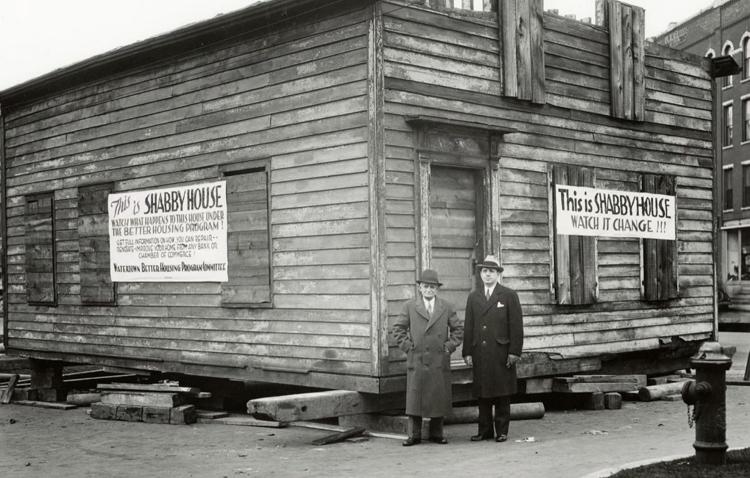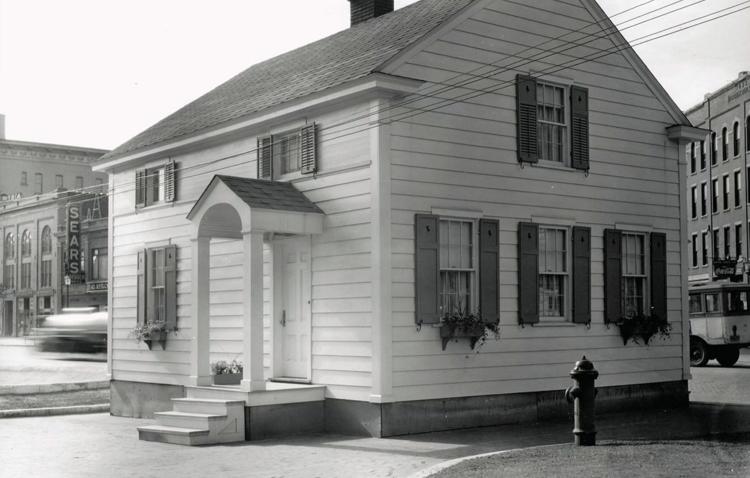 FIRST 'SHABBY,' THEN A 'REVELATION'
The ramshackle, two-story house was brought to Public Square as part of the city's Better Housing Campaign. It was donated to the campaign by Bagley & Seawall Co., and was moved to the Square by councilman Levi Carpenter and others from its Davis Street location. To make it even more shabby, a section of its roof was lost in the move when it passed under a viaduct, creating a forlorn scene on the Square. But a sign was placed on the structure inviting passersby to "Watch It Change!!!"
Local contractors donated their time and material for the task. When they finished sprucing up Shabby House in June of 1935, it was estimated the value of the home to be worth $4,000, which if adjusted for inflation, would be approximately $75,000 today. A contest was then held as the Better Housing Campaign asked community members to select a new name for the Shabby House. It thus became "Revelation House."
In April of 1935, the home was purchased by Barben-Jones VFW Post 1400 for $3,500. Post officials hosted a dedication ceremony in May of 1935, with "stage and screen star" Estelle Taylor presiding as hostess.
Among the highlights of Revelation House:
- A pantry with electric refrigeration.
- Chintz-draped marquisette ivory curtains.
- "The upstairs has been fitted out by the F.A. Empsall company."
- The living room and dining nook have a cozy, mellow appearance.
As a fundraiser, the VFW planned a Revelation House ball, where people could purchase raffle tickets for 50 cents. The winner could select the Revelation House or take home $1,000 instead.
The community's efforts attracted the attention of federal and state officials. In a telegram from Washington, D.C., W. D. Flanders, federal Housing Administration director, told local officials, "Hearty congratulations ... Reports indicate splendid accomplishments resulting from activities of your committee."
Roy S. Smith, state housing director, said in his dispatch to campaign chairman C. Wesley Roberts: "You and your fellow workers and Watertown citizenship, chamber of commerce and others have set and example to the country with your splendid activities and extraordinary success in carrying out the Better Housing program."
At the June 8, 1935 ball, H. G. Kaupe of Staten Island, winner of the raffle, decided upon the $1,000, leaving the VFW still in ownership of Revelation House.
In June of 1935, the home was sold by the VFW to Allan J. McGowan, 119 Chestnut St., for $1,800. He moved it to an empty lot next to his residence, which became 123 Chestnut St.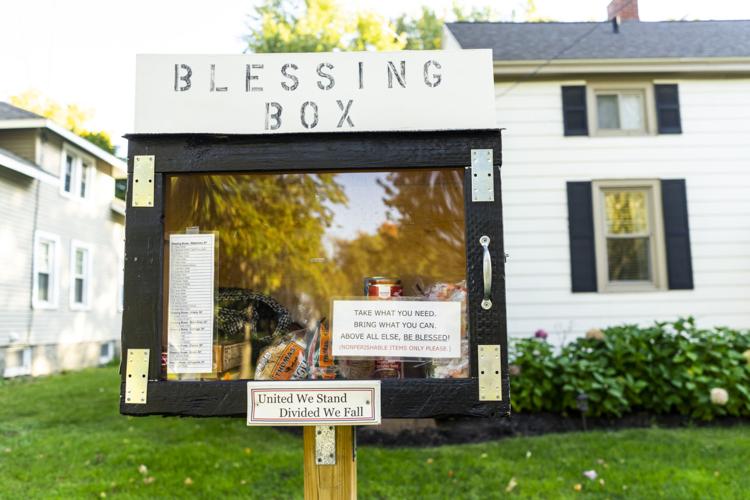 A BLESSED COINCIDENCE
Many people may know the 123 Chestnut St. address as the location of a Blessing Box, which Mr. Espinoza placed in his front yard in 2017. Copying a small-scale national charity drive, Mr. Espinoza placed nonperishable food items and personal care products in the Blessing Box. A sign on the Espinoza Blessing Box reads, "Take What You Need. Bring What You Can. Above all, Be Blessed."
Soon, the amount of Blessing Boxes exploded in Watertown. Mr. Espinoza estimates there are approximately 35 Blessing Boxes in the Watertown, Lowville, Carthage and LaFargeville areas. One will soon go up at Sackets Harbor Central School District, he said.
"People just wrapped their arms around the project," Mr. Espinoza said.
His wife sees a serendipitous connection between the boxes and what they've discovered about their home.
"What's so neat is that so many people came together to make this house happen," Mrs. Espinoza said. "They all volunteered their time and the community got together. When I look back at Roman and what he has done with the Blessing Boxes and community, it's so neat. It warms my heart — how appropriate that he's in a house that the community came together to build, and now he gives back like that."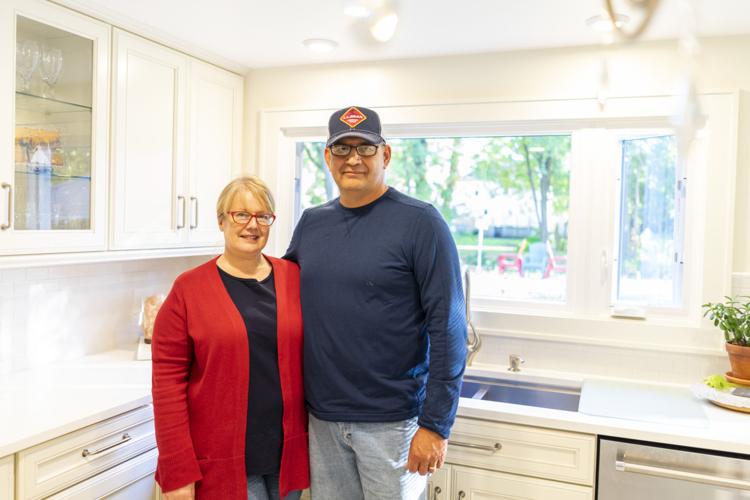 The Espinozas on Tuesday stood in their bright, remodeled kitchen, a far cry from the original home. But, with the exception of an addition added by a previous owner, the outside of the home largely resembles Revelation Home. The couple hopes to one day add window boxes and appropriate siding to make it resemble even more the Revelation Home.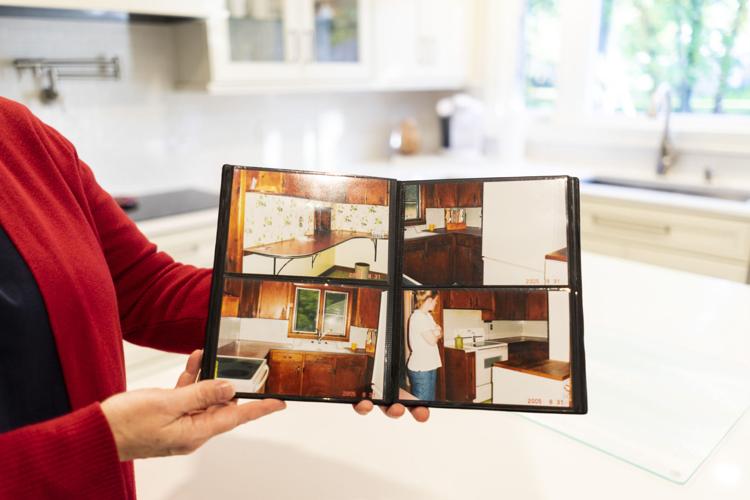 Two years ago, the Espinozas did some renovating, which included expanding their home's kitchen and downstairs bathroom. The Espinozas also replaced some of the walls in rooms, which were finished in lath and plaster — strips of wood nailed across wall studs and coated in plaster. It was a dusty to get rid of that, but easier than expected for the couple.
"This house is wrapped in mesh, like chicken wire, and then the plaster," Mr. Espinoza said. "So all you really have to do with any of the rooms here is to pick an edge and you just pull down a little bit. The weight of the metal and plaster will just come right down."
GOLD FISH FOR DR. GOLD
Mrs. Espinoza grew up in the neighborhood, but she didn't know the history of the house they now call home.
"I remember coming up here playing in the back yard as a kid," she said. "I had no idea."
She recalls there was a pond with gold fish in that back yard.
At the time of her visits as a youngster the home was owned by Dr. Theodore Gold, who died in 2001 at the age of 85 when he still owned it. According to the Watertown City Directory, he became owner of the home in 1952.
Dr. Gold has his own interesting history. The World War II veteran had been a member of the Army's Dental Corps. He was the intercollegiate epee fencing champion in 1936 and 1937.
"In the summer time, when my dog got loose, it would try to come up here to the gold fish," Mrs. Espinoza said. "There's a lot of memories in this area, but to learn what you (the Times) have found, it just made it much more special for us."
Ms. Knott, who co-produced the "A Second Look" podcast, joined a Times reporter and photographer Tuesday to gather material for a follow-up podcast and to see the home in person.
"You would never know this house had such a unique history just by looking at it," she said. "I sometimes wonder at all the history right under our feet that no one today is around to remember. I guess that's why I'm so fond of our podcast. We try to take these kinds of stories and share them with the community."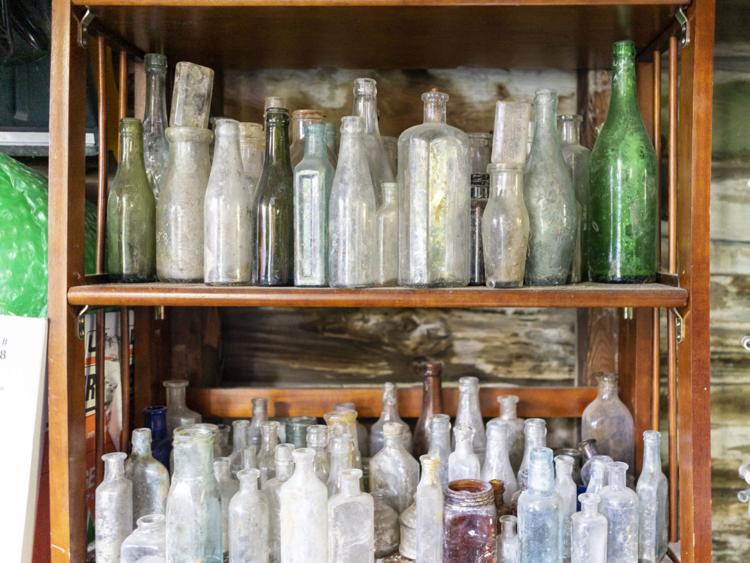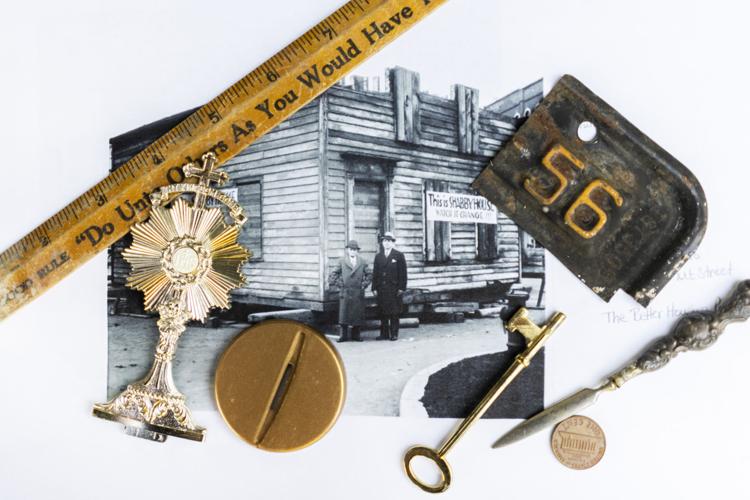 The Espinozas have uncovered artifacts like small toys and bottles as the ground surrounding their home has been excavated for renovations. A level was found inside of a wall in the expanded part of the home. The addition also had a small entrance, the size of a dog door, for the milkman to deposit his deliveries. That entrance was sealed, but a new spot was found for it at the back of the home to act as a conversation piece. The couple has placed old milk bottles in the receptacle, which doesn't go all the way through the wall.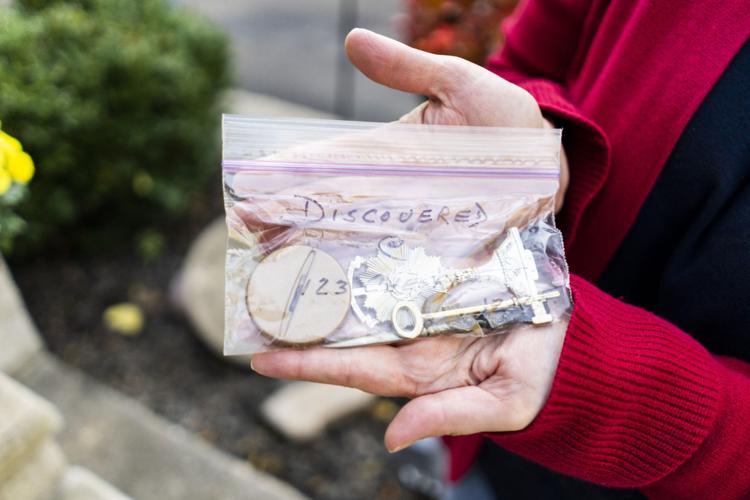 They enjoy their home's quirky, unique history, but Mrs. Espinoza said she hasn't looked into the possibility of it being placed on the National Register of Historic Places.
"I don't know what would be required to meet that, but we did talk about just for us (to put) on our front porch, maybe getting a little sign that says 'Shabby Shack' from this date to this date and 'Revelation House' from this date to that date, just because it's so neat."
'HISTORIC INTEGRITY'
Daniel McEneny, community engagement coordinator at the Division for Historic Preservation at the New York State Parks, Recreation & Historic Preservation, said it wasn't uncommon for houses to have been moved that were part of a community effort, particularly surrounding housing needs during the Great Depression and the post-World War II era.
"It's the important history locally, and certainly something that the National Register of Historic Places program looks at when designating properties," he said.
Mr. McEneny couldn't speculate if the Espinoza home would be a candidate for the National Register.
"What the owners would need to do would be to reach out to our staff here at State Parks," Mr. Espinoza said.
For properties in New York, the state runs the National Register program in conjunction with the National Parks Service. The same eligibility criteria are used for both the State and National Registers.
"We would do an evaluation of the property, looking to see how intact it is, not from when it was originally constructed, but from the 1935 era," Mr. McEneny said. "It would need to have historic integrity from 1935."
Register listings bring benefits in addition to the distinguished designation.
"The big benefit is being eligible for homeowner tax credits," Mr. McEneny said.
The National Register, he said, doesn't regulate the properties on the list in any way.
"We have no involvement in them making any kind of changes to the home," Mr. McEneny said. "The only time our office has involvement is when state or federal money, licensing or permitting is involved."