CAPE VINCENT — High winds blowing from Lake Ontario broke Horne's Ferry, the William Darrell, free from her mooring on Wolfe Island early Monday morning, sending the ferry floating freely until the northwest shore of Carleton Island caught her.
The ferry, which in normal times carries a maximum of 10 cars and 90 passengers across the St. Lawrence River between Wolfe Island and Cape Vincent, rested bow first into a dock, where it stayed through morning.
Cork Martusewicz pulled the ferry off the dock by 11 a.m. after about an hour of tries.
Mr. Martusewicz also towed an outboard boat from the shore, where it was beached parallel to land. 
Mr. Martusewicz, owner of Precision Marine at Peos Bay, Inc., in Peos Bay across from Carleton Island, used his Stamas, Baby Blue, to tow the vessels from shore.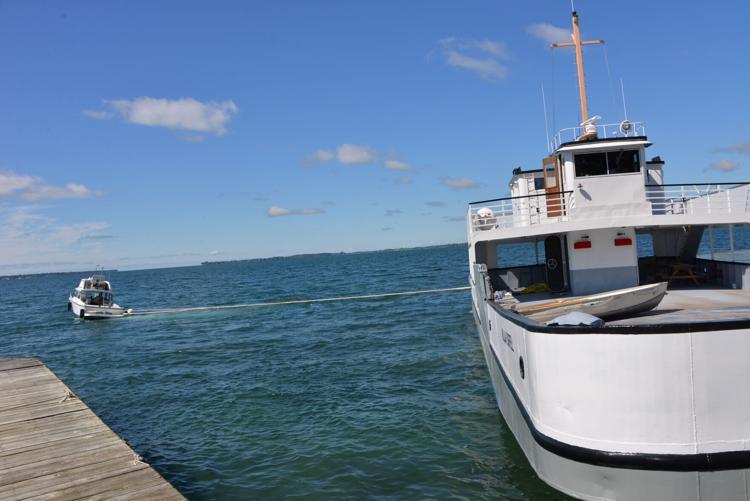 Mr. Martusewicz said he heard about the wayward ferry from people on Carleton Island, so he called the ferry owner George Horne, who's a friend, and offered to help. 
"I went over and hooked on, that's all," Mr. Martusewicz said. "It probably took only an hour. It was fun. I broke a bunch of lines; thank God the D-rings didn't break. I broke some tow ropes, but took one of his and got it off, just nudged it."
George Horne, of Wolfe Island, drove the ferry back to his dock after it was freed, about eight hours after its landing, which is estimated to be about 3 a.m.
"It is all taken care of, all put away," he said Monday afternoon, noting it was not damaged.
The forecast didn't call for such sudden bursts of wind early Monday morning, but the high gusts were more than the lines tying the ferry down could handle. 
According to the National Weather Service, high winds sustained at over 30 knots overnight, gusting to 40 knots, caused waves of up to 10.5 feet, as recorded by a weather buoy off Prince Edward Island. The winds peaked from 1 a.m. to 2 a.m.
"They did not say it was going to be that strong," Mr. Horne said. "It reminded me of that microburst."
Mr. Horne said he was awaken by the wind about midnight, but he didn't check on the ferry. 
"I should have looked out last night, but I didn't think of it," he said. "I had a whole bunch of rope on it, a bunch of extra ropes. I thought it would be OK, but they were all parted this morning."
He learned the ferry was missing Monday morning.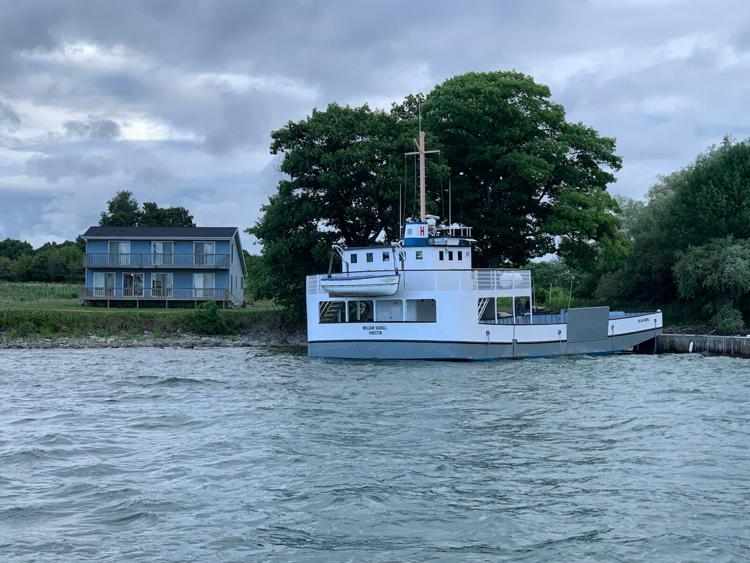 "When I looked out the window, I didn't see it," Mr. Horne said. His first thought: "I've got to go get it. Land is all around here, it is not far away."
He went looking, setting off from Wolfe Island in a rowboat, and found the ferry nosed in to a dock in Big Bay, inside Ironman point, on the Canadian side of Carleton Island. The ferry drifted nearly four miles.
Mr. Horne said the people who live near the dock where the ferry landed were very understanding. He said it pulled some cleats out of the dock. 
"I will get it taken care of," he said. "Thank you, Corky."