WATERTOWN — Peyton L.S. Morse was going to celebrate four years of personal and academic growth when he received his diploma from Siena College later this month.
Instead, family members, close friends and members of the Watertown and Shaker Road-Loudonville fire departments will come together Saturday on the campus, near Albany, for a special commencement ceremony for the fallen city firefighter.
The young firefighter will receive his diploma posthumously after he suffered a medical emergency while training at the New York State Academy of Fire Science in Montour Falls, near Watkins Glen, on March 3. He died March 12.
"The event is especially for Peyton and is not a part of regular commencement," city Fire Chief Matthew Timerman said Friday.
The ceremony will be held at The Grotto, a special place on campus that provides sacred space for prayer, contemplation, healing and peace.
It was a favorite spot for Mr. Morse, where he contemplated his religious beliefs and talked to the college chaplain, Father Larry Anderson.
It will also be the first time that many friends and family members will be back with each other after they spent several days at Mr. Morse's hospital bed. They formed a special bond during the vigil at the hospital, Chief Timerman said.
"I've been wanting to see them, and now that it's here, I'm a little nervous," he said.
The Grotto was modeled after the shrine in Lourdes, France, where, in the 19th century, the Blessed Mother appeared before a 14-year-old girl who would later become Saint Bernadette.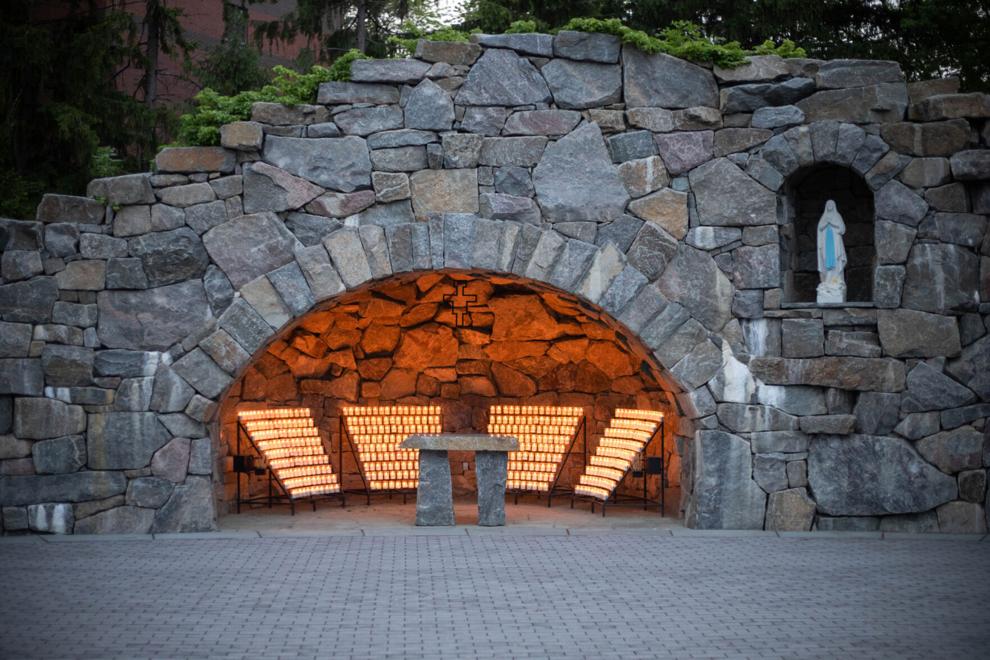 The Grotto includes a statue of Mary from an original Siena grotto that was dedicated at the college in 1947 in remembrance of veterans and those who had fallen in World War II, including 36 Siena men who made the supreme sacrifice.
While at Siena, Mr. Morse helped Father Anderson maintain the quiet place to meditate. He helped Father Anderson maintain the shrine and make sure that candles were available to be lit for loved ones who had died.
Father Anderson, who spoke at the young firefighter's funeral on March 19 when mourners filled St. Mary's Church in Clayton, got to know him when Mr. Morse was a freshman living in the same dorm as the Catholic priest.
They often shared conversations about faith at The Grotto, Father Anderson recalled.
"He was a deep thinker," Father Anderson said. "We had great conversations with each other. He had wisdom beyond his years. It was like he was a middle-aged man. He had things figured out."
Even as a college kid, Mr. Morse knew he wanted to do something for the common good and wanted to serve.
He talked about becoming a firefighter and soon started volunteering at the Shaker Road-Loudonville Fire Department, where he spent a lot of time with a group of firefighters that took him under its wing.
In his third year, Mr. Morse became an resident assistant and a leader at the small Franciscan liberal arts college, Father Anderson said.
"You know, we're the Siena Saints, and Peyton was a saint," he said. "He was a true saint."
Father Anderson remembered that he first met the soon-to-be Saint before he started attending Siena. Then a LaFargeville High School senior, Mr. Morse performed at the college as a member of the Clayton Franciscan Mystery Players, a church-based acting group, he said.
He recalled talking to him at a reception after the performance.
Many Siena students who were unable to attend Mr. Morse's funeral in Clayton will be attending his graduation ceremony Saturday. Seniors will be getting their diplomas at commencement on May 30. Mr. Morse, who would have turned 22 on Monday, is receiving a degree in history.
On Saturday, Chief Timerman will be joined by Fire Capt. Rich Little, Capt. Ron Wareham and firefighter Christopher St. Joseph, the group of Watertown firefighters who supported Mr. Morse's family at the hospital in Pennsylvania.
After the commencement, the small group of Watertown firefighters will join their new friends from the Shaker Road fire department for dinner.
The state police and two occupational and safety agencies are investigating Mr. Morse's death.