THERESA — Maria Otero's son, Gabe, was one of two teenagers who died in a car crash on County Route 18 last week.
Now, Ms. Otero is coping with that night and how at first it seemed like he was still alive. She's coping with her daughter, who was in the crash, now blaming herself. She's coping with the rumors of drugs and alcohol being involved, when none were found. And she's coping with the loss of a son whose kindness helped save a life, and whose humor brought joy to so many.
"She's the strongest person I've ever seen in my life," Michelle Oullette, Ms. Otero's best friend of 40 years, said a week after her friend's son died. "Absolutely. There's not one way on God's green earth that I would be able to be as strong as she is now. And I think that's due to the support of all her family and friends."
On Monday, Jan. 6, at around 10:45 p.m., Ms. Otero went upstairs to go to bed, she recalled in an interview with the Times last week in her home in Theresa. She wasn't feeling well, so she was asleep moments after her head hit the pillow.
Roughly 15 minutes later, Gabe left the house to go to the store. He was with his sister, Christina McKeown, his girlfriend, Lexie Morgan, and their friend, Kenneth Perez-Hernandez.
Ms. Otero has a rule in her house. After the doors are locked and alarms set, no one leaves. The four, however, walked right out the front door, Ms. McKeown said.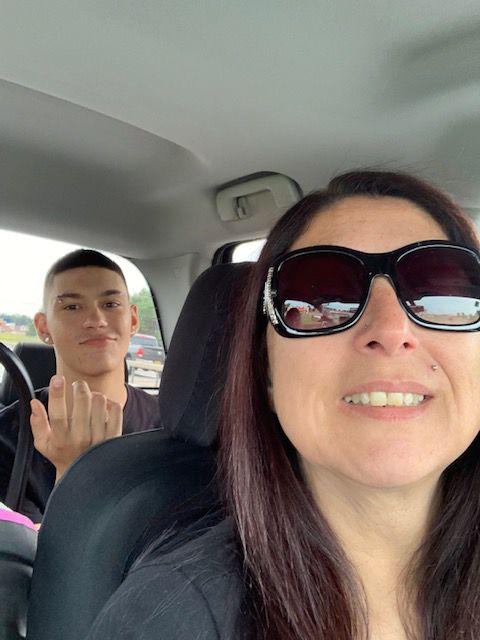 "We weren't trying to be sneaky," Ms. McKeown said. "Lexie, for days, had been asking me to buy her cranberry juice. I kept putting it off, so I was like 'you know what, let's go get it.' Probably stupid to go out just for cranberry juice, but it was nice. We were all laughing."
About an hour later, at around 12:06 a.m., the 2007 Cadillac CTS they were traveling in ran off the road and struck a tree, ejecting Gabe, 16, and Ms. Morgan, 17, from the back seat. They were about six miles from Ms. Otero's home.
At about 1:12 a.m., Ms. Otero was still asleep when an EMT called her. She thinks it was an EMT who called. It was late and she was drowsy, still waking up when the caller said there had been a crash and her daughter, Ms. McKeown, was being transported to a hospital in Syracuse.
"I said 'I don't know what you're talking about,'" Ms. Otero said. "'My kids are downstairs sleeping. My daughter is downstairs sleeping.'"
Ms. Otero put the EMT on hold and went to check if her daughter's car was in the driveway. It was, but Ms. Morgan's car was gone.
Ms. Otero ran to the basement and saw the four were gone, too. She then remembers running back upstairs to the phone, where the EMT was still on and waiting. The EMT said she didn't know where the rest of the kids were, telling her to try Samaritan Medical Center.
"I found out afterward, she knew," Ms. Otero said of the EMT. "She knew what had happened but she didn't want to be the one to tell me over the phone, which I get."
Ms. Otero said she called Samaritan, River Hospital and multiple state police outposts. They all had no records or knowledge of where the kids were.
About 20 minutes later, an officer called Ms. Otero and said the crash was on Dutch Settlement Road and that an officer would be coming to her house.
"I said, 'That's fine, where the hell are my kids?'" Ms. Otero said.
The officer told Ms. Otero her daughter was being transported to Syracuse and that the remaining three were riding in the ambulance with her.
"I was under the assumption that all the children were going down to Syracuse," Ms. Otero said.
After speaking with the officer, Ms. Otero said she called Ms. Morgan's mother, Jessica. She didn't know what exactly to tell her, other than saying there was a crash and to come over as soon as she could.
An inspector and officers arrived at Ms. Otero's house at about 3:30 a.m., she said. At first, Ms. Otero didn't understand why they asked to see photographs of Gabe and Ms. Morgan. She was just worried about the kids.
"After they saw the pictures, I guess identifying the kids, they said, 'First we need to tell you that Gabe and Lexie are dead,'" Ms. Otero said. "And I just lost it. I was told that my kids were in Syracuse, so I wasn't expecting that to come out of their mouths."
Ms. Otero said she was certain the officers were lying. She told them they were lying.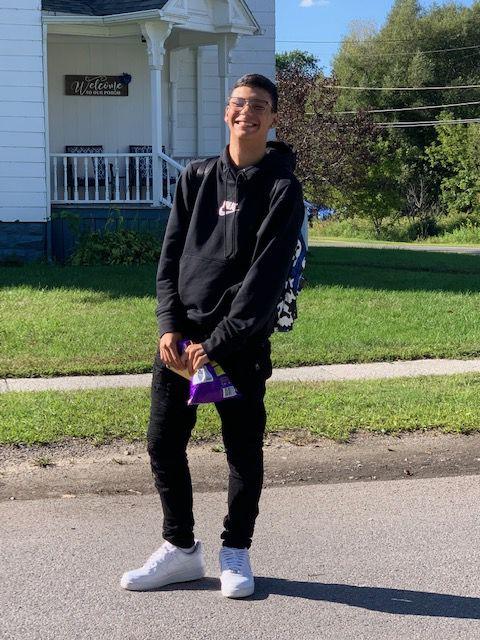 "I was ready to get in my truck and go to the accident and get my kid," Ms. Otero said.
Ms. Otero said she felt bad the inspector was put in that position. He didn't know Ms. Otero had been given wrong information, and he told her it would have been handled much differently had he been aware. In any case, miscommunication between emergency personnel became the least of her worries.
As she was told, that night Mr. Perez-Hernandez was driving. Her daughter was in the front seat and couldn't drive as she recently had her tonsils removed. Gabe and Ms. Morgan were in back.
"They were laughing," Ms. Otero said. "They were having a good time."
Perhaps they didn't realize how fast they were going, she said. The roads had just been layered with salt and sand, and temperatures had dipped below freezing. An inspector later told Ms. Otero it appears the salt had caused them to go in a skid, then hit some ice and lose control.
Gabe and Ms. Morgan were pronounced dead at the scene. Ms. McKeown, 22, and Mr. Perez-Hernandez, 19, were transported to Upstate Medical University in Syracuse with non-life threatening injuries.
Ms. Otero feels anger toward the four kids. They all knew the rule and they broke it, she said. Regardless, she said accidents happen. She's not blaming anyone.
"Other people might blame the driver for the accident," she said. "But I don't. It was an accident. Who do you blame for an accident?"
She's afraid her daughter blames herself. She's now home from the hospital after having fractured her collarbone and pelvis.
"In the beginning, I definitely did," Ms. McKeown said about blaming herself. "But it's been better."
Two days after the crash, hundreds gathered for a Celebration of Life at Indian River Central High School to remember Gabe and Ms. Morgan. Ms. Otero sat in the front row during the service.
"It was still kind of surreal to me," said Ms. Otero, who at that point still hadn't seen her son's body. "It was still hard to believe they were gone."
She knew her son and Ms. Morgan were gone, but it didn't feel like it, she said. "In my mind, I'm still, even now, expecting him to walk through the door and say, 'Mom, I'm home.'"
Many students and parents approached Ms. Otero that night. They offered condolences and shared memories with her, crying and hugging and laughing at times. One person stood out.
"A student came up to me and she just started hugging me and she started crying," Ms. Otero said. "And she said, 'If it weren't for Gabe, I wouldn't be here. He has literally talked me out of suicide a few times. He was always there when I needed to talk to somebody.'"
Ms. Otero made sure a teacher was notified of what that student told her.
"To know that my son had that kind of impact on somebody is quite amazing," Ms. Otero said.
Among the many, two passions important to Gabe — besides family, friends and Ms. Morgan — stood out: music and humor. Ms. Otero said Gabe started with playing the clarinet, then the saxophone, and then he taught himself how to play the guitar and was teaching himself the piano. He and his friends made their own music together — Ms. Otero called them music mixes. It was his passion, yet a hobby. Gabe was planning to follow in his mother's footsteps into becoming an IT specialist.
Ms. Otero said Gabe hated when people were sad or upset or disappointed, so he would try to make them laugh whenever they were. He was the type who would rather take on another's burden and leave them laughing. Whether it was someone down, diffusing a tense situation or getting out of trouble, Gabe used humor.
"He tried to make everyone laugh," Ms. Otero said. "Even when Gabe was in trouble, if he made me laugh, he could kind of get out of it a little bit."
Gabe grew up privileged, Ms. Otero said. After going hungry or without Christmas presents at times when she was young, Ms. Otero and her siblings swore they wouldn't let it happen to their kids.
With a brief laugh, Ms. Otero said that doesn't mean she let her son turn rotten even if he was spoiled. She used to take him to soup kitchens to volunteer.
"It made him understand that not everybody has the same means that I have to provide for him," Ms. Otero said. "And it made him a kinder person, or I hope it did. And it seemed like it did."
Gabe was around 7 years old when one of his friends told him his family wasn't going to have a Christmas that year, Ms. Otero said.
"He asked me if he could give his toys, without even seeing what was underneath the Christmas tree, to his friend," Ms. Otero said. "And I'm not going to tell him no. I let him take whatever he wanted."
She said Gabe made her drive him to his friend's house to give him nearly 10 of his presents.
"The thing about Gabe is that when he said he was going to do something, he usually followed through with it," she said.
Gabe and Ms. Morgan had been dating for around five months, Ms. Otero said. They had known each other since Gabe started at Indian River Central High School in 2018. And when they started dating, Ms. Morgan was at their house nearly every day.
"Lexie was the girl that I hoped lasted," Ms. Otero said, "because I wanted her to be my daughter-in-law."
In its aftermath, rumors about the crash have inevitably surfaced online. Ms. Otero said she has seen comments about why she let them leave the house. Or some to the effect of "that's what happens when you drink and drive."
Ms. Otero isn't paying much attention to the negative comments. She knows there wasn't alcohol involved with the crash, and she knows she was ill and asleep when they left the house.
"Not for nothing — it's none of their God damn business," Ms. Otero said. "People just assume. They don't know what goes on in my house."
Above all, the story remains about Gabe. How he helped so many people, how he made so many laugh and how he cared for Ms. Morgan.
"There are just so many things," Ms. Otero said about what she'll remember about her son. "He was just such a kind person. And his family and friends — especially Lexie — meant the world to him."