WATERTOWN — Inside Jefferson County's transfer station, a growing mountain of dirty cardboard towers over anyone who walks inside the vast facility on Route 12.
Mounds of other recyclables — plastic bottles, jugs and soda cans — are piling up on the left side of the facility, separated by metal dividers, but it's nothing compared to the cardboard.
An orange excavator works overtime to move the cardboard from the mountain onto a conveyor belt, where the cardboard is moved toward a baler machine that compresses the cardboard into compact rectangles, wrapped neatly with plastic ribbon.
The excavator doesn't seem to be working fast enough as trucks continue to move in and out of the facility, dumping more cardboard onto the growing mass. Most weekends, cars are backed up onto Route 12, waiting to dump their cardboard and other recyclables into dumpers that eventually get brought into the facility and dumped onto that same mound.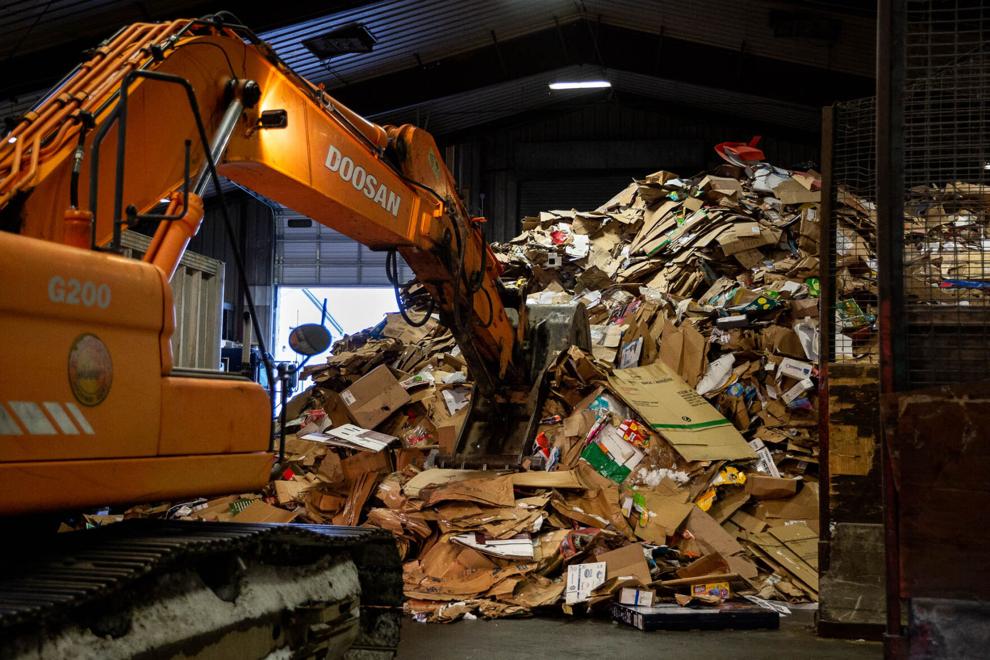 Boxes from Amazon, Walmart and even a couple from HelloFresh — the online grocer — can be seen among the mass. But where is it all coming from?
Because of online shopping habits, which have exploded during the ongoing COVID-19 pandemic, recycling programs across the country are seeing unprecedented levels of cardboard coming into their facilities, and are doing whatever they can to keep ahead of the trend.
In the last three years, the amount of recyclable materials received at the transfer station has increased by more than 30%, from 5,391 tons in 2018, to 6,257 tons in 2019 and 7,163 tons in 2020. According to county Legislator Philip N. Reed, R-Fishers Landing, cardboard makes up the majority of the additional material being taken in.
He said the jump in tons received between 2018 and 2019 was likely a result of more people shopping online rather than in stores, and this year's additional increase is likely a direct result of the pandemic.
"People just aren't going to the store right now," Mr. Reed said. "They're ordering online, and we're getting those boxes.
As of October 2020, eMarketer projected Amazon would experience the largest dollar gain.
The Seattle-based company's retail e-commerce sales were also projected to increase by 39.1%, according to the same report, for a total of more than $309 billion.
Peter E. Monaco, the city of Watertown's Department of Public Works superintendent, said in the last three or four years, cardboard boxes have grown to represent about 60% of all recyclables received by his department.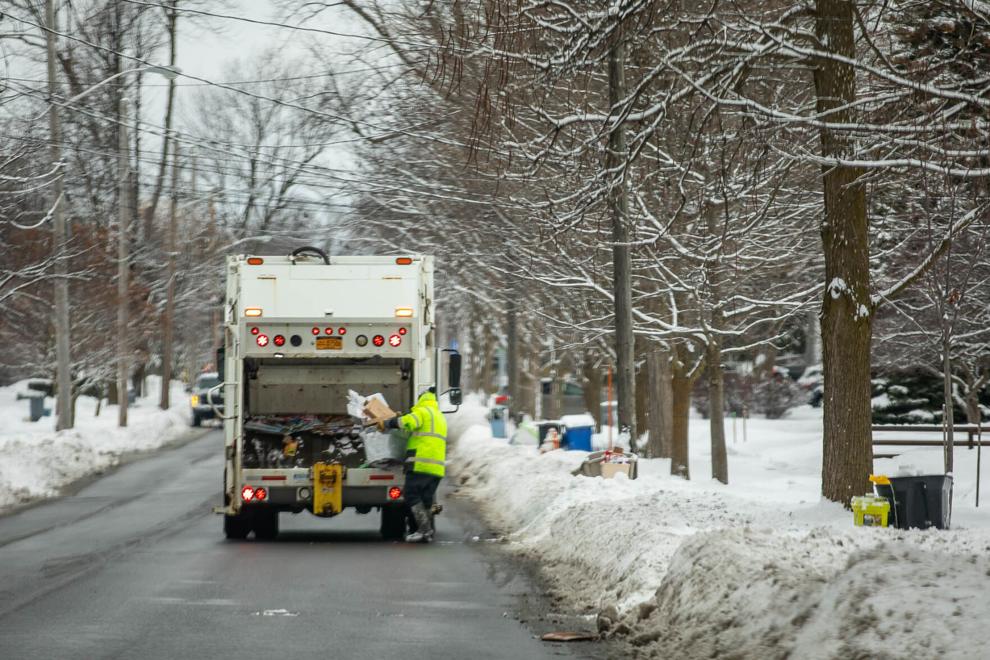 To handle the extra load, they started running extra trucks to collect just cardboard about three years ago. At first, they only ran the truck during the holiday season — between Thanksgiving until shortly after Christmas Day. But in 2020, they never stopped running the extra cardboard truck, which picks up in at least one city neighborhood every day and travels out to the transfer station to unload roughly once every other day.
"Once this COVID thing started to take hold, it just never stopped," Mr. Monaco said.
He said, based on what he's seen, almost all the boxes are from Amazon, Walmart or Target — three of the largest online retailers in the United States.
According to James L. Lawrence, Jr., Jefferson County's superintendent of highways, who oversees the county solid waste and recycling program, so much cardboard has been coming in that the transfer station workers haven't been able to process it all as usual.
Typically, recyclable materials taken in at the transfer station are put through a baler, which compacts the materials into a tight rectangular bundle, tied together with plastic ribbons. They're then stored on site, for buyers to pick up.
Now the county transfer station is shipping out what are known as "live loads" of cardboard, which are unbaled shipments of materials. It's less compacted, and the county has to deliver it to purchasers itself, but with so much volume coming in, they have little choice in the matter.
"We don't get nearly as much money for those as we would baled materials, but it's a necessity because we've got to have room to work," Mr. Reed said.
Mr. Reed said while prices fluctuate based on the market, live loads typically bring in about half of the money a baled load of cardboard would, for the same volume.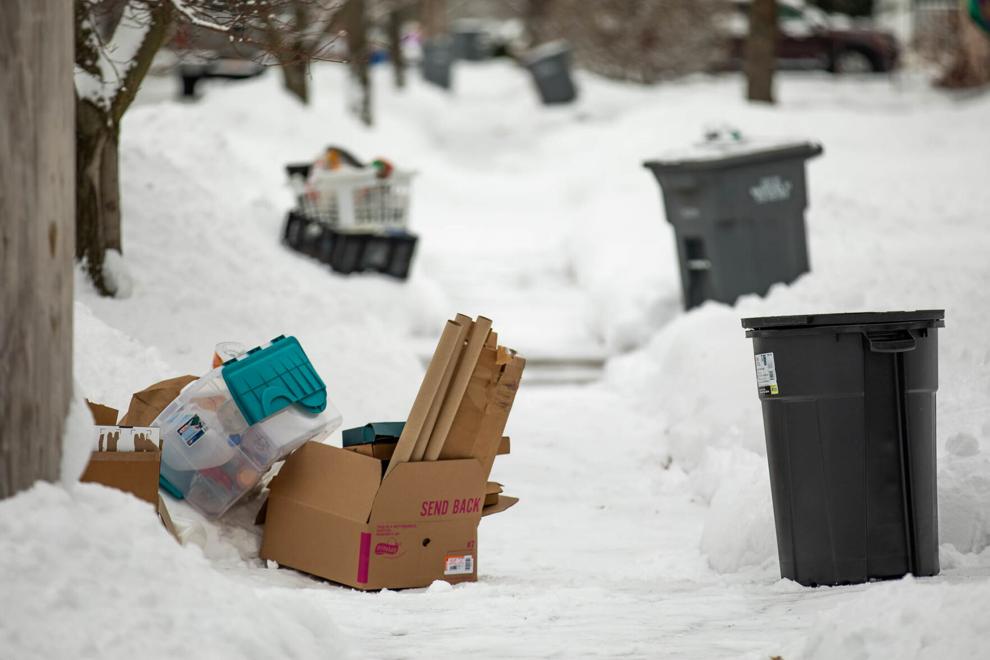 According to Mr. Lawrence, the recycling program typically sells baled loads of one ton of cardboard for between $60 and $80, although the exact total fluctuates weekly. Unbaled, a ton of cardboard brings in about $30 to $40.
Mr. Lawrence said newspaper and shredded office paper can bring in about the same amounts, although they typically see less paper than they do cardboard.
The highest price per ton goes to tin, which Mr. Lawrence said is now marketed alongside steel recyclables, which can bring in between $120 to $150 per ton.
Recyclable cardboard still brings in the most of all recyclable materials for the county, because they have such a high supply.
Much of the material coming into the recycling center is called OCC, or old corrugated cardboard. It refers to what's used to make many shipping materials, pizza boxes and some items packaging as well. It's made of paper, glued together with one rigid, corrugated piece of thick paper and two less rigid pieces of thinner paper covering each side.
The recycling center also sees some other types of cardboard coming in as well, including the semirigid cardboard used for things like cereal or beer boxes.
Jefferson County's separation rules keep most of that out of the OCC cardboard, because it's much less valuable.
Kyle V. Rutigliano, foreperson at the transfer station, said at one point, cardboard took up nearly half of the working space in their warehouse.
Despite the added volumes of cardboard, and the lower income from shipping out unbaled loads of cardboard to purchasers, Mr. Reed said Jefferson County has been able to handle the influx relatively well, because the materials come into the facility pre-sorted.
Jefferson County's recycling program is what's known as a "source-sorted" program, where individuals sort their recyclables into paper, plastic, tin and glass before delivering them to the recycling center. Mr. Reed said that keeps Jefferson County's cardboard, as well as other material groups, extremely clean, and keeps costs low. Rather than having to pick through all the cardboard to remove plastic, tin, broken glass and other contaminants, workers can simply load it into the baler, or into the truck for live loads, without much fuss.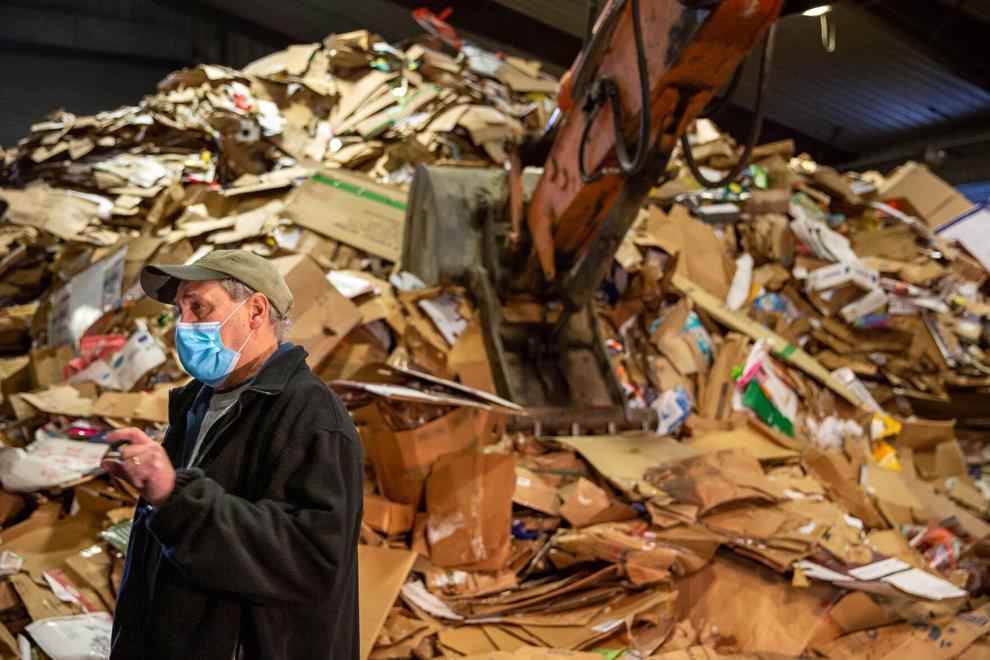 That means lower costs for anyone dropping their trash off at the transfer station, and lower costs for refuse services in the county as well.
Revenue from the sale of recyclable materials typically bring in a significant amount of money for the county recycling program. According to the 2019 Jefferson County budget, the program brought in $266,619 from the sale of refuse that year, the second highest source of revenue behind tipping fees.
The year 2019 was a low point for recyclable sales, as China stopped buying a significant amount of American refuse exports. In 2018, the program took in $440,160 from the sale of refuse.
According to Mr. Lawrence, the county anticipates it will bring in about $460,000 from the sale of recyclables in 2020, after finding a number of new markets to sell to outside China, including many in the United States.
"Jefferson County residents get the advantage of a lower tipping fee for their garbage, because they're sorting the materials themselves," Mr. Reed said.
The county recycling program is run as an enterprise fund, meaning it's required to balance its income with its expenses, without relying on taxpayer support. For the last four years, the program has brought in more than it spent, and any net profits were rolled over to the next year to offset future expenses.
Mr. Lawrence said with demand for online shopping only expected to increase in the future, he's considering a number of different options to handle the increased volume of cardboard specifically.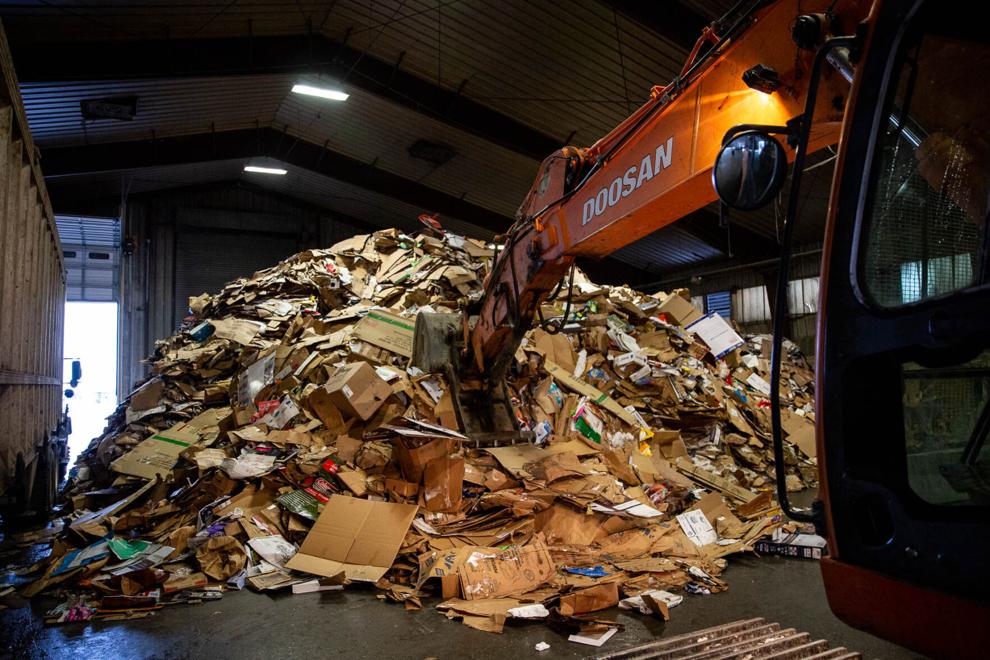 One option is to continue to ship out live loads of cardboard, and he said that's a real possibility as it doesn't require further investment. But the baling machine in the recycling center is expected to require replacement within the next few years, so it may be possible to upgrade to a larger size to handle more materials.
Another option, which is a kind of compromise, would be to purchase a compactor, which is generally less expensive than a baler, and use that to compact live loads.
"Instead of hauling 15 tons, we could be hauling 20 to 30 tons of unbaled material," Mr. Lawrence said.
Whatever the future holds, Mr. Rutigliano said he's seen that Jefferson County is very proactive when it comes to its solid waste and recycling programs.
"We're always trying to look ahead, look at the what ifs," he said. "The way people are leaning more towards online sales, I just see them growing more and more, and we'll have to do something more at some point."