WATERTOWN — More than 100 people rallied at Thompson Park on Saturday afternoon to show support for a nationwide protest over the death of George Floyd in Minneapolis. And unlike riots and looting in Minneapolis, Detroit and other cities, the north country residents kept their pledge of peace as they shed light on police brutality.
Gené S. Robinson, Watertown, organized Saturday's event. She said she has continued to see headlines about police brutality, with the latest case involving the death of Mr. Floyd.
"I want to make this as peaceful as possible," she said, "especially considering everything that's going on."
And it was. More than 100 people gathered — nearly all wearing masks and many holding signs saying "I Can't Breathe or Black Lives Matter — around the monument at the park. Ms. Robinson spoke briefly thanking people for the turnout and saying the cause is to peacefully shed light on police brutality, and to remember Mr. Floyd, who was killed after a police officer pinned him down by the neck for several minutes on May 25.
Mr. Floyd, who was black, died after Derek Chauvin, a white and now former Minneapolis police officer, knelt on his neck for eight minutes and 46 seconds, with two minutes and 53 seconds occurring after Mr. Floyd was unresponsive, according to a criminal complaint. Mr. Chauvin, who was fired, was arrested May 29 and charged in connection to the death. Three other officers who stood by have also been fired.
Following the car march, about 30 people gathered peacefully in Public Square to continue the protest over Mr. Floyd's death. Cars driving through the square honked their horns and protesters chanted things like "Say his name! George Floyd!" and "No justice, no peace!"
Christine and Charles Warren drove from Hammond to attend the Watertown event. Ms. Warren said she has 11 grandchildren, and doesn't usually participate in public rallies. Instead she uses her voice through her vote, she said. But on Saturday she said to sit and do nothing was not an option.
"I don't promote what's happening in Minneapolis as far as violence," Ms. Warren said. "But at the same time, people are fed up and the injustice has to stop."
Josh Ballenger, Watertown, was there as well. He was holding a sign saying "Convict all 4 Cops 1st Degree Murder," referring to the officers who were involved in the Mr. Floyd incident.
"I feel the stuff they're doing is what they have to do to get their attention," Mr. Ballenger said of the protesters in Minneapolis. "Sometimes you just have to take action."
Valerie LaClair was there, too.
"It's been just so horrific and upsetting to just see everything about it," she said, "that if you're involved with something, anything that brings attention to it, it's good."
Ms. Robinson organized the event thinking five or 10 people would show. But she had to change the location from Sam's Club to Thompson Park after the outreach from people wanting to join grew.
Ms. Robinson is biracial and her husband is African American. She said the frequency of which police brutality occurs has made her husband almost desensitized to it.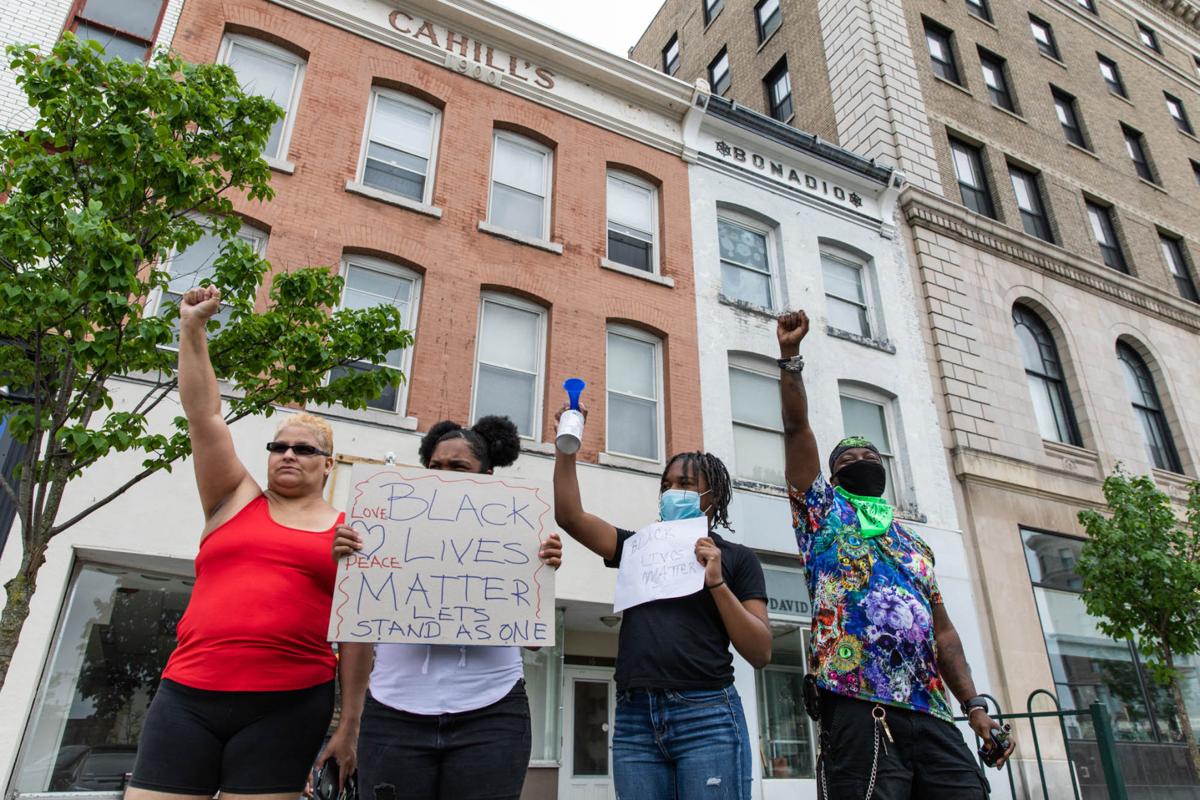 "It's just normal to him," she said. "He has become unaffected by it, and I feel defeated."
They have a 1-year-old son. She said her job as a mother is to do everything she can and use every resource available to make him a productive member of the community, yet the concern of what could happen to him lingers in her mind.
"This is the world that my son has to grow up in," she said. "And that's not fair."