WATERTOWN — The names of seven Watertown city firefighters who died in the line of duty had been etched into a monument of remembrance outside the South Massey Street fire station.
Their deaths ranged from a wall collapse, to a motor vehicle accident en route to a fire, to two from cardiac arrest on the scene of a fire, to a mistaken poisoning and two deaths from cancer.
On Thursday, Peyton L.S. Morse became the eighth fallen city firefighter whose name joined those of his brothers on that black granite monument near the main entrance to the station.
Family, friends, colleagues and city officials came together on a warm, sunny evening to honor Mr. Morse, 23, who died on March 12 after suffering from a medical emergency while training to be a firefighter, as his name joined those of the other seven city firefighters.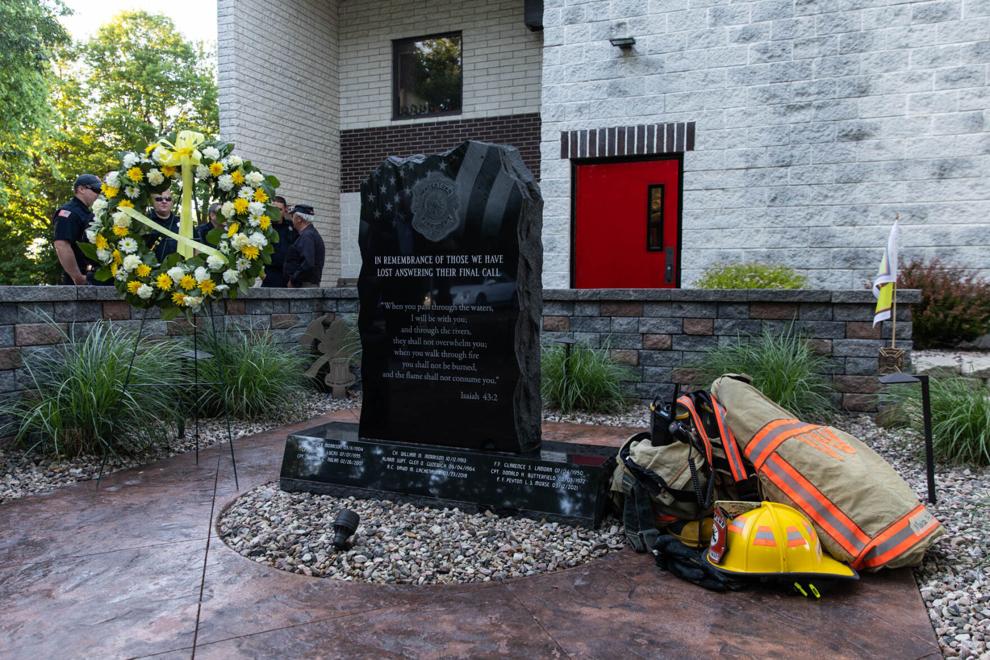 "We know he would have been so humbled by this," his mother Stacy L. Snyder-Morse said following the memorial. "And for the fire department to honor him, the family is humbled."
His fire chief, Matthew Timerman, who knew the young firefighter all of his life, said Mr. Morse may not have died in some blaze of glory but he died in the service of his brothers in dark blue.
"That's real difficult for us to process," he said.
Leon I. VanWie, a Jefferson County fire chaplain, recalled years ago going to the funeral for Fire Chief Selwyn Perrigo, who died at the age of 88.
"That's the way it's supposed to happen," he said.
Not with a young firefighter starting out his career, he said. It makes it more difficult that it is unknown how it happened and too many questions remain unanswered, the chaplain said.
Retired firefighter T.G. Kolb knows about what can happen on the job. He was forced to retire from the job he loved in 2018 after a portion of a wall collapsed on him during a massive warehouse fire on Newell Street in February 2018, causing multiple injuries.
He told the group still mourning Mr. Morse's death that they are all one strong family large enough to move mountains and strong enough to overcome obstacles. He said that sense of family is only thing that has made the last few months a bit easier:
"Peyton Morse has brought distinctive meaning to all of our lives," he said.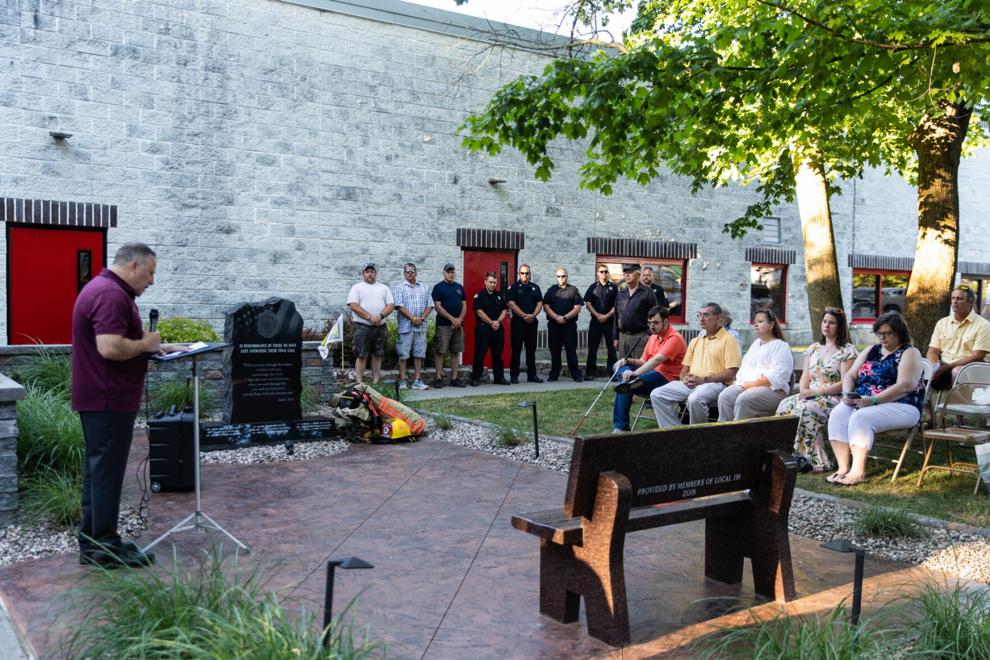 On Thursday night, Mr. Kolb quoted the last homily that Father Mychal Judge, chaplain of the New York City Fire Department, gave before he died during the attack on the World Trade Center. The chaplain was the first victim identified during the terrorist attacks that day.
"Good days, bad days but never a boring day on this job," Mr. Kolb said, quoting Father Judge's final homily. "You do what God called you to do. You show up, you put one foot in front of the other, and you do your job, which is a mystery and a surprise."
While it was a sad night, Chief Timerman said it brought back "a crew" of family members, Watertown and Albany-Shaker Road firefighters, and law enforcement officers who stayed by Mr. Morse's hospital bed in a Sayre, Pa. hospital for the nine days before he died.