WATERTOWN — The family of Jared C. Cook likely walked out of the Jefferson County Courthouse on Tuesday with a sense of relief and justice, after the woman who was accused of running him over with her car and killing him was found guilty.
The trial of Nicole M. Lacey, 31, has come to a close. She was arrested in 2020 by the Jefferson County Sheriff's Office after she ran over her then-boyfriend, Mr. Cook, with a 2004 Chevrolet Impala at their home in Antwerp in May 2018. Mr. Cook suffered serious blunt force trauma to his head, including a skull fracture, and died days later at Upstate University Hospital, Syracuse.
The prosecution built a case that attempted to persuade the jury that Lacey intentionally ran Mr. Cook over with the passenger side of the Impala shortly after 4 p.m. on May 30, 2018, and it appears the jury believed it met its burden of proof.
After seven days of opening statements, testimony and closing arguments, the jury took just more than three hours to decide that Lacey was guilty of three of the four charges levied against her, including first-degree manslaughter, first-degree assault and fourth-degree criminal possession of a weapon. She was found not guilty of first-degree reckless endangerment, suggesting the jury decided Lacey acted with intent but was not reckless.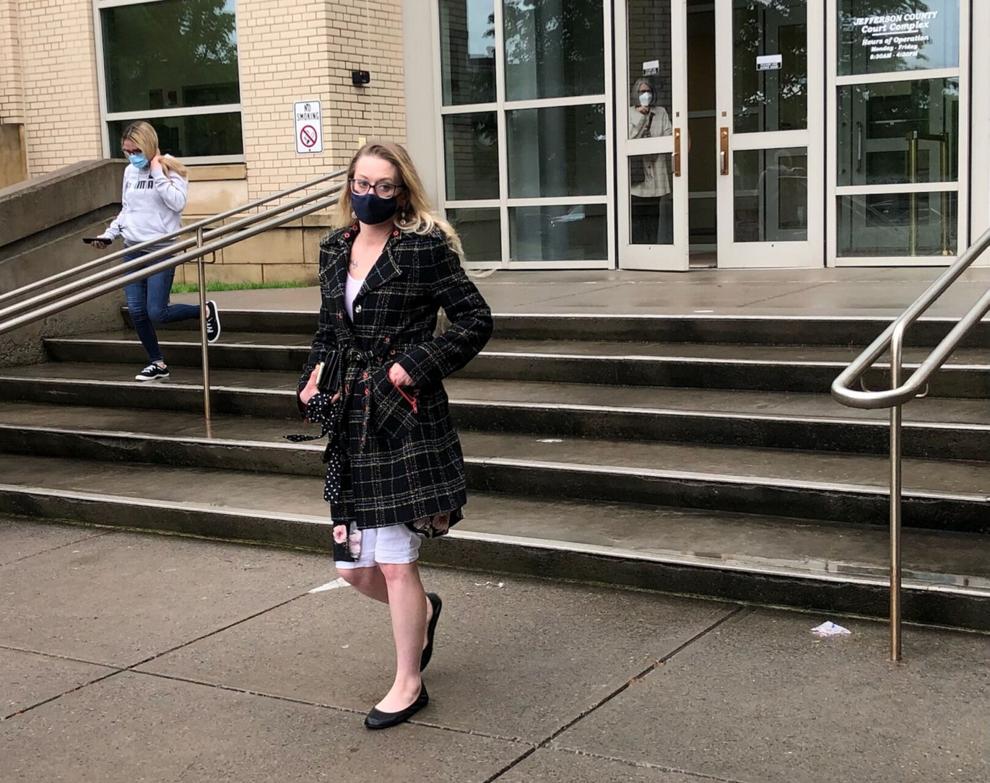 Gary Miles, the attorney who represented Lacey, said after the trial that they intend to file an appeal at the sentencing hearing July 27.
"I've been doing this for 40 years and when the jury speaks, the jury speaks," Mr. Miles said. "We obviously don't agree with the verdict. We don't believe she acted intentionally at all."
Mr. Miles said he believes Lacey's cell phone data and the physical evidence was most harmful to his case, adding that the jury didn't pay attention enough to the way she acted after the incident. He stressed throughout the entire trial that Lacey had been cooperative with investigators.
"With what we were facing," Mr. Miles said, "I don't think there is anything we would have done differently."
Jena Cook, Mr. Cook's sister, testified during the trial and was at the courthouse when Lacey's verdict was read, alongside several other family members.
"I don't think there was a doubt that she was going to be found guilty," Ms. Cook said. "But you're still anxious. The jury can be unpredictable."
Ms. Cook described her brother as a loving person and said that she doesn't understand how he could let himself suffer from domestic violence.
"It's a nightmare to know she was walking free," Ms. Cook said. "We'll never get him back, but now we can mourn his death."
Kristyna Mills, the district attorney prosecuting the case with Assistant District Attorney Nolan Pitkin, said after the trial that they were very pleased. She said the most important pieces of evidence in this case included the blue fibers found under the car, which were similar to Mr. Cook's blue jeans. She also noted that Mr. Cook's DNA was found in the tire tread voids.
"I believe our evidence in this case was very strong," Ms. Mills said. "I believe the defendant did act with intent and that she did run the victim over with her vehicle, so we are very, very pleased. We believe the jury got this verdict right."
Ms. Mills gave credit to Sgt. Ben Timerman, who was a detective with the sheriff's office when this happened in 2018. Sgt. Timerman testified at length during the trial. He submitted a 31-page report of his investigation, of which a medical examiner who testified in the trial called one of the best she's ever seen. He spent hundreds of hours underneath the vehicle used to hit Mr. Cook.
"We wouldn't have had a case without Ben Timerman," Ms. Mills said. "I honestly think that without all of the work that he put in, we would not have been able to prove this case."
She also showed high praise for her 27-year-old assistant district attorney, who led the way during much of the trial and issued the opening and closing arguments.
"Nolan did a fantastic job," Ms. Mills said. "He made this office very proud."
Anyone suffering from domestic abuse may call the national domestic violence hotline at 800-799-7233 or the 24-hour hotline at the Victims Assistance Center of Jefferson County at 315-782-1855.