WATERTOWN — With a countdown from five, a group of those close to the project brandished the pairs of large, gold scissors handed to them and cut the ribbon for the reopening ceremony of The Arc Jefferson-St. Lawrence's Gaffney Drive facility Thursday evening, a culmination of years of work and millions of dollars.
The renovation project has taken about three years to complete, including initial planning, design and engineering, construction and a capital campaign to assist with the cost of the project. Construction began last July, when The Arc Jefferson-St. Lawrence embarked on the first major renovation of its Gaffney Drive campus since it was built in 1968: an estimated $12 million project. Except for an addition in 1972, the 43,000-square-foot building had not undergone any major renovations since it was built.
The foundation's very first capital campaign raised $2.9 million. The building was renovated with capital campaign funds, $250,000 from former Assemblywoman Addie A.E. Jenne, D-Theresa, before she left office, and operating funds that Arc had in place.
"We are so blessed to have such a wonderful community," Michelle Carpenter, JRC Foundation director, said as she thanked those who helped with the project. "Regardless of how you became involved in the project, you all recognized the need for this renovation. You all reacted, and you all did something about it. You all responded with generosity and support for the children and adults with developmental disabilities of our community, and for that we are truly grateful."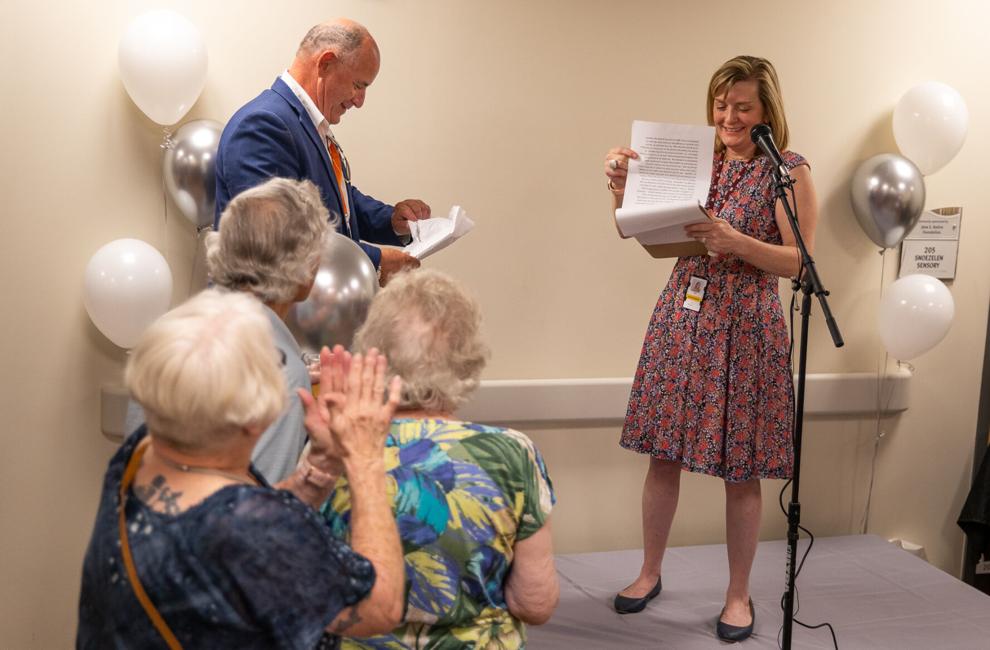 In 2018, JRC was asked by its governing state chapter, The Arc of New York, to unify operations with St. Lawrence NYSARC. In 2019, the two agencies became one, with a common mission to enhance the quality of life and maximize the potential of children and adults with developmental and intellectual disabilities. Now, the organization serves about 2,000 children and adults with intellectual and developmental disabilities between Jefferson and St. Lawrence counties.
Dozens of guests were in attendance Thursday, taking in the newly redone spaces of the facility. Milling about before the event, guests commented on the beauty of the building over drinks and hors d'oeuvres and volunteer led tours were given after the ribbon cutting.
The Arc Jefferson-St. Lawrence provides a wide range of services designed to enhance the quality of life and maximize the potential of people with disabilities through education, vocational opportunities, residential services and advocacy in a community-based setting. It also provides clinical services to preschool and older children, an adult day habilitation program and other services for clients.
The number of children and adults receiving services in the Watertown building has more than doubled over the years from about 100 served in the 1960s to over 240 served today. The amount of staff has also increased from about 50 to nearly 150.
"Our community believed so strongly in our project, and we are humbled by your support," Ms. Carpenter said. "Although we're thrilled to be celebrating this milestone with all of you tonight, we recognize that it's events such as this that often draw much of the recognition, but what we also need to celebrate is the essential services that will continue to happen within these walls for decades to come because of your generosity, and because of the dedication of our staff."
Although they were not in attendance Thursday night, Ms. Carpenter celebrated the frontline staff who work in Arc's 52 residential sites across Jefferson and St. Lawrence counties 24/7 throughout the year, working endless hours assisting the people the organization supports with their daily living needs and ensuring it is providing them with the best quality of life possible.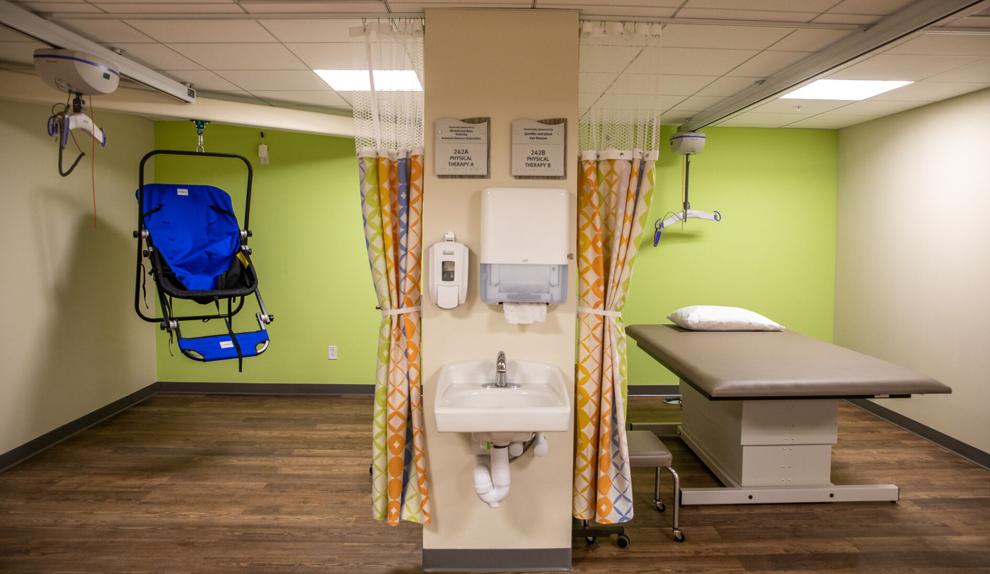 The Gaffney Drive building renovation will impact preschool and clinical services, allowing the Arc to improve delivery of vital services to children from birth through age five with varying disabilities such as autism, Down syndrome, speech and swallowing difficulties, physical immobility, and other developmental and intellectual disabilities. It will also impact the adult day habilitation program, which has been transformed by this capital project to better meet the needs of the adults who utilize services in the building.
"Our goal here is not only to have people come here, but also community members to participate," Chief Executive Officer Howard W. Ganter said. "Talking with our people, dance and yoga instructors, and having them come to us instead of us going out to them. We're also going to shrink a little bit the number of people that come through at any one given time to make it more person-centered. I just think it'll be much more conducive to providing the needs our people that we support we have."
The renovation will also enable the Arc to increase physical therapy services available to adults with disabilities through an expansion and relocation of clinical space, which has been enhanced to include more private physical therapy spaces with the flexibility to create larger open space for gait training and physical activity, specialized occupational therapy space which will assist people with disabilities in learning daily life skills and increasing independence, designated and private space for speech therapy, and relocation of the clinic entrance to better accommodate people from the community accessing clinic services. The clinic is known as an Office for People with Developmental Disabilities Article 16 clinic.
"As you walk through the building this evening, you will notice we have a lot of signs, and we ask you to pay particular attention to them for a number of reasons," Ms. Carpenter said to the guests. "Many donors who are here tonight sponsored rooms, and we are honored to acknowledge their gift through our donor signage."
She continued by noting that there was a sign missing from the halls that the organization had held off on putting up until the celebration: a sign for the Howard W. Ganter Gymnasium, in recognition of over 40 years of service, dedication and leadership.
"You would have to look long and hard in this agency to find anyone who is more committed to our mission than Howie Ganter," Ms. Carpenter said.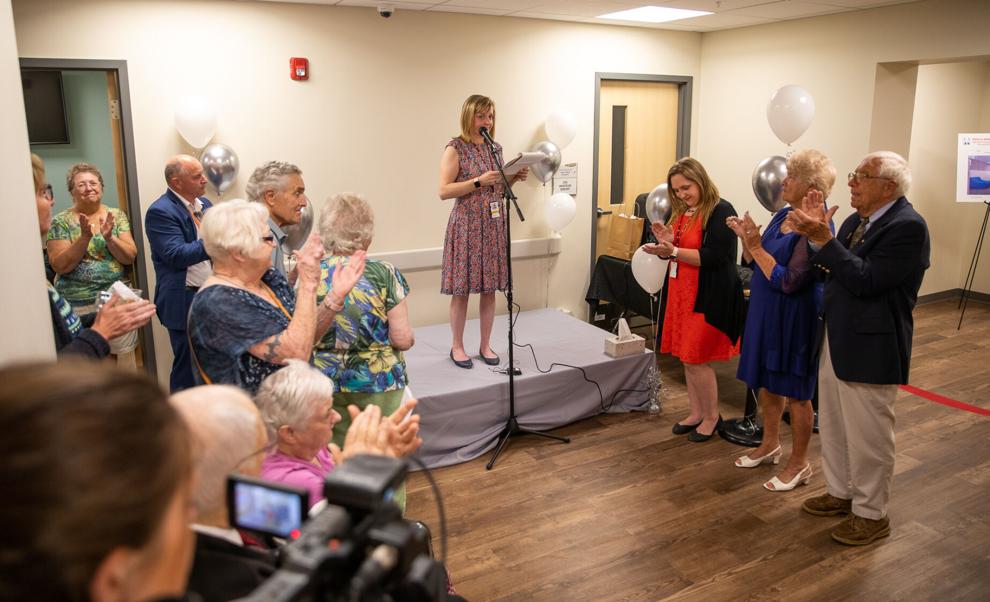 The renovation project transformed the building into a modern, state-of-the-art facility. Doorways and hallways were widened to better accommodate motorized wheelchairs, classrooms and peer group rooms were updated and relocated to provide natural light, entrances were relocated to make services offered more accessible to the community, and upgrades were made to technology to improve vital therapy services. Ceiling Trac Systems were installed at strategic locations for safer transfer from wheelchair to other supportive devices.
The project was originally expected to be completed in January 2022, but came in ahead of schedule and under the construction budget due to COVID-19.
"Originally, the project was scheduled to be done in phases," Ms. Carpenter said. "We were going to complete the adult side, and the children side separately. When the COVID pandemic hit, our building was empty, so we had the opportunity to do the project all at once, which saved several months and an estimated $525,000 by doing it all in one phase."
Ms. Carpenter said that with an older building, you certainly run across things that you weren't expecting, but they made it through thanks to the guidance of Purcell Construction and C&S Companies, which worked with them through all the problems they had. She said the project is now anticipated to come in just under $10 million for construction, with the other $2 million for soft costs.
Mr. Ganter described the Gaffney Drive location as the hub for the organization.
"When I came here, our budget was about $1.5 million and I think there was just a little over 100 people," he said. "Based on the merger (with St. Lawrence), our budget last year was $74 million. We now have over 1,200 employees, so we've grown tremendously over the years."
The project also included a new roof, HVAC system, windows, secure doors, a sprinkler system throughout and canopies at entrances to keep clients underneath during inclement weather.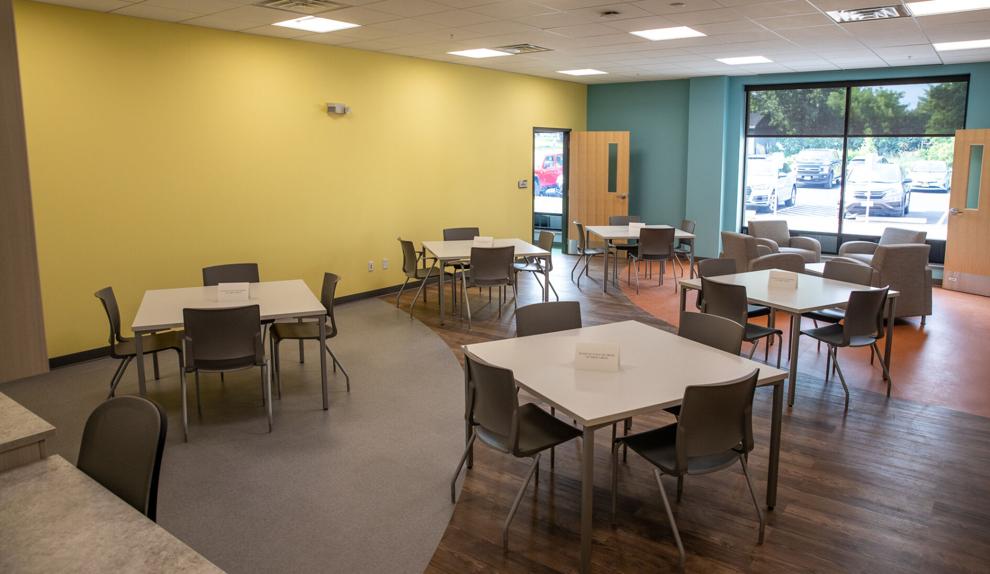 The organization received site plan approval for consolidating a series of parking lots into one large lot. Most of that work occurred on the north side of the building, with a 44-space lot along Glenn Avenue, a 23-space lot on the Gaffney Drive side and a small drop-off at the entrance.
C&S Companies, Syracuse, designed the project and Purcell Construction was the project's construction manager. The Gaffney Drive location also features two rooms for sensory input.
"It's really the start of a new beginning for us," Ms. Carpenter said. "We hope that the renovations that we've done today will stand for the next several decades for the people we support."