SACKETS HARBOR — Dispatched to hundreds of calls a year, the Sackets Harbor ambulance serves the village, town of Hounsfield and surrounding areas.
Composed of 10 emergency medical technicians and six emergency medical services students, as well as multiple firefighters and medical support personnel, the agency never charges patients for medical aid or transportation. The ambulance service is free and fully staffed by volunteers.
The service, run through the village's Fire Department, receives no funding from the town, village or fire department and no tax revenue is used to support the agency.
This year has posed many new challenges for volunteer EMS, bringing the significant financial burden of COVID-19 to the agency due to the increased purchasing of protective equipment, decontamination supplies, and a significantly increased call volume.
"The importance of the ambulance is self-explanatory, it's the only ambulance in the area," said Chief Derek M. Derouin of the Sackets Harbor Fire Company. "Nowhere in the Fire Department's budget has ever been written to provide EMS services to the town or the village, it's an added expense that we've just always taken on. It's huge that this community still realizes that they can get an ambulance or a group of volunteers that doesn't cost them for transportation and medical supplies — there's no bill ever involved in it."
In an effort to offset raised costs and prepare for the new year, a few days ago, a GoFundMe campaign was launched with a goal of $40,000 to continue to work for the safety of its local community. In two days, it had already raised nearly $2,000 toward its goal.
EMS Coordinator Grayden J. Brunet has been coordinator for about nine months, and was the one to get the GoFundMe campaign up and running to help out the ambulance service.
"Our agency is important as there's no other agencies in close proximity to it; Guilfoyle responds out of the city of Watertown, but sometimes, if they're unavailable, another ambulance can be 20 minutes away," he said. "So, it's really important that our agency is fully prepared to take calls, being the primary agency for the area."
Unable to utilize their normal fundraising events due to COVID restrictions, the GoFundMe has been set up as a way to modernize funding efforts and use social media to the department's advantage, as well as reach more people to try and cover the expenses above and beyond what they'd normally bring in under a normal fund drive.
Niklas F. Brazie is going on three years of volunteering with the ambulance service. He also runs with the town of Watertown and Carthage ambulances and said the situation is basically the same at most agencies, all dealing with the difficulty of obtaining supplies and the higher costs associated with them.
"Any donation would help, obviously, because we don't get any funding from the village or township or anything," he said.
Aside from increased costs, the department is also dealing with fewer volunteers amid the pandemic. Older members with preexisting conditions making them potentially more susceptible to COVID have been advised that it's not a requirement for them to respond anymore if they feel their safety is at risk, according to Mr. Derouin.
This brings the normal force of 10 EMTs down to four younger volunteers left to respond to calls regarding COVID-19. One of the four, volunteer Dalton T. Hardison, has been with the agency since the fall of 2017.
"COVID has definitely created a lot more stress around running an ambulance," he said. "COVID has hit us with the volunteer aspect as well because we've had quite a few members not want to show up anymore due to the risk of catching COVID, and that's a lot more stress on us as providers as well."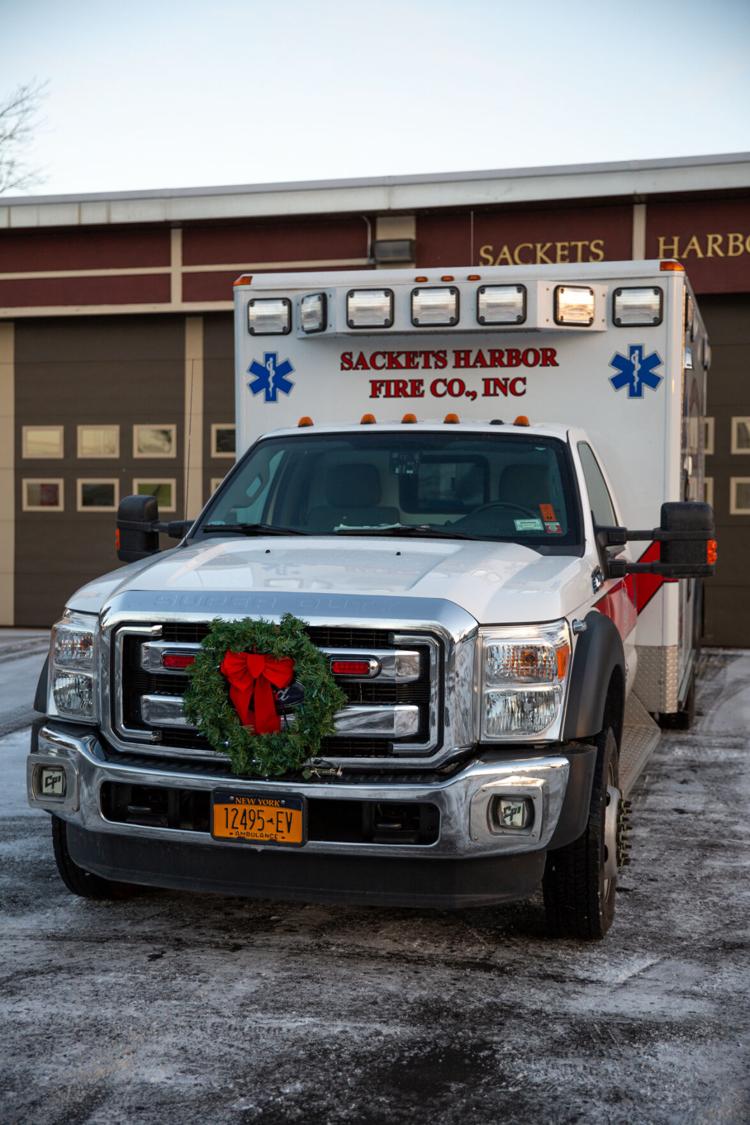 Mr. Hardison noted that while the agency is looking for community support with the GoFundMe campaign, it could also use new volunteers, be they providers or drivers. Currently, there is only a paper application to fill out for those who are interested, but the agency is working on an online application. After an interview process and being voted in, applicants can proceed to training.
Every emergency the Sackets Harbor ambulance service responds to comes with a monetary cost to the agency. General operating costs for day-to-day functions such as emergency calls, training, purchasing and restocking equipment still exist during the pandemic, and the agency still has a duty to ensure that it has efficient medical equipment for patients.
The service has already had about 250 calls this year, with a vast majority either related to people on quarantine for COVID or actually having tested positive for the disease. While the service has enough PPE right now, they can go through it all too quickly, so the GoFundMe campaign brings the hope to cover costs for more.
"In the past, the generosity of this community has been ample enough to provide this service to the community," Mr. Derouin said. "They've allowed us the ability to pay our bills, put a little bit of money aside for future investment into the ambulance service like buying a new ambulance every 10 years or so."