CLAYTON — The testing site is where she helps people get to the bottom of what's wrong, while the boat is where she helps passengers and herself forget about what's going on in the world.
It's noon on Tuesday and Faith A. Allen is pacing at Samaritan Medical Center. She has 15 minutes for lunch and each one will be spent on the phone, explaining what she does every day.
The minutes run out and she decks herself in personal protective equipment and rejoins her four-person team inside a cramped testing site. She was behind a desk before COVID-19, but now she's adjusting to life on the front line.
Flash forward to the next day. She's relaxed on a boat. Her tone isn't rushed or precise — instead, it's comfortable and at peace. She sits back and talks about people who refuse to wear masks in public places.
"Just put your stupid mask on and shut up," she finally says. "Here, if someone is being a wuss, I tell them to suck it up or they're going in the river."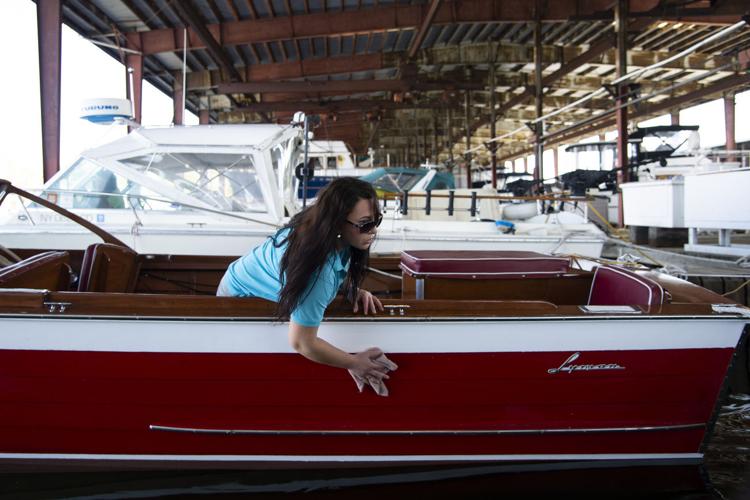 Who knows if Ms. Allen will go back to her desk job when all this is over; she was one of the few healthcare employees at Samaritan to volunteer to work at the medical center's drive-through testing site.
A team of four sits in a space big enough to fit their bodies and their equipment. They wear thermal gear and crank heaters when the weather bites, and then they wait for cars to drive under their tent. They register the patient outside and then swab them for COVID-19. Every team member who works at the testing site is full-time except one. There are two nurses at a time, alternating with others as they go back to their original jobs throughout the day. Other staffers alternate to keep two registrars at the site at all times.
But Ms. Allen doesn't alternate. She's not a nurse. She doesn't get paid as much, and she doesn't swab people. She is the first person people see when they arrive for swabbing, registering as they come during the roughly 25 hours the site is open weekly.
The 29-year-old Clayton native has been working at the testing site since it opened on March 19. The medical center wasn't going to force employees to work at the testing site, so Ms. Allen volunteered to do it. She had been working as an office support staffer at Samaritan's clinic in Sackets Harbor, answering calls and registering patients. She laughs and calls herself a glorified secretary.
But when her smaller clinic closed due to COVID-19, she was offered work full-time at one of the bigger clinics that stayed open, but she prefers being outdoors. The result was working at the testing site.
"My family didn't want me to do it," Ms. Allen said. "And I said, 'I'm single and I have no kids. I don't have anyone relying on me or anyone that I could possibly harm doing this, so I'm going to do it and hopefully take away a spot that would otherwise have to be filled with someone who did have a family and did have those worries.'"
Her dad, Peter D. Allen, was in the Navy. Her brother, Peter T. Allen, is currently in the Air Force. And her sister, Hannah Gould, has been a nurse for more than 10 years.
"My father was out of the military before I was born," she said, "but he did raise me so it rubbed off a little."
Over the last few months, the site was averaging around 20 tests per day. With elective procedures allowed again, the site is doing more than 60 a day.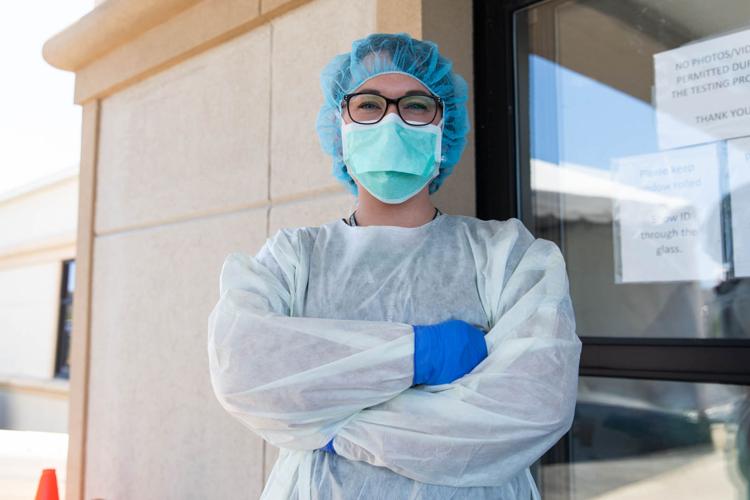 As a front-line employee, Ms. Allen said she has heard all the arguments circling around the seriousness of COVID-19. She said she's heard it all, whether COVID-19 is down-played or up-played.
"I've heard the thing where people think it's their God-given right not to take and wear a mask," Ms. Allen said. "But it's our God-given right to be naked, but we still wear underwear."
According to Ms. Allen, her sanity is maintained by volunteering at a big-animal rescue and working for Garnsey's Classic Island Cruises at French Bay Marina in Clayton, where she grew up. Both are owned by Jeff Garnsey.
She is a deckhand during the summer months, preparing boats before cruises, serving food or baiting hooks. She has seen all sorts of people and heard all sorts of stories. It's been elderly people who need constant care while they're on board. It's been a group of military guys who were hesitant to speak candidly around her until she cracks a beer shortly after they leave the marina at around 8 a.m.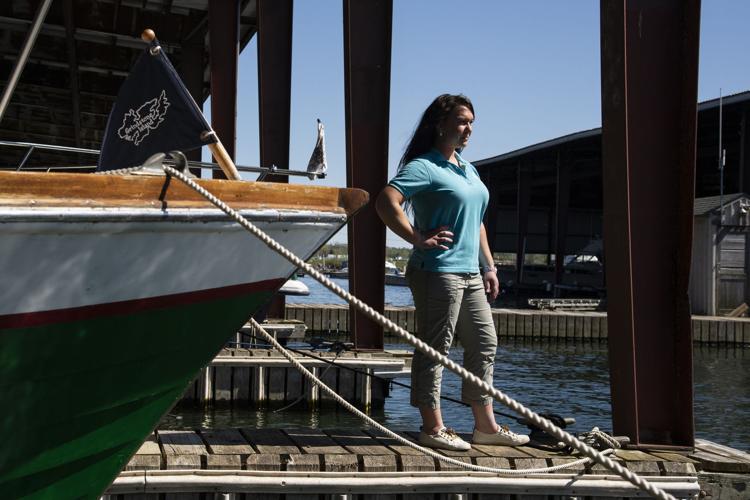 Now that charter fishing is permissible under Phase I of the state's reopening process, Ms. Allen says she and Mr. Garnsey are going to bring a set of social-distancing rules for passengers to follow this summer — even if this season might be slow.
"I truly believe this is going to save me," said Ms. Allen, sitting in a booth on a boat. "I could have gone full-time at Samaritan but decided not to."
Indeed, from 8:30 a.m. to 2:30 p.m. five days a week, Ms. Allen is confined to the tight and sometimes-tense testing site. Regardless, after her services at the site are no longer needed, she'll ask herself where else she could go to be at the front-lines of care.
"I want this all to end," Ms. Allen said. "I want things to go back to a safer time, but I don't know if I like the idea of going back into that 9 to 5 world. I'd like to be a little bit more proactive in the community. Everybody's job is important, but this one is pretty cool. It's little, but it couldn't be done without me."