WATERTOWN — Mary Jo Reynolds was known by thousands around the world for her photography, and some are still searching through Watertown to build more of an image of the woman whose face they never saw.
Ms. Reynolds was 67 years old when she recently died in a crash. She lived in an apartment in Watertown and mostly kept to herself, living alone and without any family in the area. Not many locally knew who she was, but thousands across the country and world adored her.
She didn't share her face or much about where she lived with the people who knew her online. It was all about her photographs, and everyone who followed along would all love to put a face to Mary, but now she's gone. It almost doubles the loss they feel as they won't have an opportunity to meet her.
Now, hundreds are writing about Ms. Reynolds, trying to grasp an image of a person they never saw, and still searching for Mary even after her death.
"So you have thousands of people who know her but nobody has ever seen her face," said Cathie Ogden, a group member on Facebook who often spoke with Ms. Reynolds. "She was an enigma, but there are so many people who have so many wonderful things to say about her."
It's Thursday morning and Tami Kine just poured a cup of coffee at her home in Northern California. She shoos a bird from her flower pot and then takes a sip to clear her throat after falling into tears. She tells the story of Watertown's Mary Reynolds — how hundreds if not thousands of people waited every morning for her to post nature photos out of the Thompson Park area.
Mrs. Kine has never seen Mary's face, so at one point she tried culminating a vision of it by combining the faces of her parents' photographs from their obituaries she found.
They were drawn to Ms. Reynolds' unconditional attentiveness to others and her ability to tell a story beneath her photos. She was private about herself, but she was able to navigate through these Facebook groups with kindness and inspiration. Then, one day she stopped posting and the groups began to worry.
"I go to Watertown every day on Google Earth, and I walk around your town as best I can," Mrs. Kine said. "I'm just compelled by where she has been, where her days were spent, the things she saw, her apartment, everything."
On Thursday, July 22, Ms. Reynolds was riding her bike southbound on the northbound shoulder off Route 11. It was shortly after noon when she was struck by a Ram pickup truck that was traveling north, just in front of the Eagles Club. Ms. Reynolds was taken to Samaritan Medical Center, where she died from her injuries. The Jefferson County Sheriff's Office had no update on the crash investigation as of this week.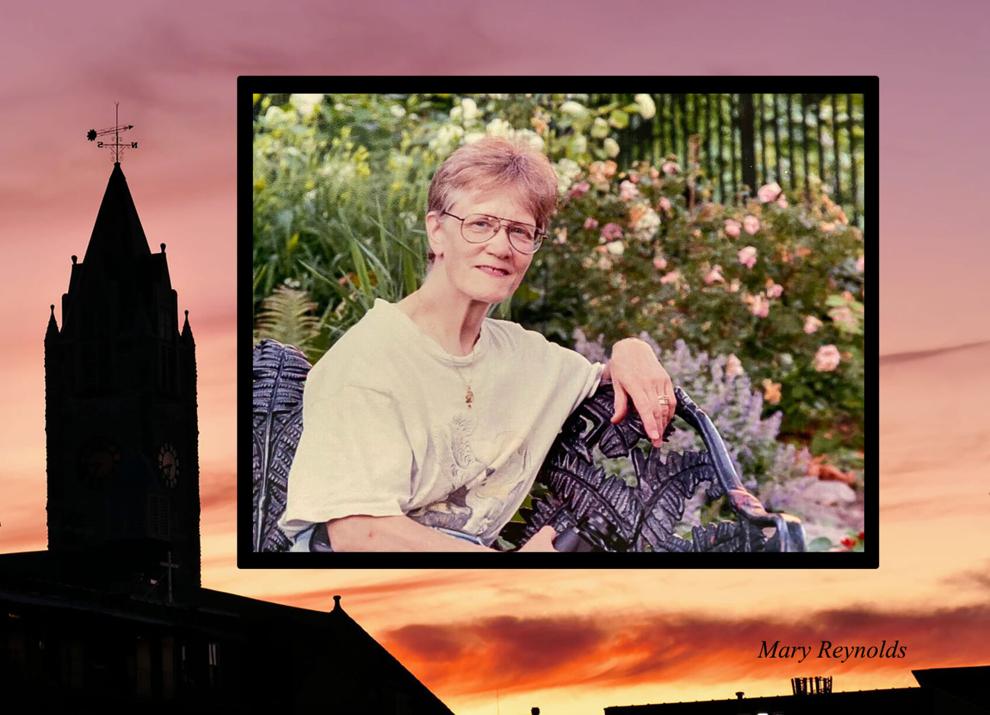 Very few people knew her in the north country. They might see her taking photos on Public Square or riding her bike down Washington Street, but she was another fixture in the community that was largely unknown.
When she died, her obituary was two paragraphs long. It listed no family members and the sheriff's office was unaware of any locally. It turns out she has one surviving relative — a brother in Florida, Miles Reynolds, who was aware she enjoyed photography but didn't know she reached the world with it every day.
"We were astounded," Mr. Reynolds said. "We knew she was a good photographer, but I had no idea she was posting to these groups almost daily on social media."
Ms. Reynolds, a retired social worker who was born in Malone, was part of at least two photography groups on Facebook. She was part of a beginners photography group that had nearly 40,000 members. Ms. Reynolds was affectionately known as the mom or the Queen Bee of the group called Nature's Way, which has more than 3,200 members. She would post to these groups daily — without ever showing her face online.
She would mostly photograph at Thompson Park or Brookside Cemetery. Members of the group described it as a bright spot in their day when Mary would post photos of squirrels or chipmunks. The critters would eat out of her hand, and Ms. Reynolds would capture it and then share it, sometimes writing a story underneath as if it was the squirrel talking. Her posts would often get dozens of comments, but Mrs. Reynolds also made it a point to comment on others' photography posts.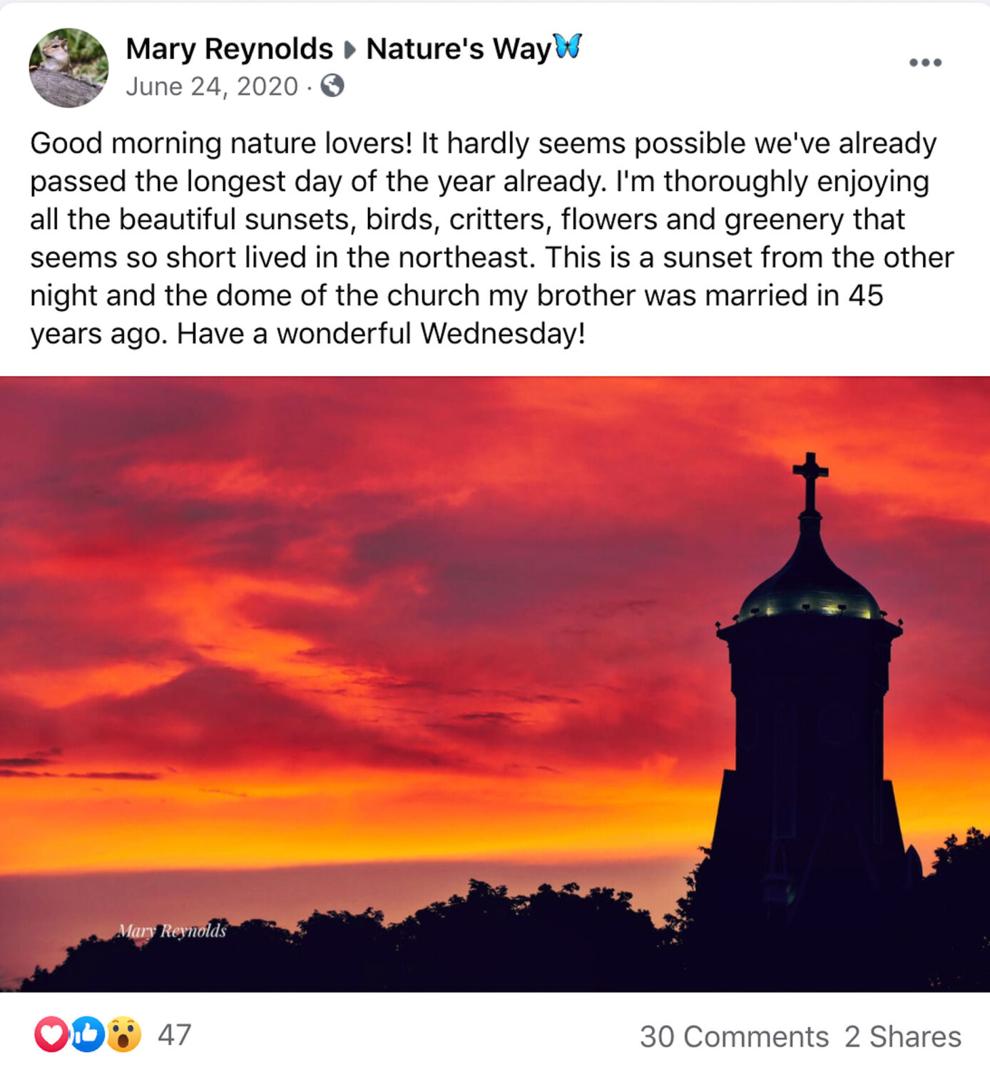 "A lot of photographers are shy about their work and hesitant to share it," Mrs. Ogden said. "She always made you feel like what you shared was worth posting."
After the crash, group members began getting concerned since Ms. Reynolds wasn't posting. She might take a break here and there, but three days without her posting was alarming to them.
"We haven't heard from Mary in over a week," one member posted.
"This is not like Mary," another said.
"Ask police for a welfare check."
Members put the pieces together eventually. They found a local news report and noticed that the bike in the crash was almost identical to the bike Ms. Reynolds had posted before. Then they saw her name, which was punctuated with an indefinite halt to her Facebook activity.
"I was fortunate enough to become friends with her and we pretty much talked about everything every day," Joe Vallee, California, wrote in a post. "We laughed into the wee hours since I'm on the west coast, (Ca) and she's on the east coast (NY). My guess is that there are many of you that have had great interaction with her, as she always made time for anyone."
Those types of posts just kept rolling in. Members said Ms. Reynolds changed their lives and that she had a way of getting to their hearts. Dozens posted photos they thought Mary would love, calling her the centerpiece of their group. That's when the image of Ms. Reynolds began forming.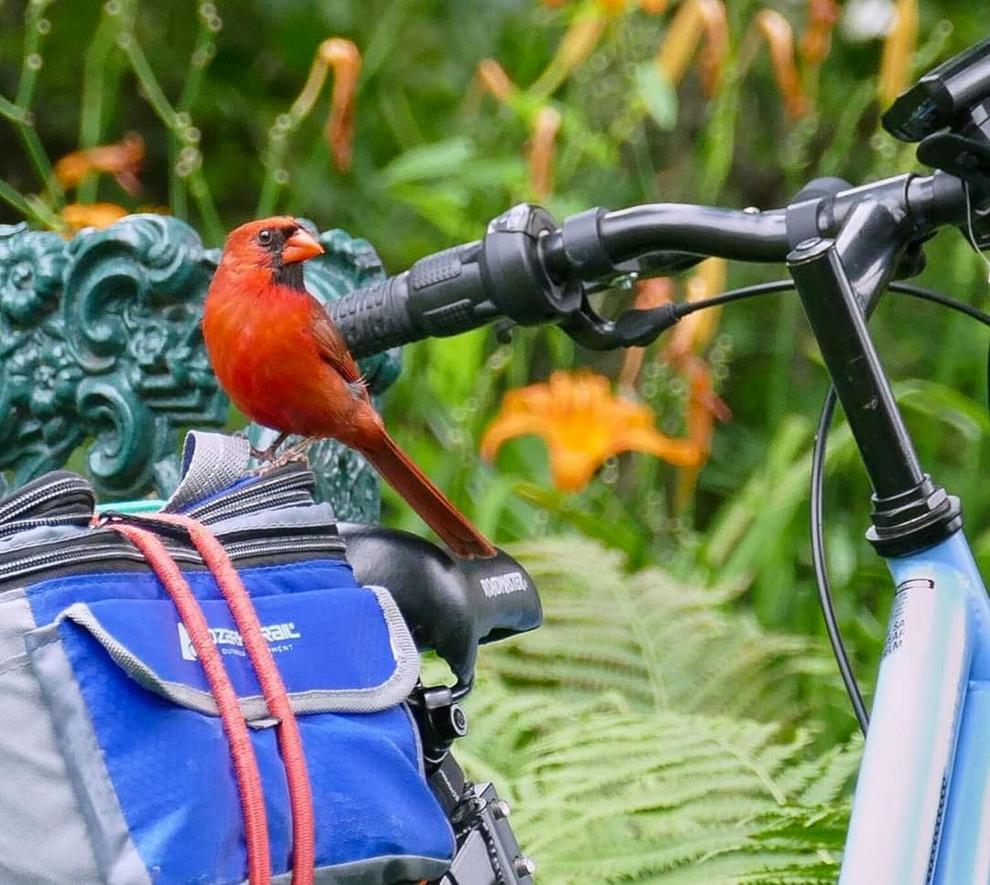 "That's how I envisioned Mary," Mrs. Ogden said. "She was on her way to take pictures somewhere, on her bike and never looked behind her."
Mrs. Kine did more of the same. She sits from California learning so much about Watertown. She said she still searches through the city with Google Earth, hoping to catch Mary on her bike.
"I was compelled to look for her," Mrs. Kine said. "It's almost gut wrenching in a way. We're so visual as people. A lot of us felt connected to her through nature and her words. That was all we were allowed to see from her."
Mrs. Kine found Ms. Reynolds' apartment on Google, but she always imagined Ms. Reynolds lived in a cottage house.
"I see her everywhere in Watertown because of the photos she would take," Mrs. Kine said. "She never told us about Thompson Park so I started looking for it. Now I feel like everyone loves it. All of these sights were in her town, but we just never knew where exactly."
She said group members have always wanted to find a photo of her, since Ms. Reynolds never posted herself on Facebook.
"A lot of us, though we respected her privacy, we're all in our hearts really wanting to know what she looked like so we can hold her a little closer," Mrs. Kine said. "It's definitely the search for Mary."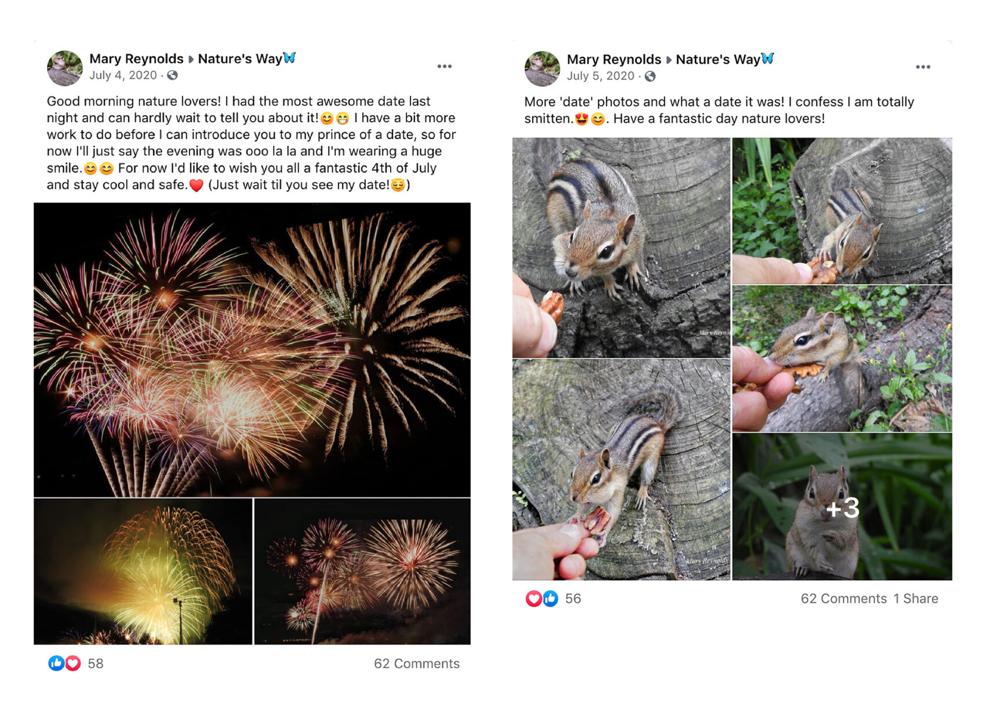 Members of the group are worried that no one will attend her graveside service, which will be at 11:30 a.m. Sept. 3 at Brookside Cemetery, where she loved taking photographs. The group was working on a way to plant a tree at the cemetery as a tribute to Ms. Reynolds.
Now, all those group members have the face of Mary. They've found her, but it all started with her words, dating all the way back to her first post in the Nature's Way group in 2018.
"Thank you for adding me," Ms. Reynolds' first post reads, "and I'm known as 'the squirrel lady' because of my love for squirrels not to mention being somewhat nutty."